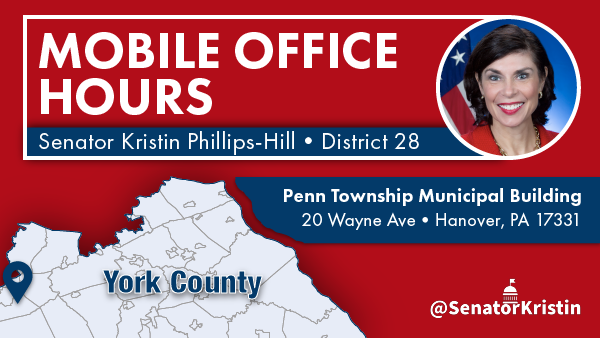 HANOVER – Doubling down on her commitment to an open and transparent state government, Sen. Kristin Phillips-Hill (R-York) announced additional mobile office hours, bringing her team directly into another area of the community.
For the remainder of the year, once a month, Sen. Phillips-Hill's staff will be present at the Penn Township Municipal Building. Staff will be able to answer questions relating to state issues, including pending legislation, PennDOT, birth and death certificates, Property Tax Rent Rebates, unclaimed property, and more.
"I am continually committed to making your state government more efficient and responsive. This mobile office will bring state government directly into your neighborhood and provide residents of the 28th Senatorial District with resources and assistance from the Senate of Pennsylvania," Phillips-Hill said.
Appointments are not required, but highly encouraged to ensure there is an appropriate number of staff available.
Location: Penn Township Municipal Building
20 Wayne Ave. Hanover, PA 17331
Dates and times: Third Thursdays of the month
Sept. 21 9 a.m. to 4:30 p.m.
Oct. 19 9 a.m. to 4:30 p.m.
Nov. 16 9 a.m. to 4:30 p.m.
Dec. 21 9 a.m. to 4:30 p.m.
Constituents who are interested in attending one of the dates and times above are encouraged to contact Sen. Phillips-Hill's District Office at 717-741-4648 or email senatorkristin@pasen.gov.
This mobile office will be utilized at no taxpayer cost and is in addition to her Jacobus office located at 6872 Susquehanna Trail South. The Jacobus office will continue to run normal office hours.