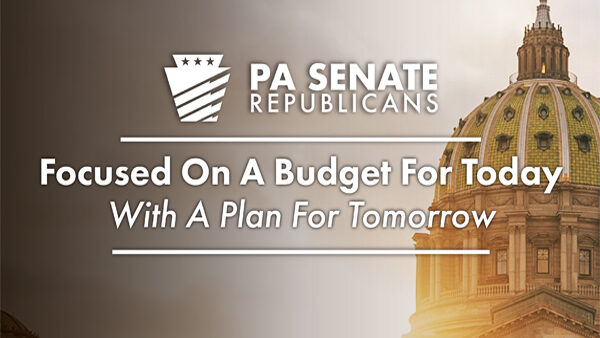 HARRISBURG – The state Senate approved a realistic 2023-24 budget for Pennsylvania that holds the line on taxes, promotes job growth, continues historic support for schools and sets aside money to prevent future tax hikes, said Sen. Kristin Phillips-Hill (R-York), who voted for the measure.
"Pennsylvanians elected a divided government – not a dysfunctional government. This budget reflects those realities by funding critical state programs and services while ensuring it spends within our means without jeopardizing our future financial health," Phillips-Hill said.
The $45.55 billion budget spends approximately $300 million less than what Gov. Josh Shapiro proposed in March, ensuring the state's projected budget balance remains positive through Fiscal Year 2025-26. The plan also increases Pennsylvania's Rainy Day Fund by $500 million, bringing the state's budgetary reserves up to the national average and improving our ability to respond to potential economic downturns.
Keeping Pennsylvania on a path to prosperity, the budget continues the phased reduction of the state's Corporate Net Income Tax and adds tens of millions of new dollars for workforce development, job training and career and technical education. It also provides additional resources to support improvements to the state Department of Environmental Protection's permitting process as well as the modernization and upgrade of Pennsylvania's occupational licensure system.
The budget reduces the tax burden on some of our most vulnerable populations by expanding eligibility for and increasing the rebates provided by Pennsylvania's Property Tax/Rent Rebate Program. It also permanently protects program participants from losing eligibility due to future Social Security cost-of-living adjustments.
Empowering Pennsylvania families, the budget not only provides basic education with an increase of $567.4 million, which is a nearly 8% hike, it creates a new $100 million Pennsylvania Award for Student Success Initiative and adds $150 million more for school choice through the Educational Improvement Tax Credit (EITC) and Opportunity Scholarship Tax Credit (OSTC) programs. The plan also provides $125 million for school safety grants and $100 million for student mental health.
Additionally, the budget seeks to improve public safety by providing enough funding to train 384 new Pennsylvania state troopers while also increasing the current cap on the overall complement of officers by 100.
The legislation now heads to the House of Representatives for consideration.
Phillips-Hill noted that residents are encouraged to visit her website at SenatorKristin.com, her Facebook page at Facebook.com/SenatorKristin and her Instagram page at Instagram.com/SenatorKristin. There, they will find information on the latest legislative developments in Harrisburg, state programs and the latest happenings in the 28th District.