In this update:
Christmas wishes to you and your family
Bills passed in 2021-22 to aid families and children
New community service officer at PSP York
Winter storm safety tips
100th anniversary of the Hanover Area Chamber of Commerce
'Tis the season for bogus charity appeals
ICYMI: Weigh in with your preference, Saturday or Monday deer season opening day?
Touring the Baseball Warehouse
Holiday office hours
---
Christmas wishes to you and your family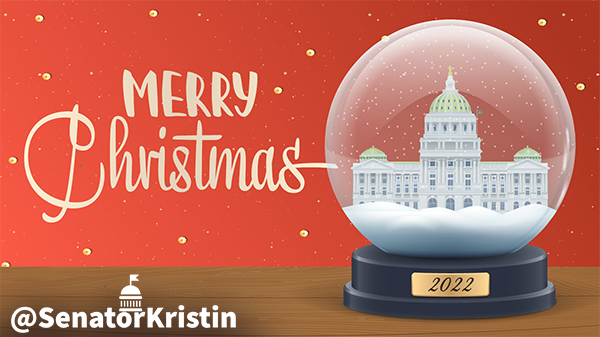 As the holiday begins, it turns my thoughts to all of you who have made this year memorable.
Thank you to everyone that takes time out of their busy days to share with me their opinion or thoughts on any matters coming before YOUR state government. I truly value the opportunity to be your voice in Harrisburg and look forward to continuing to do so in the future.
May you and your family have a Christmas season that is filled with love, happiness, and prosperity!
Bills passed in 2021-22 to aid families and children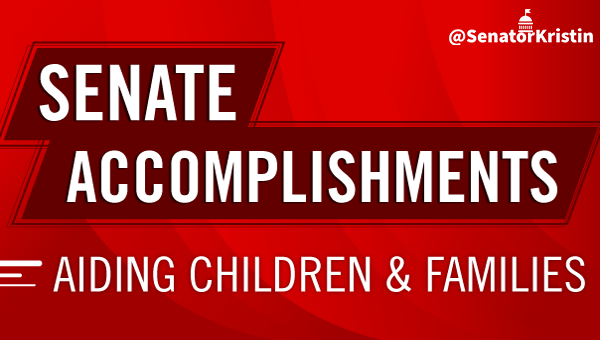 From cracking down on crimes against children and care-dependent Pennsylvanians to supporting family caregivers and workers with disabilities, and more, we passed more than a dozen new laws this session to aid children and families.
Act 53 of 2021 increases the penalties for those convicted of child pornography and permits the Pennsylvania Commission on Sentencing to create a sentencing enhancement for those convicted of the sexual abuse of children when the victim is known to the defendant.
Act 69 of 2021 allows individuals with disabilities to increase earnings under a new category of Medical Assistance for Workers with Disabilities entitled Workers with Job Success.
Act 42 of 2022 designates the locations where smoke detectors must be installed in child care facilities and requires that they are interconnected so that if one is triggered, they all go off.
Act 112 of 2022 allows voluntary contributions to the Children's Trust Fund when electronically renewing a driver's license or identification card and when renewing a vehicle registration.
You can find a complete list here.
New community service officer at PSP York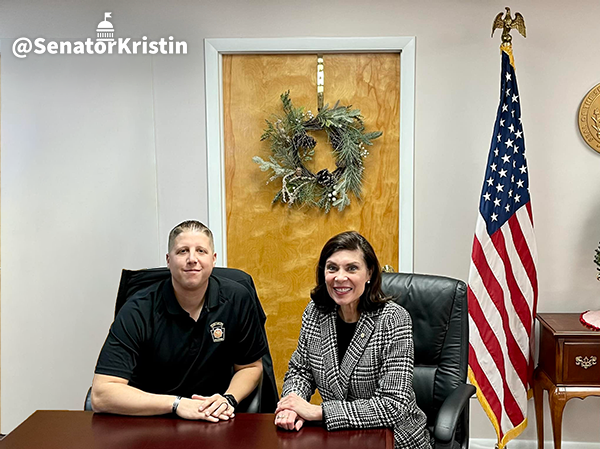 Earlier this week, I met with Pennsylvania State Police York Station's newly appointed Community Service Officer, Trooper James Grothey. I appreciated the opportunity to discuss policing matters important to the residents of the 28th Senatorial District.
Please keep an eye out for Trooper Grothey at local events and be sure to say hello as he works to enhance the relationship between Pennsylvania State Police and our community.
Winter storm safety tips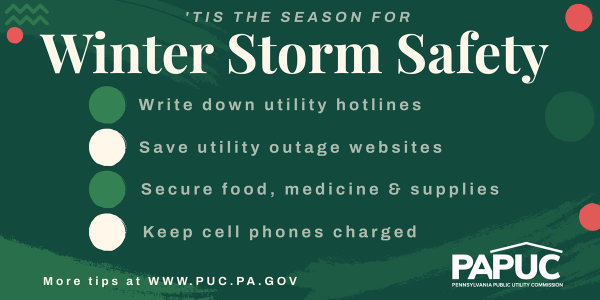 As the holiday season is in full swing, winter storm season is also approaching. The Pennsylvania Public Utility Commission released tips that households can take to prepare for, and recover safely from, storm-related power outages.
Know Your Utility Hotlines: Write down, print or save toll-free outage hotlines for your electric utility and/or your natural gas utility, which are listed on your monthly bills and posted on the PUC website.
Save Utility Website Address: Your utility's outage reporting system can provide updates on repair and restoration efforts. Bookmark these electric utility outage sites and natural gas company websites.
Secure Supplies: Keep necessary food, medicine and other supplies on hand, including batteries for flashlights.
Keep Your Cell Phone Charged: A well-charged phone will keep you in contact with your utility, other emergency services and family members during any power outage.
Find more advice here on storm prep and what to do when the power goes out.
100th anniversary of the Hanover Area Chamber of Commerce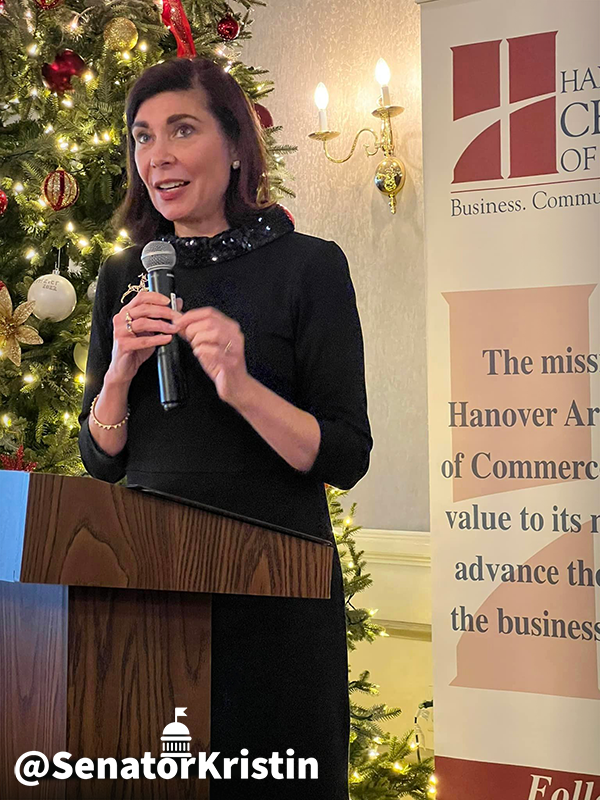 Thank you to the Hanover Area Chamber of Commerce for the opportunity to share a few remarks and join members for their annual holiday luncheon and kick off the 100th anniversary celebration of the Chamber!
Luke Bernstein, president and CEO of the Pennsylvania Chamber of Business and Industry, gave the keynote speech and discussed recent legislative victories and the challenges and opportunities of the future to assure pro-growth public policies for Pennsylvania's economic success.
'Tis the season for bogus charity appeals
With many people planning charitable giving this time of year, the Pennsylvania Department of State offers tips and best practices to help consumers make sure their contributions are going to legitimate charitable organizations and causes.
Here are some red flags of potential charity scams:
Similar sounding name: Scammers often use names that sound similar to legitimate charities to intentionally create confusion.
High-pressure solicitation: Fraudsters will try to force a hasty decision by turning up the pressure. They may cold call, identifying you as a previous contributor, and asking for your renewed support or to update your credit card information.
Donation by wire transfer: Legitimate charities will not ask you to make payment via money order or wire transfer. If you are being solicited for a donation and are asked to pay by these means, hang up immediately.
Donation by gift card: A charity may ask for donations of gift cards, such as from a grocery store, to supply to someone in need, but you should never read the information from a gift card over the phone or provide it via email. After verifying the legitimacy of the charity, take any physical gift card donation directly to the location of the charity and request documentation of your contribution.
You can visit the online charities database to verify that an organization is registered to solicit in Pennsylvania and to see its basic financial information about expenses for program services, fundraising and management.
ICYMI: Weigh in with your preference, Saturday or Monday deer season opening day?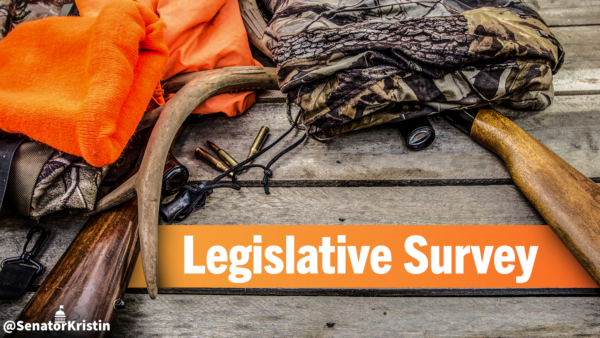 As a reminder, I am asking for feedback on deer season opening day. You have until Dec. 30 to participate in the survey and I will share the results in the New Year!
Please feel free to share this message with any neighbors or sportsmen within the 28th District who may want to weigh in on this topic.
Touring the Baseball Warehouse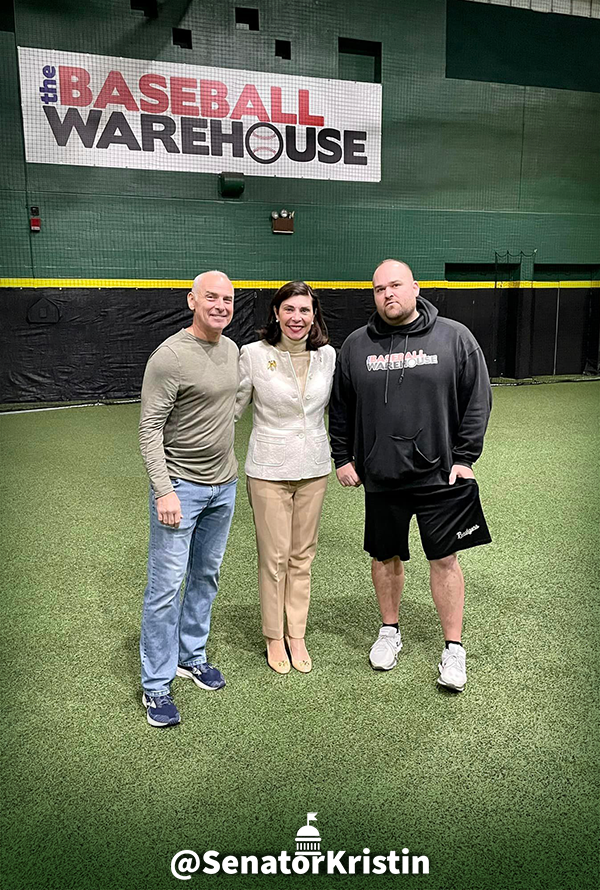 Thank you to the Baseball Warehouse, located in Red Lion, for the tour! It was a great speaking with Owner Matt Morris and Ambassador (and former Baltimore Oriole) Mike Bordick to learn about what they offer to athletes in our community.
The Baseball Warehouse's staff includes former minor and major league players and coaches. They specialize in private baseball instruction, coaching clinics, player camps, strength training, travel teams and college placement.
You can learn more about The Baseball Warehouse here.
Holiday office hours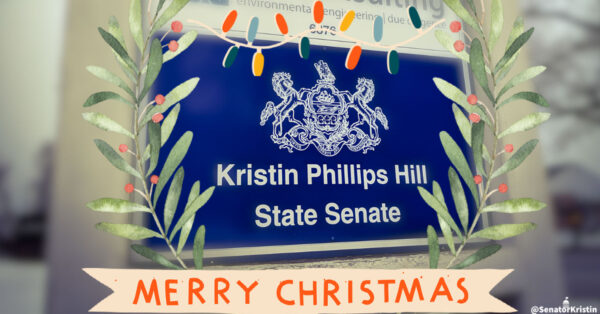 Please be advised that due to the holidays, below are our office hours for the next few weeks.
Monday, Dec. 26: Closed
Tuesday, Dec. 27: 9 a.m. to 4:30 p.m.
Wednesday, Dec. 28: 9 a.m. to 4:30 p.m.
Thursday, Dec. 29: 9 a.m. to 4:30 p.m.
Friday, Dec. 30: Closed
Monday, Jan. 2: Closed
Tuesday, Jan. 3: 2023-24 Legislative Session Begins/Swearing-In Day
Normal office hours resume on Wednesday, Jan. 4.
You can always access many state resources on our online office at SenatorKristin.com.