In this update:
Clarifying Three Co-Equal Branches of Government
Support Students in Failing Schools
York County Food Bank Holding Emergency Food Bank
Higher Property Tax/Rent Rebates Available Next Year
Farm to Table Gala Showcasing York County Farms
Call 988 for Suicide Prevention and Crisis Support
Keep Your Pets Safe in the Summer Heat
111th Annual Convention with the Firefighters Association of York
New Chapter to the Red Lion Table Company
Hopewell Township Building Unveiling
Celebrating Back to School Month by Brushing Up on School Bus Safety
Thanks for Coming to Red Lion Street Fair
---
Clarifying Three Co-Equal Branches of Government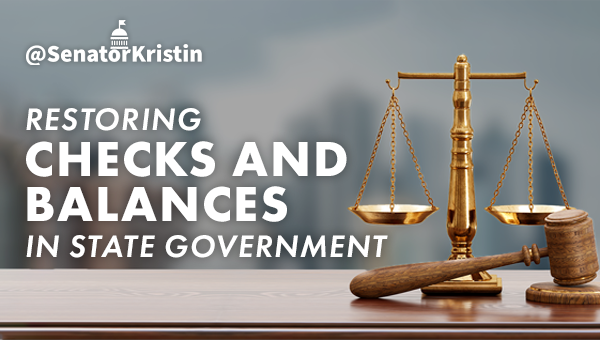 I am teaming up with Sen. Judy Ward to introduce a proposed constitutional amendment to clarify the Senate of Pennsylvania's role to advise and consent to nominations made by the state's chief executive.
According to Pennsylvania's Constitution, the Senate shall consent to gubernatorial nominees to serve in cabinet-level positions with a two-thirds majority vote.
Under the Wolf Administration, more than 30 cabinet officials departed state agencies. To fill those vacancies, the governor appointed nominees, but never submitted the individuals to the Senate as part of the confirmation process. Instead, cabinet secretaries maintained the "acting" title without any restrictions despite their lack of confirmation by the Senate.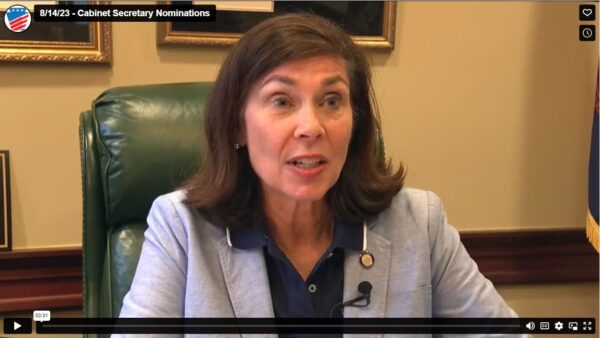 In fact, when Gov. Wolf left office one-third of his cabinet secretaries were in an acting capacity and not nominated for the position to come before the Senate, disenfranchising the intent of co-equal branches of government.
The proposed constitutional amendment will clarify the authority of a cabinet secretary that has not been confirmed by the Senate of Pennsylvania, stating that they do not have the ability to perform certain actions, such as issue executive orders or promulgate regulations on behalf of the governor.
You can find out more on this proposal here.
Support Students in Failing Schools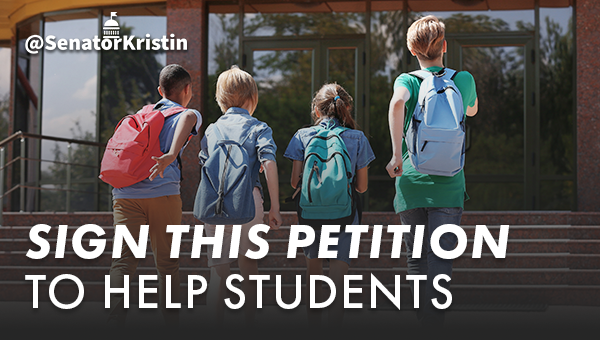 Your voice is making an impact in YOUR state government!
As I have shared with your prior, Senate Republicans and Democrat Gov. Josh Shapiro compromised on a state budget agreement for the 2023-24 fiscal year. That agreement included an increase of more than half a billion dollars to fund public education in Pennsylvania.
In addition to the substantial public education funding, the budget deal also reflected the reality that many students are trapped in failing public schools. It included $100 million for the Pennsylvania Award for Student Success (PASS) Program, which would give thousands of students increased educational opportunities.
Unfortunately, after House Democrats pushed back against this bipartisan plan, the governor abandoned his own priority and the agreement he pledged to support.
If you have not signed my petition, please do so here.
York County Food Bank Holding Emergency Food Bank
The York County Food Bank was in Stewartstown on Wednesday this week to help our neighbors who were impacted by last week's storm, and they will be there again next Wednesday, Aug. 23.
The event is being held at 26 S. Main St. in Stewartstown from 5-6:30 p.m.
Thank you to Stewartstown United Methodist Church for hosting this drive-thru event! You can find out more about this event here.
Higher Property Tax/Rent Rebates Available Next Year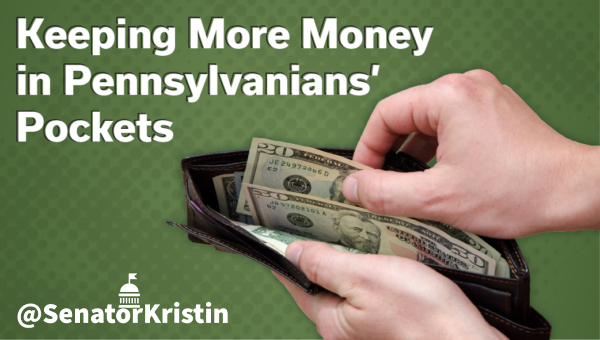 The Senate passed legislation that will increase the amount of rebates for the Property Tax/Rent Rebate Program and expand the income eligibility for it. The changes will take effect beginning next year.
Because income eligibility limits weren't raised for 16 years, the number of recipients of the program dropped from about 600,000 individuals to an estimated 398,000 in the current year. The legislation also includes an annual cost of living adjustment so the program will keep pace with inflation and people won't lose their rebate just because they received a modest increase in their Social Security benefits.
Review the new rebate amounts, available next year, here.
Farm-to-Table Gala Showcasing York County Farms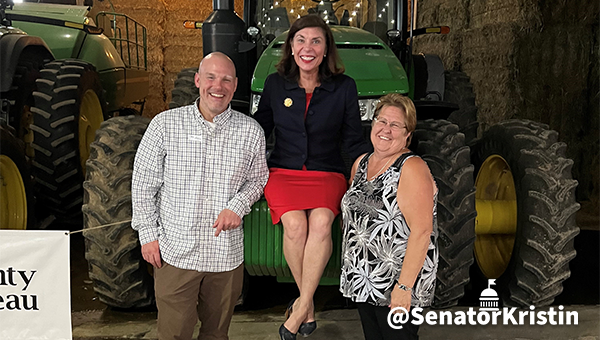 Our Southern York County farmers are incredible! Despite the storms and tornado that brought crop loss, infrastructure damage, livestock loss, and power outages, the members of the York County Farm Bureau held their inaugural Farm-to-Table Gala last Thursday night!
Thank you to John Marsteller, and Heather and Corey Grove for hosting the dinner at Green Valley Farms! Kudos to Chef Bruce Baker and Chef Ashley Tolley from York County School of Technology's Culinary Arts Program who transformed the bounty of York County's farms into an incredible meal!
It was great to listen to Pennsylvania Farm Bureau President Chris Hoffman's remarks on the state of agriculture across our great commonwealth.
We are so grateful for the men and women that feed our county, commonwealth, and country! Keep an eye out for next year's Farm-to-Table Gala!
You can learn more about the York County Farm Bureau here.
You can find more pictures from the event on Instagram.
Call 988 for Suicide Prevention and Crisis Support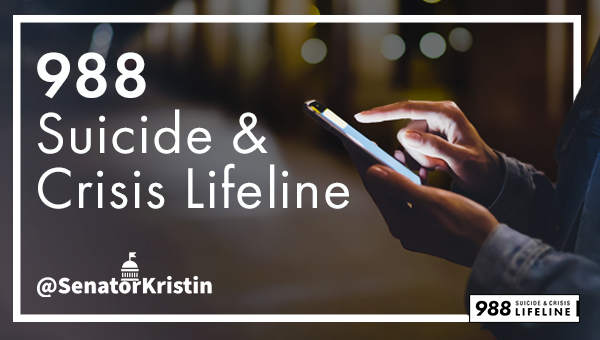 Pennsylvanians facing mental health challenges need our support. Senate Republicans have dedicated funding to mental health services in schools and more support staff in nursing facilities. The budget passed this year by Senate Republicans, when it becomes law, would provide $100 million for student mental health.
This effort complements other resources. Dialing 988 connects callers considering suicide, self-harm or any behavioral or mental health need with the National Suicide Prevention Lifeline. It can also assist people looking for help for a loved one. Lifeline services are available 24 hours a day, seven days a week, at no cost to the caller.
Trained professionals can provide therapeutic interventions, make referrals for outpatient services or transportation for further evaluation and even activate a mobile mental health crisis team to arrive on site. Learn more here.
Keep Your Pets Safe in the Summer Heat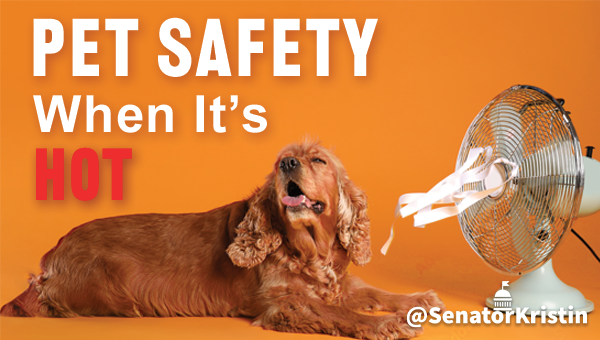 As the dog days of summer drag on, we have to protect our pets from the heat. The American Red Cross has tips to help your pets stay safe:
Never leave your pet in a hot vehicle.
Limit exercise on hot days.
Walk your pet in the grass.
Make sure they have access to shade and plenty of water.
Even taking proper precautions, pets can overheat. Heat stroke is a common problem for pets. Learn the signs and what to do if you suspect your pet has heat stroke here.
In addition to elevated temperatures, summer brings other potential safety issues for pets. Swimming in a pool is a great way to stay cool, but it can be dangerous for animals. Never leave your pets unsupervised around a pool. Barbecues can also be unsafe, so keep your pets away from the grill and know what foods can be poisonous to them.
111th Annual Convention with the Firefighters Association of York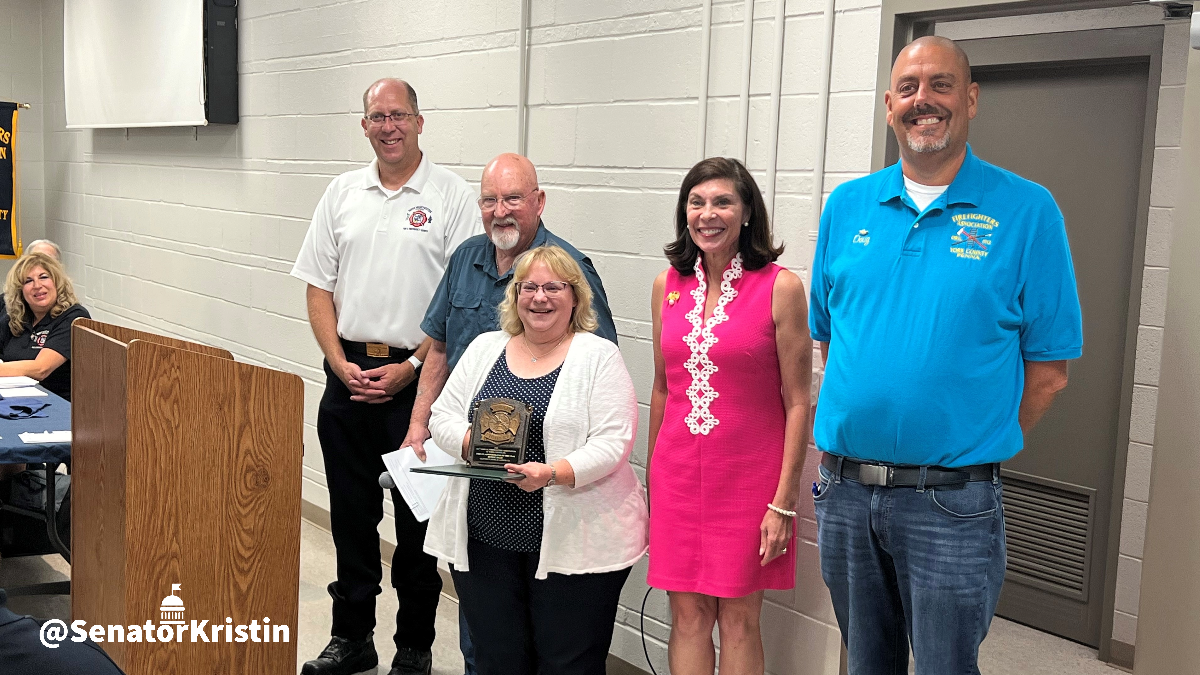 It was an honor to spend Friday evening with the Firefighters Association of York County, Pennsylvania at their 111th Annual Convention! York County is grateful for the fine men and women who are there for us 24/7 serving as emergency responders! Congratulations to Administrator of the Year Denise Hale of Glen Rock Hose & Ladder Co., Firefighter of the Year Captain Nicholas Mann of West Manchester Township Fire Department, Fire Police Officer of the Year Dean Trump of Wellsville Fire Company and Junior Firefighter of the Year Elijah Dinger of West Manchester Twp Fire Department.
Thank you to keynote speaker, Jerry Ozog who serves as the executive director of the Pennsylvania Fire & Emergency Services Institute and Curt Werner for the great pictures!
Congratulations to Cadence McCandless of Nashville Volunteer Fire Department on receiving a scholarship in memory of Loganville Fire Company Chief Rodney Miller to pursue a degree in nursing from York College of Pennsylvania.
You can find more photos from the event here.
Mark your calendars for the 112th Annual Convention on Aug. 16 & 17, 2024 hosted by Southern Area Fire and Emergency Rescue in Dallastown!
New Chapter to the Red Lion Table Company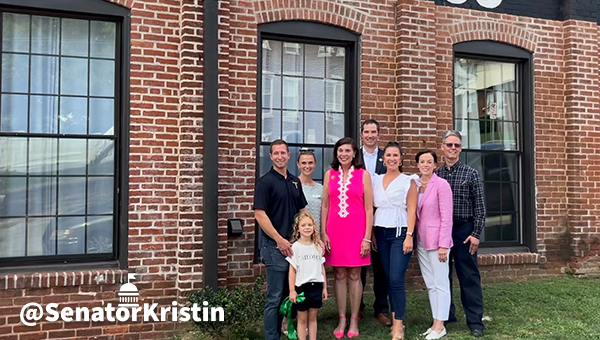 It was great to join Tailored Real Estate for the grand opening of the Red Lion Table Company! After two years of reinventing an old table company, the block long project has officially come to fruition.
The Red Lion Table Company has 98 unique apartments and two commercial spaces. Grounding Specialty Coffee is open on the site now and Black Cap Brewery is coming soon! Congratulations again to Jordan Ilyes and the whole Tailored Real Estate team for making this dream come to life!
Hopewell Township Building Unveiling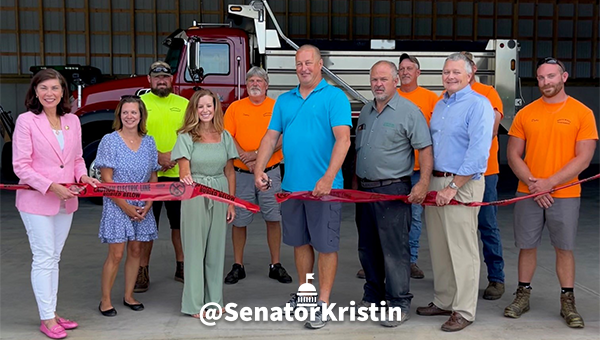 Earlier this week, I was able to join Hopewell Township for the reveal and ribbon cutting of their newest additions!
The township constructed new salt and equipment storage buildings, which will help prolong the life of the resources and equipment.
Celebrating Back to School Month by Brushing Up on School Bus Safety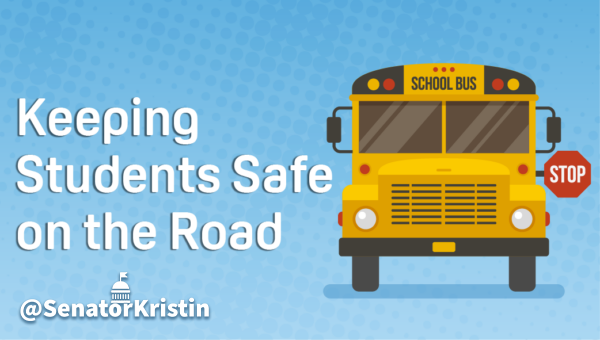 Parents, students and teachers are preparing to head back to school to start the new academic year. Soon, school buses will be transporting students again, and that requires additional caution from all drivers.
Pennsylvania law requires motorists to stop at least 10 feet away from school buses when their red lights are flashing and their stop arm is extended. Motorists following or traveling alongside a school bus must also stop until the red lights have stopped flashing, the stop arm is withdrawn, and all children have reached safety. Do not proceed until all the children have reached a place of safety. Read more about school bus safety here.
Penalties for failure to obey school bus safety laws can result in a $250 fine, five points on a driving record and a 60-day license suspension.
Thanks for Coming to Red Lion Street Fair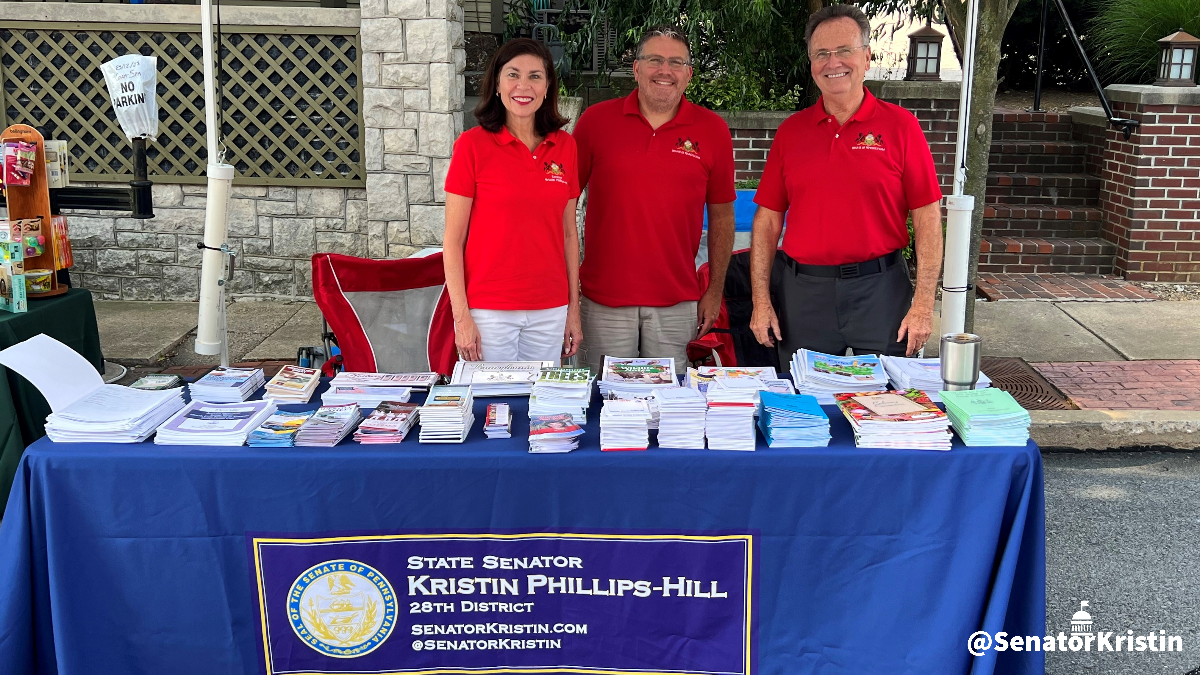 Thank you to everyone that stopped by our legislative table at the 46th Annual Red Lion Street Fair hosted by the Red Lion Area Business Association!
My team and I really enjoyed connecting with so many constituents!
We had beautiful weather, great entertainment, food, activities, local businesses, and non-profit organizations that do so much good in our community! You can find more pictures from the event on my Instagram.