In this update:
PA to receive more than $1 billion to close digital divide
Urging federal government to abandon misguided policy
Preventing overdoses and easing strain on EMS providers
Senate works to reunite missing children with their families
Work continues on a new state budget
Supporting transportation infrastructure
Senate advances bill to combat elder abuse
Bill to expand college, job training opportunities passes Senate
Joining NFIB-PA to boost our locally owned small businesses
Receiving the Legislative Champion Award
York County BBQ Festival
Faulty launch of online antlerless deer license sales
Happy Independence Day
Upcoming PennDOT maintenance projects
---
PA to receive more than $1 billion to close digital divide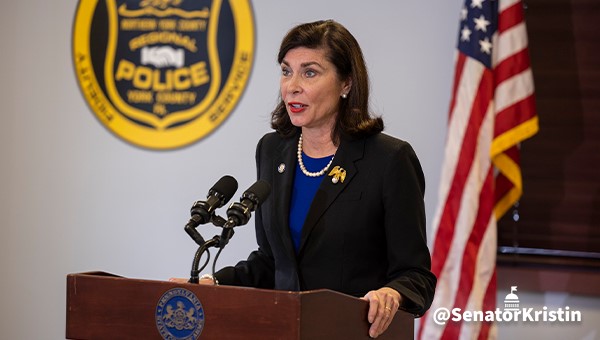 Our state took aggressive and swift action to challenge the Federal Communications Commission's map that provided data points on individuals, businesses, schools and hospitals that lack access to high-speed internet connectivity. Thanks to all of you who challenged, Pennsylvania had the third highest number of successful challenges in the country!
As a result, the Commonwealth of Pennsylvania is set to receive $1.16 billion in funding from the Broadband, Equity, Access, and Deployment Program.
The Pennsylvania Broadband Development Authority (PBDA) must submit a five-year action plan to the National Telecommunications and Information Administration by Aug. 12. As a member of the PBDA, I will keep you all up to date with the latest information!
You can view the statewide broadband map and learn more about challenging any location in Pennsylvania here.
Urging federal government to abandon misguided policy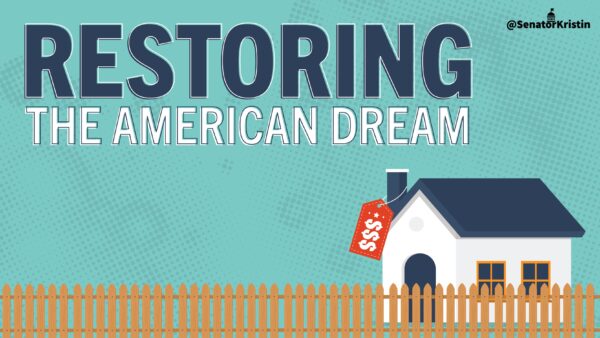 I am thankful that the Senate Banking & Insurance Committee approved the resolution I am working on with Sen. Devlin Robinson to address the misguided policy from the Biden administration.
Earlier this year, the Federal Housing Finance Authority (FHFA) unilaterally adopted a policy that increases fees on homebuyers with good credit who make large down payments, while rewarding borrowers with bad credit and small down payments. Senate Resolution 134 urges President Biden and the FHFA to abandon this policy.
Since it was adopted, the FHFA retracted its debt-to-income ratio fee for home mortgages. However, it is accepting public comments on fee increases based on a borrower's credit score.
You can find more information on Senate Resolution 134 here.
This resolution heads to the full Senate for consideration.
Preventing overdoses and easing strain on EMS providers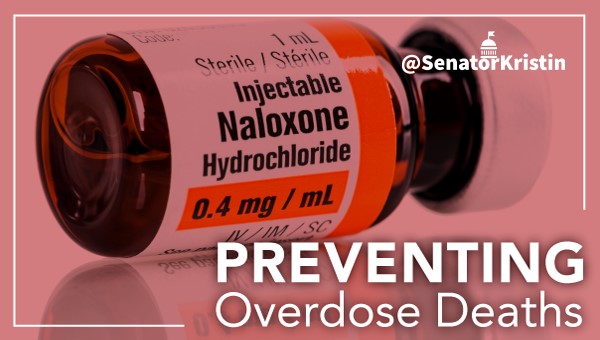 The Senate unanimously approved my legislation, which would allow Emergency Medical Service (EMS) providers to leave a dose package of life-saving Naloxone, or Narcan, with the on-scene caregiver.
When I first sponsored this bill in the Senate, fentanyl was about half as likely as it is today to be involved in an overdose leading to death. Today, more than two-thirds of all overdose deaths are due to fentanyl.
Our EMS providers are pulled in multiple directions on a daily basis. Allowing them to assist as many individuals as possible while giving them tools to be effective, efficient, and attentive to every overdose call, this legislation will address two major challenges impacting our state.
You can learn more about Senate Bill 81, which now heads to the House of Representatives for consideration, here.
Another measure to ease the strain on EMS providers, Senate Resolution 120, calls for a study on the dollar amount EMS providers are losing when they aren't paid for their services.
EMS providers are not reimbursed for the treatment they provide Medicaid patients unless the patient is transported to the hospital or treatment facilities. As a result, the increased number of overdose response calls without transport hurts our EMS providers, which are already struggling financially.
Senate works to reunite missing children with their families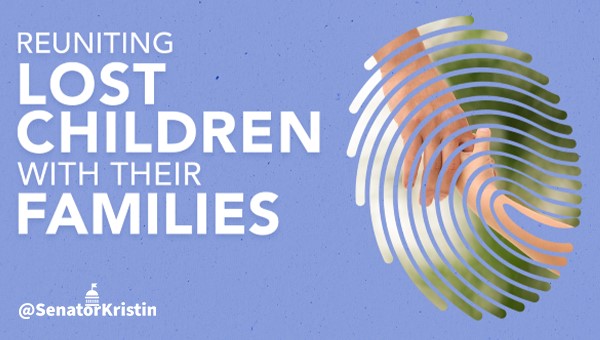 The Senate approved the Child Reunification Act to provide parents and law enforcement with a new tool to help identify and return missing children.
Senate Bill 460 would provide parents and guardians with free identification kits that include fingerprinting materials, DNA collection swabs and other information to help identify the child in case of an emergency.
The bill would require school districts to distribute the kits to all first graders at no cost to parents. To protect the personal information of children and families, the information would be stored securely by parents and would not be entered into any state or national database.
Work continues on a new state budget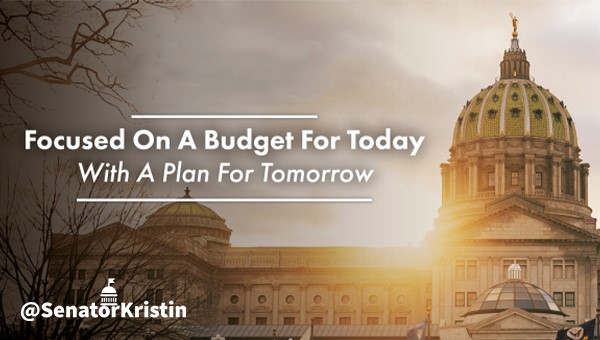 This week, our work continues to complete a state budget for the 2023-24 fiscal year. Budget priorities include:
Supporting family-sustaining, good-paying jobs.
Lowering energy costs.
Avoiding tax increases.
Providing education opportunities to all children.
Helping seniors with rising costs.
Improving roads and bridges.
This effort requires a serious approach. We are focused on putting the right plan in place for PA families and taxpayers and ensuring that it is sustainable for this year and in the future.
In case you missed it, last week, I sat down with ABC27's Dennis Owens and talked about all things related to our state budget. You can check out our conversation here.
Supporting transportation infrastructure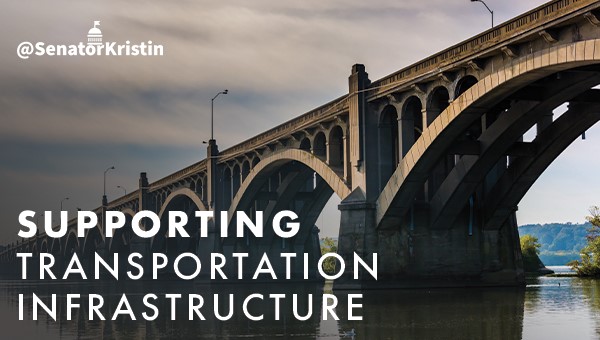 The Senate has been working on numerous transportation initiatives that would impact ALL areas of our state.
This week, the Senate passed Senate Resolution 136 to extend until Nov. 1 the emergency disaster proclamation issued in response to the collapse of the I-95 bridge in northeast Philadelphia.
Earlier this year, as people struggled with rising costs for all kinds of basic necessities, the Senate voted to protect Pennsylvanians' wallets and stop the automatic gas tax increase for 2023. It would have been the second-highest gas tax in the nation, behind only California.
In another vote to bolster funding for Pennsylvania's transportation infrastructure, the Senate passed Senate Bill 121 to restrict the diversion of transportation funding out of the Motor License Fund by the State Police for statewide highway patrol operations. The fund obtains revenue from transportation charges, including the gas tax, vehicle registration fees and driver license fees.
We also recently passed Senate Bill 656 to ensure owners of electric vehicles pay their fair share of road and bridge maintenance by enacting a flat annual fee of $290. Currently, they are required to remit the Alternative Fuels Tax based on the amount of electricity their vehicle uses, but most electric vehicle owners do not do this.
Senate advances bill to combat elder abuse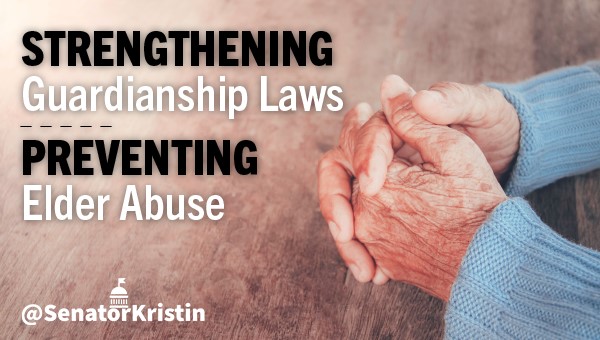 The Senate passed legislation combatting elder abuse and strengthening guardianship laws in Pennsylvania.
Senate Bill 506 would require courts to automatically appoint counsel to individuals undergoing the guardianship process, consider other less restrictive alternatives before imposing a guardianship, and institute training and screening of professional guardians. The bill would also establish more robust review procedures for those currently in a guardianship.
Currently, when an adult of any age is deemed incapacitated by a court, a guardian may be appointed to become responsible for making certain decisions on their behalf, including for financial, medical and personal matters. Pennsylvania is one of only eight states in America that does not automatically appoint counsel to represent alleged incapacitated persons.
Bill to expand college, job training opportunities passes Senate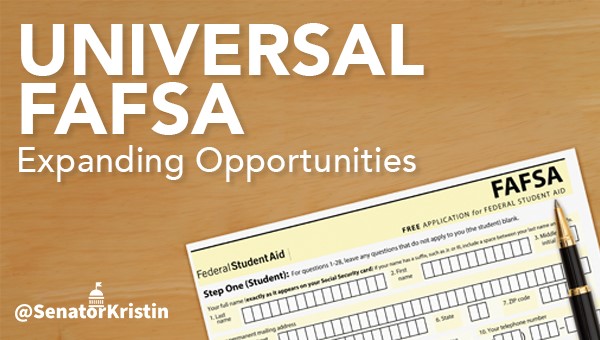 Each year, billions in available student financial aid goes unclaimed. This week, the Senate approved a bill to help more state residents make informed decisions about pursuing college and job training programs.
Senate Bill 750 would require high school seniors to complete the Free Application for Federal Student Aid (FAFSA), which determines eligibility for federal, state and school financial aid programs. Families who choose not to complete the application could opt out on a form provided to parents or guardians.
This important measure will help to train more young Pennsylvanians for family-sustaining careers that will anchor them in the commonwealth. When they put their roots down here, our state will benefit economically and attract more employers drawn by the skilled workforce. It furthers the Senate Republican priority of empowering Pennsylvania families through education empowerment and access.
Joining NFIB-PA to boost our locally owned small businesses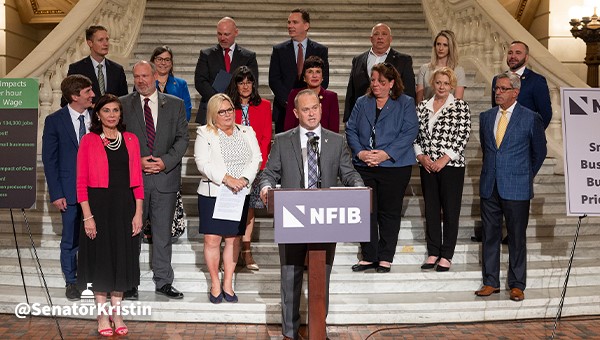 I was honored to join NFIB-PA this week as they advocated for bipartisan, commonsense reforms that will be a huge boost for our locally owned small businesses.
Receiving the Legislative Champion Award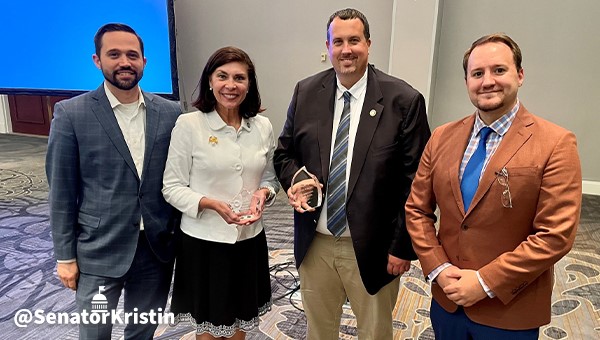 Every vote I cast as a legislator is made with great respect to the people who pay our bills – the taxpayers. I was honored to stand beside my colleague, Rep. Seth Grove as we received awards from the Foundation for Government Accountability.
FGA's Legislative Champion Award recognizes a national leader and policymaker who advances legislation that reduces barriers to work and promotes self-sufficiency and dignity for individuals and families.
Rep. Grove received the Legislator of the Year Award and I received the Legislative Champion Award.
You can find out more about this organization and awards here.
York County BBQ Festival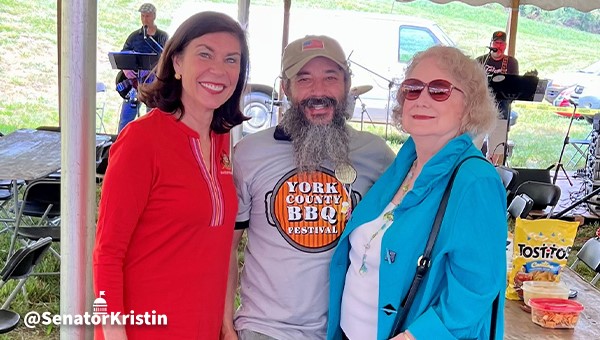 I was honored to attend the eighth annual York County BBQ Festival, held in Delta! The two-day festival features BBQ competition, entertainment, live music, children's activities, vendors, and more. The event boasts competitors from PA and eight other states, who all compete for a prize list that totals more than $10,000!
Congratulations on another successful year! You can find more photos on my Facebook, here.
Faulty launch of online antlerless deer license sales
This week, I received feedback from many of you sharing your displeasure and difficulties with the launch of the new online antlerless deer license sales.
My colleague, Sen. Greg Rothman, who chairs the PA Senate Game & Fisheries Committee, addressed the matter stating, "The launch of today's online antlerless deer license sales was unacceptable. Pennsylvanians expect government to function timely and efficiently, and they experienced neither today. We will be working with the Pennsylvania Game Commission and all other involved parties in order to ensure this problem is addressed now and moving forward."
You can read more here.
Happy Independence Day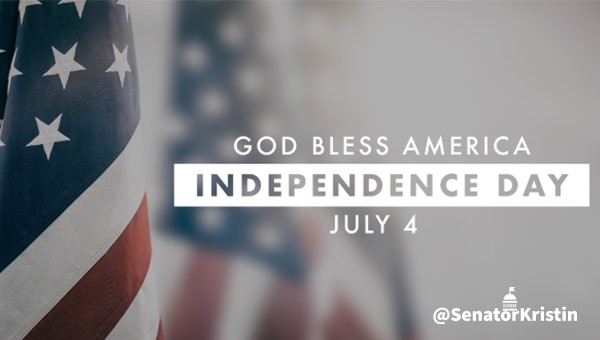 Next week marks 247 years since the 13 American colonies signed the Declaration of Independence in Philadelphia to break free from British rule. As we pause to celebrate the birth of our nation, let us take a moment to remember the men and women who sacrificed so much to create this country.
If you are traveling, check out www.511pa.com, which is free and available 24 hours a day. The site provides traffic delay warnings, weather forecasts, traffic speed information and access to traffic cameras.
PennDOT will also close its driver license service centers on Tuesday, July 4. Customers may still obtain a variety of driver and vehicle products and services, including all forms, publications and driver training manuals, online through PennDOT's Driver and Vehicle Services website.
Finally, York County Commissioners recently lifted their burn ban, which included setting off fireworks. If you choose to celebrate with fireworks, please make sure you follow the law to keep you (and your neighbors) safe!
Have a safe and happy July Fourth!
Upcoming PennDOT maintenance projects
You can view PennDOT's list of scheduled maintenance projects for next week below. If you have trouble viewing the schedule, please click here.