If you know a veteran, please forward this issue to him or her as it provides important updates, resources, and information.
In this Update:
VA begins processing disability compensation claims under PACT Act
VALife: The VA's newest life insurance program
Tricare mail order refills must be reconfirmed starting Jan. 1
Veterans' trust fund grant opportunities available
PNGAS virtual job fair on Jan. 18
What are vet centers?
Who is eligible to receive services at vet centers?
Contacting your local vet center
---
VA begins processing disability compensation claims under PACT Act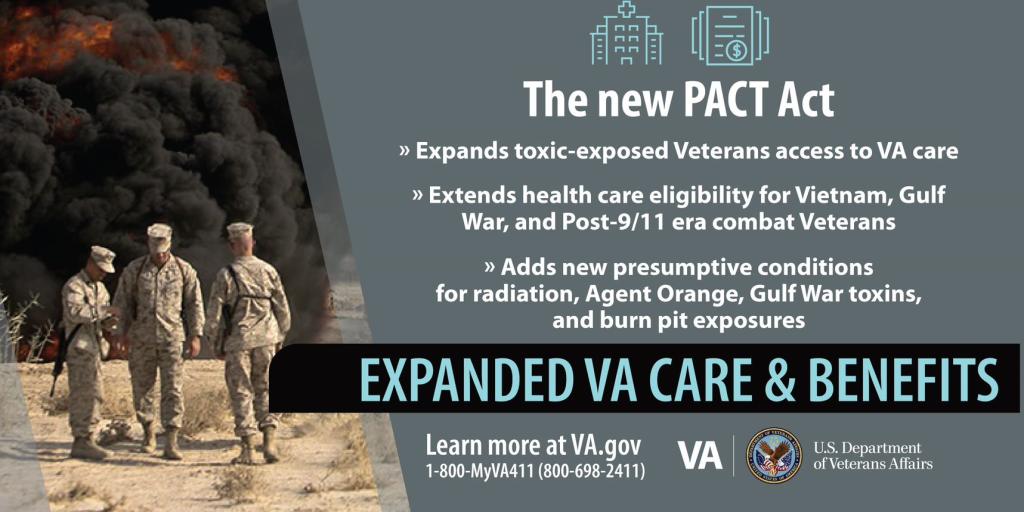 The U.S. Department of Veterans Affairs (VA) has, as of Jan. 1, begun processing claims for all veterans under the PACT Act.
Prior to Jan. 1, the VA began reviewing disability compensation claims for veterans who have a terminal illness.
The Sergeant First Class Heath Robinson Honoring Our PACT Act of 2022 (PACT Act) was signed into law last year to address our service members' exposure to burn pits and other toxic substances.
The act provides expanded access to health care and disability benefits for veterans harmed by certain toxic exposures, whether in the jungles of Vietnam or the mountains of Afghanistan. It will also let the VA move more quickly and comprehensively in the future to determine if illnesses are related to military service, and it will offer critical support to survivors who were harmed by exposures, including from water contamination at Camp LeJeune.
If you believe you experienced health issues because of burn pit exposure, you can call the VA at 1-800-MyVA411 (1-800-698-2411) to get more information about filing a claim. You can also learn more about the PACT Act and sign up here.
If you need help applying for benefits, the VA, accredited representatives and Veteran Service Officers are always standing by and ready to help. The American Legion also offers Accredited American Legion service officers who are specially trained to provide expert assistance, free of charge, to veterans and their families.
There's no cost for the forms, no fees to apply and VA will never charge veterans for processing a claim.
VALife: The VA's newest life insurance program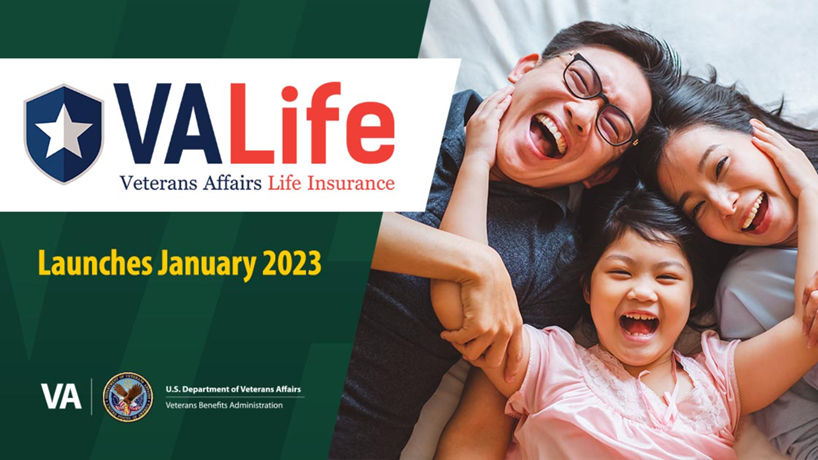 The VA's newest whole life insurance program is the Veterans Affairs Life Insurance (VALife). It offers cash value and very competitive premium rates.
Enrollment opened on Jan. 1 for all service-connected veterans age 80 and under.
More information about the program is available here.
Tricare mail order refills must be reconfirmed starting Jan. 1
Tricare, the U.S. military's health care program and government-managed health insurance, is requiring patients using its mail order pharmacy to confirm that they want their prescriptions refilled, rather than sending them automatically.
Express Scripts, Tricare's pharmacy benefits manager, began notifying patients in early December 2022 about the change. According to the email, Tricare Mail Order Pharmacy users will receive a notification via email or text when their prescription is up for a refill and must log in to confirm the request.
According to the Tricare, once authorized, Express Scripts will send the medication. If a beneficiary turns down a refill or does not respond, the prescription will be removed from the automatic refill program, but Express Scripts will continue sending reminder notifications until the prescription expires.
Veterans' trust fund grant opportunities available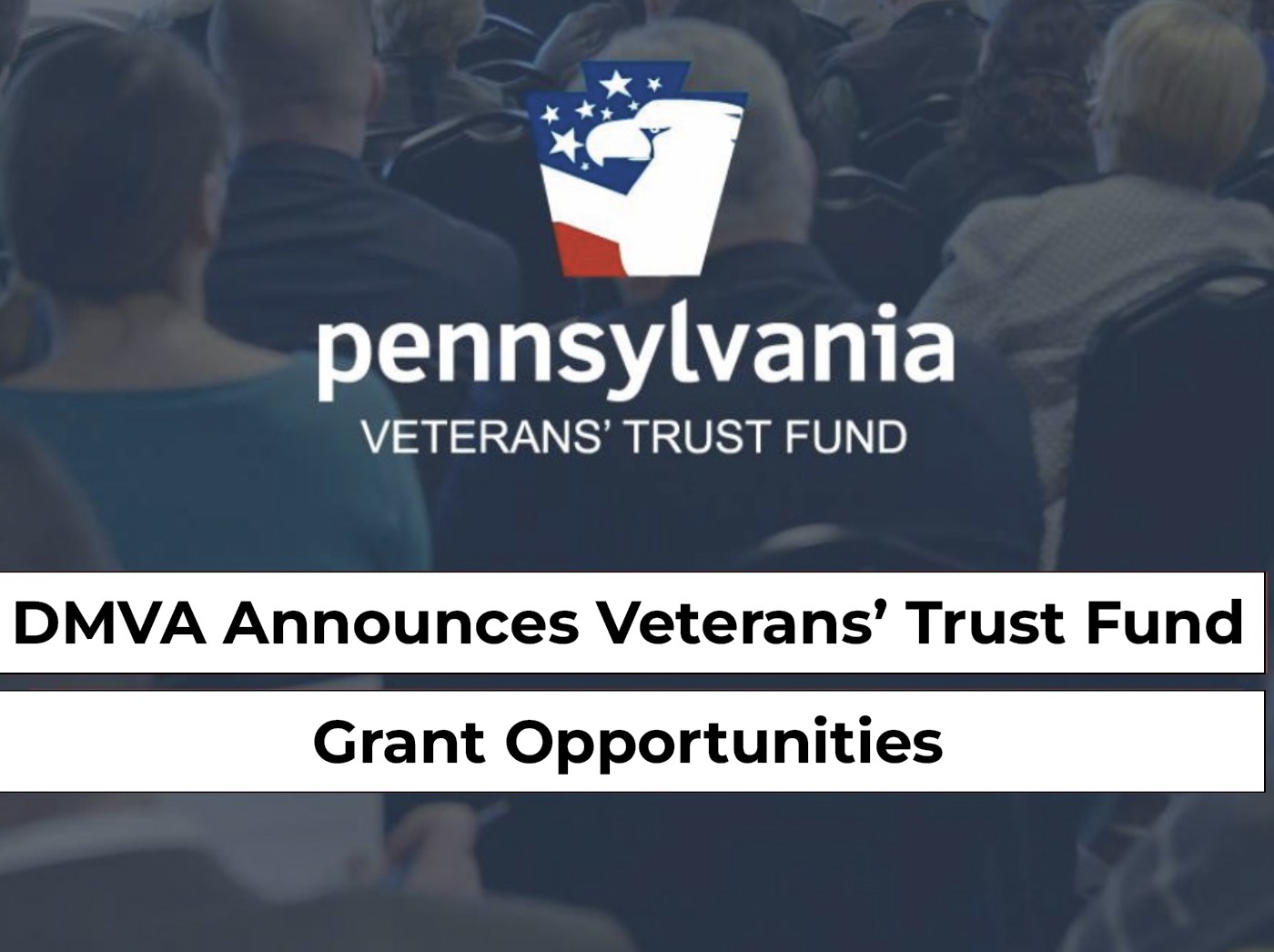 The 2022-23 Veterans' Trust Fund (VTF) is accepting grant applications for programs and services benefiting Pennsylvania veterans, with grant application due no later than 2 p.m. on Thursday, Jan. 19.
The Pennsylvania Department of Military and Veterans Affairs (DMVA) will award VTF grants to nonprofit organizations, veteran service organizations and county directors of veterans affairs across the state.
Grant funding is available for new, innovative or expanded programs or services operated by the county directors of veterans affairs or the Pennsylvania Association of County Directors of Veterans Affairs. The areas of emphasis for applicants in this category are veterans outreach, transportation services and homelessness. Grant funding is also available to veteran service organizations with 501(c)(19) status and nonprofit organizations with a mission of serving Pennsylvania veterans granted 501(c)(3) status under the Internal Revenue Code – funding priorities for applicants in this category are transportation services, behavioral health initiatives, homelessness, employment and education.
Recipients of the last round of VTF funding were recently announced.
To learn more about the VTF and the grant application process, visit VTF website or follow DMVA on Facebook at www.facebook.com/padmva.
PNGAS virtual job fair on Jan. 18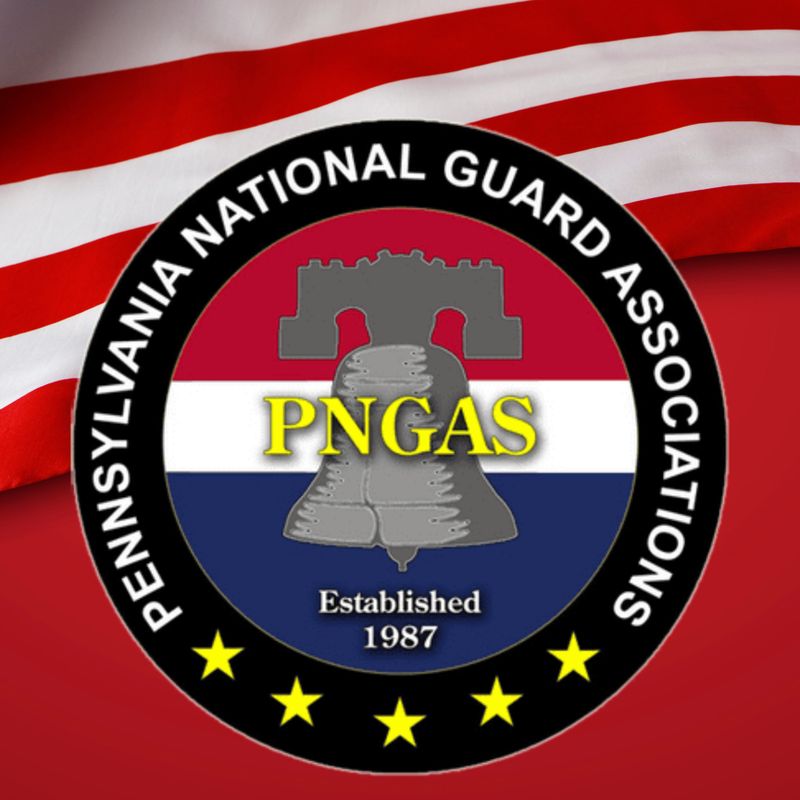 The Pennsylvania National Guard Associations (PNGAS) will be holding a virtual job fair on Jan. 18.
Be prepared to interview online with hiring managers and recruiters from top hiring companies. This online chat will connect you directly with organizations from the comfort of your home, office, smartphone or tablet.
After signing in, you'll be able to explore the available information and opportunities and participate in live one-on-one, text-based chats with representatives from participating organizations. Share your background and experience and get all of your questions answered.
You may also visit the job fair before and after the live event to continue making connections with top notch employers.
Additionally, the PNGAS Job Board is available 24/7 with more than 16,000 job openings listed. Some of the featured employers are: Penn State Health, Mack Defense, Quarate/Qvc, Great Wolf Lodge, Tradesmen International, PNC Bank, PA Attorney General's Office, TE Connectivity, Fastenal, Troops to Teachers, Commonwealth Charter Academy, Wells Fargo, PJ Dick Trumbull Lindy Paving, OneSource, Jillamy, First Quality, Hershey Entertainment, Milton Hershey School, Abarta Coca-Cola, Fastenal, DHL, Carnegie Mellon University, CAES, Werner Enterprises and Amazon.
What are vet centers?

VA vet centers provide free and confidential readjustment counseling for war-zone veterans and their families, from World War II to the current Global War on Terror.
Vet centers are small, non-medical, counseling centers conveniently located in our region. They're staffed by highly trained counselors and team members dedicated to seeing you through the challenges that come with managing life during and after the military.
Our region is served by the York Vet Center, which is one of 12 vet centers in Pennsylvania and more than 300 across the country. Whether you come in for one-on-one counseling or to participate in a group session, at vet centers you can form social connections, try new things and build a support system with people who understand you and want to help you succeed.
Who is eligible to receive services at vet centers?
Vet center services are available to veterans at no cost, regardless of discharge character, and without the need to be enrolled in VA health care or having a service-connected disability. If you are a veteran or service member, including members of the National Guard and Reserve, you can access vet center services if you:
Served on active military duty in any combat theater or area of hostility.
Experienced military sexual trauma (regardless of gender or service era).
Provided mortuary services or direct emergent medical care to treat the casualties of war while serving on active military duty.
Performed as a member of an unmanned aerial vehicle crew that provided direct support to operations in a combat theater or area of hostility.
Accessed care at a Vet Center prior to Jan. 2, 2013 as a Vietnam-era veteran.
Served on active military duty in response to a national emergency or major disaster declared by the president, or under orders of the governor or chief executive of a state in response to a disaster or civil disorder in that state.
Are a current or former member of the Coast Guard who participated in a drug interdiction operation, regardless of the location.
Contacting your local vet center
Even if you are unsure if you meet the criteria to receive services from a vet center, please contact a center.
Center services are also available to family members when their participation would support the growth and goals of the veteran or active-duty service member. If you consider them family, so does your local center. Bereavement services are also available to family members of veterans who were receiving vet center services at the time of the veteran's death, and to the families of service members who died while serving on active duty.
Vet center locations in Pennsylvania are:
Bucks County Vet Center, 2 Canals End Road, Suite 201B, Bristol, PA 19007, 215-823-4590
DuBois Vet Center, 100 Meadow Lane, Suite 8, DuBois, PA 15801, 814-372-2095
Erie Vet Center, 240 West 11th Street, Suite 105, Erie, PA 16501, 814-453-7955
Harrisburg Vet Center, 1500 N. Second Street, Harrisburg, PA 17102, 717-782-3954
Lancaster Vet Center, 1817 Olde Homestead Lane, Suite 207, Lancaster, PA 17601, 717283-0735
Norristown Vet Center, 320 East Johnson Highway, Suite 201, Norristown, PA 19401, 215-823-5245
City Center Philadelphia Vet Center, 801 Arch Street, Suite 502, Philadelphia, PA 19107, 215-627-0238
Northeast Philadelphia Vet Center, 101 East Olney Avenue, Philadelphia, PA 19120, 215-924-4670
Pittsburgh Vet Center, 2500 Baldwick Road, Suite 15, Pittsburgh, PA 15205, 412-920-1765
Scranton Vet Center, 1002 Pittston Avenue, Scranton, PA 18505, 570-344-2676
White Oak Vet Center, 2001 Lincoln Way, Suite 280, White Oak, PA 15131, 412-678-7704
Williamsport Vet Center, 49 East Fourth Street, Suite 104, Williamsport, PA 17701, 570-327-5281
For more information, please visit www.vetcenter.va.gov.