If you know a veteran, please forward this issue to him or her as it provides important updates, resources, and information.
In this Update:
5

th

Annual "All Vets Trip to DC" Trip
Bartz Brigade raises awareness for suicide prevention
Staff Sergeant Parker Gordon Fox Suicide Prevention Grants Awarded
Mission Daybreak Finalists for $20 Million Veteran Suicide Grant Challenge Announced
Warrior Expeditions Helping Veterans Transition to Civilian Life
What are Vet Centers?
Who is Eligible to Receive Services at Vet Centers?
Contacting Your Local Vet Center
---
5
th

Annual "All Vets to DC" Trip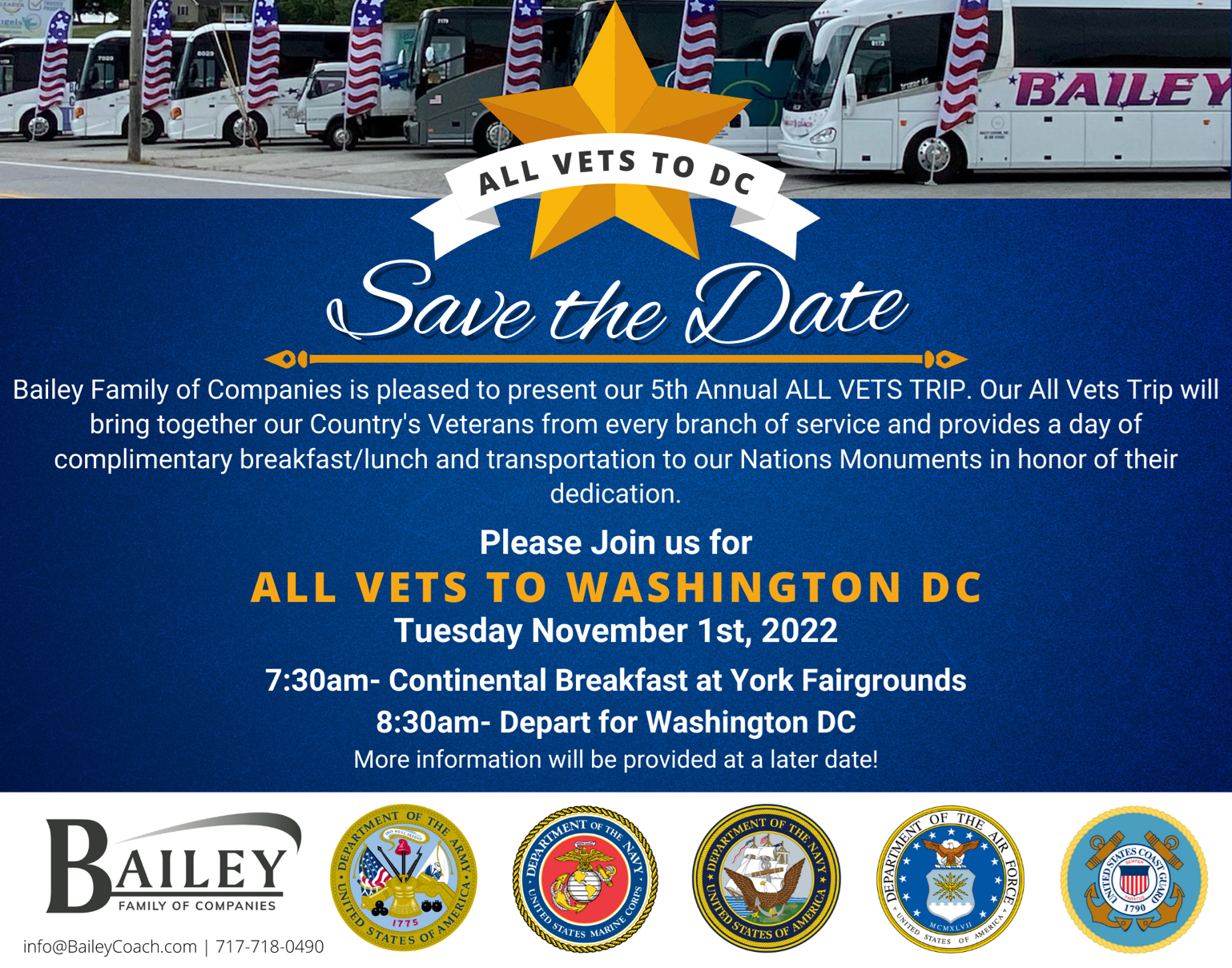 On Nov. 1, the Bailey Family of Companies and local veterans organization are sponsoring the annual "All Vets to DC." This complimentary event includes a free continental breakfast at the York County Fairgrounds, then free transportation to and from our nation's capital to tour national monuments dedicated to the men and women in our Armed Forces and the various conflicts our country has fought in over the decades.
If you or a veteran you know is interested in attending the event and would like to RSVP or obtain more information, please contact any of the individuals below.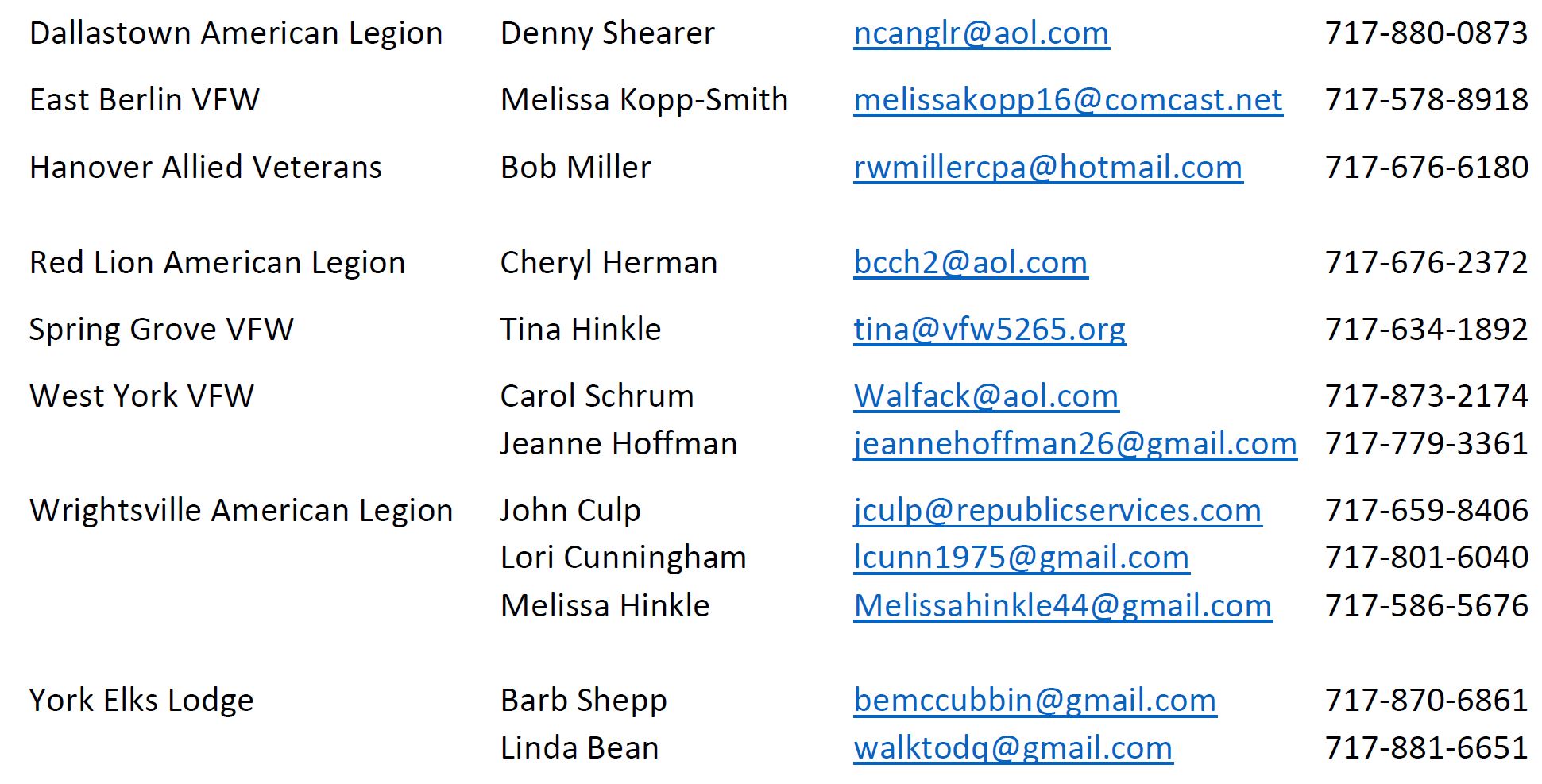 Bartz Brigade raises awareness for suicide prevention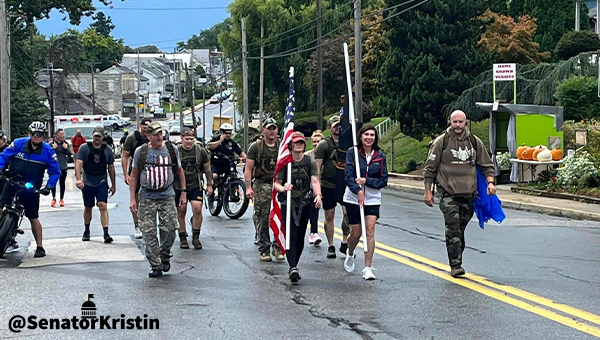 It was an honor to join the Bartz Brigade for their Ruck 22 to end suicide. Thank you to the 22 athletes who each carried a 22-pound ruck for 22 miles and did 22 pushups each mile to support suicide prevention, education, and awareness in York County.
To learn more about the Bartz Brigade and the Trent Bartz Foundation, please click here.
Staff Sergeant Parker Gordon Fox Suicide Prevention Grants Awarded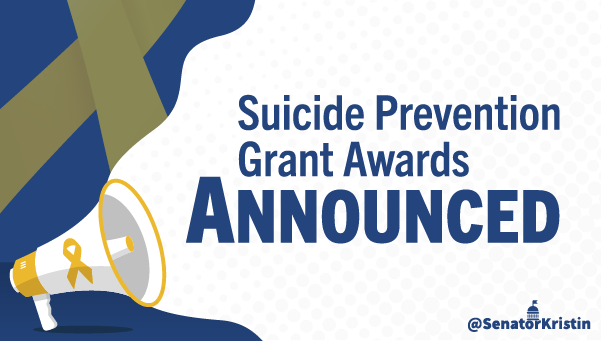 Last month, awards were announced for the national 2022 Staff Sergeant Parker Gordon Fox Suicide Prevention Grants Program (SSG Fox SPGP).
The SSG Fox SPGP enables U.S. Department of Veteran Affairs (VA) to provide resources toward community-based suicide prevention efforts to meet the needs of veterans and their families through outreach, suicide prevention services and connection to VA and community resources.
In alignment with VA's National Strategy for Preventing Veteran Suicide (2018), this grant program assists in further implementing a public health approach that blends community-based prevention with evidence-based clinical strategies through community efforts.
The grant program is part of the Commander John Scott Hannon Veterans Mental Health Care Improvement Act of 2019, signed into law on Oct. 17, 2020.
The VA has awarded $52.5 million to 80 awardees in 43 states, the District of Columbia and American Samoa for services in fiscal years 2022 and 2023. Three of those awardees are in Pennsylvania: Philadelphia's Veterans MultiService Center, Inc. ($740,211), Carbon County's Penn Foundation Inc. ($532,424) and Veterans Leadership Program of Western Pennsylvania, Inc. ($750,000), which serves all of Pennsylvania's 67 counties.
Organizations eligible to apply for grants include incorporated private institutions or foundations; a corporation wholly owned or controlled by an incorporated private institution or foundation; Indian tribes; community-based organizations that can effectively network with local civic organizations, regional health systems, and other settings where eligible individuals and their families are likely to have contact; and state or local governments.
For more information about the Staff Sergeant Parker Gordon Fox Suicide Prevention Grant Program, contact us at VASSGFoxGrants@va.gov.
If you or someone you know is having thoughts of suicide, contact the Veterans Crisis Line to receive free, confidential support and crisis intervention available 24 hours a day, seven days a week, 365 days a year. Dial 988 and then press 1, chat online at VeteransCrisisLine.net/Chat, or text 838255.
Mission Daybreak Finalists for $20 Million Veteran Suicide Grant Challenge Announced
In June, the VA gave an open invitation to innovators across the country to participate in Mission Daybreak, a $20 million challenge designed to help the VA develop new suicide prevention strategies for veterans.
Last month, 30 finalists, each of which will receive $250,000 and advance to the Phase 2 virtual accelerator program, were announced. Another 10 applicants, in recognition of their solutions, will each receive a Promise Award of $100,000.
The Phase 2 accelerator is designed to help the 30 finalists develop ambitious but achievable roadmaps for prototyping, iteration, testing and evaluation. Technology partners supporting the accelerator include Amazon and Microsoft.
In November, finalists will present their solutions to key stakeholders, investors and partners at Demo Day, a live pitch event. Phase 2 will award $11.5 million in prizes: two first-place winners will each receive $3 million, three second-place winners will each receive $1 million and five third-place winners will each receive $500,000.
Warrior Expeditions Helping Veterans Transition to Civilian Life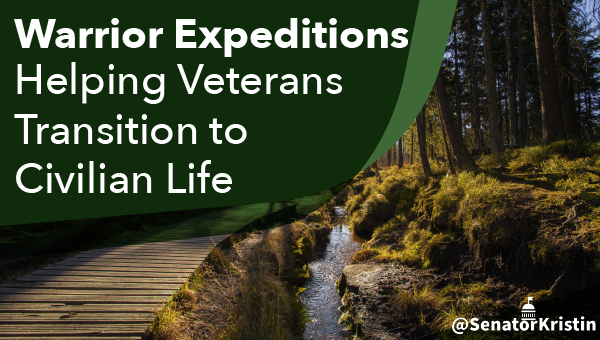 Warrior Expeditions is a veteran nonprofit outdoor therapy program that helps veterans transition from their wartime experiences through long distance outdoor expeditions.
The group was recently mentioned in local Pennsylvania news thanks to one veteran, former Army Sgt. Kevin Wilson, and his personal journey that has him hiking through our commonwealth. Kevin is hiking the 1,300 miles of the September 11th National Memorial Trail, which runs through the 9-11 memorials in Shanksville, New York City and at the Pentagon.
Kevin started his trek at the Pentagon on Wednesday, Aug. 24, with his guide dog, Calvin. Last month, Kevin and Calvin got to Shanksville and the Flight 93 Memorial on Sept. 11 and he's now walking through Pennsylvania on his way to Manhattan. He's planning to finish the hike around Nov. 15.
Since 2001, more than 3 million veterans have returned home from war but many of them have never transitioned from their experiences. The Department of Veteran Affairs estimates that up to 20% of post-9/11 veterans suffer from post-traumatic stress disorder.
Recognizing the therapeutic value of long distance outdoor expeditions, Warrior Expeditions created the Warrior Hike, Warrior Bike and Warrior Paddle programs to help veterans transition from their wartime experiences.
What are Vet Centers?
VA vet centers provide free and confidential readjustment counseling for war-zone veterans and their families, from World War II to the current Global War on Terror.
Vet centers are small, non-medical, counseling centers conveniently located in our region. They're staffed by highly trained counselors and team members dedicated to seeing you through the challenges that come with managing life during and after the military.
Our region is served by the York Vet Center, which is one of 12 vet centers in Pennsylvania and more than 300 across the country. Whether you come in for one-on-one counseling or to participate in a group session, at vet centers you can form social connections, try new things and build a support system with people who understand you and want to help you succeed.
Who is Eligible to Receive Services at Vet Centers?
Vet center services are available to veterans at no cost, regardless of discharge character, and without the need to be enrolled in VA health care or having a service-connected disability. If you are a veteran or service member, including members of the National Guard and Reserve, you can access vet center services if you:
Served on active military duty in any combat theater or area of hostility.
Experienced military sexual trauma (regardless of gender or service era).
Provided mortuary services or direct emergent medical care to treat the casualties of war while serving on active military duty.
Performed as a member of an unmanned aerial vehicle crew that provided direct support to operations in a combat theater or area of hostility.
Accessed care at a Vet Center prior to Jan. 2, 2013 as a Vietnam-era veteran.
Served on active military duty in response to a national emergency or major disaster declared by the president, or under orders of the governor or chief executive of a state in response to a disaster or civil disorder in that state.
Are a current or former member of the Coast Guard who participated in a drug interdiction operation, regardless of the location.
Contacting Your Local Vet Center
Even if you are unsure if you meet the criteria to receive services from a vet center, please contact a center.
Center services are also available to family members when their participation would support the growth and goals of the veteran or active-duty service member. If you consider them family, so does your local center. Bereavement services are also available to family members of veterans who were receiving vet center services at the time of the veteran's death, and to the families of service members who died while serving on active duty.
The York County Vet Center, located at York County Veterans Affairs Office, 2401 Pleasant Valley Road, Suite 101, York, PA 17402, can be contacted at 717-782-3954.
The other vet center locations in Pennsylvania are:
Bucks County Vet Center, 2 Canals End Road, Suite 201B, Bristol, PA 19007, 215-823-4590
DuBois Vet Center, 100 Meadow Lane, Suite 8, DuBois, PA 15801, 814-372-2095
Erie Vet Center, 240 West 11th Street, Suite 105, Erie, PA 16501, 814-453-7955
Harrisburg Vet Center, 1500 N. Second Street, Harrisburg, PA 17102, 717-782-3954
Lancaster Vet Center, 1817 Olde Homestead Lane, Suite 207, Lancaster, PA 17601, 717283-0735
Norristown Vet Center, 320 East Johnson Highway, Suite 201, Norristown, PA 19401, 215-823-5245
City Center Philadelphia Vet Center, 801 Arch Street, Suite 502, Philadelphia, PA 19107, 215-627-0238
Northeast Philadelphia Vet Center, 101 East Olney Avenue, Philadelphia, PA 19120, 215-924-4670
Pittsburgh Vet Center, 2500 Baldwick Road, Suite 15, Pittsburgh, PA 15205, 412-920-1765
Scranton Vet Center, 1002 Pittston Avenue, Scranton, PA 18505, 570-344-2676
White Oak Vet Center, 2001 Lincoln Way, Suite 280, White Oak, PA 15131, 412-678-7704
Williamsport Vet Center, 49 East Fourth Street, Suite 104, Williamsport, PA 17701, 570-327-5281
For more information, please visit www.vetcenter.va.gov.