In this update:
New Senate district map takes effect
2021-22 bills of note: Moving from pandemic response to recovery
Senate takes next steps in impeachment of Philadelphia District Attorney
PA Broadband Development Authority unveils statewide plan
Celebrating WWII Veteran's 100th birthday
Local job postings
How our office can assist you
Upcoming PennDOT maintenance projects
---
New Senate district map takes effect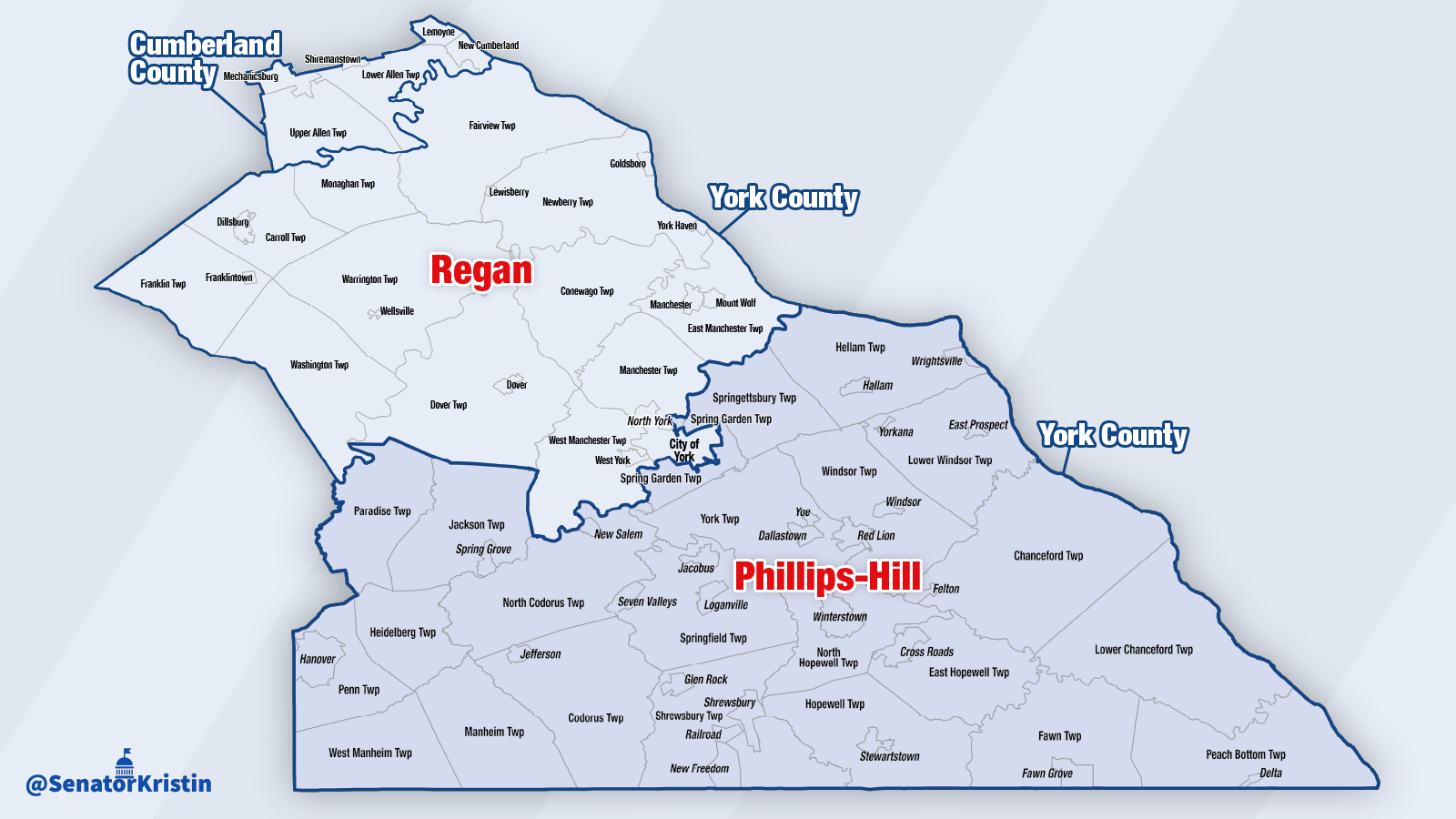 As part of the United States Census process once every decade, the Senate of Pennsylvania, along with the state House of Representatives and U.S. Congress, have its district boundaries redrawn to reflect population shifts to ensure equal representation.
Through the reappointment process, York County moved from having four state senators dividing the county to only two.
It has been an honor to represent the residents of the City of York, West York Borough, Manchester and West Manchester townships for the last four years in the Senate of Pennsylvania. Effective yesterday, Dec. 1, my friend and colleague, Sen. Mike Regan will now represent this portion of York County in the State Senate.
While it is a bittersweet transition, I am very eager to get to work for the residents in Hanover Borough, and Jackson, Penn, Springettsbury, and West Manheim townships and continue to build on what we have been able to accomplish for southern York County.
It continues to be a privilege to represent you and your neighbors in the Senate of Pennsylvania. You can find out more about the new maps here.
2021-22 bills of note: Moving from pandemic response to recovery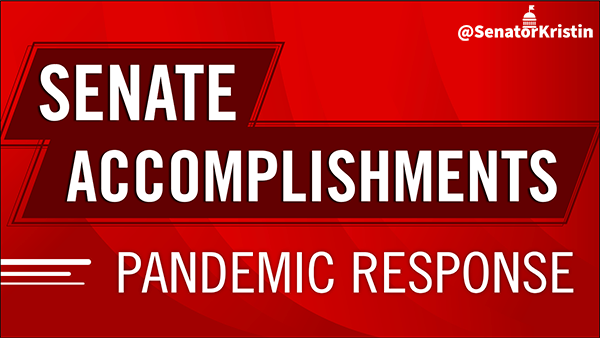 As the 2021-22 legislative session draws to a close, I'd like to note there has been some important legislation enacted to transition Pennsylvania from initial COVID-19 pandemic response to helping residents and employers get back to normal, productive lives.
To bolster our health care response and keep Pennsylvanians safe, the General Assembly allocated $225 million in federal funding for hospitals and frontline health care workers. Further emergency financial resources included $569 million for rental and utility assistance, $197 million for education programs, and $145 million to support Pennsylvania's struggling restaurants and taverns as they cope with the devastation created by the pandemic and the governor's mandated closings and restrictions.
When the governor refused to act, we voted to terminate the pandemic emergency declaration and end the governor's power to close employers, limit occupancy, suspend state statutes or issue stay-at-home orders due to COVID-19. We put constitutional amendments on the ballot that will prevent emergency overreach again by a governor. You can find the full list of our pandemic response measures here.
Senate takes next steps in impeachment of Philadelphia District Attorney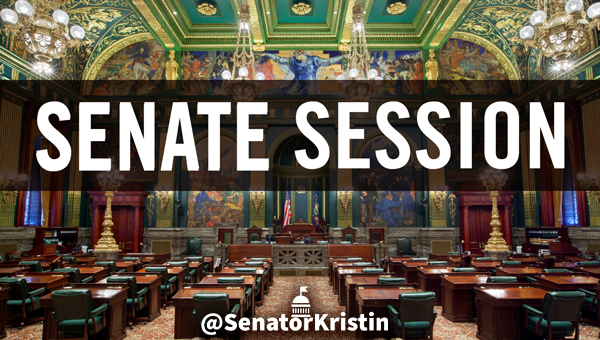 The Senate this week took the next steps in the impeachment process of Philadelphia District Attorney Larry Krasner following the House of Representatives' 107-85 vote to impeach him after investigation of his conduct in fulfilling his duties.
As outlined by the Pennsylvania Constitution, the role of the Senate is to sit in judgement and review the evidence presented by the House. Following Senate action, a writ of summons will be issued to District Attorney Krasner requiring him to come before the Senate to answer to impeachment. He will be required to file an answer by Dec. 21 and ordered to appear before the Senate on Jan. 18 at 11:30 a.m.
Thank you, Rev. Moore for serving as Guest Chaplain of Senate of PA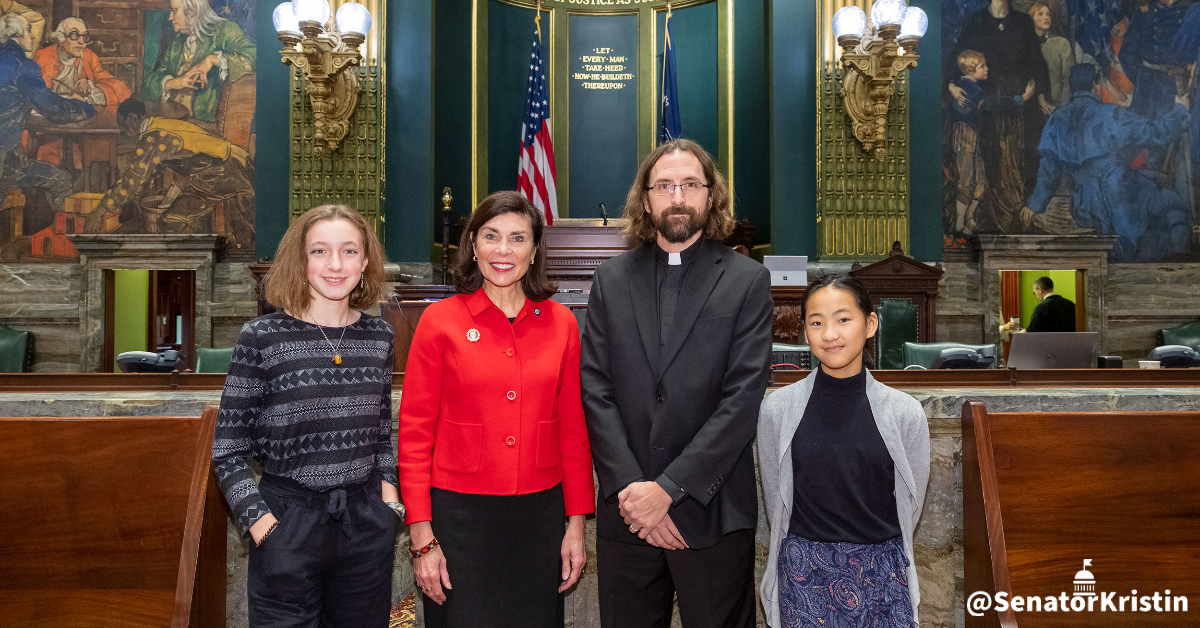 This week, Rev. Daniel Moore of Guinston Presbyterian Church in Airville served as the Senate of Pennsylvania's Guest Chaplain. It was an honor to host Rev. Moore, along with his daughters for session this week. You can watch Rev. Moore's opening prayer here.
PA Broadband Development Authority unveils statewide plan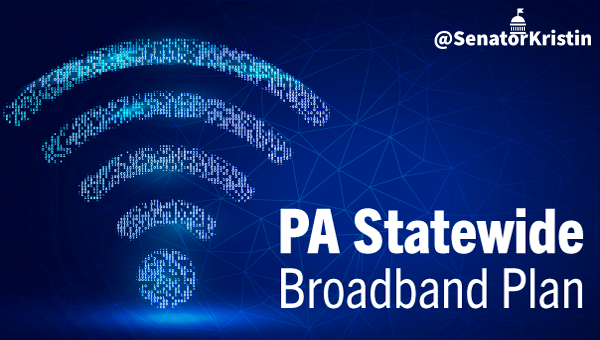 As a member of the newly created Pennsylvania Broadband Development Authority, we have released the Commonwealth of Pennsylvania Statewide Broadband Plan aimed at improving access to high-speed internet in underserved communities.
The plan focuses on infrastructure and availability, affordability, device and technology access, and digital literacy and technical support. It is estimated that there are 800,000 Pennsylvanians without broadband service. You can review the plan here.
In addition to planning, the Pennsylvania Broadband Development Authority is a single point-of-contact for federal broadband funding.
As a reminder, the challenge process is open through Jan. 13, 2023. This map will be used to deploy resources that are unserved and underserved. Residents, businesses and other entities can challenge the data through this process. You can search for your address and see if the Federal Communications Commission believes your home or business has access to high-speed internet.
Search the map here. Learn more about the FCC challenge process here and here.
Celebrating WWII Veteran's 100th birthday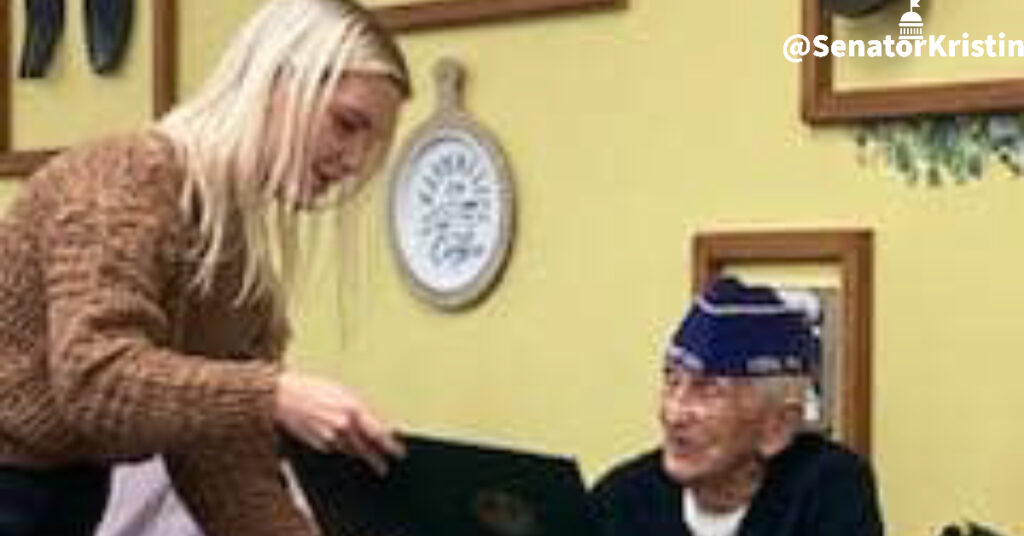 While the senate was in session, my team was able to attend Mr. Richard "REM" Martin's 100th birthday celebration!
REM is a World War II veteran who participated in the Battle of Normandy on D-Day and was stationed in Italy and Sicily. He received numerous commendations for his service, including the Purple Heart.
As an accomplished architect and artist, REM designed the Grace Methodist Church here in York and several other churches throughout the world.
My staff was able to present REM with a citation on behalf of the residents of the 28th Senatorial District wishing him a very happy birthday!
Local job postings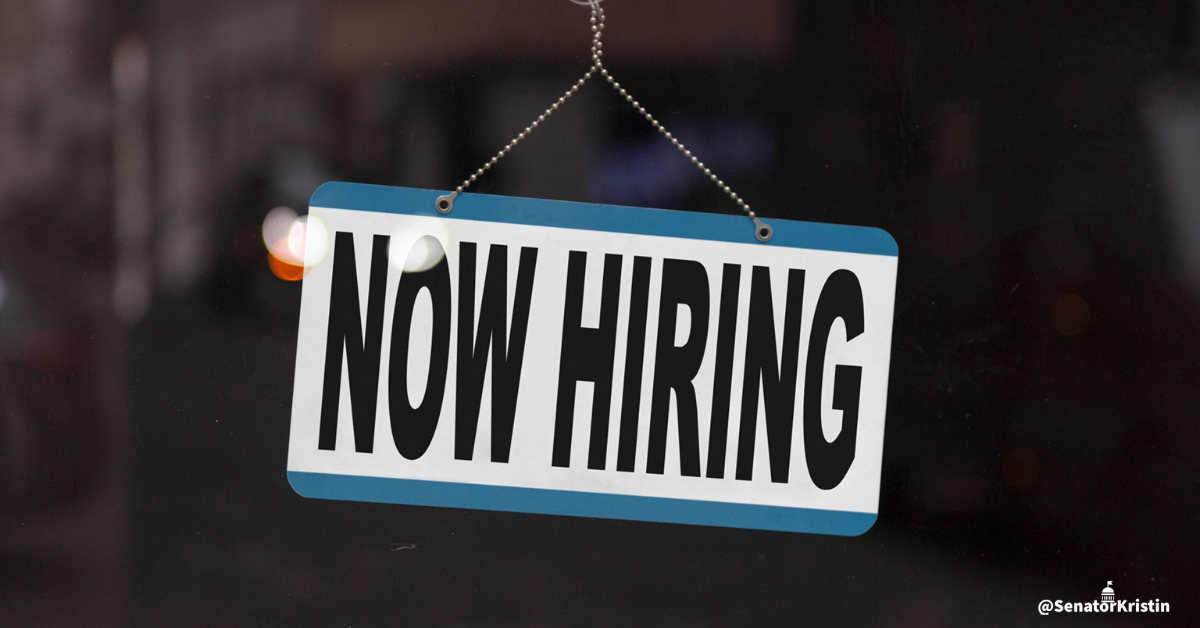 PA CareerLink shared with me its latest list of local job openings, which you can view here. You can also find job postings shared with the York County Economic Alliance (YCEA) here.
How our office can assist you
As the Senate looks ahead to its new legislative session in January, below are some of the ways my team and I can assist you and our neighbors.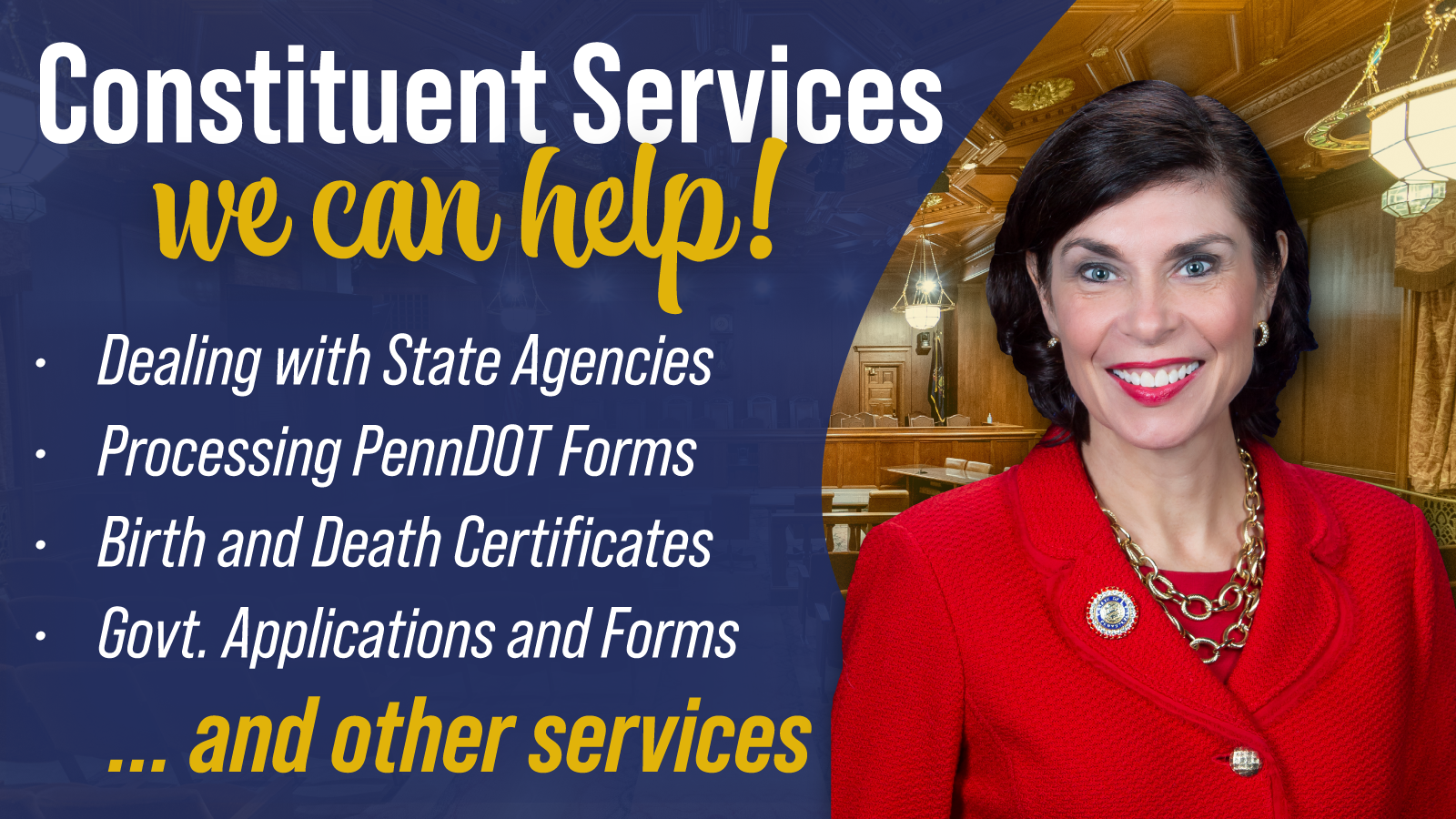 Upcoming PennDOT maintenance projects
You can view PennDOT's list of scheduled maintenance projects for next week below.