In this update:
Celebrating Manufacturing Week in Pennsylvania
Protecting Yourself from Cybercriminals
Families can begin applying now for 2023-24 college aid
Need a Passport? County hosting event tomorrow (Saturday, Oct. 15)
Statewide litter clean-up efforts underway
Upcoming PennDOT maintenance projects
On deck
---
Celebrating Manufacturing Week in Pennsylvania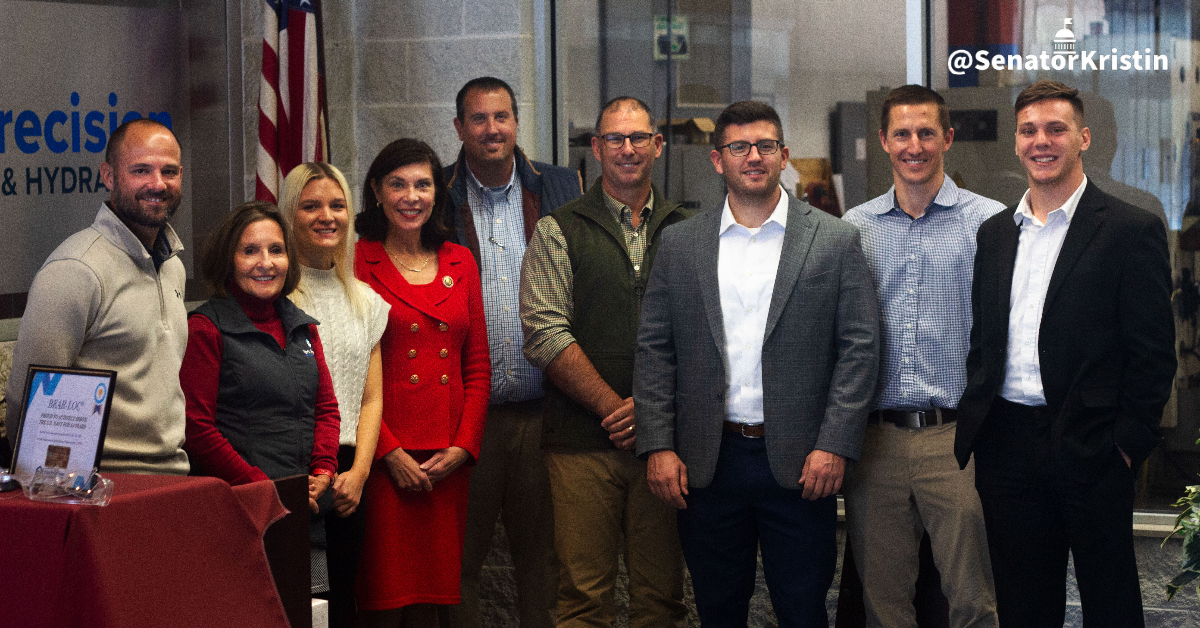 This entire week, the Commonwealth celebrated Manufacturing Week to thank the dedicated and tireless individuals who work every day in our robust manufacturing sector.
In addition to my committee duties as your state senator, I am also chair of the Manufacturing Caucus. Part of my responsibility is to meet with and hear from local manufacturers to pursue changes that will benefit this significant and much-needed sector in our state's economy. As we well know, we make things in York County! Manufacturing in York is successful in large part due to the skilled and dedicated employees who are working hard to make a wide variety of items that we use each and every day.
Rep. Seth Grove and staff from Congressman Lloyd Smucker's office joined me for a tour of York Precision Machining and Hydraulics. It was great to take a tour of the facility, meet with employees and hear about how they are making things right here in York County. You can watch my one-minute video from my tour here.
Protecting Yourself from Cybercriminals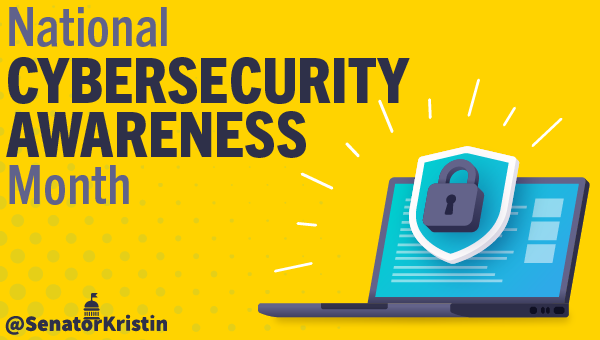 October is Cybersecurity Awareness Month, which means it is a good time to brush up on the tips for staying one step ahead of criminals intent on stealing your personal information and committing other online crimes.
As the chair of the Senate Communications and Technology Committee, we have prioritized this effort to best protect data obtained by YOUR state government. In fact, last year, the Wolf Administration failed to notify more than 72,000 Pennsylvanians about personal health information and other personally identifiable data that was leaked on publicly accessible websites as part of its COVID-19 contact tracing program. The leaked data included information on children and adults, including gender and sexual orientation.
The committee I chair swiftly approved a measure that addresses this major flaw where victims of a data breach from a third-party vendor contracted with the state are not notified in a timely fashion. In the example of the contact tracing data breach, victims first found out from news media reports.
You can read more about this reform here. The bill is pending final consideration in the House of Representatives before going to the governor's desk for his signature.
I am also co-chairing a public hearing with Senate Education Committee Chairman Scott Martin on Tuesday, Oct. 18, at 10:30 a.m. to review student data privacy. This important hearing will look at legislation I sponsored that ensures schools implement best practices to protect and secure student data. If you want to watch the hearing live, please visit the committee's website here.
I also want to let you know that you can take steps at home to protect yourself and your family online, as well:
Think Before You Click: If a link looks a little off, think before you click. It could be an attempt to get sensitive information or install malware.
Update Your Software: If you see a verified software update notification, act promptly and turn on automatic updates.
Use Strong Passwords: Use passwords that are long, unique and randomly generated. Use password managers to generate and remember different, complex passwords for each of your accounts. A passwords manager will encrypt passwords, securing them for you.
Enable Multi-Factor Authentication: You need more than a password to protect your online accounts, and enabling MFA makes you significantly less likely to get hacked.
You can find more detailed information on these and other cybersecurity issues in this Cybersecurity and Infrastructure Security Agency public toolkit.
Families can begin applying now for 2023-24 college aid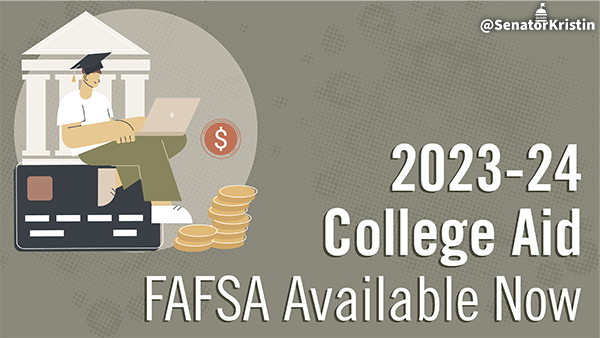 PA college students have left millions of dollars in aid on the table by not completing their Free Application for Federal Student Aid (FAFSA). Families can get a head start on the 2023-24 FAFSA now.
The FAFSA is an application required to apply for federal student aid such as federal grants, work-study and loans to help pay for college. To apply and qualify for a Pennsylvania state grant, learners must have their FAFSA on file as well.
The high school class of 2021 left behind an estimated $3.75 billion in Pell grants nationwide by not completing the FAFSA – dollars that students do not have to repay. The General Assembly approved a $220 million increase in funding for higher education institutions in the 2022-23 state budget.
Need a Passport? County hosting event tomorrow (Saturday, Oct. 15)
York County Prothonotary Allison Blew and her team are hosting a Passport Fair tomorrow, Saturday, Oct. 15, from 9 a.m. to 3 p.m.
The event's details are listed below in the picture. If you are interested in attending, please visit the Prothonotary's website to see what you need to bring with you!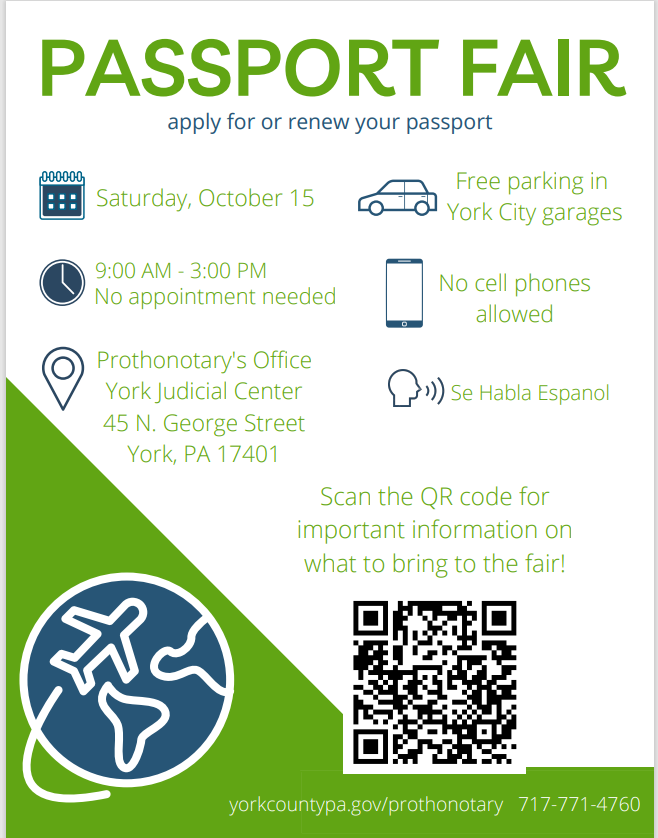 Statewide litter clean-up efforts underway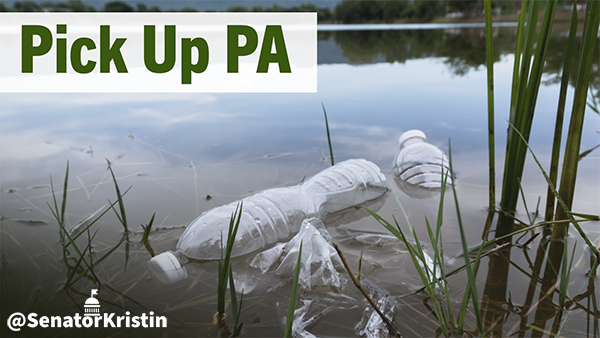 The annual Pick Up Pennsylvania fall campaign is underway and runs through Nov. 30. Individuals, families, neighbors, students, civic organizations and local governments are invited to participate in this anti-litter effort.
The Pennsylvania Department of Transportation spends nearly $14 million a year cleaning up litter along state roadways. This money could be better spent on maintaining and improving our transportation network.
Residents can use this Events Calendar to join Pick Up Pennsylvania cleanup events in their community. Those who'd like to register their own local cleanup event can do so at Organize an Event. Registered events are provided with free trash bags and gloves.
During the 2021 Pick Up Pennsylvania fall campaign, nearly 14,000 volunteers canvassed their communities to remove 745,380 pounds of trash and 99,200 pounds of tires from lands, waterways and coastal regions.
Upcoming PennDOT maintenance projects
You can view PennDOT's list of scheduled maintenance projects for next week below.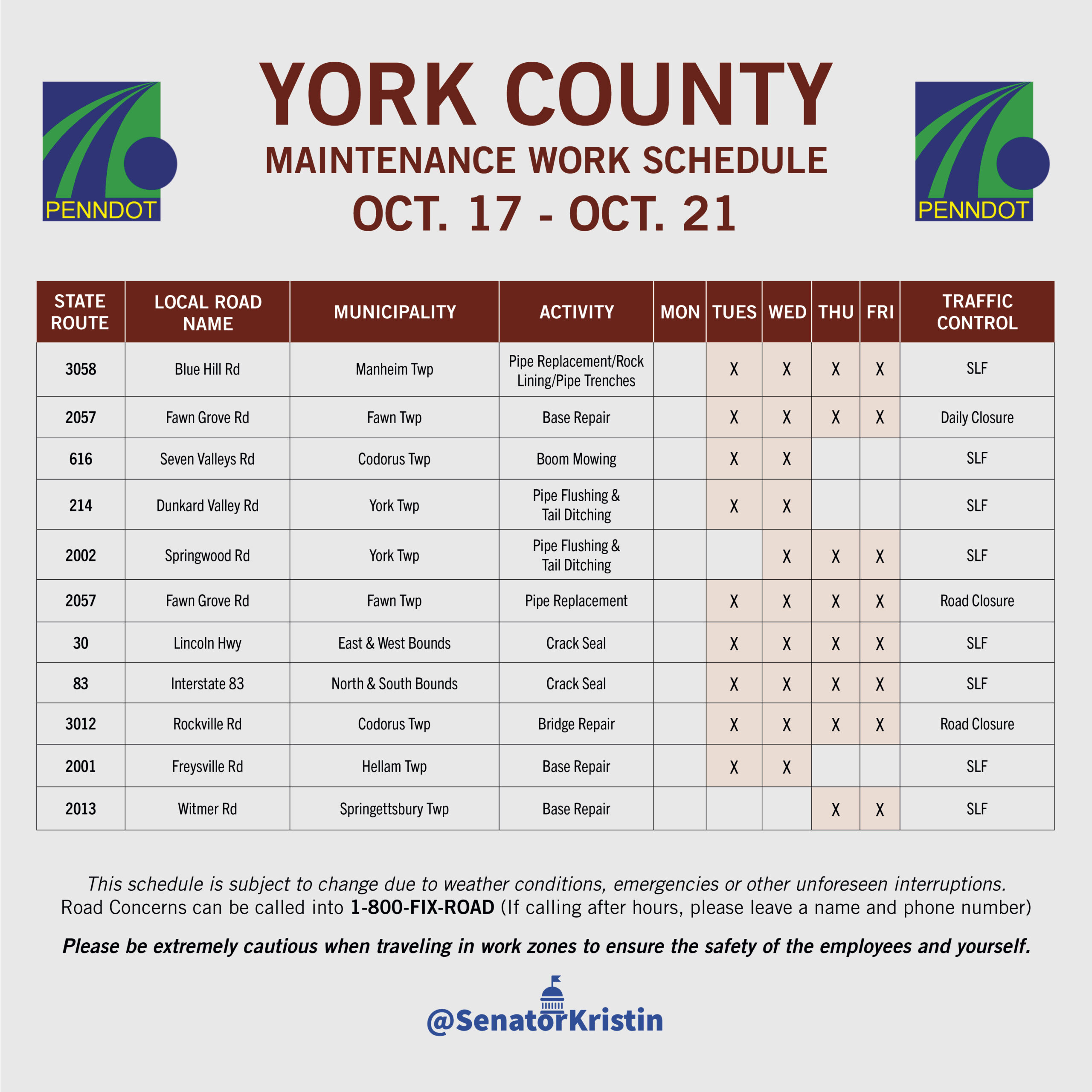 On deck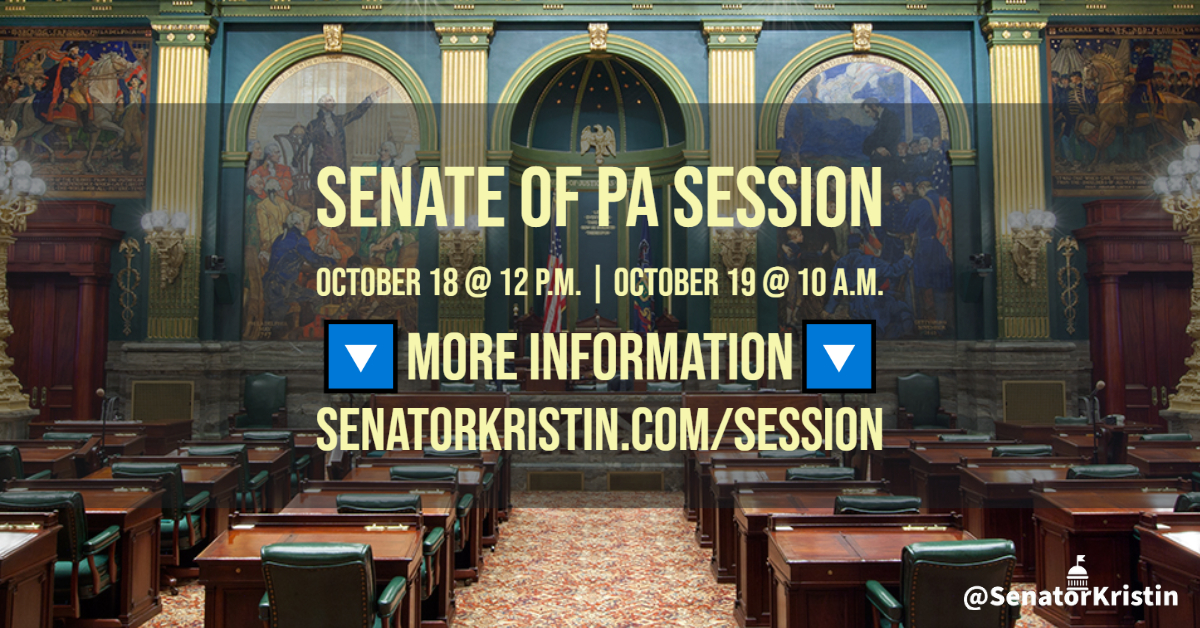 The Senate of Pennsylvania reconvenes on Tuesday, Oct. 18, at 12 p.m. You can watch all of the Senate votes and view our agenda here. As a reminder, the Senate Communications and Technology Committee will hold a joint public hearing with the Senate Education Committee on measures, including the one I authored, that will safeguard and protect student data. Tune in on Tuesday, Oct. 18, at 10:30 a.m. here!