In this update:
New Podcast Episode: Exploring York County's Outdoors
Senate Approves Critical Budget Implementation Bills
Committee Advances Bill to Move Up 2024 Primary Election
Making YOUR State Senate Office Mobile
Tax Collections Show Effectiveness of Reducing Taxes
Growing Career Workshops and Apprenticeships with YCAL
New Tech Pathways Training Center
Customer Appreciation Day at Jefferson Firearms
Celebrating 40 years of Mason-Dixon Community Services
Aces Axe Grand Opening Anniversary
Dedication Ceremony for Renamed "Arthur J. Glatfelter YMCA"
Wrapping Up America250 PA Hearings: What is Next?
Avoid Holiday Traffic With 511PA
Happy Labor Day
Upcoming PennDOT Maintenance Projects
---
New Podcast Episode: Exploring York County's Outdoors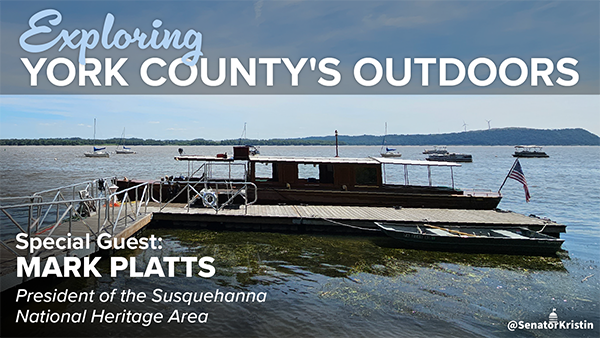 In my latest podcast episode, I sit down with Mark Platts, the president of the Susquehanna National Heritage Area (SNHA) to discuss his recommendations for the top fall activities across York County. Mark has been the leader of the SNHA for more than two decades and he and his team have brought a lot of outdoor, recreational opportunities to eastern and southern York County.
You can listen to our conversation on Apple, Spotify, Google or wherever you get your podcasts.
Senate Approves Critical Budget Implementation Bills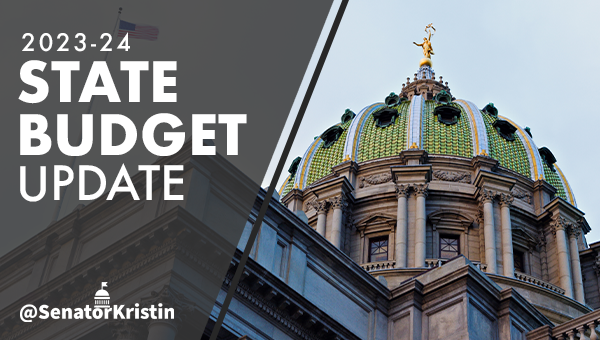 The Senate advanced two bills to implement key parts of the 2023-24 budget and drive out funding to schools, hospitals, EMS providers, higher education, libraries and more.
The fiscal code bills take an important step to further finalize portions of the state budget which require implementation language. The critical support authorized by the legislation cannot be finalized until the House of Representatives also returns to session.
House Bill 1300 reauthorizes assessments and payments to hospitals, boosts reimbursement rates for EMS providers, and reauthorizes judicial fees that courts rely on for funding. These budget items are important and time sensitive.
In addition, the bill directs funding to many non-controversial and bipartisan budget items related to education, including:
Providing for a two-year tuition freeze for PASSHE schools.
Allocating more than $260 million for community colleges.
Distributing more than $70 million in state aid for libraries.
Allocating more than $76 million for special education funding for Intermediate Units.
Reimbursing schools for providing free breakfasts for all students ($46.5 million).
Transferring more than $8.5 million to maintain current PHEAA grant levels.
Distributing $11 million in grants for non-public school safety initiatives.
The Senate also voted to advance Senate Bill 757, which addresses other priorities included in the original budget deal Senate Republicans negotiated with Gov. Josh Shapiro in June.
This includes the creation of the Pennsylvania Award for Student Success (PASS) program to provide additional educational options for students in failing schools, as well as $150 million in new funding for the state's popular Educational Improvement Tax Credit program to expand educational opportunities to families throughout the state.
Committee Advances Bill to Move Up 2024 Primary Election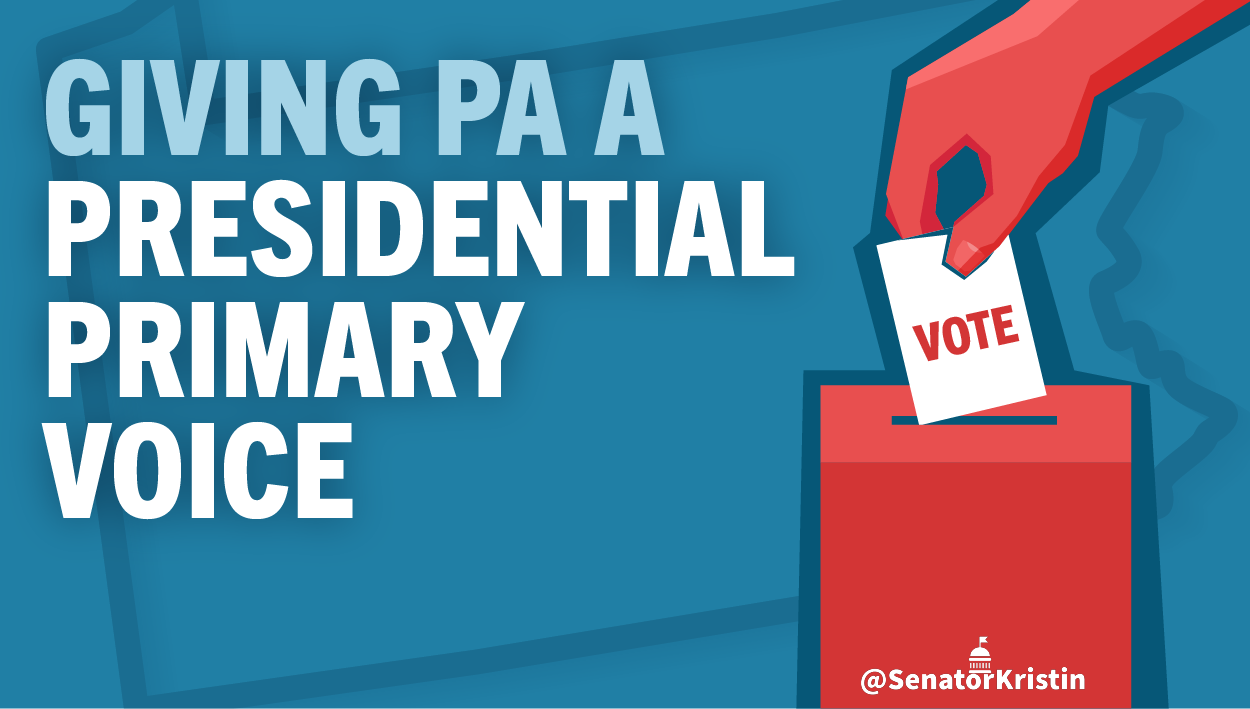 Bipartisan legislation to give Pennsylvanians greater say in the 2024 presidential election by moving up the primary election date was approved by a Senate committee this week. The bill advances to the full Senate for consideration.
The Senate State Government Committee passed Senate Bill 224 to move up the primary election by five weeks to March 19, 2024. This change will likely place the Pennsylvania primary election on the same day as Arizona, Florida, Illinois, and Ohio.
In many presidential elections, the outcome is largely decided before Pennsylvania voters have a chance to cast a ballot. Moving up the spring election date gives voters in the fifth-largest state a better chance of weighing in on the presidential primary.
Making YOUR State Senate Office More Accessible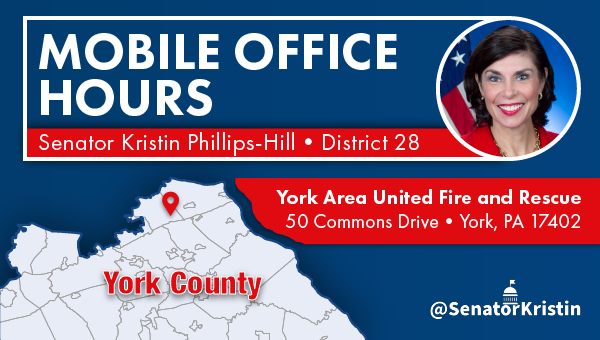 I am excited to announce the first set of mobile office hours coming into the district! In addition to our Jacobus office, we will be deploying members of our team to different areas of our community to ensure our services are more accessible to you.
Starting next Thursday. Sept 7. from 10 a.m. – 4 p.m., a member of our team will be in Springettsbury Township one day of the month for the remainder of the year.
Our mobile office will be located at the York Area United Fire and Rescue Station at 50 Commons Dr. York, PA 17403.
You can find the full list of dates and times for this mobile office here.
Appointments are NOT required, but highly encouraged. Please contact our office at 717-741-4648 or email me back if you would like to meet with a member of my team next week in Springettsbury Township!
Tax Collections Show Effectiveness of Reducing Taxes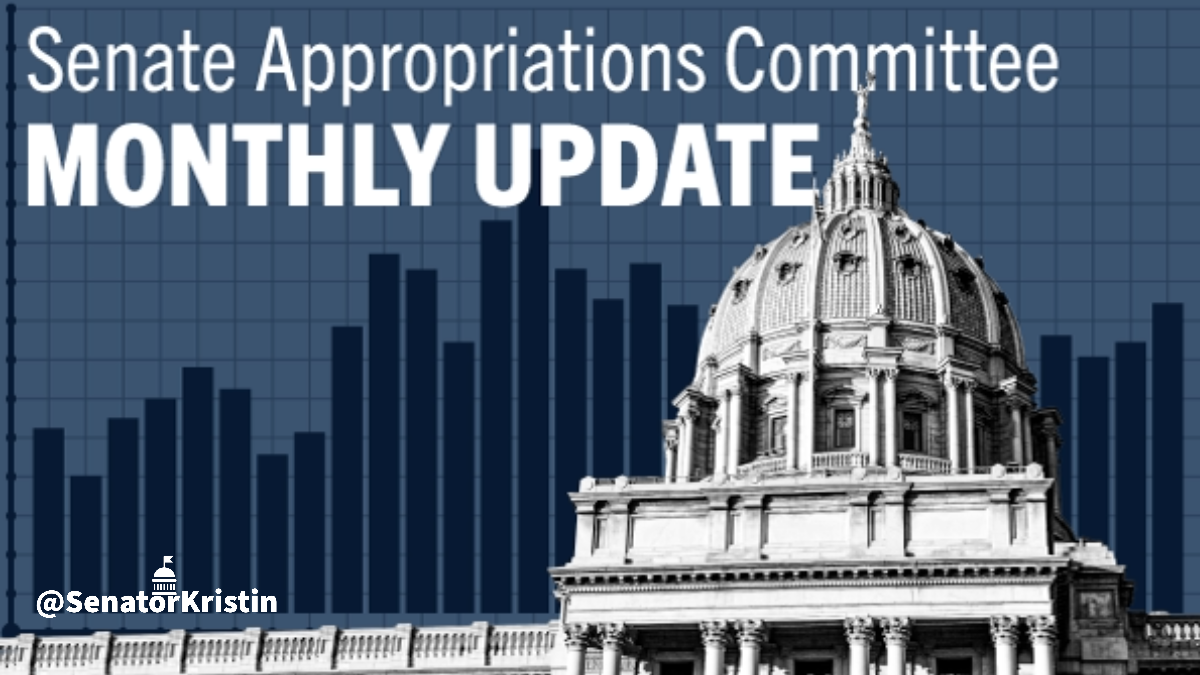 Each month, the Senate Appropriations Committee prepares an update about the state's financial health. The most recent report shows that total General Fund revenues were $185.3 million, or 6.9%, higher than last year at this time. Corporate Net Income Tax (CNIT) collections were $31.3 million, or 20.8%, higher than July 2022 collections.
The increased collections demonstrate the effectiveness of reducing Pennsylvania's CNIT rate, which started with the 2022-23 state budget. This year's budget continues the phase-down of our CNIT rate, which will take Pennsylvania from one of the highest tax rates in the country to one of the lowest.
The full update, including the monthly revenue report, is available here.
Growing Career Workshops and Apprenticeships with YCAL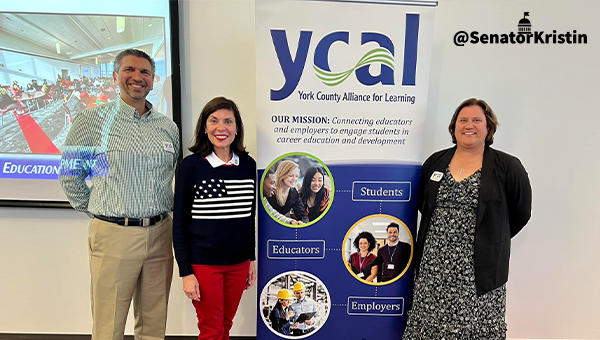 YCAL's mission is connecting educators and employers to engage students in career education and development. York County is the only county that has a program that is paying huge dividends for students looking to start their careers and employers looking for skilled employees.
I was excited to connect YCAL with the Walmart Foundation to secure a grant that will grow career workshop and apprentice opportunities for students throughout York County!
Want to learn more about the York County Alliance for Learning? Check them out here.
New Tech Pathways Training Center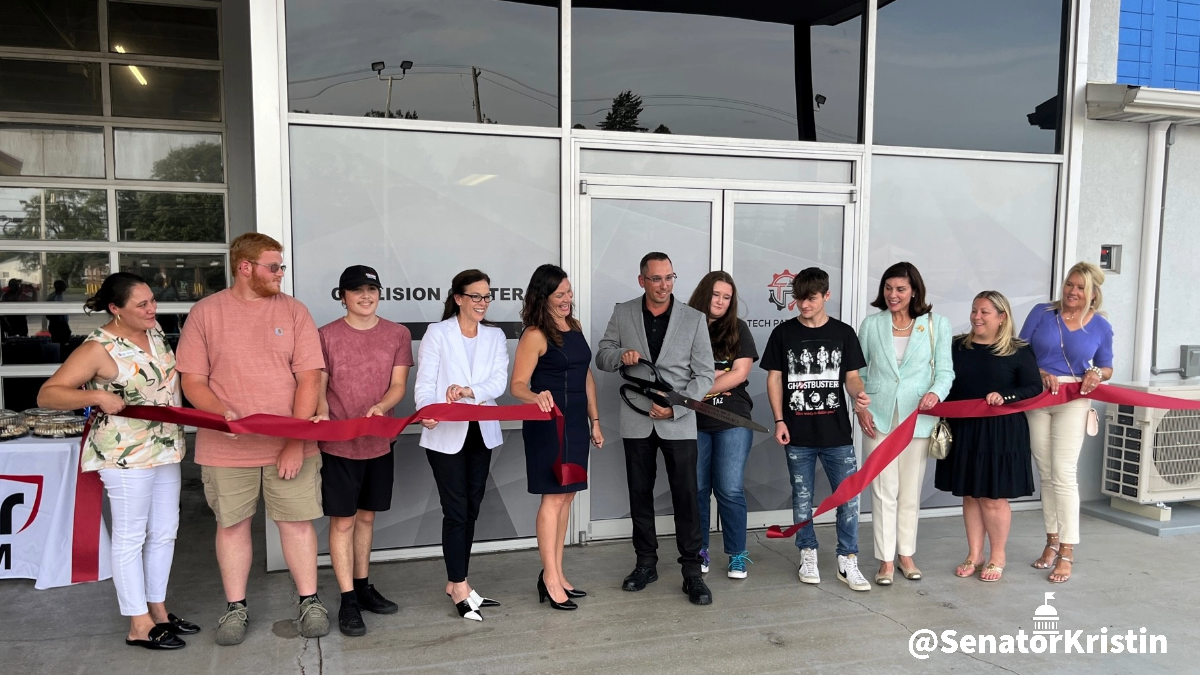 Wednesday evening, I joined the Hanover Auto Team and Hanover Area Chamber of Commerce for a ribbon cutting to celebrate the opening of their new Tech Pathways Training Center!
The goal of Tech Pathways is to train students with the required skills to begin working in the automotive industry as fully certified technicians. The Hanover Auto Team is expecting to start in September with eight students!
You can learn more about the program here.
Customer Appreciation Day at Jefferson Firearms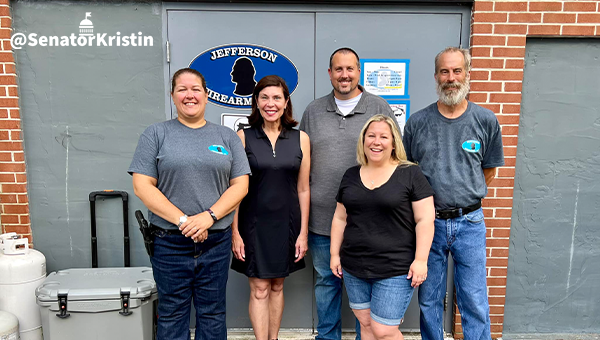 We love to support local, small businesses! What's even better? It's a small, local business owned by an incredible woman veteran and her husband!
Thank you, Carrie and Steve, for the invitation to join you at Jefferson Firearms Customer Appreciation event! The day featured local organizations dedicated to teaching the importance of gun safety and responsible gun ownership, local first responders, and non-profit organizations.
Rep. Seth Grove, Rep. Kate Klunk, and I are grateful that Carrie and Steve have made this an annual event to keep gun-owners better informed and educated!
Celebrating 40 years of Mason-Dixon Community Services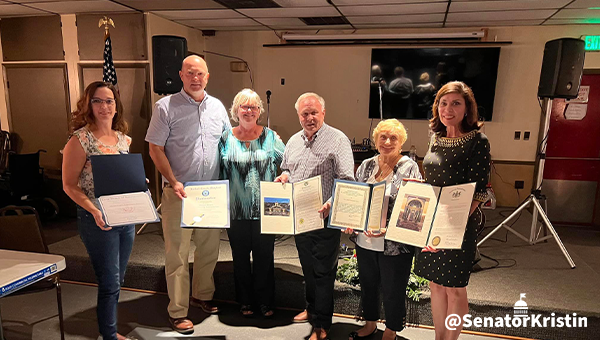 Congratulations Mason-Dixon Community Services on 40 years of exceptional service to neighbors in need living in southeastern York County and northern Harford County!
Founded in 1983 by area clergy and interested citizens, incorporated in 1986 with $150 dollars raised by a bake sale, this organization has grown to take on whatever challenge has faced the community from food insecurity to drug addiction. Their committed team of staff, volunteers and board of directors make this work possible, and they continue to be supported by the area's churches, businesses, municipalities and citizens.
It was an honor to join in the celebration and present a Senate of Pennsylvania citation to executive director, Cindy Abbott, and board president, Cindy Seibel, to thank them and this wonderful organization for making the community a better place to live, work and raise a family.
Aces Axe Grand Opening Anniversary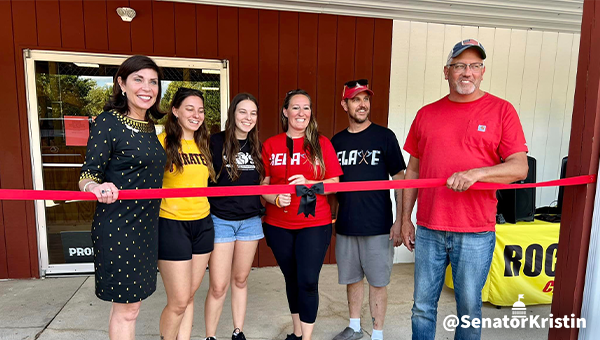 Last weekend at Aces Axe Throwing Grand Opening Anniversary Celebration was a blast! It was great joining Amanda and Andy Bobby while they officially marked the beginning of their "axe" – venturous journey!
Not to mention, Rick and I both had a little beginner's luck! You can find our bullseye photos and more fun from this event on my Facebook. Best wishes for an "axe"-ceptional future!
Dedication Ceremony for Renamed "Arthur J. Glatfelter YMCA"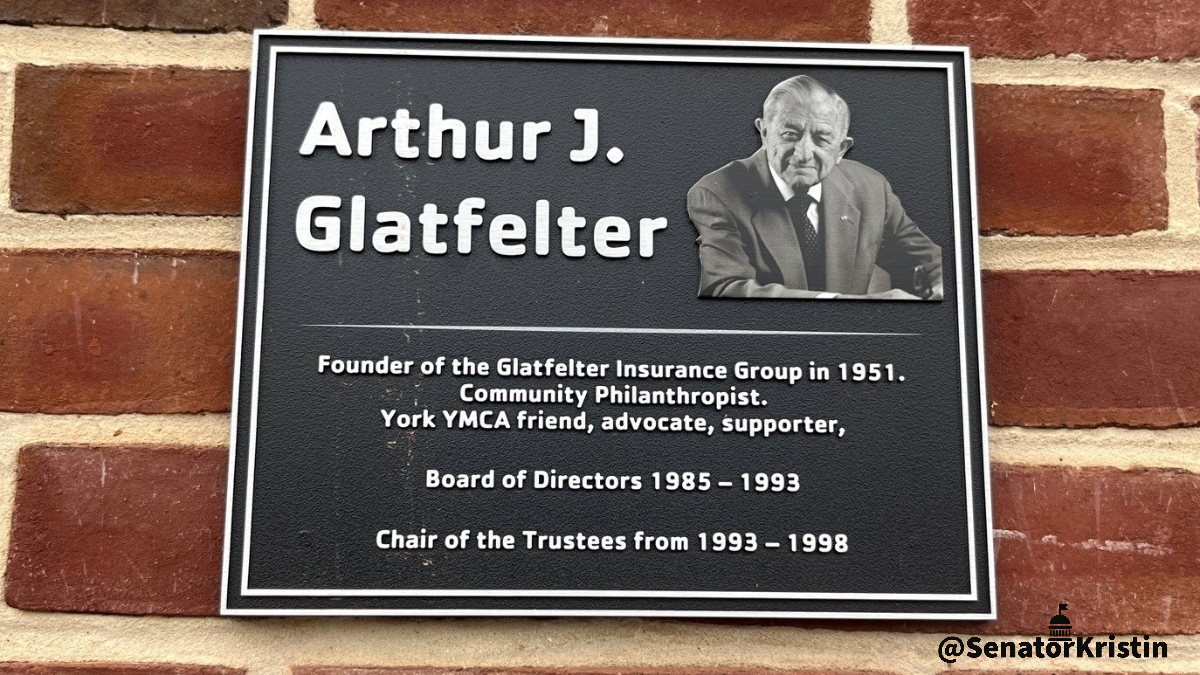 It was a pleasure to join the York Branch YMCA in their official renaming to the YMCA of the Roses – Arthur J. Glatfelter YMCA. It was a wonderful dedication for someone who has been an integral part of the York community!
Arthur J. Glatfelter founded the Glatfelter Insurance Group in 1951. He has been a long-time supporter and friend of the YMCA, serving on the Board of Directors (1985-1993) and as Chair of the Trustees (1993-1998).
Wrapping Up America250 PA Hearings: What is Next?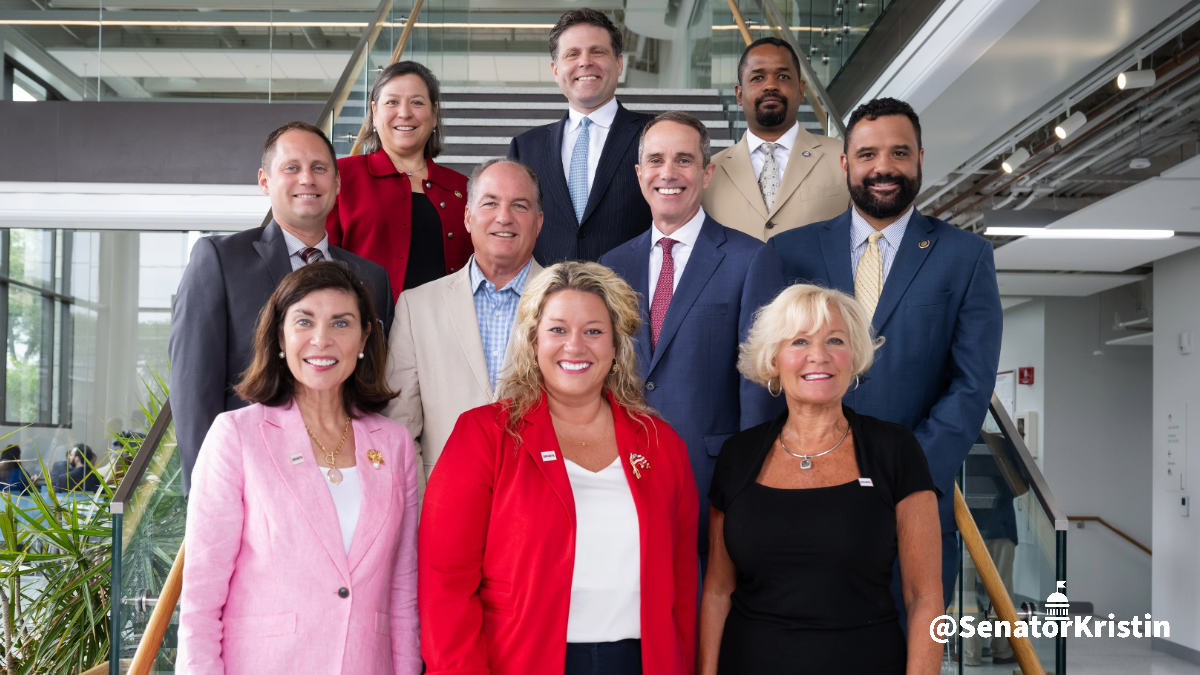 The America250 PA Infrastructure Improvements and Projects Committee, which I co-chair, held its final hearing this week where we learned about proposed projects to help celebrate our nation's upcoming birthday.
Next up, the commission will review all the testimony and proposals presented at these hearings to make recommendations for funding. I greatly value meeting so many people across this state during this process who are very eager to celebrate America's 250th birthday!
You can view all the commission's hearings on my YouTube channel.
Avoid Holiday Traffic With 511PA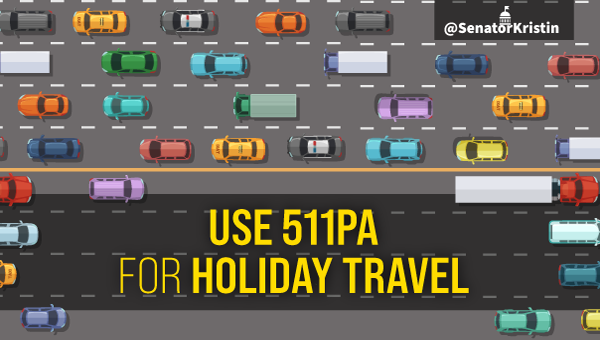 You can log onto www.511pa.com to check current traffic impacts from construction, traffic delay warnings, weather forecasts, traffic speed information and access to live traffic cameras across Pennsylvania. The service is free and available 24 hours a day.
511PA is also available through a smartphone app, by calling 5-1-1 or by following regional Twitter (X) alerts accessible on the 511PA website.
In other PennDOT news, driver license and photo centers will be closed Saturday, Sept. 2, through Monday, Sept. 4, for Labor Day. Customers may still obtain a variety of driver and vehicle products and services online through PennDOT's website.
Happy Labor Day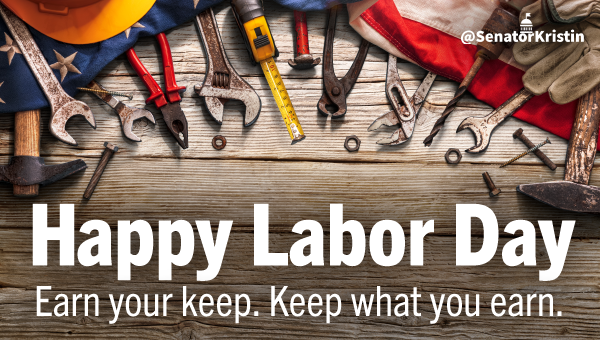 I hope you have a great holiday weekend and relaxing Labor Day.
I am working with my colleagues to improve opportunities for workers and the families they support. Too many Pennsylvania citizens are fleeing the state for better jobs in other parts of the country.
To reverse this troubling trend, the budget bill passed by the Senate and signed into law continues to improve our tax structure to enable the creation of jobs, prioritize workforce development, and support career and technical education. I'll keep you updated on our efforts throughout the year.
In honor of the holiday, the Senate will be closing at noon on Sept. 1 and closed on Monday, Sept. 4. Normal office hours will resume on Tuesday, Sept. 5.
Upcoming PennDOT Maintenance Projects
You can view PennDOT's list of scheduled maintenance projects for next week below. If you have trouble viewing the schedule, please click here.