In this update:
Fighting to support students in failing schools
Celebrating 75 years of Brown's Orchard
Historical state landmark: The Haines Shoe House
Free webinars to help students and families navigate the financial aid process
Water assistance available for low-income families
Commemorating two milestones in Delta
Tour of RHI Magnesita
Beware of unsolicited emails claiming to be from PA Treasury
Sign up for PA's Do Not Call List
Celebrating Independent Retailer Month
Thanks for coming out to Snack Town, see you in Stewartstown!
Local job openings
Upcoming PennDOT maintenance projects
---
Fighting to support students in failing schools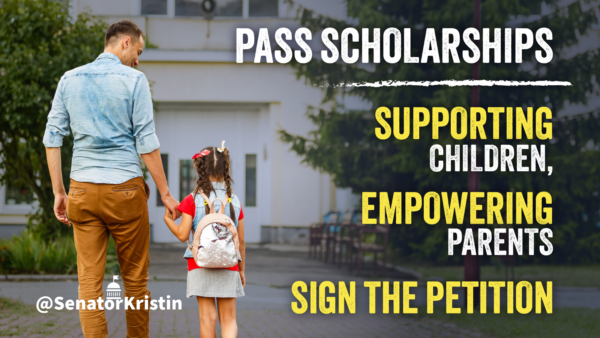 I wrote in last week's email to you that Gov. Josh Shapiro has stated on numerous occasions that he wants to work with the General Assembly to get things done, including helping children in failing schools.
"Parents need to have the opportunity to give their kids the best opportunity for success even if they're in struggling school districts. We can't afford to wait. We have to invest now in the next generation."
– Gov. Shapiro
I agree, as did every other Senate Republican (and a Senate Democrat), when we voted for a state budget proposal that upheld the bipartisan agreement in how we fund state government for the 2023-24 fiscal year. Unfortunately, the governor has changed his mind.
However, there is still time for the governor to uphold his promise to not just Senate Republicans, but also the children and their parents all across Pennsylvania by supporting the budget he agreed to.
If you agree, please sign my petition here.
The program would provide new educational options without taking a single penny away from public schools. To provide assistance to students and families who need it most, scholarships would only be available to families earning below 250% of the federal poverty level – about $75,000 for a family of four.
Celebrating 75 years of Brown's Orchard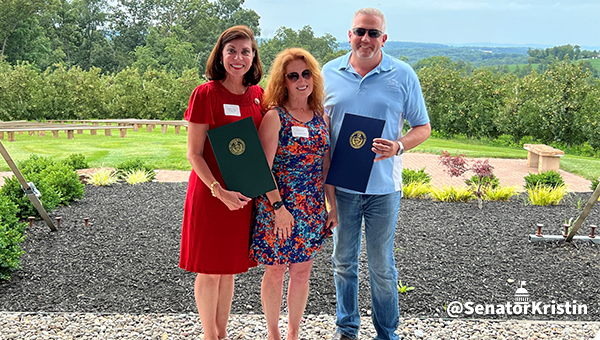 Congratulations to Brown's Orchards on their 75th anniversary! Three generations of the Brown Family have nurtured and grown a small roadside fruit stand into a 29,000 square foot farm market. It's hard to find anyone in Southern York County who doesn't have a fun story or fond memory of this iconic family-owned business.
It was an honor to present Mary Brown with a Senate of Pennsylvania citation to commemorate this significant milestone and convey best wishes for many more years of serving the community!
Thank you to Explore York County PA for hosting the lovely celebration! You can find more photos from the event on my Instagram here.
Historical state landmark: The Haines Shoe House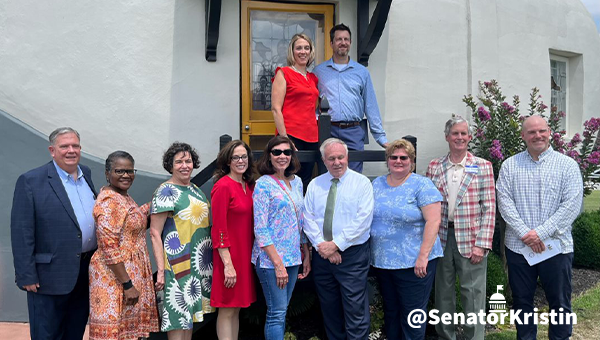 A landmark that has been a Lincoln Highway staple was officially unveiled as a Historical Marker by the Pennsylvania Historical and Museum Commission this week!
Mahlon Nathaniel Haines built the giant Shoe House in 1948 along the highway to advertise his successful shoe retail business. The house was designed by York architect, Frederick Jacob Rempp, and was used as a guest house vacation services for retired couples and newlyweds. Seventy-five years later, the Shoe House is one of the finest remaining examples of programmatic or memetic architecture in the world!
Today, Naomi Brown owns the house and has converted it back into its original purpose, a three-bedroom guest house. You can find more information on the Shoe House and how to rent the house for a stay on their website.
Free webinars to help students and families navigate the financial aid process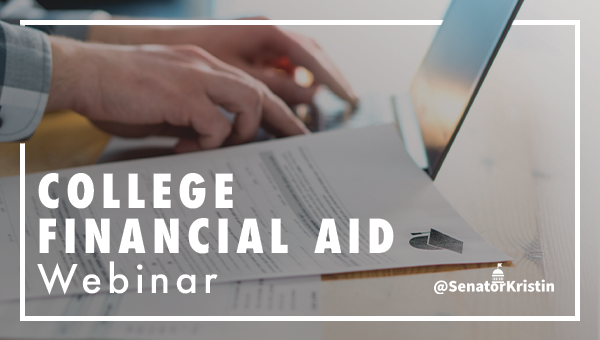 The Pennsylvania Higher Education Assistance Agency (PHEAA) is holding two free statewide webinars to assist college-bound students and their families with navigating the financial aid process.
Speakers will discuss how students and families can take advantage of PA Forward, which is Pennsylvania's state-based private student loan option offered by PHEAA.
The first webinar, Deep Dive into Covering the Gap, will be held Tuesday, July 25, at noon. The second, Borrowing for Education – Which Loan is Right for Me?, will be held Thursday, July 27, at 6:30 p.m. Register to attend the one-hour webinars here.
Water assistance available for low-income families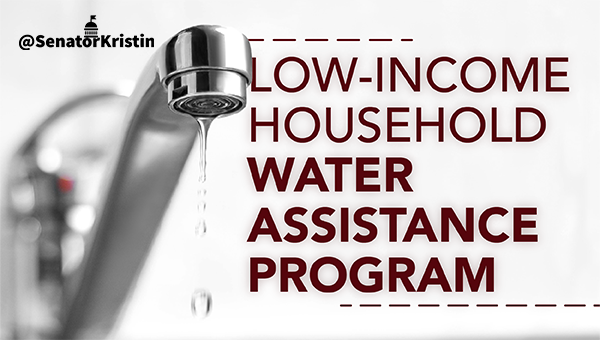 The Low-Income Household Water Assistance Program (LIHWAP) is a temporary emergency program to help low-income families pay overdue water bills. The money does not need to be repaid.
LIHWAP assistance may be available if you have an emergency situation and are in jeopardy of losing your water service. You can receive one crisis grant for your drinking water service and one crisis grant for your wastewater service, up to $2,500 each. Qualifying crisis situations include past-due water bills, termination of utility service and danger of having utility service terminated (received a notice that service will be shut off within the next 60 days).
For more information – including income limits – or to apply for assistance, click here.
Commemorating two milestones in Delta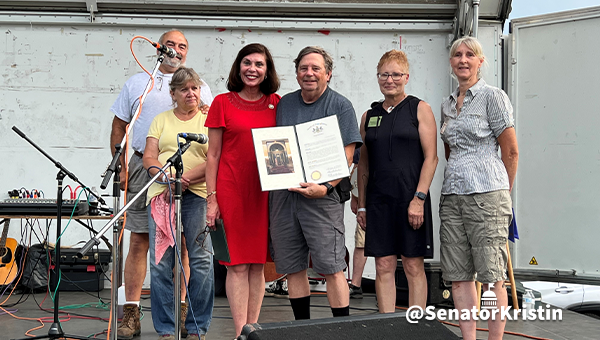 Last week, I had a great time in Delta attending the Mason Dixon Fair held by the Delta-Cardiff Volunteer Fire Company! Throughout the week, children compete in 4-H Club livestock shows, and a variety of other shows are held, including tractor-pull events, the Little Ms. Dixon and Mr. Mason Contest, an auction and concerts.
It was an honor to present a Senate citation to commemorate 25 years of the Mason Dixon Fair. Over the years, those in leadership positions, as well as its volunteers, have contributed in a tremendous way to its growth and development.
I was also able to congratulate Delta-Cardiff Volunteer Fire Company on its 125th anniversary! Serving around the clock, every day of the year, with unwavering commitment and dedication, they are routinely called upon to perform extraordinary acts and our community is greatly benefited by their selfless duties.
Tour of RHI Magnesita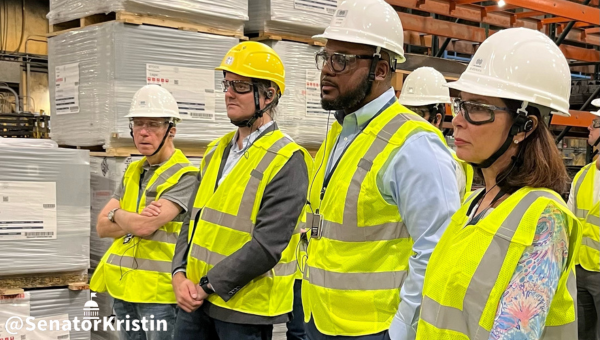 This week, I was joined by Lt. Gov. Austin Davis for a tour of RHI Magnesita's York operations. RHI Magnesita is the leading global supplier of high-grade refractory products, systems and solutions which are critical for high-temperature processes in a wide range of industries, including steel, cement, non-ferrous metals and glass.
They employ 400 employees in the York area and provide innovative heat management solutions and green refractory technology, achieving the mission of creating a better future.
Beware of unsolicited emails claiming to be from PA Treasury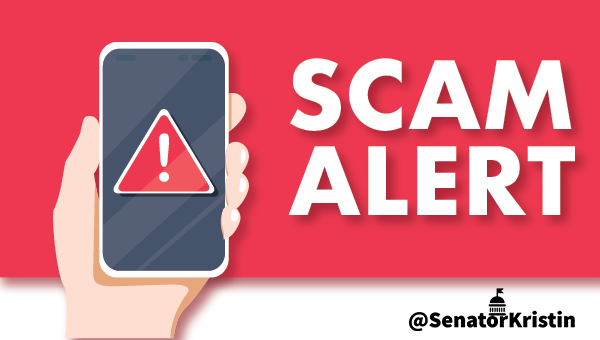 Online scams are a constant threat. Lately, there have been sophisticated phishing emails imitating the Pennsylvania Treasury Department circulating. The messages include a link to what appears to be Treasury's website, but instead leads to a fake version that prompts users to enter log-in credentials.
The Pennsylvania Treasury Department will never ask you to share personal information through unsolicited emails or text messages.
If you receive a suspicious message claiming to be from the Pennsylvania Treasury Department or have questions, contact Treasury through its secure website. If you ever have questions or concerns regarding your unclaimed property, feel free to reach out to my district office as well.
Sign up for PA's Do Not Call List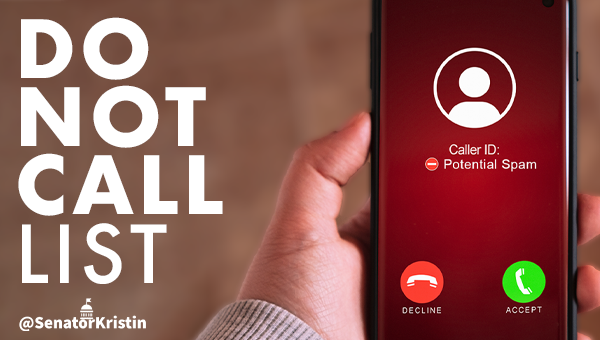 Unwanted telemarketing calls can be a nuisance and an intrusion upon your privacy, but there are ways to minimize the calls.
Sign up for Pennsylvania's Do Not Call List, which no longer requires you to re-register every five years, here or by calling 1-888-777-3406. Verify your enrollment here.
Unfortunately, because of spoofing – a call showing a different name or phone number than is actually associated with the caller – signing up for the Do Not Call list will not stop all unwanted calls.
Celebrating Independent Retailer Month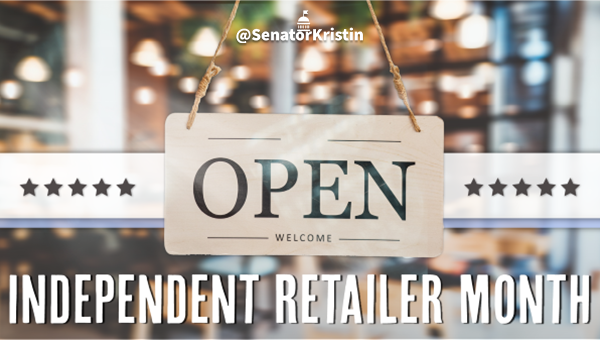 July is Independent Retailer Month, a shop local event that encourages consumers to patronize small businesses. It also highlights the positive impact independent retailers have on their communities, through the jobs and economic boost they produce.
According to the U.S. Small Business Administration, there were 1.1 million small businesses in Pennsylvania that employed 2.6 million people in 2022.
To support employers in the commonwealth and the benefits they provide, Senate Republicans passed a state budget that adds tens of millions of new dollars for workforce development, job training, and career and technical education.
Thanks for coming out to Snack Town, see you in Stewartstown!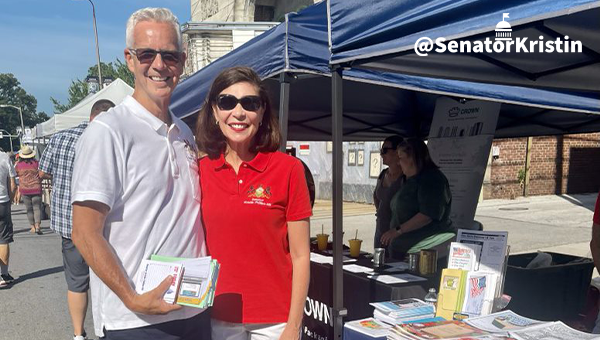 Thank you to everyone who stopped by to see my team and me last weekend in Hanover during the Snack Town Street Fair! Despite the high temperatures, there was great turnout for the event.
You can find pictures from the fair here.
My team and I will be at the Stewartstown Carnival tonight (Friday, July 21) and tomorrow (Saturday, July 22) to meet with attendees and give out information on important state programs to anyone who stops by our table.
The carnival is held at the Stewartstown Fairgrounds, 16 College Ave. You can find more information on the event here.
Hope to see you there!
Local job openings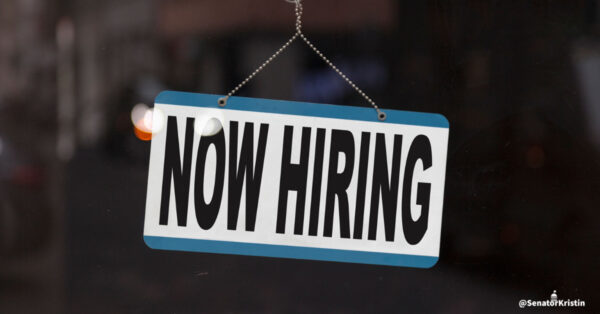 PA CareerLink shared with me its latest list of local job openings, which you can view here. You can also find job postings shared with the York County Economic Alliance (YCEA) here.
Upcoming PennDOT maintenance projects
You can view PennDOT's list of scheduled maintenance projects for next week below. If you have trouble viewing the schedule, please click here.