In this update:
Providing critical information in emergencies
Honoring those who made the ultimate sacrifice
York County Veterans Outreach: 6th Annual Benefit Car & Bike Show
Download PA's happy traveler guide for summer fun
Tour of York County Senior LIFE Center
Recognizing local heroes
Helping communities fight illegal dumps
Local providers weigh in on services and support
DELAYED: Senior farmers market nutrition program vouchers
License plate event a success!
Springtime at the Capitol with Spring Grove Elementary School
Celebrating the health benefits of dairy
Local job postings
On deck
---
Providing critical information in emergencies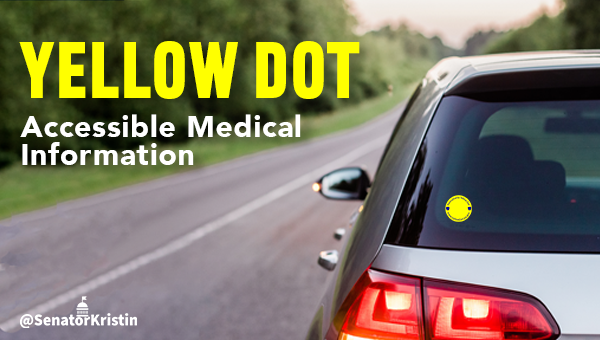 Pennsylvania offers two free voluntary programs to save the lives of residents in emergency situations: the Yellow Dot program and the Emergency Contact Information program.
PennDOT's Yellow Dot program allows participants to fill out the program form with emergency contact, medical contact and medical information, insert it in the program's folder and then place it in their vehicle's glove compartment. A yellow dot sticker affixed to the rear window alerts emergency responders to the availability of information to help them provide better care to crash victims.
The Emergency Contact Information program offers Pennsylvania driver's license and PennDOT-issued ID holders the opportunity to log into a secure database and list two emergency contacts. Participants can update their records as needed, but only law enforcement officials can view the information in the system. In an emergency, law enforcement can use a participant's ID to find his or her emergency contact information.
The Yellow Dot program is used only in vehicle crashes, but the Emergency Contact Information program can be used in other emergencies as well as crashes.
Honoring those who made the ultimate sacrifice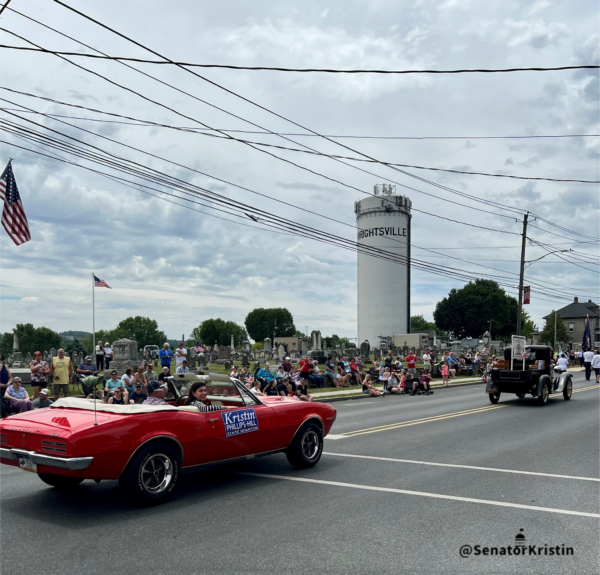 From East Prospect to Wrightsville to Hanover, it was a beautiful Memorial Day weekend to remember our fallen servicemen and women who have made the ultimate sacrifice in defense of our liberty.
In the words of guest speaker and Purple Heart recipient, Bill Kohler, "I'm not afraid of dying but I am afraid that we will forget what it takes to preserve this republic."
May we all continue to teach younger generations about the true meaning of Memorial Day, instilling in them a sense of gratitude and reverence.
May we all strive to be the kind of American worth fighting for, to live a life worthy of their sacrifices.
May we all remember that freedom is not free.
You can find photos from the weekend here and here.
York County Veterans Outreach: 6th Annual Benefit Car & Bike Show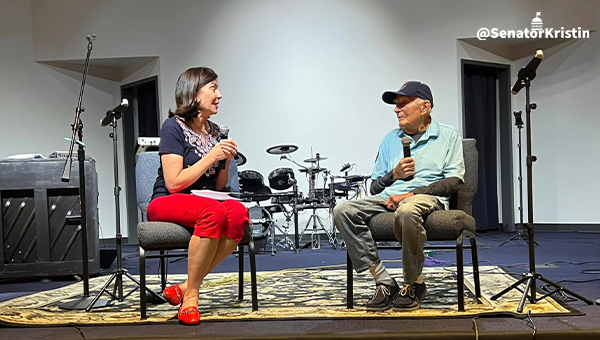 The York County Veterans Outreach 6th Annual Benefit Custom Car & Bike Show was a tremendous success! Thank you to everyone who came out to support this all-volunteer organization that assists local veterans and their families. Every dollar raised by this organization benefits veterans in York County!
It was a great honor to interview the event's Grand Marshal, 100-year-old United States Navy WWII Veteran, Harold "Sandy" Harper. Mr. Harper has lived an incredible life of service and devotion to this great nation and offered sage advice to all who were assembled – "don't let things bother you and love everyone."
You can find more pictures from this event here.
Download PA's happy traveler guide for summer fun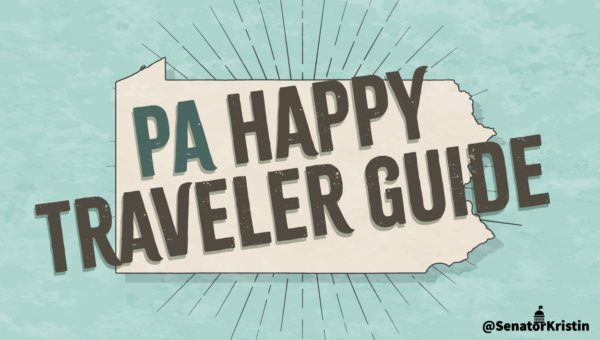 Pennsylvania has thousands of places for summer fun, and the state's official travel guide, the Happy Traveler Guide, is available for downloading here.
Categorized by region, the guide includes nearly 100 pages of attractions, lodging options, dining and many other recreational activities all across the state. Things to see and do are grouped by area, taking the work out of planning a vacation.
Tourism is one of the state's largest industries. In 2021, Pennsylvania welcomed 180 million travelers, which generated more than $66 billion and supported nearly half a million jobs.
Tour of York County Senior LIFE Center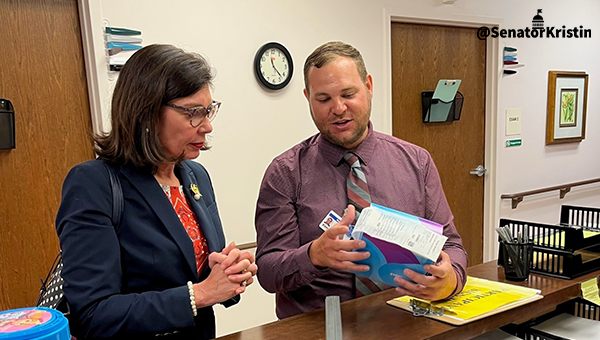 It was great touring the Senior LIFE Center and seeing the resources and services they provide to York County residents!
Senior LIFE is designed to help older adults live in their homes for as long as possible. All members receive an individualized care plan depending on their level of need.
You can find more information on Senior LIFE at their website here.
Recognizing local heroes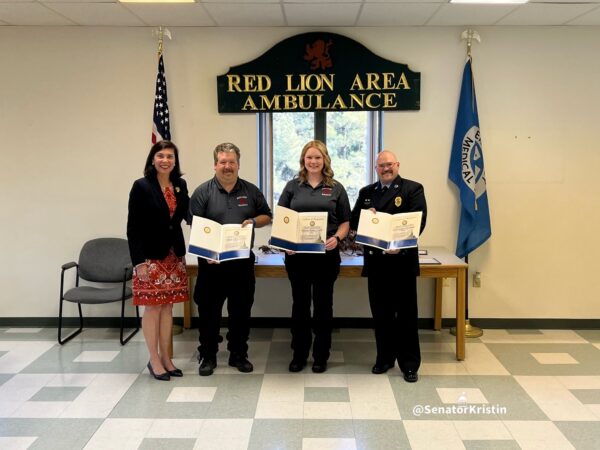 Three community heroes were celebrated on Wednesday in Red Lion.
Victoria Walton and Mark Hillis, EMTs with Red Lion Area Ambulance Association and Jason Zeigler, paramedic with Community Life Team, were dispatched to a residence for a heart problem. In transport, the patient went into cardiac arrest. They were able to resuscitate the patient with the outstanding performance from these three individuals.
It was an honor to present them with certificates from the Senate of Pennsylvania to thank them for their heroic, life-saving efforts. Their dedication and commitment to protecting and preserving the lives of our community members is indelible!
Helping communities fight illegal dumps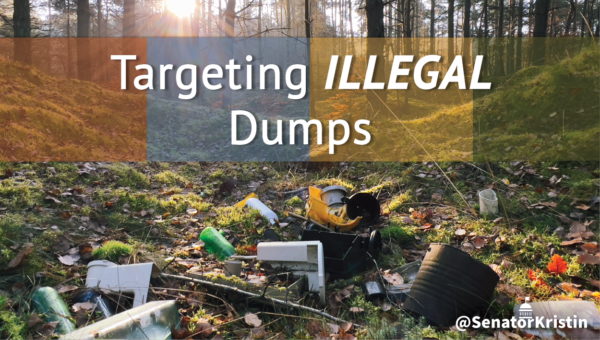 To limit public health hazards that negatively impact property values, Keep Pennsylvania Beautiful and the Pennsylvania Department of Environmental Protection have launched the Illegal Dump Free PA Program. It will help communities curb illegal dumping by exposing those who commit this crime.
To avoid costly cleanups that average $3,000 per site, grant recipients will receive, as a temporary loan, three cameras to capture evidence of illegal dumping. Equipment includes wireless technology to capture photos of vehicle license plates and illegal dumpers, even at night. One camera uses wireless technology to email pictures when triggered, providing almost instant results.
Municipalities, counties and nonprofit organizations can apply for grants here. If you know of an illegal dump or graffiti site, you can anonymously report it here.
Local providers weigh in on services and support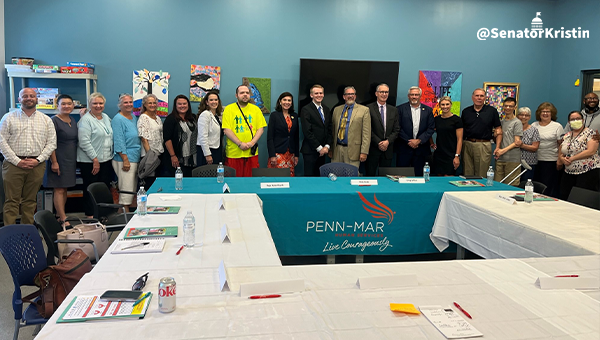 The Pennsylvania Advocates and Resources for Autism and Intellectual Disabilities hosted a roundtable discussion with elected officials and local providers to discuss the issues facing the intellectual disability and/or autism system.
There was a great discussion about the services provided, as well as other issues that are currently disrupting these important services and supports. I appreciate the ongoing dialogue on this vital service.
DELAYED: Senior farmers market nutrition program vouchers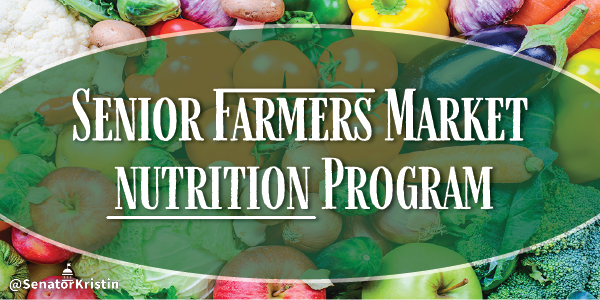 The Pennsylvania Department of Agriculture reports that, due to vendor issues, the mailing of Senior Farmers Market Nutrition Program and Farmers Market Nutrition Program vouchers will be delayed until the end of June. Vouchers are good until Nov. 30.
You can still apply for the program in the month of June, the vouchers will be mailed directly to you in early July.
Eligible participants will receive five $10 vouchers and a list of participating farmers and farmers' markets where vouchers can be used to purchase Pennsylvania grown fruits and vegetables.
You can find where the York County Area on Aging will be distributing applications and vouchers on their website here. You can learn more about the statewide program here.
License plate event a success!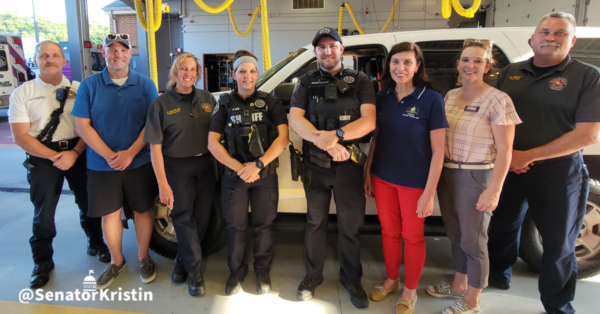 Thank you to the 60+ local residents who attended our event to replace illegible license plates in Springettsbury Township last evening!
Reps. Joe D'Orsie, Wendy Fink and I were thrilled to see the community's response to this event aimed at helping you stay legal on the road.
Thank you to the York Area United First and Rescue for hosting us and the York County Sheriff's Office for making the event a success! If you were unable to attend this event, please let me know as my team and I are looking to potentially hold similar events in other parts of the 28th Senatorial District!
Springtime at the Capitol with Spring Grove Elementary School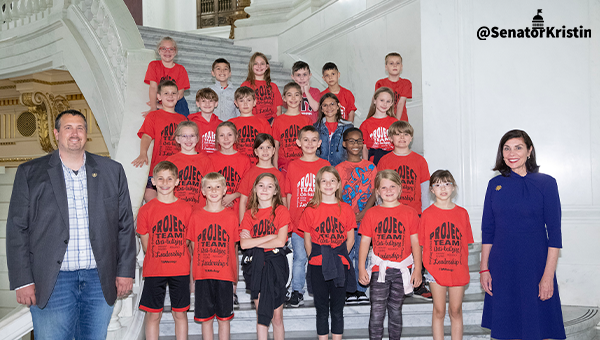 Thank you to all of the students, teachers and chaperones who spent with Rep. Seth Grove and me during a recent visit to the state Capitol.
You can find more pictures from the tours on my Instagram.
June is a beautiful time to make the trip up to the Capitol! You can schedule your tour here.
Celebrating the health benefits of dairy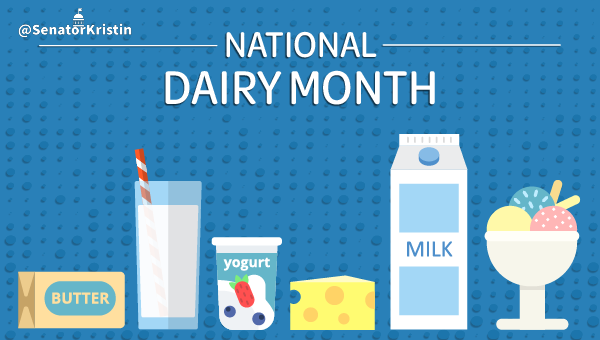 Every June, National Dairy Month highlights the importance of consuming nutrient-rich dairy foods and beverages. Dairy products, like milk, contain nine essential nutrients which may help to better manage weight and reduce the risk of high blood pressure, osteoporosis, and certain cancers.
Dairy plays no small part in the state's top industry: agriculture. The Senate has a few legislative measures to help our hard-working farmers who provide for our dairy needs.
Senate Bill 153 would ensure that milk haulers can travel on highways during a declaration of disaster emergency so the perishable product isn't lost. Senate Bill 297 would allow whole milk in schools. Senate Resolution 48 urges the United States Department of Agriculture to allow 2% and whole milk in schools.
I am looking forward to celebrating National Dairy Month at York County Farm Bureau's Annual Meeting and Ice Cream Social on Sunday from 2-4 p.m. at Lake Redman!
Local job openings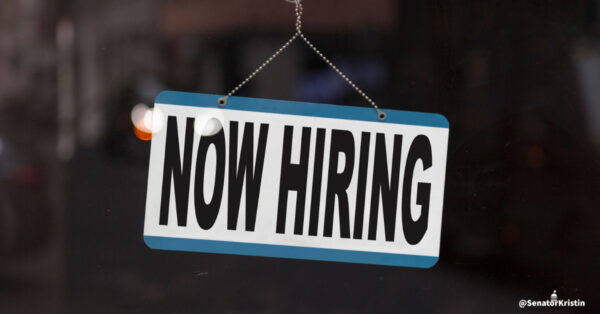 PA CareerLink shared with me its latest list of local job openings, which you can view here. You can also find job postings shared with the York County Economic Alliance (YCEA) here.
On deck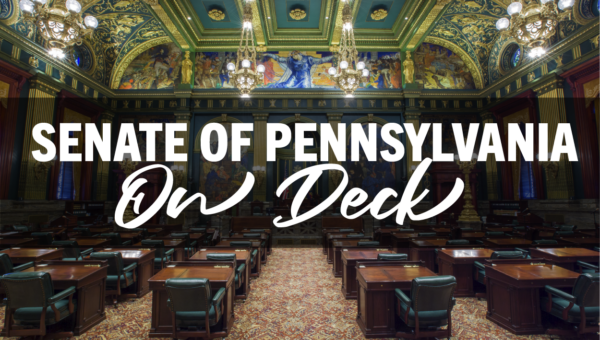 The Senate of Pennsylvania reconvenes on Monday, June 5, at 2 p.m. Follow me on Twitter for all of the latest updates on session convening times. You can watch all of the Senate votes and view our agenda here.