In this update:
Continuing the work on strengthening our state's cybersecurity
Avoid disconnection, communicate with your utility companies
Treasury's transparency portal now shows additional data
Patriot Program at South Eastern School District
"Be your own fiscal watchdog" – advice from Auditor General DeFoor
America250PA holds first meeting
Complete an annual renewal to maintain insurance coverage
New to New Freedom: Franklin Square ribbon cutting
Celebration for Andrew: Bingo benefit
Now available: New military themed license plates
York County Agricultural Recognition Banquet
Summer internship opportunity with the Office of Open Records
Happy Easter and Happy Passover to those who celebrate!
Upcoming PennDOT maintenance projects
On deck
Coming soon: Changes to my Weekly Email
---
Continuing the work on strengthening our state's cybersecurity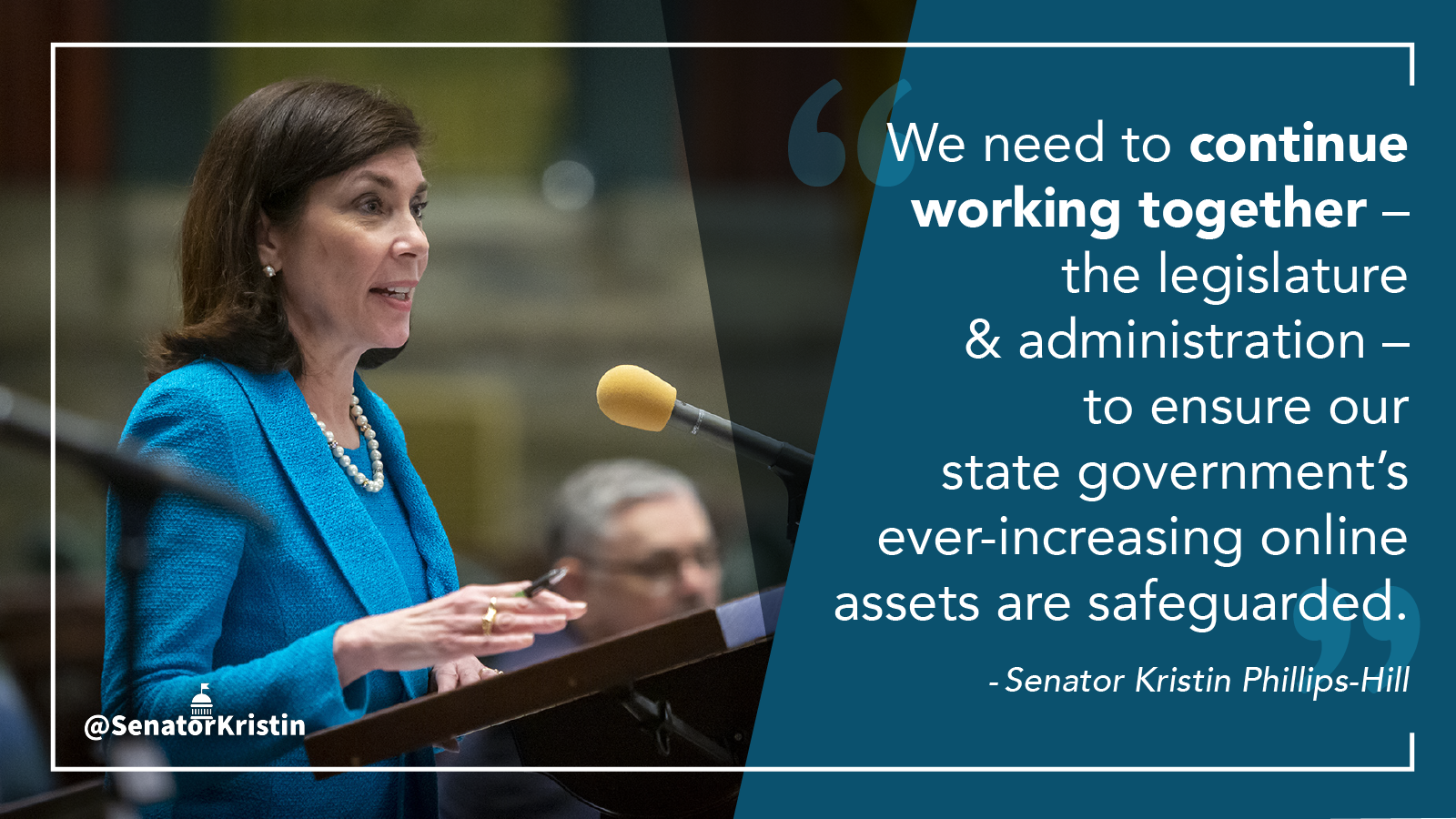 As a continuation of my bipartisan legislation that would ban state-owned devices and networks from the foreign cybersecurity threat, TikTok, I have introduced two new measures to strengthen our state's online assets.
Senate Bill 563 would establish that the Commonwealth agencies have strong capabilities in place to discourage, combat and recover from ransomware attacks. Under my measure, an individual found guilty of a ransomware offense would be subject to a range of penalties – first-degree misdemeanor to a first-degree felony – depending on the monetary amount exploited.
Senate Bill 284 would establish a standalone Office of Information Technology (OIT) under the Office of Administration. The role of the OIT would be to establish a strategic plan for future IT projects across state government, as well as manage and maintain all future IT procurement within state agencies.
These legislative efforts are the result of public testimony to review best practices in other states, as well as feedback from the state's former chief information officer.
Senate Bill 563 heads to the Senate Judiciary Committee and Senate Bill 284 heads to the Senate Communications and Technology Committee for consideration.
As we continue to see increased attacks on our information technology systems all across state government, we need to ensure that state, local governments and schools remain vigilant against these very real threats.
You can find more information on this effort here and watch my remarks here.
Avoid disconnection, communicate with your utility companies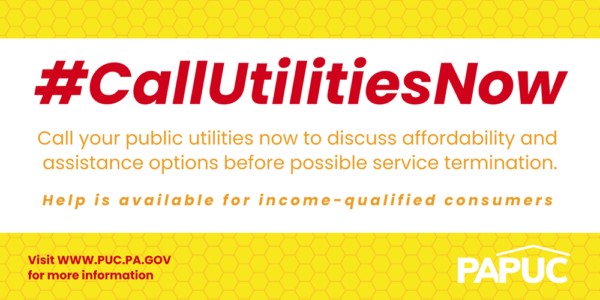 As the annual winter termination moratorium effectively ended on Monday, it is more important than ever for consumers with high or past-due balances on their utility bills to call their provider to discuss options to remain connected.
Utilities are reaching out to customers who are at risk of utility shutoffs and sending bill reminders, letters, termination notices and Public Utility Commission (PUC)-approved shutoff forms. If a customer's service is shut off, the utility must provide a notice indicating why the service was shut off and what steps the customer can take to restore service.
Utilities can help enroll consumers in assistance programs, guide them to other available resources and discuss new payment plan options to address overdue balances. If a consumer is unable to resolve an issue or obtain needed information from the utility, they may contact the PUC's Bureau of Consumer Services toll free at 1-800-692-7380.
As I shared with you last week, I recently introduced legislation that would make it easier for you to understand how you are being charges as well as additional oversight of energy providers.
We have seen prices everywhere changing, you being a rational actor in the marketplace should be able to quickly, efficiently and transparently change your provider, get that better rate and reduce your costs.
Treasury's transparency portal now shows additional data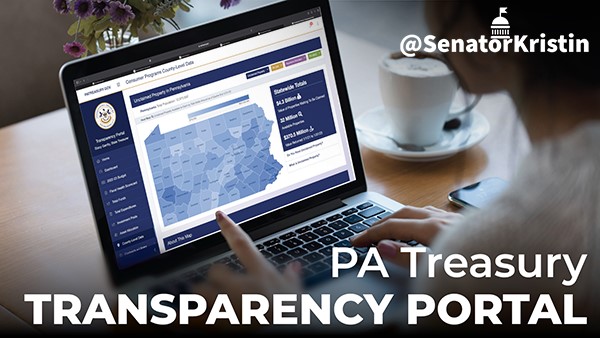 Treasurer Stacy Garrity announced a new feature on Treasury's Transparency Portal that gives the public easy access to county- and state-level data about Pennsylvania's unclaimed property program, the PA 529 College and Career Savings Program, Keystone Scholars and the PA ABLE Savings Program.
The new feature includes four interactive maps displaying data for unclaimed property, PA 529, Keystone Scholars and PA ABLE. Users can now see county-by-county details such as:
How much unclaimed property is available;

How much unclaimed property has been returned since Jan. 1, 2021;

The number of open PA 529 and PA ABLE accounts;

Total assets in PA 529 and PA ABLE; and

The number of registered Keystone Scholars accounts.
Statewide data is also available, and the data will be updated quarterly. Information about all of Treasury's consumer programs can be found here.
Treasurer Garrity will join me on my next podcast episode. Please subscribe on Apple Podcasts, Google Podcasts and Spotify.
Patriot Program at South Eastern School District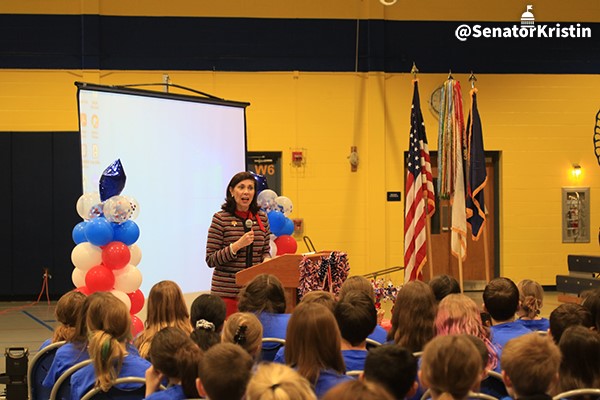 Last week, it was a privilege to attend South Eastern School District's Patriot Program! Fifth and sixth grade students were honored for completing the Patriot Program, which consists of reciting the Pledge of Allegiance or singing the national anthem, writing a report on a favorite patriot, and taking a quiz on flag etiquette or politicians.
Attending this program is always one of the highlights of the year. Congratulations to all the students!
You can find more photos from this amazing program here.
"Be your own fiscal watchdog" – advice from Auditor General DeFoor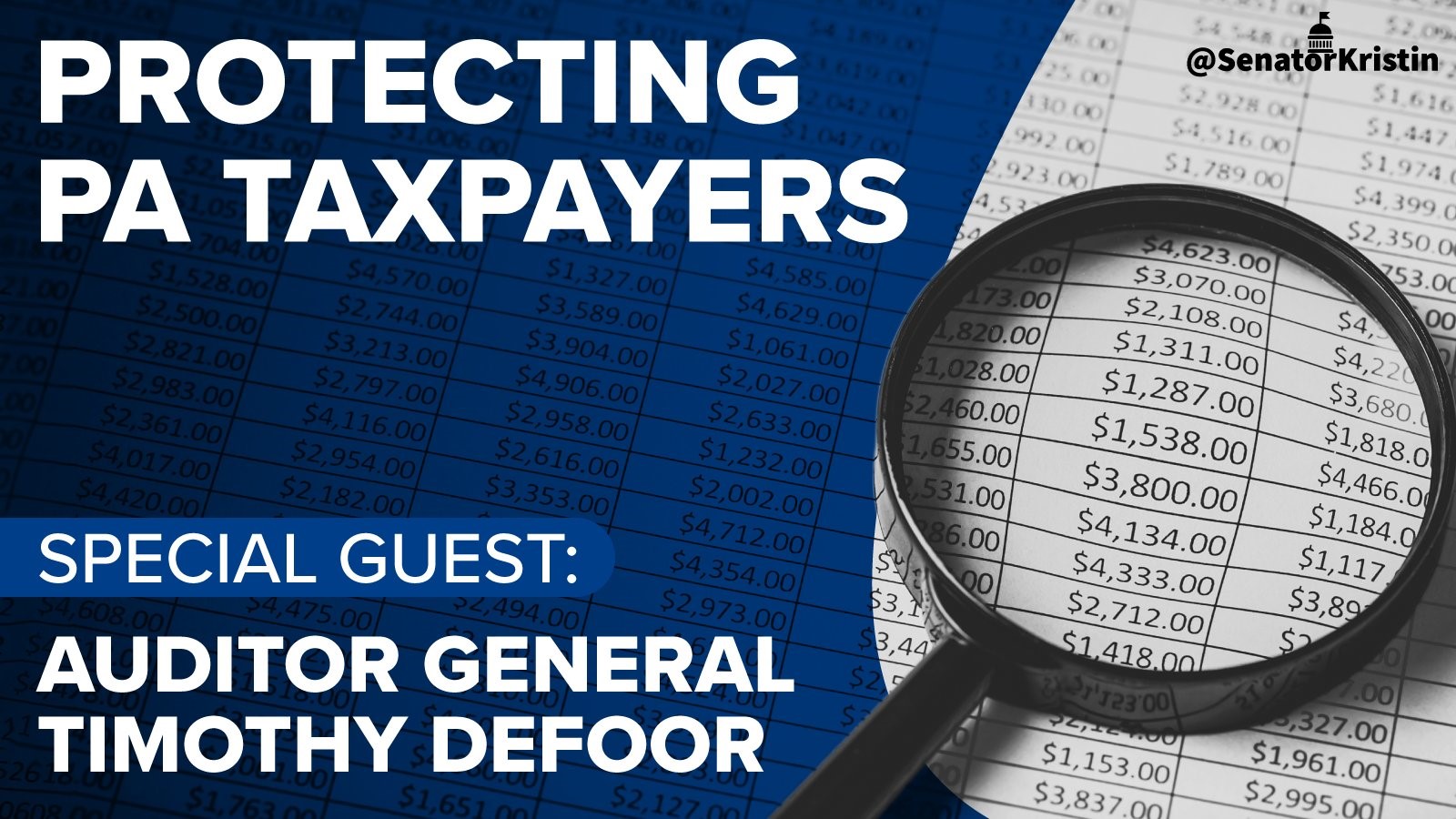 If you missed my latest podcast episode featuring the state's Auditor General, Timothy DeFoor, you can listen to it here.
The auditor general gives excellent tips on how you, as a taxpayer, can remain vigilant in reviewing government spending at all levels.
If you subscribe to podcasts and want to stay in the loop on issues impacting your state government, you can find me on your favorite platform: Apple Podcasts, Google Podcasts and Spotify.
America250PA holds first meeting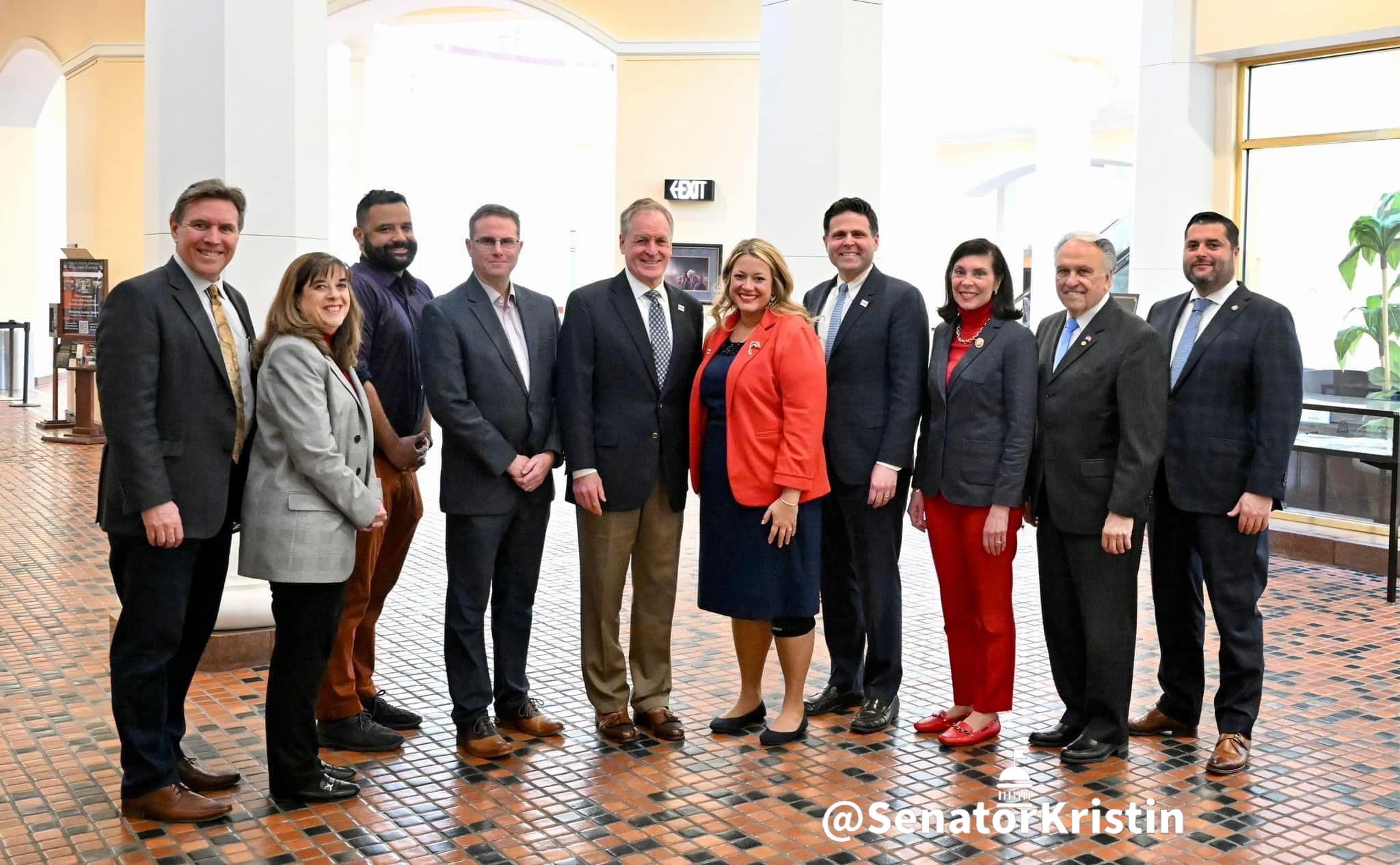 Last session, House Bill 1952 was signed into law to create an Infrastructure Improvements & Legacy Committee of America250PA. This committee is made up of 24 Republican and Democratic members of the General Assembly who will work with A250PA to identify and execute on legacy projects across the Commonwealth in anticipation of and to celebrate the semi quincentennial in 2026.
I am honored to co-chair this committee with Rep. Jared Solomon. The committee held its first meeting in Harrisburg this week and was honored to be joined by former Gov. Mark Schweiker.
York County is very proud of the important role the county played in the founding of our nation — from providing safety to our founders, bearing witness to the drafting of the Articles of Confederation and having one of the only POW camps. We look forward to celebrating York County and Pennsylvania's significant contributions during our nation's 250th birthday!
On a personal note: I am honored to serve on this commission and recognize it is the next generation's responsibility to step up, not only to celebrate this significant milestone, but to assure that this nation continues to prosper and ensure the blessings of liberty to future generations.
Complete an annual renewal to maintain insurance coverage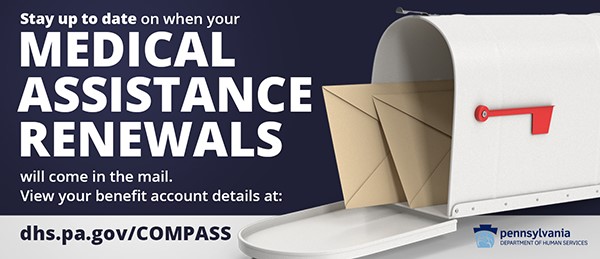 All Medical Assistance (MA) and Children's Health Insurance Program (CHIP) recipients must complete an annual renewal to keep coverage. Pennie, Pennsylvania's state-affiliated health insurance marketplace, offers financial assistance to lower the cost of health and dental coverage. It can help ensure continuous coverage for Pennsylvanians who have lost or are losing MA benefits.
Approximately 30-45 days before Medicaid recipients' renewal date, they will receive their renewal packet in the mail. This must be completed and returned as soon as possible. They can also complete their renewal online via COMPASS or over the phone.
People who are no longer eligible for Medicaid may have options for coverage available through Pennie and CHIP.
New to New Freedom: Franklin Square ribbon cutting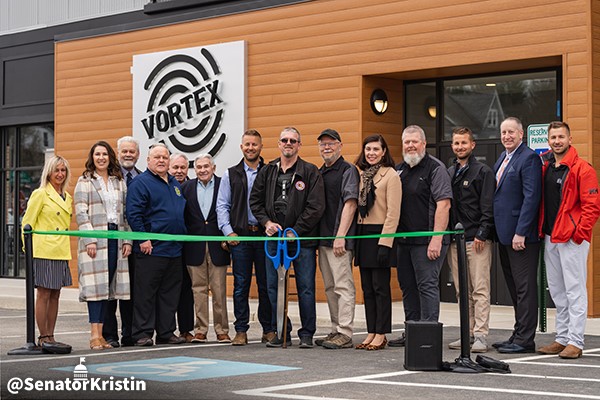 Last Friday, I was able to join Burkentine Real Estate Group as they celebrated the opening of their brand-new Franklin Square Community in New Freedom!
Vortex Brewing Company is anchored at the entrance of the community, which then features apartments, three-story townhomes along with commercial shops.
To keep in the New Freedom spirit, Vortex Brewing Company used a postcard from 1909 to bring their own version of the historic railroad village into their brewery, which you can see below.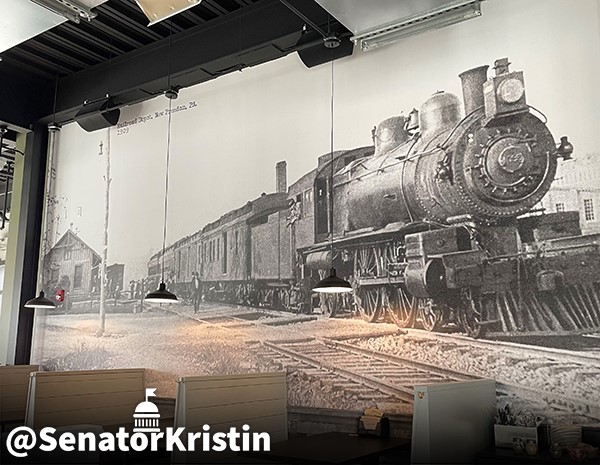 Congratulations to Burkentine and Vortex Brewing!
Celebration for Andrew: Bingo benefit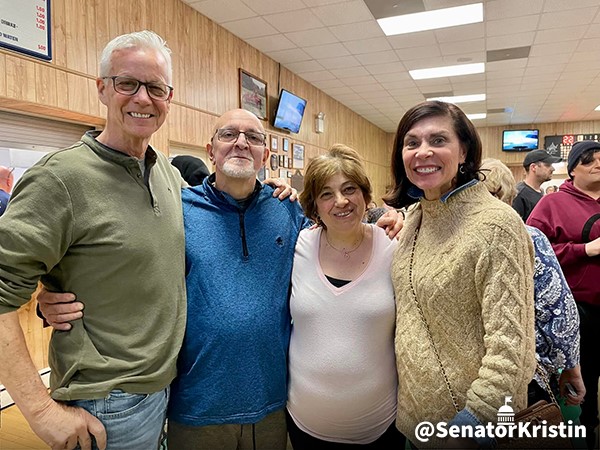 The 28th District has many small towns that are filled with incredible people who are kind, caring and look out for their neighbors. Last weekend, Rick and I were honored to help at the Celebration for Andrew, the proprietor of Paesano's Pizza of Jacobus, who has been battling cancer at Goodwill FC #1 of Jacobus.
Thank you to everyone who attended and supported this wonderful event and a special shoutout to Lance Beard for pulling this all together!
Most importantly, thank you to Andrew, Anna and their family for deliciously feeding my family and so many others for decades!
You can find more pictures from this event on my Instagram.
Now available: New military themed license plates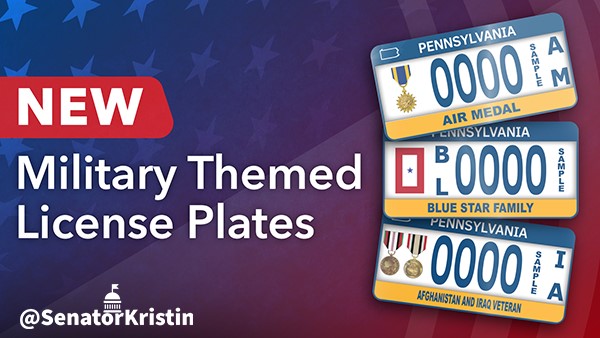 Because of legislation passed by the General Assembly, new military themed license plates will be available throughout the commonwealth. Two of these new plates – the Air Medal license plate and the Afghanistan and Iraq Veterans license plate – recognize veterans' special contributions during their service. The third is the Blue Star Family license plate for family members of an active-duty, Reserve or National Guard service member.
All three are available for passenger cars or trucks with a registered gross weight of not more than 14,000 pounds for a fee of $23.
More information, including eligibility requirements and images of license plates, is available here.
York County Agricultural Recognition Banquet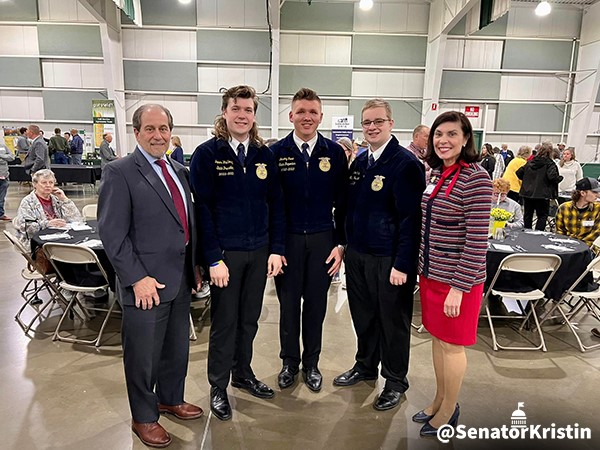 Last week I attended the 36th Annual York County Agricultural Recognition Banquet to celebrate the top industry in our county and state, agriculture!
Congratulations to Gundel Farms of Seven Valleys for being awarded the 2023 Outstanding Ag Industry Award by the York County Agriculture Business Council. It was an honor to present a citation from the Senate of Pennsylvania to recognize their commitment and dedication to the Agri-business community in York County.
Congratulations to our youth in York County agriculture! It was exciting to recognize your significant accomplishments as well.
You can find more photos from this event here.
Summer internship opportunity with the Office of Open Records
The Office of Open Records is offering a paid summer internship opportunity in Harrisburg to undergraduate students and recent graduates who are interested in government accountability and transparency. Interns may work from home on Mondays and Thursdays, but full-time telework will not be approved.
The office was established to create a free, simple method for citizens to appeal a public records denial by a local or state government agency. Decisions made by the Office of Open Records have an enormous impact that can lead to changes at all levels of government in Pennsylvania.
Email a resume and cover letter that includes your preferred start and end date to openrecords@pa.gov. Applications will be considered until the position is filled. Learn more, including internship requirements, here.
Happy Easter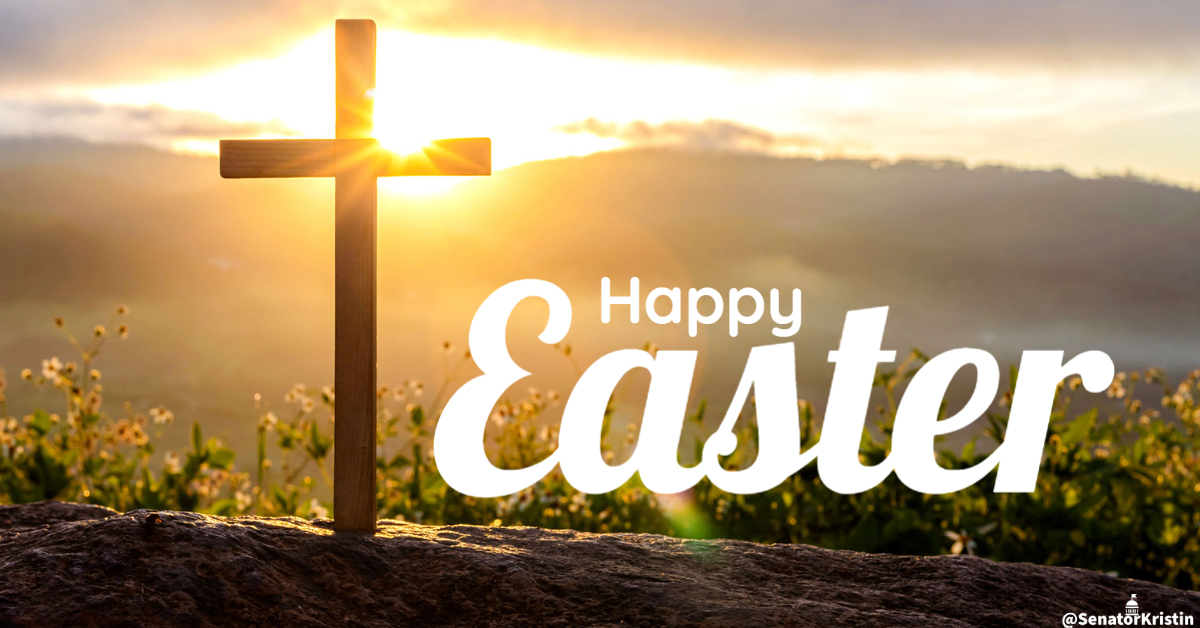 Please be advised that our offices will be closed on Friday, April 7, in observance of Good Friday.
I hope all of our Christian neighbors and friends have a Happy and Blessed Easter holiday.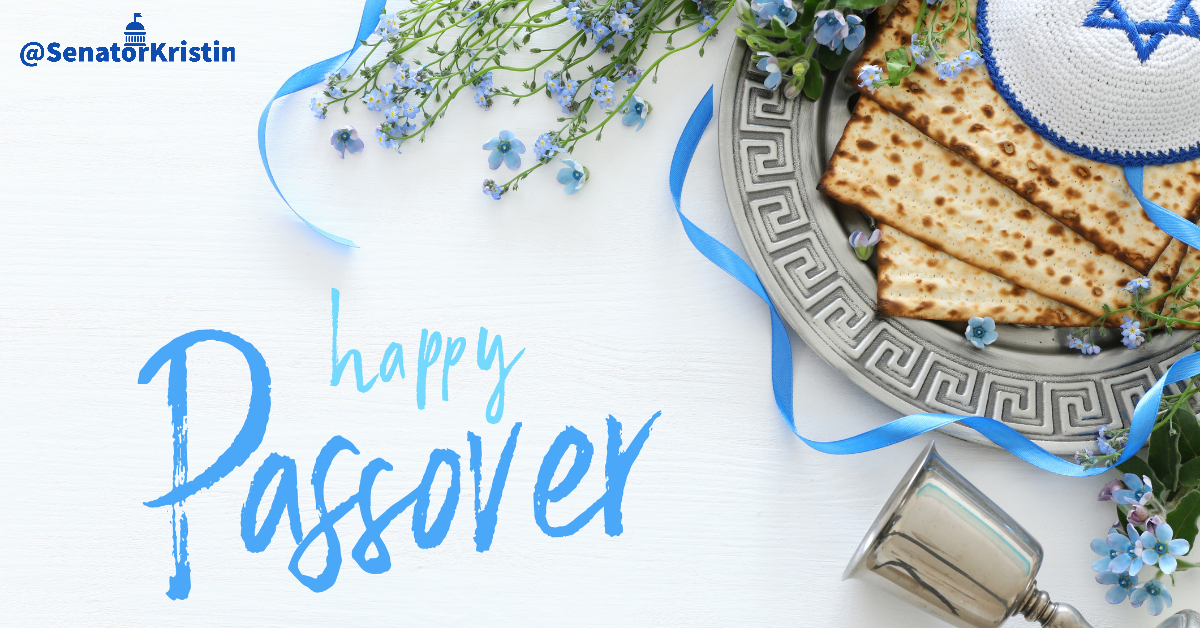 And to all of our Jewish friends and neighbors, I wish you a Happy Pesach!
Upcoming PennDOT maintenance projects
You can view PennDOT's list of scheduled maintenance projects for next week below. If you have trouble viewing the schedule, please click here.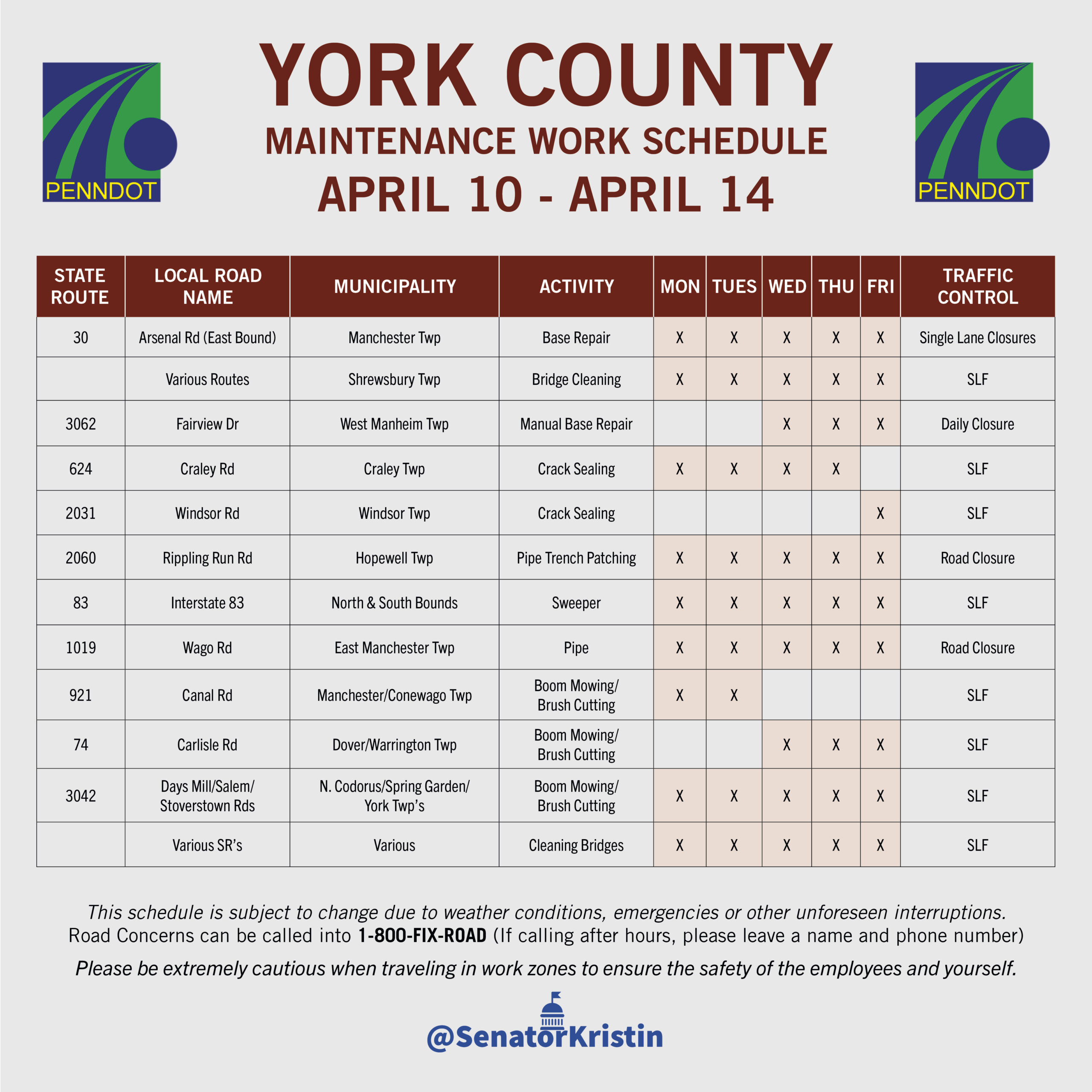 On deck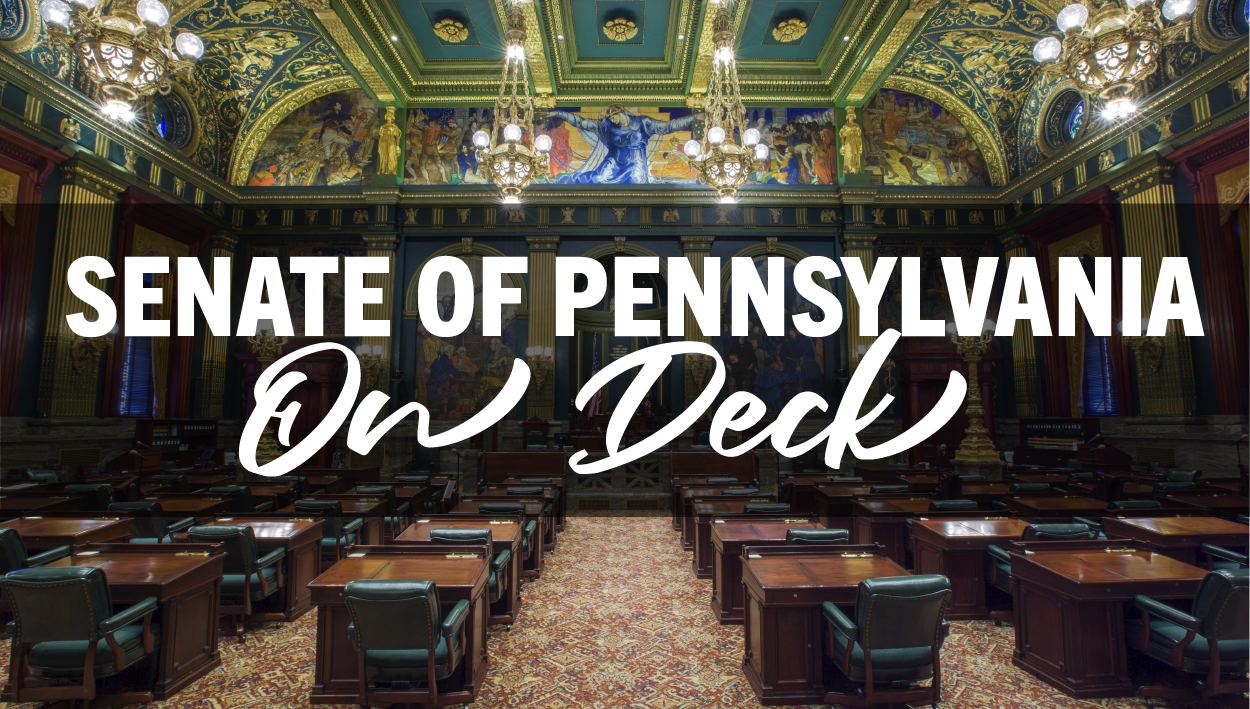 The Senate Appropriations Committee convenes for its third and final week of public hearings on the state budget next week. You can view the committee's full schedule of budget hearings and watch the public hearings here. If you want to see the questions I have asked at these hearings, you can watch my dialogue with cabinet secretaries here.
Coming soon: Changes to my Weekly Email

I want to let you know that things may look a little different in the coming weeks. I am redesigning my weekly email updates to strengthen our conversation on issues that are important to our community, including more frequent surveys to gather your input on issues impacting southern York County. I look forward to your feedback on the change and how I can continue to best serve you as YOUR state senator!