In this update:
Senate set to question Wolf Administration on spending plan
Pennsylvania Broadband Development Authority convenes for first meeting
Congrats to local entrepreneurs on grant award
Thanking local law enforcement for their efforts
Sharing state update with Southern York County Rotary
Celebrating Black History Month
Keeping track of non-budgeted state tax dollars
York County Trail Towns BLOOM Grant open until March 7
Help for families navigating the college aid process
New helpline available for farmers seeking mental health services
Halting the rise in Pennsylvania traffic fatalities
Upcoming PennDOT scheduled maintenance
Local job openings
On deck
Office closed for Presidents Day
---
Senate set to question Wolf Administration on spending plan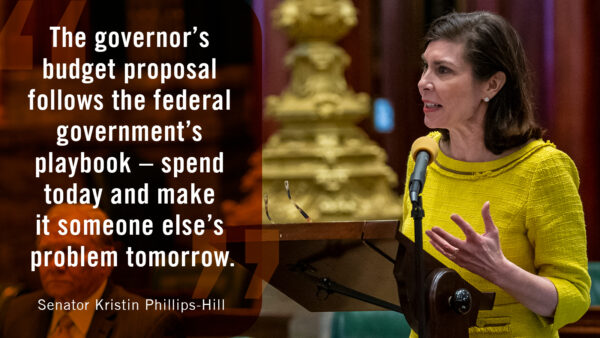 On Feb. 8, Gov. Wolf proposed a $45.7 billion state budget for 2022-23 that would increase spending by $4.5 billion, create a $1.3 billion deficit in the following year and produce a $13 billion deficit by 2026-27.
As I said, this proposed spending plan by the governor is irresponsible and is unsustainable.
Next week, the Senate Appropriations Committee kicks off four weeks of public hearings to review the spending plan and question administration officials in preparation for developing a more responsible budget prior to the June 30 constitutional deadline.
You can find livestreams of the hearings, video of previous hearings and daily recaps here. I'll report back each week with updates on this important process.
As a member of this committee, I will livestream every hearing on my Facebook Page.
Pennsylvania Broadband Development Authority convenes for first meeting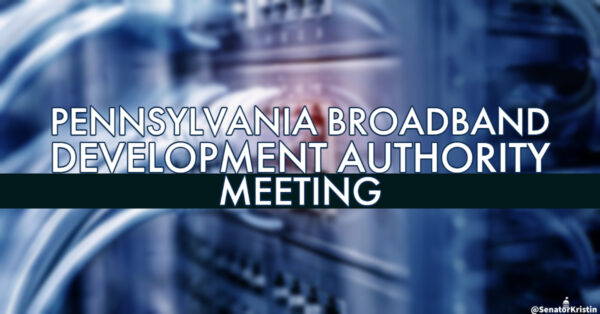 The Pennsylvania Broadband Development Authority convened this week for its first meeting. As a member of this authority, we are tasked with serving as the state's single-point-of-contact for all taxpayer dollars dedicated to improving access to high-speed internet all across our Commonwealth.
At the meeting, I asked that as part of the statewide broadband plan, which is required to be eligible to apply for federal funding, that we include subject-matter experts. To date, the Administration has not engaged individuals and entities that have actually laid fiber or installed wireless facilities to connect people to high-speed internet.
I also expressed my support for a plan that will allow the authority to select the first executive director of this authority.
Our next meeting will be on May 26. I will share more details as we get closer to that date.
Congrats to local entrepreneurs on grant award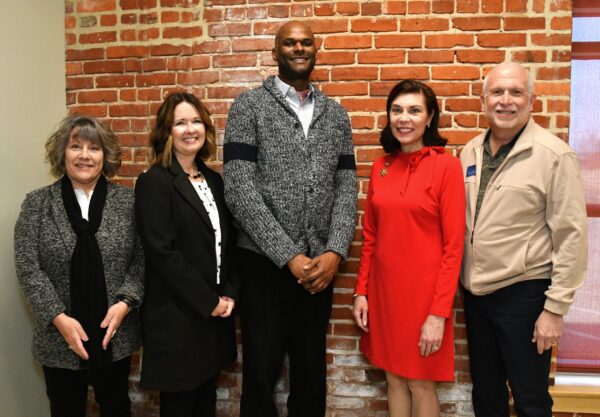 Congratulations to the 2022 Susquehanna SCORE award recipients, including Lisa Weigard of SoulShine Boutique, and Anthony Moore of The FAB Group Logistics LLC. These individuals were awarded $1,000 and $2,500, respectively, as part of the 2022 Next Step grant award. The awards were funded by the York County Chamber Foundation.
I presented these individuals with congratulatory certificates from the Senate of Pennsylvania.
Congratulations, Anthony and Lisa! You can view more photos (taken by Jim Phipps) here.
Thanking local law enforcement for their efforts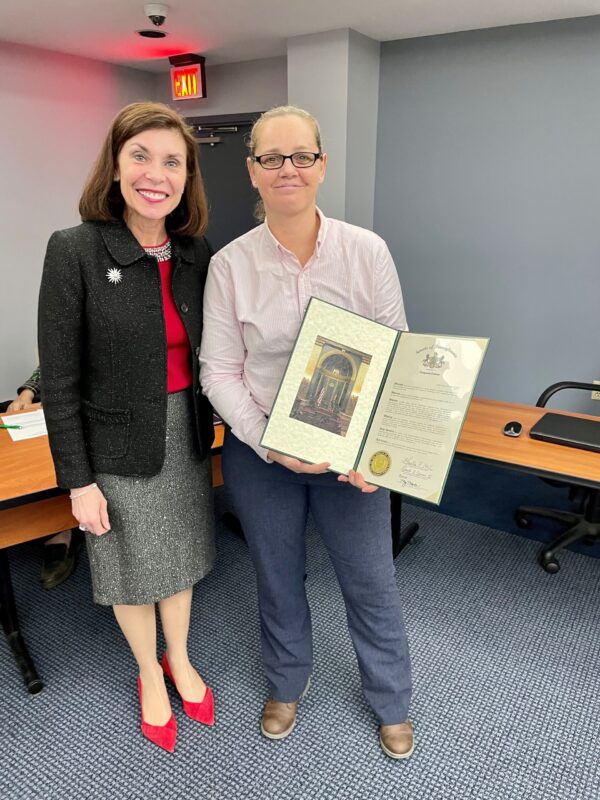 I recently presented a congratulatory citation from the Senate of Pennsylvania to Detective Brandy Goodling for being named the 2021 Officer of the Year by the York County Regional Police Dept.
Detective Goodling has excelled at investigating complex criminal cases and to her great credit, this past April, she assisted with delivering a baby in Windsor Township and even drove the ambulance to the hospital to allow the medical personnel to attend to the patients.
Thank you, Detective Goodling, for your tireless devotion to duty and going above and beyond to protect and serve our community!
Sharing state update with Southern York County Rotary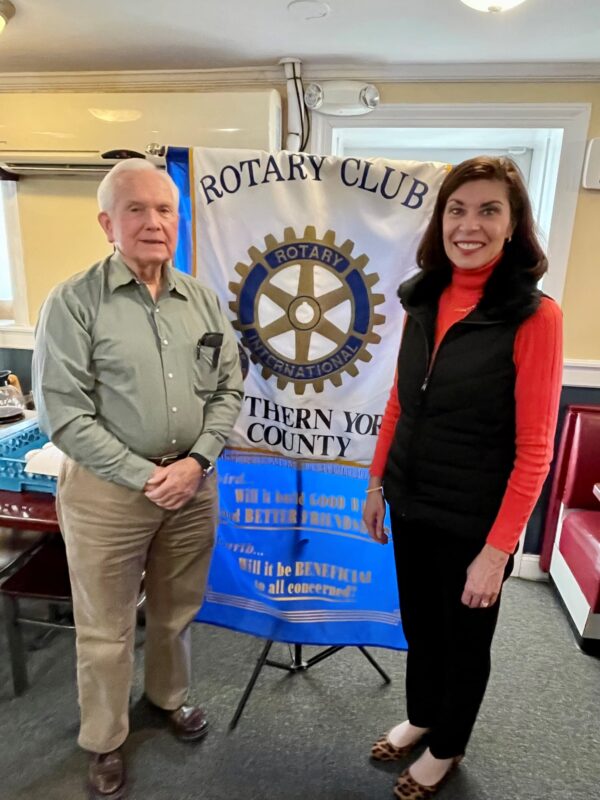 Thank you to the Rotary Club of Southern York County for providing me with the opportunity to share a few state updates at your recent meeting! Specifically, thank you to Ron Hash for the invitation! It was great to have the opportunity to share an update from Harrisburg on the budget, the Pennsylvania Broadband Development Authority, and reapportionment, as well as share our community's gratitude for their many charitable endeavors that help make Southern York County a wonderful place to work, live and raise a family.
Celebrating Black History Month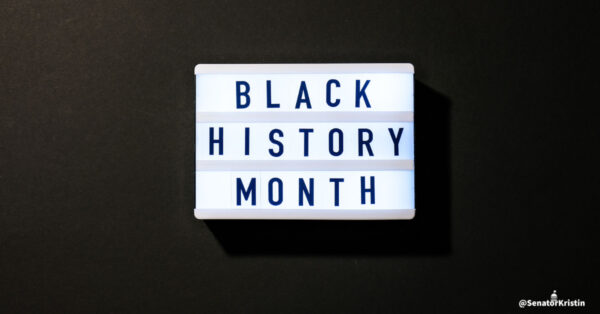 Each February, we recognize the rich culture and many sacrifices made by African Americans who helped shape our nation generations ago and our communities today.
Thank you to trailblazers, like Carter G. Woodson, who was the first to designate a time to promote and educate people about Black history and culture.
Our country is great because of the many different people who have come together, and this month represents the chance we have to learn from and about each other to improve everyone's lives.
Keeping track of non-budgeted state tax dollars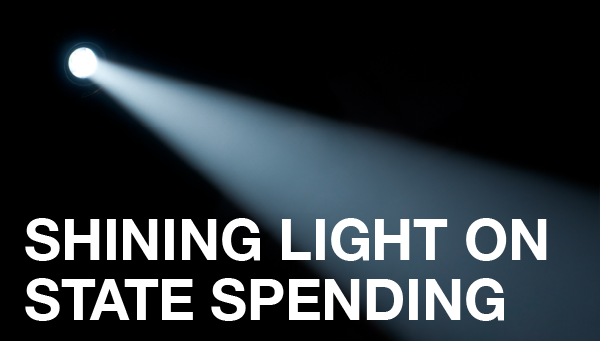 While the process of passing a responsible state budget gets underway, a new resource is available highlighting state spending that occurs after the budget is enacted.
A webpage recently launched by state Treasurer Stacy Garrity explains Ledger 5, which is used to account for non-budgeted expenditures incurred during a fiscal year that are legally mandated or necessary to maintain public health, safety or welfare.
Before Ledger 5 can be used, the Governor's Office of the Budget must provide Treasury with documentation, known as an Expenditure Symbol Notification (ESN) memo, to explain and justify the expenditure. Treasury reviews the ESN memo and other expenditure documentation to ensure the payment is legal and correct. All ESN memos will be posted on the new webpage.
York County Trail Towns BLOOM Grant open until March 7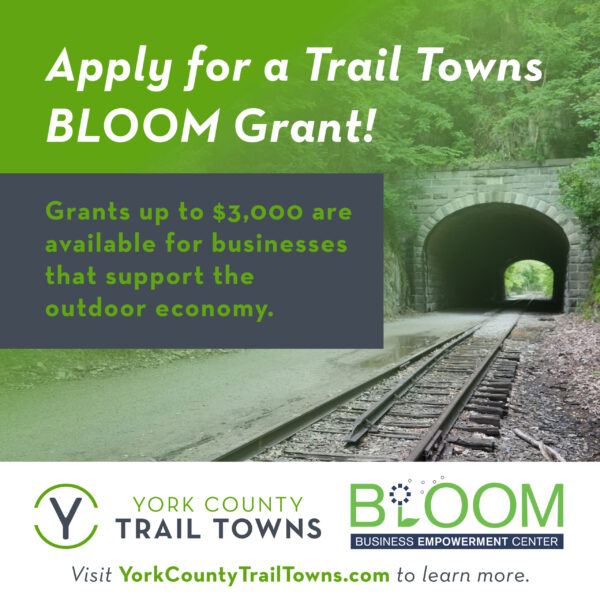 The York County Economic Alliance (YCEA) has opened a new round of BLOOM grants for York County Trail Towns. The York County Trail Towns edition of the BLOOM grant program will allocate $30,000 across the seven Trail Town communities for this grant round, this includes City of York, Seven Valleys, Glen Rock, Railroad, New Freedom, Wrightsville, and Hanover. Grants of up to $3,000.00 will be awarded. Proposed projects may include improving service to outdoor recreational users, expansion of inventory, physical improvements to storefronts, adding bike friendly amenities, and other creative ideas are welcome. Important dates are below:
Help for families navigating the college aid process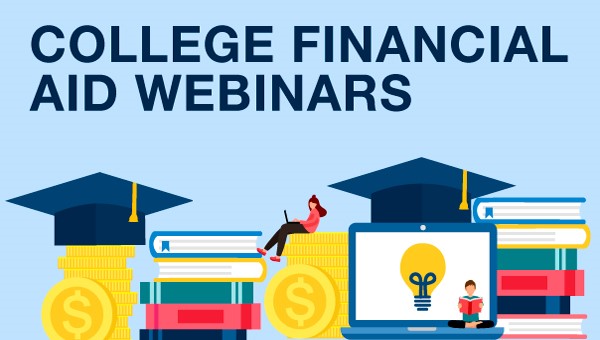 The Pennsylvania Higher Education Assistance Agency is offering several free webinars in February, March and April to help students and families plan for college and fill out the Free Application for Federal Student Aid (FAFSA).
FAFSA Overview (Feb. 28, April 18)
Guiding students and families through a step-by-step process of filing the FAFSA and PA State Grant application.
Financial Aid 101 (March 7, March 28)
Discussing higher education costs, the types of financial aid available and how to apply for financial aid.
Financial Aid Junior Jumpstart (April 13)
Planning and goal setting for high school juniors.
Click here for times and registration.
New helpline available for farmers seeking mental health services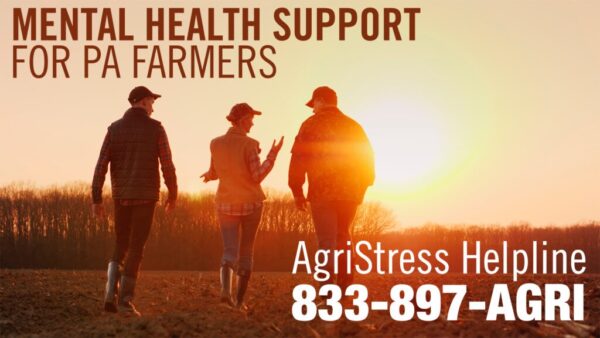 Pennsylvania farmers and farm families seeking mental health support can now access a free helpline for assistance.
The AgriStress HelpLine for Pennsylvania is available 24 hours a day, seven days a week. Farmers can call 833-897-AGRI (2474) to speak to a health care professional.
According to the American Farm Bureau Federation, financial challenges, farm or business problems and the fear of losing the farm are top contributors to farmers' mental health challenges. Cost, embarrassment and stigma often prevent farmers from seeking help or treatment for a mental health condition.
The Senate Agriculture and Rural Affairs Committee explored the topic in several public forums.
Halting the rise in Pennsylvania traffic fatalities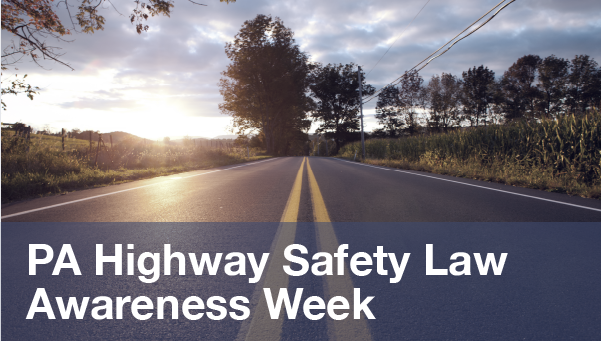 In Pennsylvania, 2021 preliminary data shows deaths on our roadways increased by as much as 10%, including increases in fatalities in speeding crashes, distracted driving crashes, crashes involving teen drivers, as well as unrestrained fatalities.
Pennsylvania Highway Safety Law Awareness Week is next week, Feb. 20-26, and it's an opportunity to think about the laws and driving habits that increase traffic safety.
Highway safety laws that can prevent traffic fatalities include:
Distracted Driving – State law prohibits any driver from using an Interactive Wireless Communication Device to send, read or write a text-based communication while his or her vehicle is in motion.
Seat Belts – Any occupant younger than 18 must buckle up when riding in a vehicle, as well as drivers and front-seat passengers. Children under the age of two must be secured in a rear-facing car seat, and children under the age of four must be restrained in an approved child safety seat. Children must ride in a booster seat until their eighth birthday.
Impaired Driving – Individuals are prohibited from driving while impaired by alcohol or drugs. Penalties for driving while impaired depend on the individual's level of impairment and prior offenses and can include up to $10,000 in fines, up to five years in prison, up to 18 months license suspension, one year of ignition interlock and more.
Speeding – Motorists are required to drive at reasonable and prudent speeds for the current conditions. This law is sometimes called the "assured clear distance" rule because it requires motorists to operate at a speed at which they can stop within an "assured clear distance." Drivers may be ticketed for rear-ending another vehicle because they violated this law by not stopping within the following distance they allowed.
You can read more about highway safety at www.PennDOT.gov/safety.
Upcoming PennDOT scheduled maintenance
PennDOT shared with me the upcoming maintenance project list for next week. You can view that below.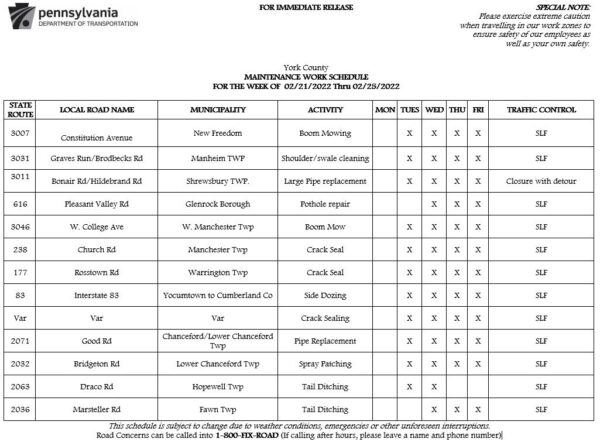 Local job openings
PA CareerLink shared with me its latest list of local job openings, which you can view below. You can also find job postings shared with the York County Economic Alliance here.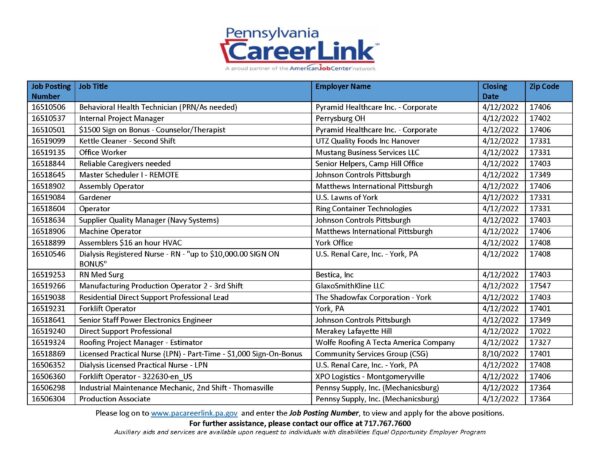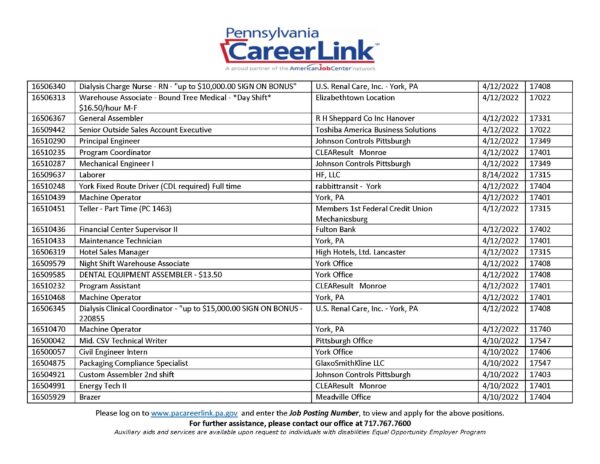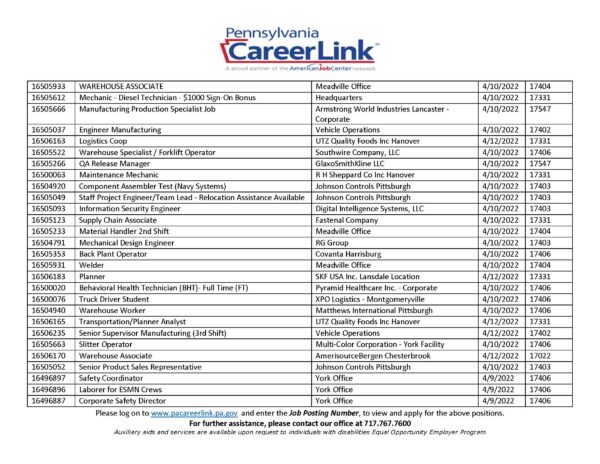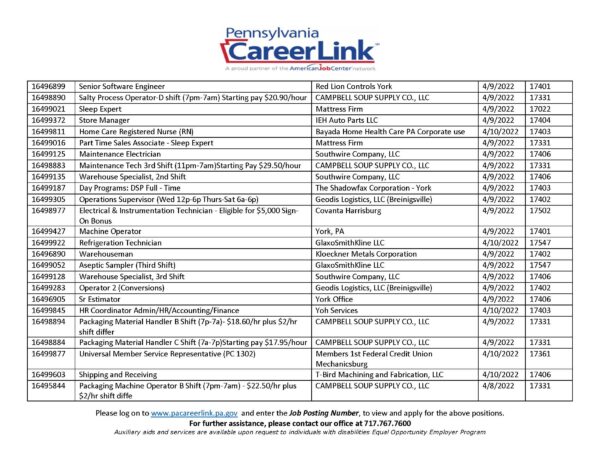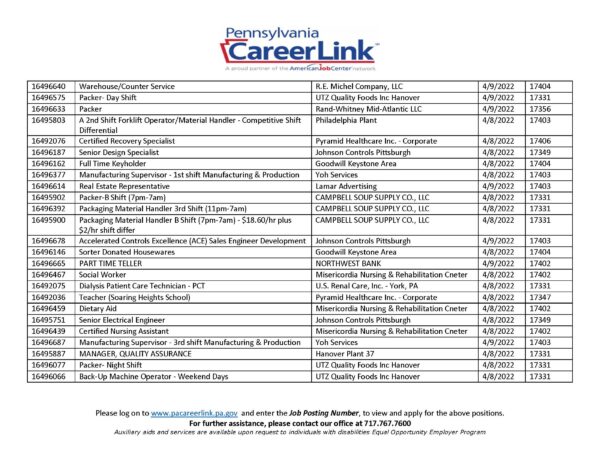 On deck
As I noted earlier, the Senate Appropriations Committee will convene on Tuesday to begin its review of Gov. Wolf's spending plan for the upcoming fiscal year. Below is a schedule of our hearings for next week. I will also be sitting down with Senate Appropriations Committee Chairman Pat Browne to discuss our state budget for the next episode of my podcast. If you are not already subscribing to my podcast, you can find me on your favorite app here.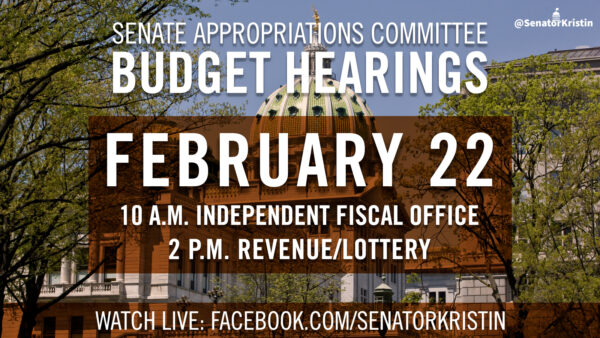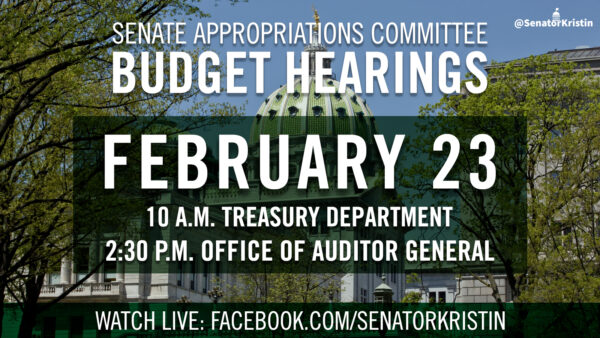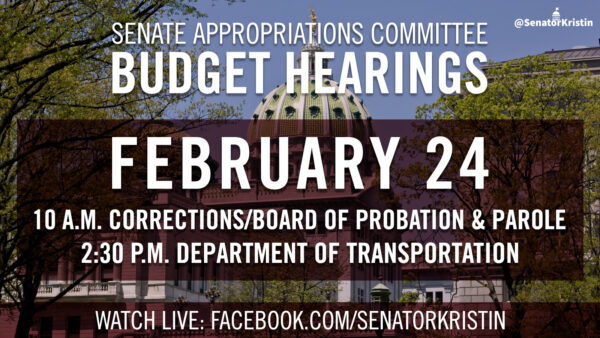 Office closed for Presidents Day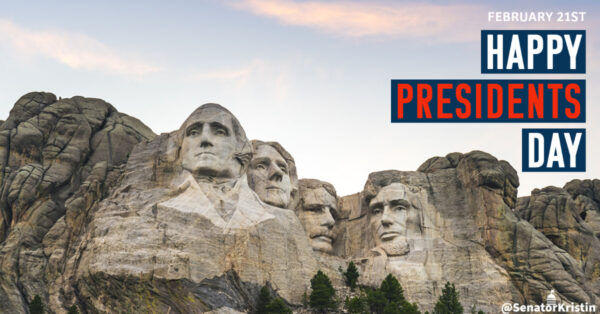 Please be advised that the Senate of Pennsylvania will be closed on Monday, Feb. 21, in observance of Presidents Day. We will reopen on Tuesday, Feb. 22, at 9 a.m.