In this update:
Supreme Court sides with Governor Wolf on shutdown hours after another unilateral edict from governor
My bill signed into law to protect health care professionals
Latest podcast covers firework safety – know the law and be respectful this Fourth of July
New grants available to support small businesses
Committee discussion focuses on economic impact of southcentral PA business shutdowns
Senate approves second round of policing reforms
Unemployment compensation benefits extended up to 13 weeks
Senate advances bills to support Pennsylvania firefighters
Lawmakers approve new protections for daycare facilities
Bill moves forward to provide pricing transparency for prescription drugs
Upcoming PennDOT projects
---
Supreme Court sides with Governor Wolf on shutdown hours after another unilateral edict from governor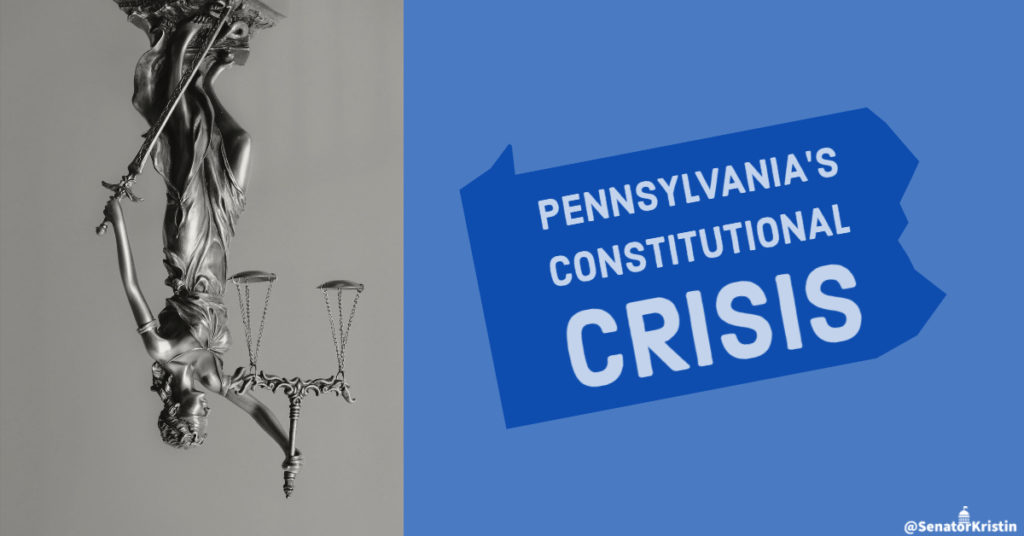 On Wednesday, the Supreme Court ruled that the governor can continue to operate like a dictator with zero requirement to consult with the General Assembly for sweeping changes that he believes are the law of the land. This ruling came hours after Governor Wolf and the Secretary of Health issued another unclear, unilateral mandate that creates more confusion over the requirement to wear a mask as soon as you step outside of your home.
This sets a very dangerous precedent moving forward in terms of the unchecked powers of the governor, who continues to operate in the cloak of darkness with the shutdown of Right-to-Know requests and can declare new laws in a matter of minutes.
Meanwhile, our office continues to receive a high volume of calls and emails asking for assistance on unemployment compensation benefits or clarification on the decisions made by the governor because his offices continue to work remotely and are unresponsive.
Furthermore, he has put law enforcement in an untenable position to enforce any of these edicts that have not been approved by the General Assembly. Will the governor personally enforce or follow any of his mandates? Will he wear a mask at the podium when he provides updates? Or will he create rules for us and separate rules for himself, including marching with a crowd greater than 25 through the streets of Harrisburg without social distancing?
Your frustration is heard loud and clear.
We are in a constitutional crisis. That is why I cosponsored and supported a constitutional amendment that would require the governor to come back to the General Assembly to have an emergency declaration reauthorized after 30 days instead of what we are seeing play out where he can extend any emergency declaration in perpetuity.
It is clear that the powers granted in the law created in the 1970s and last updated in 2014 (before my time in the General Assembly) need to be rewritten in clear terms to ensure any judge on the Supreme Court bench can see that any governor – Democrat or Republican – should never go unchecked through a crisis.
I will continue to fight to restore checks and balances in your state government so any decision is transparent and can be explained – in clear contrast to what's happening now.
My bill signed into law to protect health care professionals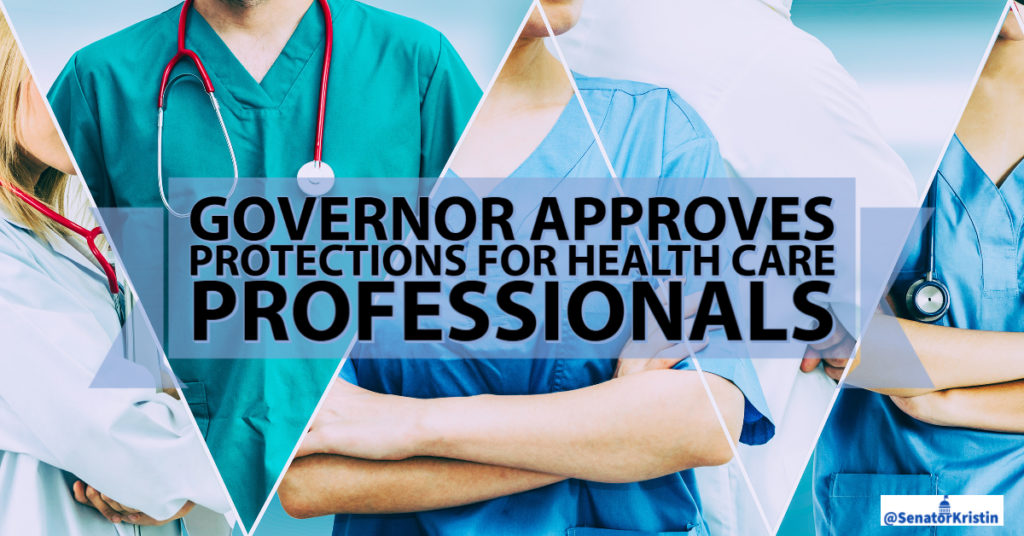 On Wednesday, the governor signed my Senate Bill 842 into law as Act 54 of 2020 to better protect health care professionals in the workplace.
The new law, which takes effect in two months, will allow health systems to omit the last name of employees from workplace photo identification badges worn by medical professionals.
Workplace violence is four times more likely to occur in a healthcare setting than in most other industries.
In the era of social media, the last name of an employee can provide a malicious individual with information needed to stalk, harass and threaten medical professionals. This new law will provide for added protections for the individuals who work to keep our communities healthy.
Roxanna Gapstur, Ph.D., R.N., WellSpan President and CEO, had this to say about the new law:
"WellSpan Health is very grateful for Senator Phillips-Hill's leadership in getting Senate Bill 842 signed into law. Sixty percent of workplace assaults occur in healthcare settings, while healthcare workers comprise only 13 percent of the U.S. workforce. This legislation will protect our healthcare heroes from violence and harassment and will make them more secure in the workplace."
You can read more about this new law here.
Latest podcast covers firework safety – know the law and be respectful this Fourth of July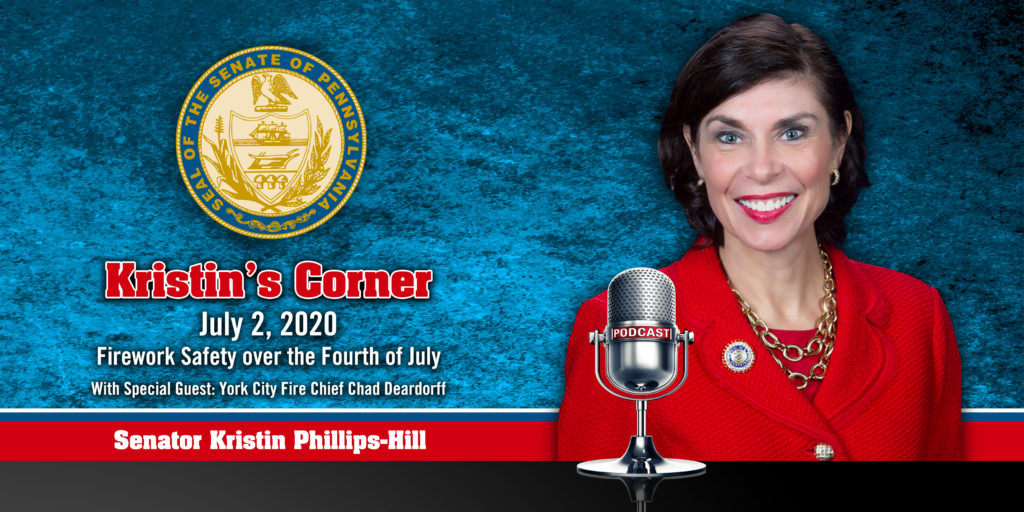 My latest podcast episode features York City Fire Chief Chad Deardorff for an important conversation on firework safety and the law.
As I noted in my last email update to you, the law (Act 43 of 2017) prohibits anyone under the age of 18 from purchasing fireworks. The law also prohibits setting off a firework:
While under the influence of drugs or alcohol.
On private or public property without the owner's permission.
Inside a motor vehicle.
Directed at a motor vehicle.
Within 150 feet of an occupied dwelling.
Please take a few minutes to learn how we can all be safe and responsible this Fourth of July by listening to my podcast here.
More information can be found here. If you missed last week's email with some other tips on how you can stay safe over Independence Day, you can read that here.
If you missed any of my previous podcasts, you can listen to them here.
New grants available to support small businesses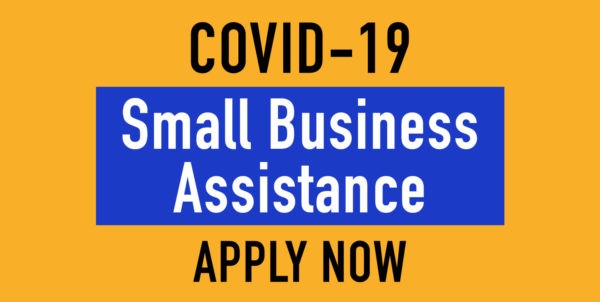 Small businesses in Pennsylvania that were affected by COVID-19 can apply now for state grants to offset financial losses caused by the statewide business shutdown order. The COVID-19 Relief Statewide Small Business Assistance program will provide grants ranging from $5,000 to $50,000 to affected businesses that have 25 or fewer employees and meet other eligibility criteria.
The grant application period opened June 30 and will remain open for approximately 10 days. Eligibility criteria, application details and other information on the program are available at pabusinessgrants.com.
Committee discussion focuses on economic impact of southcentral PA business shutdowns
The Senate Majority Policy Committee conducted a workshop discussion this week regarding Governor Wolf's business shutdown orders by examining the economic impact of the crisis in southcentral Pennsylvania.
The two-hour discussion included testimony from more than a dozen business owners and economic development experts, including Kim Carl of Genesis Golf in Stewartstown and Kelly Salla, a local realtor with Berkshire Hathaway.
These two businesswomen shared personal accounts of the devastating impact of the governor's sweeping shutdown moves. At one point, Pennsylvania was the only state to shut down real estate transactions. As Kelly notes: Housing is essential.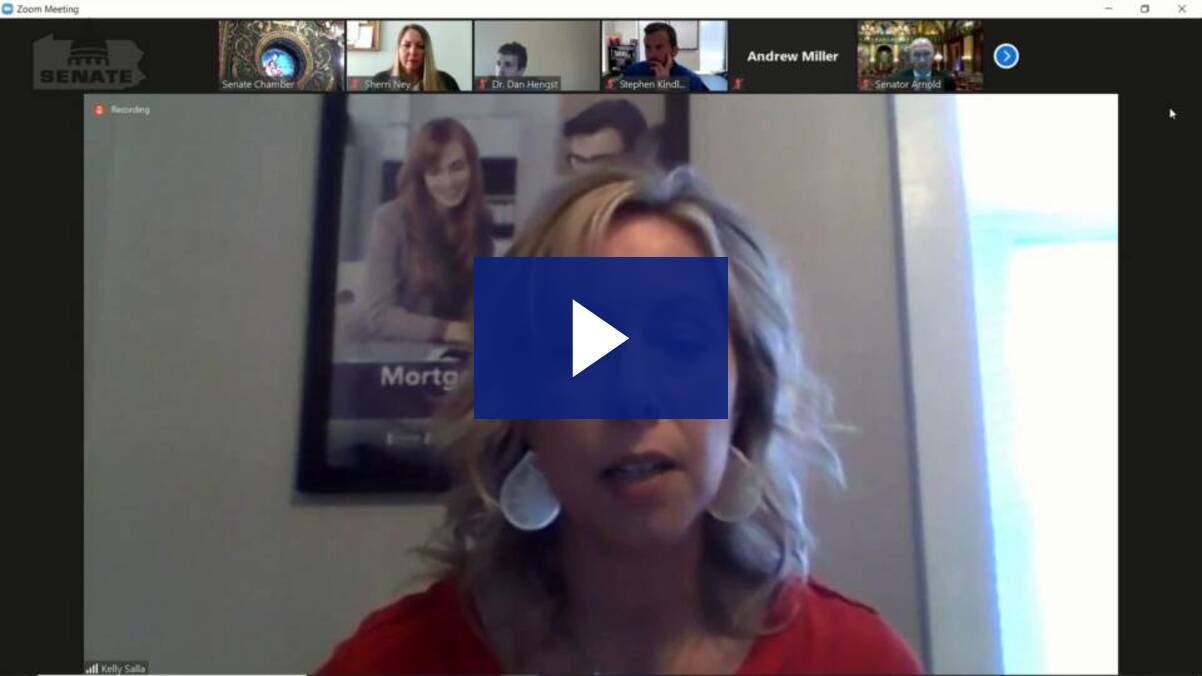 Kim discussed how she has had to push business outside of the state because states like Maryland and Virginia took much less draconian steps on recreational businesses.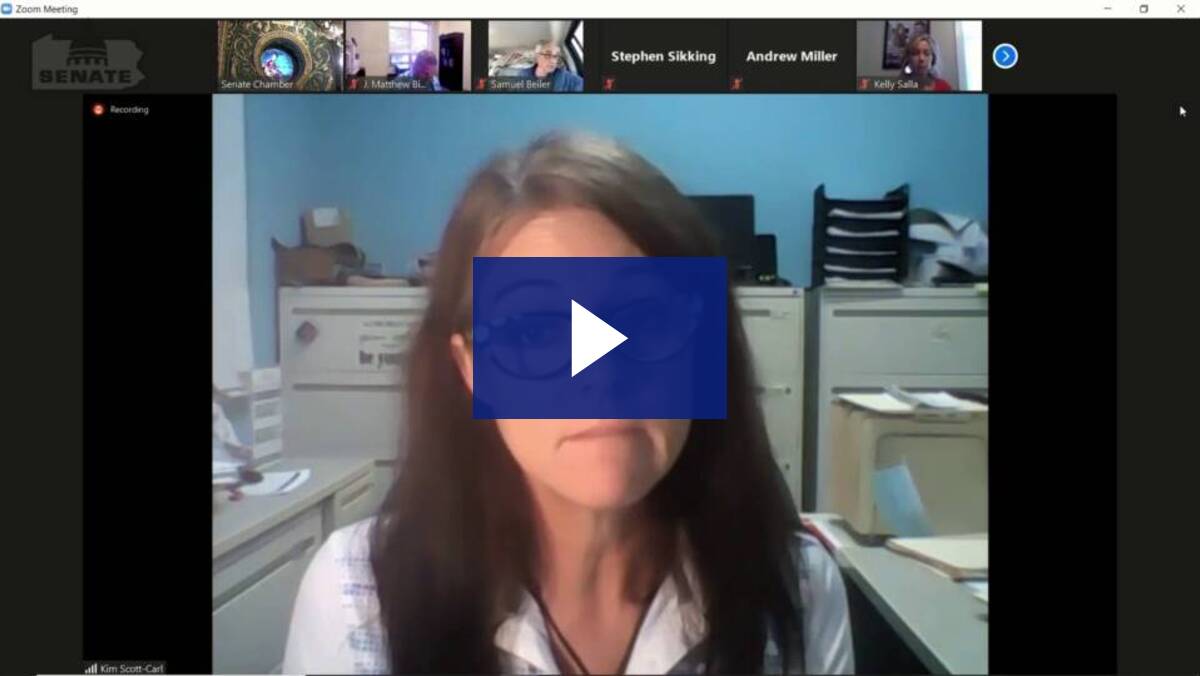 Senate approves second round of policing reforms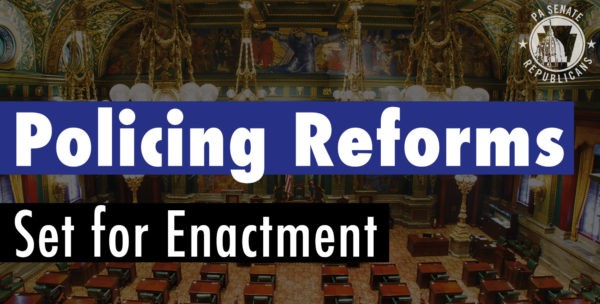 After passing a pair of police reform bills last week, the Senate passed three more bills this week to strengthen police training and hiring practices and protect individuals in police custody.
The bills would promote the use of in-service training, including annual instruction on the use of force, de-escalation, and harm reduction techniques; require law enforcement agencies to conduct a thorough background investigation of police officer job candidates; and improve the safety of individuals in police custody, as well as Department of Corrections staff.
Last week, the Senate voted to ban the use of chokeholds except in situations where the use of deadly force is authorized, and require municipal law enforcement departments to adopt a use of force policy and train officers on procedures allowed.
Unemployment compensation benefits extended up to 13 weeks
Pennsylvanians who exhaust their unemployment compensation benefits and still remain fully or partially unemployed may now qualify for up to 13 additional weeks of payments through the state's Unemployment Compensation Extended Benefits program. The extension applies to individuals who have fully exhausted both their regular unemployment compensation benefits and payments from the federal Pandemic Emergency Unemployment Compensation program.
More details about eligibility and how to file claims for extended benefits are available here.
Senate advances bills to support Pennsylvania firefighters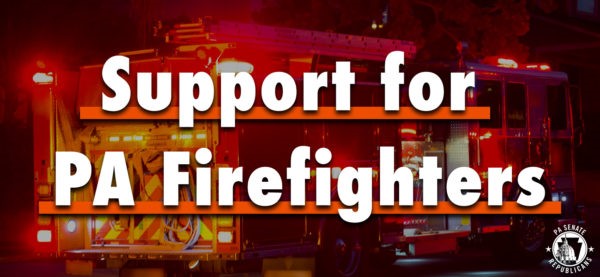 The COVID-19 pandemic has placed additional stress on many fire companies and emergency responders. The Senate took action on several bills recently to support Pennsylvania fire companies and strengthen protections for firefighters, now and in the future.
The Senate approved Senate Bill 987, which would elevate the Office of the State Fire Commissioner to a cabinet-level agency and create a new advisory board to make recommendations on issues that directly affect fire companies.
The Senate also positioned Senate Bill 932 for a final vote in the near future. The bill would eliminate current limitations on the use of state aid by volunteer firefighter relief associations (VFRA). The bill was also amended to allow densely populated municipalities the option to prohibit the use of consumer fireworks.
In addition, the Senate Finance Committee approved Senate Bill 875, which would provide a sales tax exemption for firefighters purchasing protective equipment and accessory communications equipment using their own personal funds.
My next podcast will include a conversation about how our local volunteer firefighters are addressing challenges with fundraising in our local communities. Subscribe so you do not miss the next episode here. I will sit down with Chief Jimmy Williams of Citizens Volunteer Fire Company in Fawn Grove. Stay tuned!
Lawmakers approve new protections for daycare facilities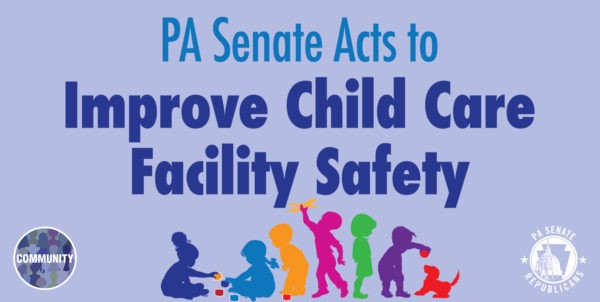 A bill to better protect children in state-regulated daycare facilities received final legislative approval this week and was sent to the governor to be signed into law. If signed by the governor, the new law will require family daycare homes to have a smoke detector on each floor and in the basement, as well as a portable fire extinguisher, and to meet occupancy and licensing requirements.
The bill was introduced in response to a tragic fire that claimed the lives of five young children in Erie last year.
Bill moves forward to provide pricing transparency for prescription drugs
Prescription drug costs are a serious concern for many Pennsylvanians. The Senate approved a bill this week that would provide pricing transparency in prescription drug costs and help protect small pharmacies.
The Consumer Prescription Drug Pricing and Freedom Disclosure Act would allow a pharmacy or pharmacist to provide information about the cost of a prescription drug to consumers, including the individual's share of costs. The bill would also prohibit a pharmacy benefits manager from penalizing a pharmacy or pharmacist for disclosing this information to the individual or selling a more affordable alternative.
Upcoming PennDOT projects
Here are PennDOT's upcoming scheduled maintenance projects for next week.