In this update:
Working to empower schools this fall
PIAA says schools should make decision on athletics this fall
COVID-19 testing needs to be prioritized over contact tracing
YoCo Trail Towns "Walk Shop" in York City
Celebrating State Champs – Susquehannock High School Boys Swimmers
New round of COVID-19 Small Business Grants
COVID-19 scams on rise
FAQs on school closures and unemployment compensation
Senate efforts to address COVID-19 pandemic to date
Saturday marks 75th anniversary of WWII Victory over Japan
Upcoming PennDOT projects
---
Working to empower schools this fall
Following a Senate workshop discussion last month that I attended that highlighted the need for additional guidance on safely re-opening school buildings, the Department of Education recently announced new recommendations for instructional models for the 2020-21 school year.
The recommendations differ from the original guidance offered by the Wolf Administration. However, the final decision on reopening schools remains in the hands of local school boards. I encourage parents, guardians and students to check with their local school district about how this new guidance could affect their reopening plans in the coming weeks.
I am also working with Representative Barb Gleim (R-Cumberland) on legislation to allow for greater flexibility for substitute teacher certification in the Commonwealth in order to help school districts during uncertain times.
You can read more about our forthcoming bill here.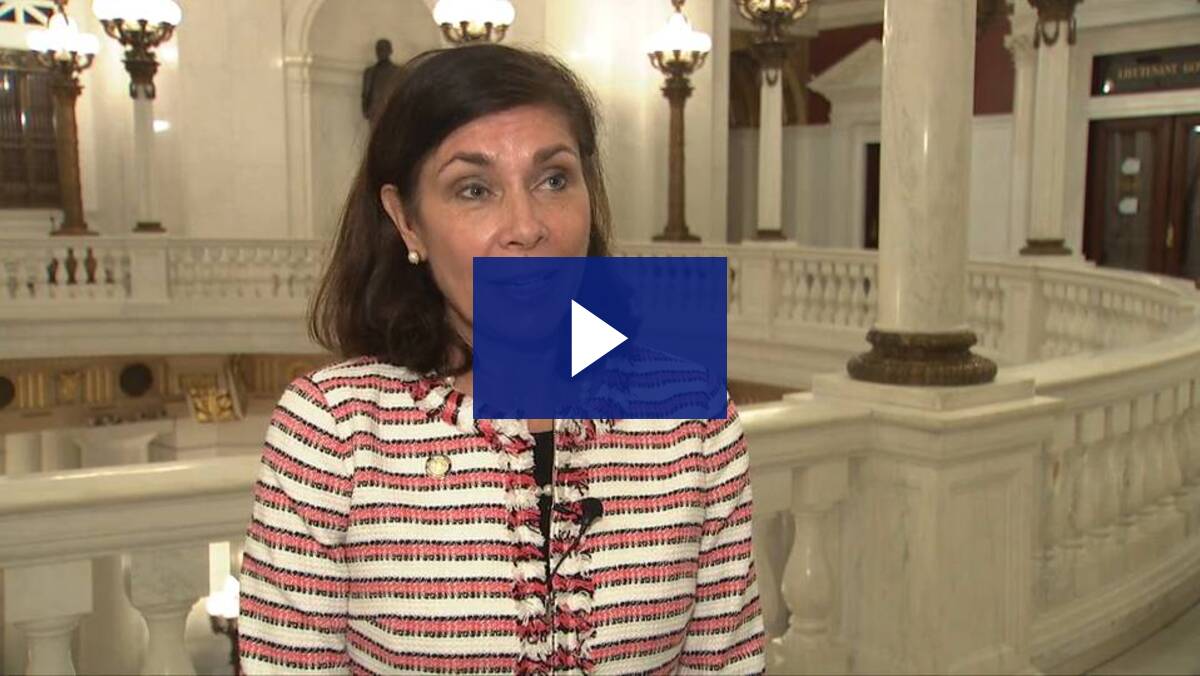 PIAA says schools should make decision on athletics this fall
As I noted in my last email update to you, on August 7, the Pennsylvania Interscholastic Athletic Association (PIAA) announced that fall school sports seasons would be delayed two weeks in order to gather more input from Governor Wolf and the General Assembly on how to move forward in a way that is safe for everyone involved.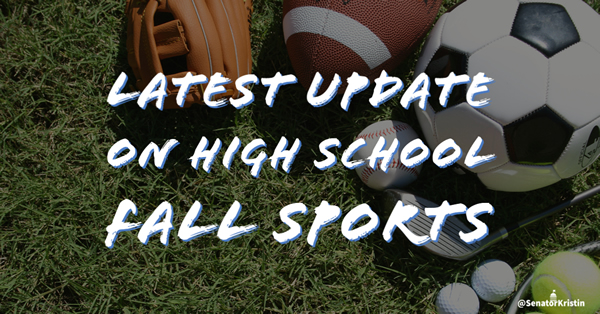 The PIAA had previously developed guidelines for seasons to continue safely before Governor Wolf's surprise announcement last week that his Administration is recommending the suspension of all school sports until 2021.
The PIAA recently sent a letter to Governor Wolf outlining the need for students to return to sports this fall with proper health and safety provisions in place. I have heard from many local parents, coaches and students on this issue, and I will continue to support the decision of our locally elected school directors to make the best decision for our individual school districts across the 28th Senatorial District.
Governor Wolf and the PIAA will meet later today.
COVID-19 testing needs to be prioritized over contact tracing
Earlier today, I sent a letter to Pennsylvania Department of Health Secretary Levine calling into question a $23 million contract the department signed with an Atlanta-based contact tracing firm. I expressed concerns that were raised to me this week about the slow rate of COVID-19 test results compared to our neighboring states.
Based on the information presented to me, we should prioritize rapid testing. You can read my full letter below.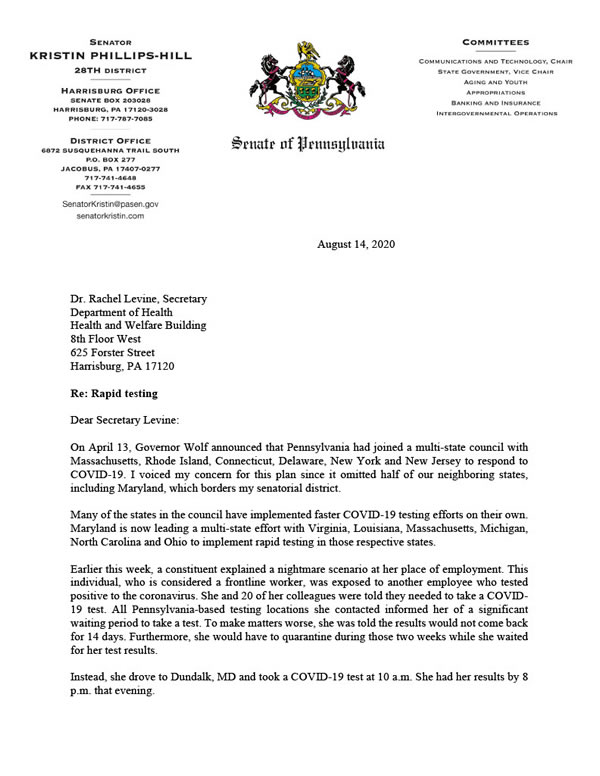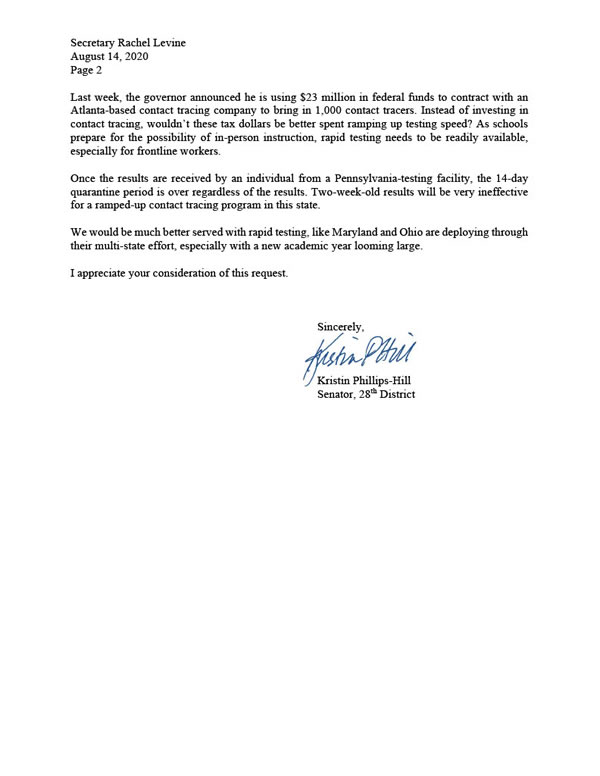 YoCo Trail Towns "Walk Shop" in York City
On Wednesday evening, I joined members of the community for our fifth and final "walk shop" to discuss Trail Towns.
The York County Trail Towns Program will leverage the York County Rail Trail Authority's Heritage Rail Trail as a platform and driver for economic development in the towns and cities located along the very popular trail.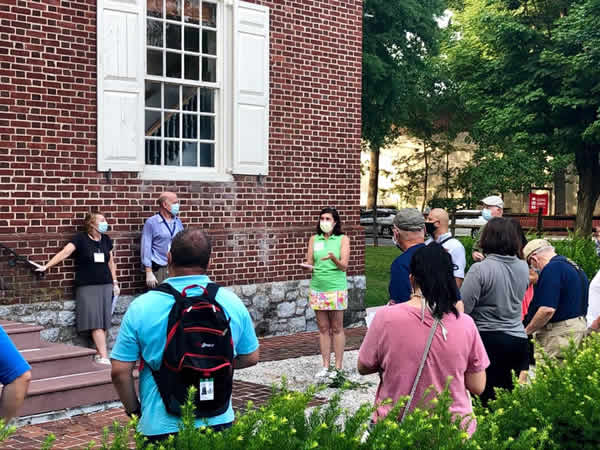 You can learn more about this exciting development for many of our communities along the Rail Trail here. The York County Economic Alliance will be hosting an online conference with five workshops next month. The YCEA is seeking feedback about the most relevant aspects to present during the online workshops in September. Their survey can be found here.
Celebrating State Champs – Susquehannock High School Boys Swimmers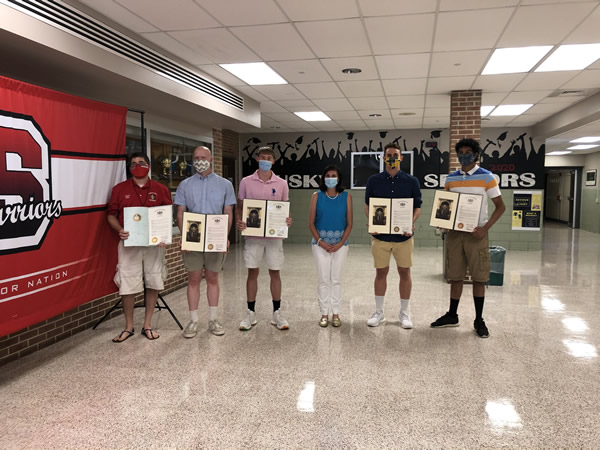 On Tuesday, I presented congratulatory citations from the Senate of Pennsylvania to Ian Achterberg, Jacob Wade, Logan McFadden, and Rohit Kandala, who earned gold medals for the PIAA 2A 200 Freestyle Relay.
Logan also earned a gold medal in the 200 Individual Medley and a silver medal in the 500 freestyle. We will be cheering on Logan as he swims for West Virginia University WVU Swimming and Diving next year.
Congratulations, gentlemen, on your incredible achievement!
The Warrior Swimming Program is led by Coach Brian Wingert.
New round of COVID-19 Small Business Grants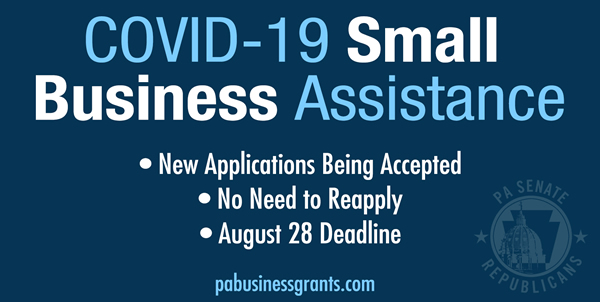 Small businesses that have been financially impacted by the COVID-19 pandemic may qualify for funding through the COVID-19 Relief PA Statewide Small Business Assistance program. The application period for the second round of funding is open now through August 28.
The program provides grants ranging from $5,000 to $50,000 and is open to businesses that generate at least 51 percent of their revenues in Pennsylvania. Businesses must also have had 25 or fewer full-time employees prior to February 15 and have annual revenue of $1 million or less prior to the pandemic. Grants must be used for losses or expenses related to COVID-19, such as payroll, rent/mortgage, utilities or expenses related to new measures to protect the health of employees and customers.
Businesses that applied during the first round of funding do not need to apply again.
You can also visit PreparedYork.com for more information.
COVID-19 scams on rise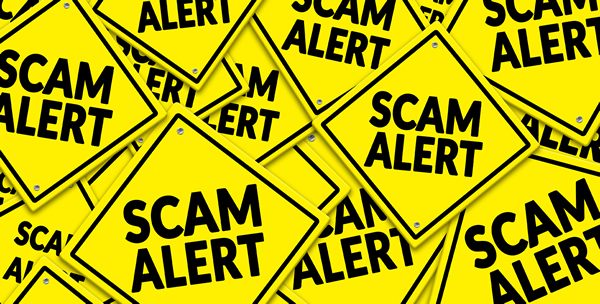 Unscrupulous email, phone or door-to-door solicitation scammers employ a range of behaviors and tactics that appear normal upon first impression, according to the Pennsylvania Department of Banking and Securities.
Scammers are currently exploiting the COVID-19 pandemic, especially through foreclosure bailouts, charitable donations and fraudulent health claims.
Learn about the latest COVID-19 scams here.
FAQs on school closures and unemployment compensation
Plans by some school districts to adopt hybrid in-school/online learning schedules have prompted questions about Unemployment Compensation eligibility for parents who need to stay home with their children.
Although eligibility varies based on the facts of each individual claim, the Department of Labor has created a Frequently Asked Questions (FAQ) page to provide broad information on this issue for parents and school employees.
Senate efforts to address COVID-19 pandemic to date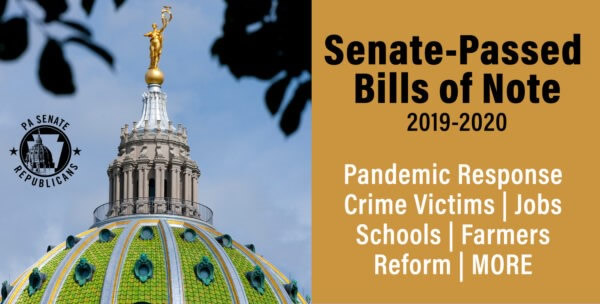 Like the lives of all Pennsylvanians, the work of the Senate was upended by the COVID-19 pandemic. However, in the months since the virus first came to our commonwealth, the Senate has approved nearly two dozen bills to bolster the state's response to the pandemic.
A new summary of bills and laws approved during the 2019-20 Legislative Session highlights the steps the Senate has taken to address COVID-19 while working to prevent government overreach during this crisis.
The summary also includes measures the Senate passed to reform state government, protect crime victims, improve public safety, bolster education, create jobs, assist farmers, strengthen health care, address the opioid crisis and support our veterans and first responders.

Saturday marks 75th anniversary of WWII Victory over Japan
Tomorrow (Saturday, August 15) will mark the 75th anniversary of Victory over Japan Day – the day Japan surrendered to the Allied Forced on August 15, 1945.
While the fighting stopped three months earlier in Europe, the war between the Allies and Japan continued in the Pacific Theater of World War II.
We are forever grateful for the Greatest Generation who fought for our freedoms over seven decades ago. Many paid the ultimate sacrifice.
Here is a newspaper ad from General Electric at the time celebrating the occasion. God Bless America!

Upcoming PennDOT projects
PennDOT shared with me the upcoming maintenance project list for next week. You can view that below.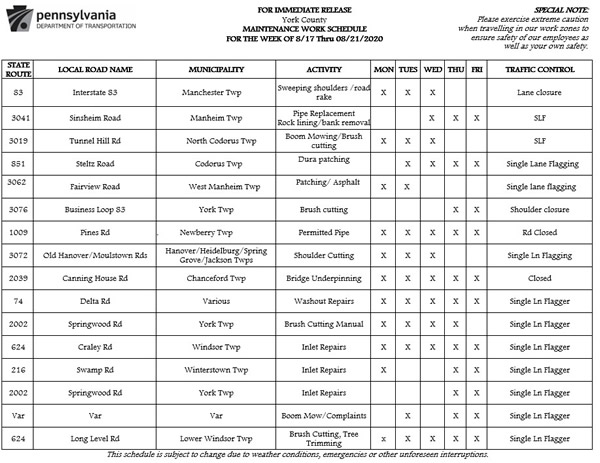 PennDOT also delayed their originally planned traffic shift at Exit 4 (Shrewsbury) from this week to next week.
Next week, its contractor will restrict Interstate 83 to a single lane near Exit 4 to shift traffic to the outside lane and shoulder, paint lines, and set barrier in preparation for construction of the interior sections of the I-83 bridge over Route 851, the Deer Creek culvert, and the left lanes and shoulders of the interstate.
The contractor will shift southbound I-83 traffic overnight Monday, August 17, between 9:00 p.m. and 6:00 a.m., and northbound I-83 traffic on Tuesday, August 18, between 9:00 p.m. and 6:00 a.m.