In this update:
Election integrity update
Congratulations to Amber Brose, Gold Award and Josh Trantham, Eagle Scout
Committee discusses future of telemedicine in Pennsylvania
Miller Plant Farm raises over $32,000 for WellSpan Cancer Patient Help Fund
Byrnes Health Education Center wants your story
October is Breast Cancer Awareness Month
Fall/winter trout stocking extends fishing opportunities to more than 100 waterways in PA
Grants available for environmental education projects
Motorcycle safety courses resume
REMINDER: Mental health resources available for Pennsylvanians in need
New scam targets SNAP Assistance Program
Upcoming PennDOT projects
On deck
---
Election integrity update
Last year, leaders of both parties in the Senate and the House of Representatives worked together to strengthen our state's election law with the most comprehensive reforms in over seven decades. In advance of this year's General Election on November 3, all parties had been working in good faith once again to address new issues to ensure a complete, timely and fair count of ballots.
I joined Governor Wolf and legislators from both sides of the aisle as he signed this comprehensive election reform into law last year (picture below). That law provided deadlines when absentee ballots and mail-in ballots must be returned to county elections offices (on Election Day by 8 p.m.)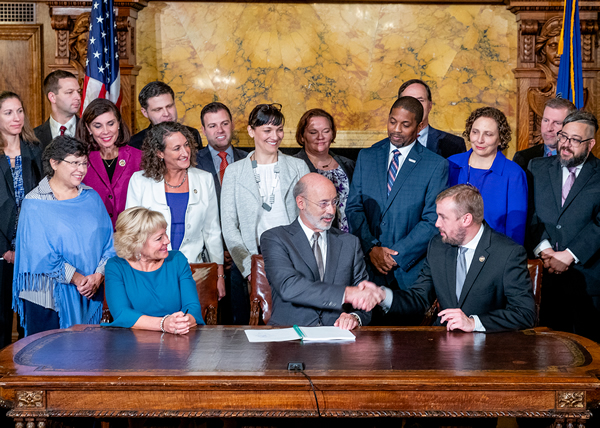 Unfortunately, a recent ruling by the Pennsylvania Supreme Court introduced new risks to election security and unraveled weeks of progress in negotiations between lawmakers and the Wolf Administration. It is disappointing that the state Supreme Court has muddied the voting process and created questions about the fairness of the forthcoming results, including a new requirement to count ballots received by county election boards up to three days after Election Day – a clear infringement of the General Assembly's right to determine the time, place and manner of elections.
The ruling also would pave the way for voters to submit an absentee ballot or mail-in ballot AFTER the election and still have the vote counted if received in a county elections office by Friday, November 6.
This week, Senate leaders appealed the case to the U.S. Supreme Court and requested a stay of the court's ruling so we can resume our work to ensure every Pennsylvanian has an opportunity to vote – and give everyone the peace of mind to know that their vote is counted fairly and in a timely manner.
Congratulations to Amber Brose, Gold Award and Joshua Trantham, Eagle Scout
This past week, I had the great honor of meeting two of York County's best and brightest individuals.
Amber Brose visited the district office on Tuesday where I presented her a congratulatory citation from the Senate of Pennsylvania for her achievement with Girl Scout Troop 20509 in Shrewsbury.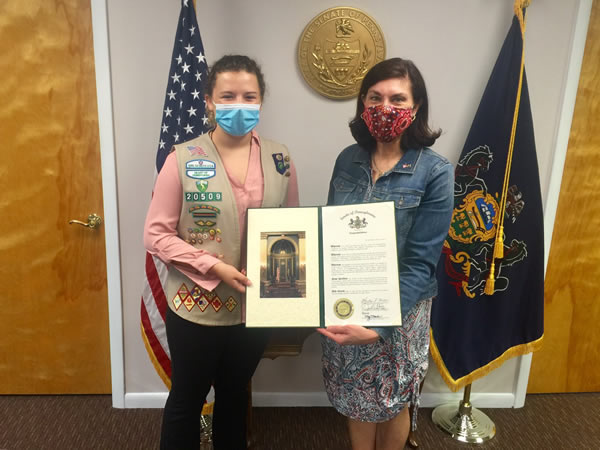 As part of her Gold Award project, Amber created an online archive of the Susquehannock High School Music Department performances and built a marimba for the Southern York School District to use to introduce younger students to the world of music. Well done, Amber!
Last weekend, I joined Kevin Eck of Representative Saylor's office to congratulate Joshua Trantham of Troop 43 in Dallastown on achieving the rank of Eagle Scout.
We presented Josh congratulatory citations from the Senate of Pennsylvania and House of Representatives during an outdoor ceremony in the Trantham's yard.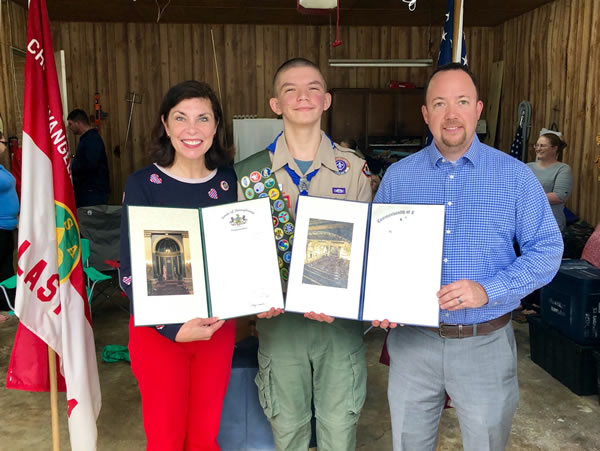 For Joshua's Eagle Scout project, he made improvements at Saint Paul's Lutheran Church in Felton, which included repairing and painting a deck, constructing and installing a bench outside of Fellowship Hall, replacing a flowerbed and spreading topsoil and grass seed around the entire exterior of the church for his Eagle project. Well done, Joshua!
Committee discusses future of telemedicine in Pennsylvania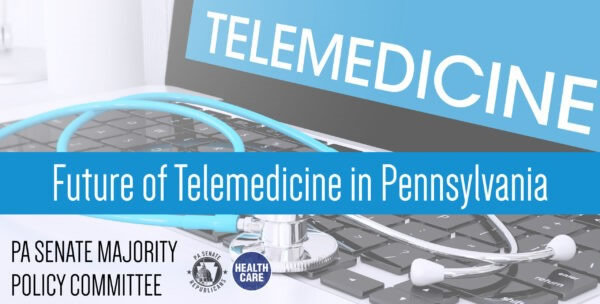 Telemedicine services were authorized in Pennsylvania on a temporary basis at the beginning of the COVID-19 pandemic, and these services have played a critical role in ensuring patients could continue to access medical services without gathering in waiting rooms and other areas where the virus could easily spread. This week, the Senate Majority Policy Committee hosted a workshop discussion to gather input on the future of telemedicine in Pennsylvania.
During the discussion, medical experts and other stakeholders spoke at length about the benefits of telemedicine to patients, and they encouraged lawmakers and Governor Wolf to approve a new telemedicine law to ensure these services can continue even after the COVID-19 pandemic has subsided.
One local health network was conducting 1,900 telemedicine visits per year before COVID-19. During the early days of the pandemic, the same health network had 1,900 telemedicine visits per day.
Lawmakers approved a bill authorizing telemedicine in Pennsylvania on a permanent basis in April, but Governor Wolf vetoed the bill.
Miller Plant Farm raises over $32,000 for WellSpan Cancer Patient Help Fund
Some refreshingly great news from a local family business: The Miller Plant Farm, through much hard work, dedication and sacrifice, raised over $32,000 for WellSpan's Cancer Patient Help Fund.
Dave Miller noted that due to the pandemic their 4th Annual Farm Fresh 5K was canceled but the fundraiser continued.
According to Dustyn Miller, who is a fifth-generation farmer at Miller Plant Farm, "This was by far the most money we raised in memory of my mother, Diane Miller. This fund has been established just two years ago so that we may continue to support those in our community in need of assistance with living expenses while undergoing their battle with cancer. The money raised is collected in honor and legacy of my mother, and to many of you a friend and neighbor, Diane Miller."
The staff and family of the Miller Plant Farm would like to thank the many supporters who helped raise this record amount.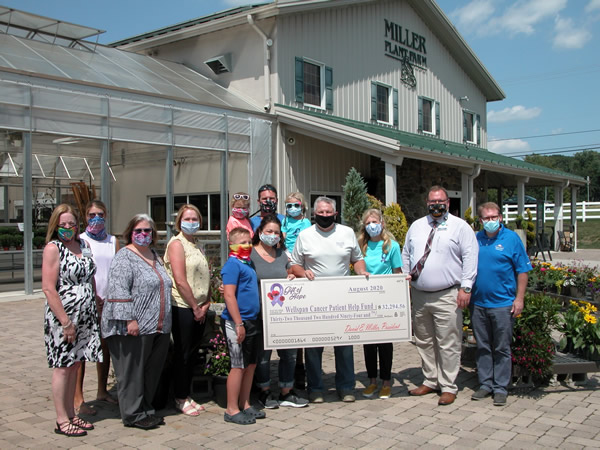 Congratulations to the Miller Family and thank you to all who contributed to this great cause in memory of Diane!
Byrnes Health Education Center wants your story
The Byrnes Health Education Center is turning 25 years old this year, and they need your help. Here is an email I received from the staff at the Byrnes Health Education Center seeking your assistance:
Since 1995, teams at the Byrnes Health Education Center have been dedicated to educating and inspiring people of all ages to make healthy choices. Over these 25 years, our team has delivered over 7.5 million health education lessons to children, young adults, and their parents. The Center reaches communities stretching throughout South Central Pennsylvania and to participants thousands of miles away who reach us via internet. In the midst of a global public health pandemic overlaid with existing, long-term health needs and challenges, our mission is as relevant and vital today as it was decades ago.
While we are unable to host our 25th Birthday celebrations now, we look forward to the moment when conditions will allow us to physically gather and commemorate the Center's first quarter century of delivering preventive health curriculum.
In the meantime, we invite you to help tell our story. Your memories can help us tell the impact the many dedicated BHEC team members have had on our communities. We want to hear from students, teachers, parents, community members, board members, volunteers – anyone who experienced the Center or shares our passion for health education. If we shared a connection, please tell us:
If you attended any education program, who was your memorable health educator? How did they impact you?
How did something you learned make a difference to your health or the health of someone you love?
If you attended childbirth classes at the Center, how did that impact your childbirth experience?
Did you pursue a career in the field of health care because of what you experienced at the BHEC? Why?
If you served on a board or working committee, what was your experience? How did you see the impact of health education on the community?
If you were you the recipient of a recognition such as the Founder's Celebration of Life Award, how did the recognition amplify your work?
As a teacher who accompanied your students to the Center, what impact of the visit did you see on your students?
As a parent whose child has come to the Center, what did your child learn? Did you ever visit the center as a child yourself?
Please email your story to birthday@byrneshec.org or drop it via USPS/mail to
515 S. George Street
York, PA 17401
Attention: Birthday
October is Breast Cancer Awareness Month
If you and your family visit the state Capitol during the month of October, you'll notice something is a little different at the fountain along Commonwealth Avenue.
Each year, the Department of General Services dyes the Capitol Fountain pink in honor of Breast Cancer Awareness Month.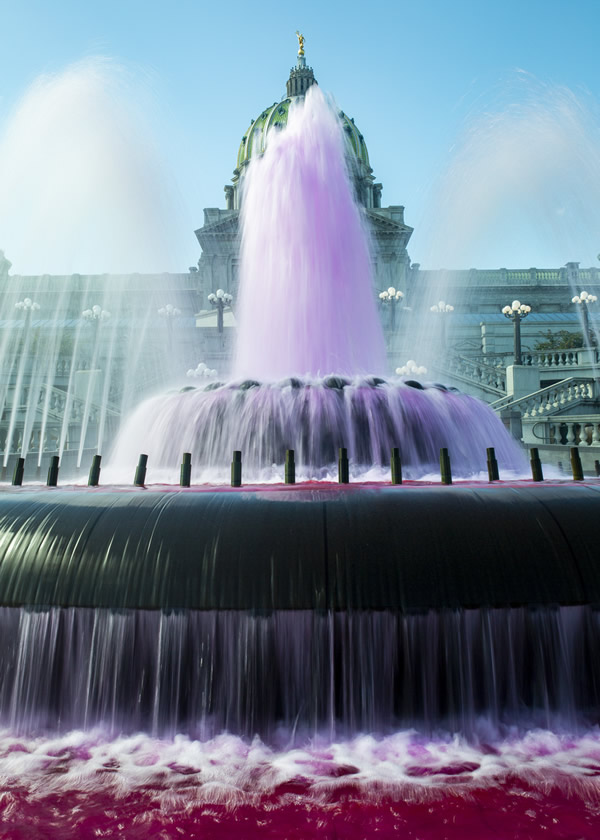 Twenty-seven years ago, my mom was diagnosed with breast cancer and a mammogram saved her life!
Please take the time and schedule your mammogram. While the pandemic may have delayed or even canceled your mammogram, please take the time to set up an appointment.
Take it from my mom: Early detection saves lives!
Don't put it off!
Fall/winter trout stocking extends fishing opportunities to more than 100 waterways in PA
Here is information I am passing along from the Fish and Boat Commission:
The summer season may be winding to a close, but some great trout fishing opportunities are about to open on dozens of Pennsylvania waterways this fall and winter.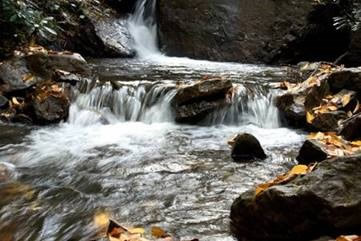 As of yesterday, and continuing through mid-December, the Pennsylvania Fish and Boat Commission (PFBC) will stock approximately 120,000 hatchery-raised adult Rainbow, Brown and Brook Trout in more than 100 streams and lakes. These stockings will replenish some of the most popular fishing spots across the Commonwealth immediately and provide ice fishing opportunities as conditions allow throughout the winter.
This year, due to public safety concerns related to the COVID-19 pandemic, the PFBC will conduct fall and winter trout stockings differently than in previous years. Like stocking activities in spring 2020, volunteers will not be permitted to assist with fall and winter stocking. To limit interaction with the public, stocking will be conducted only by PFBC staff wearing personal protective equipment, including masks.
To connect anglers with these trout fishing opportunities, the PFBC has published a list of dates and locations on the PFBC website which indicates the week during which the stocking will occur. This measure aims to provide some stocking information while continuing to discourage large gatherings planned around specific stocking events. All fall and winter trout stockings will occur Monday through Friday. The stocking schedule is subject to change due to local water conditions and other factors.
Grants available for environmental education projects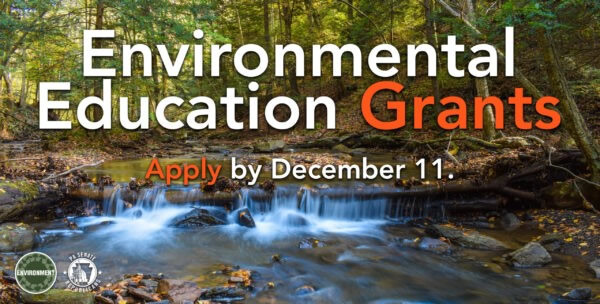 Youth and adult environmental education projects may be eligible for grant funding from the state Department of Environmental Protection. Schools, colleges, nonprofit community and environmental organizations, county conservation districts and businesses are encouraged to apply for Environmental Education Grants by December 11.
A special webinar is scheduled for October 14 from 1 p.m. until 2:30 p.m. to provide additional information on how to apply. Registration is required. Registration and more details are available here.
Motorcycle safety courses resume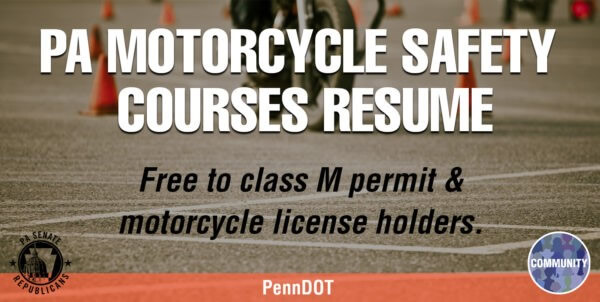 Pennsylvania Motorcycle Safety Program classes are set to resume statewide through the end of the year with new safety measures in place to protect against COVID-19. The classes are free to Pennsylvania motorcycle permit and license holders. Completing the basic or intermediate course waives the requirement for a permit holder to complete the skills test at a PennDOT Driver License Center.
A list of locations and training providers is available online, and virtual training is also available for individuals under the age of 18.
REMINDER: Mental health resources available for Pennsylvanians in need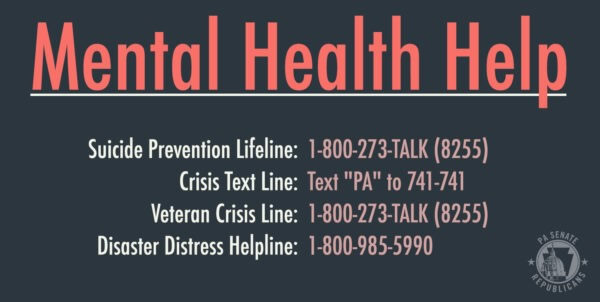 Pennsylvanians who are struggling with mental health issues can find help through a variety of different avenues. If you or someone you know are experiencing a mental health crisis, help is available by calling the National Suicide Prevention Lifeline at 1-800-273-8255 or by texting "PA" to the Mental Health Crisis Text Line at 741741.
Pennsylvania residents can also call the PA Support & Referral Helpline at 1-855-284-2494. More information on mental health resources is available here.
New scam targets SNAP Assistance Program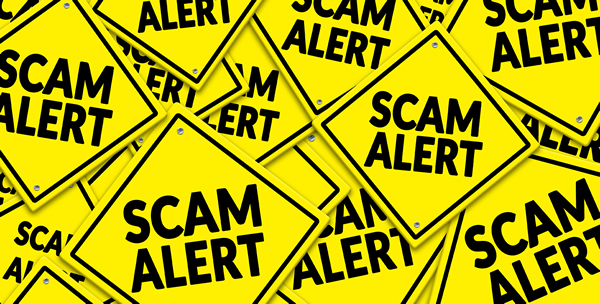 Community residents should be aware of a new scam involving the Supplemental Nutrition Assistance Program (SNAP). The scam involves text messages telling the recipient that they have been selected to receive assistance through SNAP and requesting personal information that is later used to commit fraud.
Government agencies do not solicit participation in assistance programs like SNAP through text messages. If you ever have a question about whether a call, text, letter or other communication is legitimate, questions can be directed to the Statewide Customer Service Center at 1-877-395-8930.
Upcoming PennDOT projects
PennDOT shared with me their upcoming planned maintenance projects for next week across York County. You can view their scheduled projects below.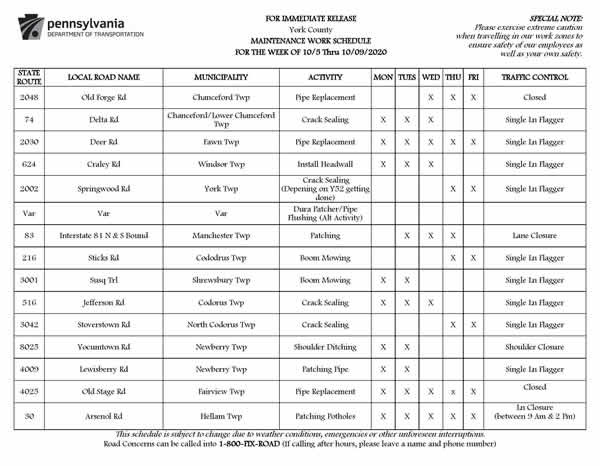 On deck
The Senate of Pennsylvania will convene on Monday, October 5 at 1 p.m.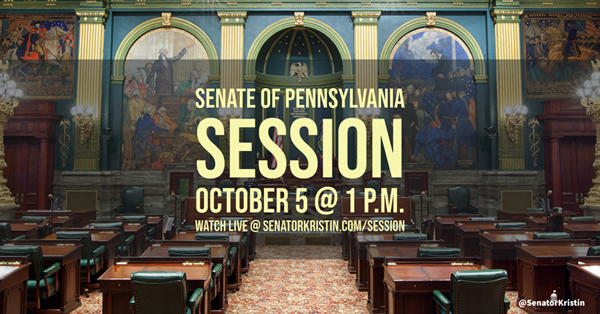 You can watch session live and review our agenda at SenatorKristin.com/session.