In this Update:
Governor Wolf said masking decision would be decided by districts; not state – this Tuesday, he changed his mind
Remembering a Vietnam Veteran
Senate expenses now posted online
Free webinars connect military Veterans with agriculture business funding
National Childhood Cancer Awareness Month
Local job openings
Upcoming PennDOT projects
Office closed for Labor Day
---
Governor Wolf said masking decision would be decided by districts; not state – this Tuesday, he changed his mind
Over the entire month of August, Governor Wolf and his Acting Secretary of Health and Secretary of Education, who I voted against, announced they would not be imposing a mask mandate.
Here is a short video of all of the public statements that were made last month:
"I think the school districts in Pennsylvania have to decide what they want to do. I think the CDC guidelines is they strongly recommend that schools do that. They are not mandating it, and neither am I," said the governor on August 6.
This led our school districts to convene school board meetings to seek public input and address this issue locally. Our school directors, who are ELECTED by their community, sat through hours of meetings to formulate School Health and Safety plans.
Students, parents, teachers, administrators, health experts and taxpayers were heard through this open and transparent process. Each district made their decision, which is what the governor asked.
Taxpayer dollars were spent (and now wasted) to come up with these comprehensive plans.
These school directors listened to their community and not the governor.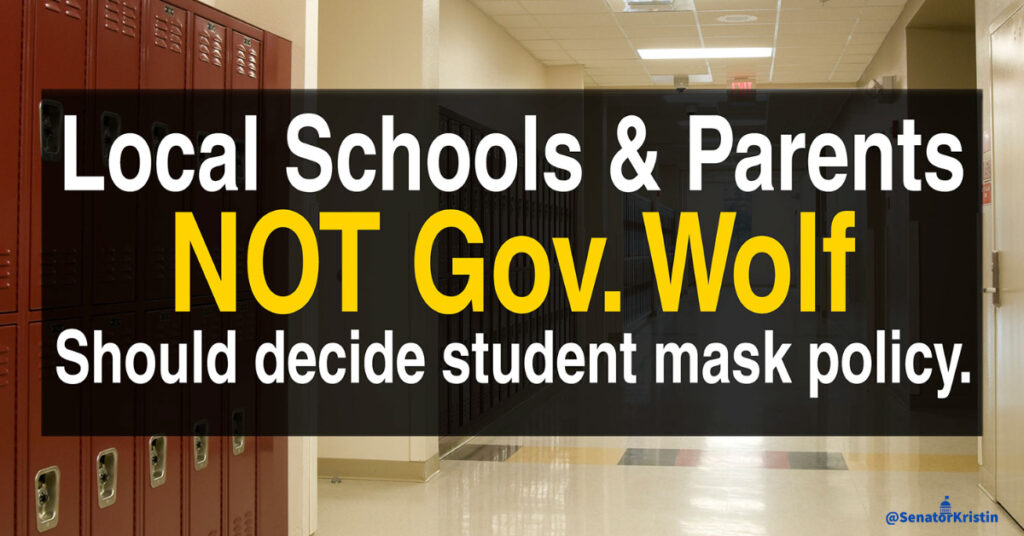 On Tuesday, Governor Wolf and Acting Secretary Beam flip-flopped their "trust the local elected officials" mantra and announced a new statewide mask mandate in all K-12 schools and childcare facilities.
As I noted when the Republican Senators and Representatives from York and Adams Counties responded, "School directors should follow the decisions they made and were elected to do after careful and thoughtful considerations in their local districts and ignore empty words from a lame duck governor and mandates from an unelected, unconfirmed bureaucrat."
I am now sponsoring a proposed constitutional amendment with Senators Judy Ward and Pat Stefano that only lets the Secretary of Health to use the powers in the state's Disease Prevention and Control Law of 1955 when the state is under an active public health emergency declaration. This is the law the governor is using to push this latest mandate.
Read more about this proposed constitutional amendment here.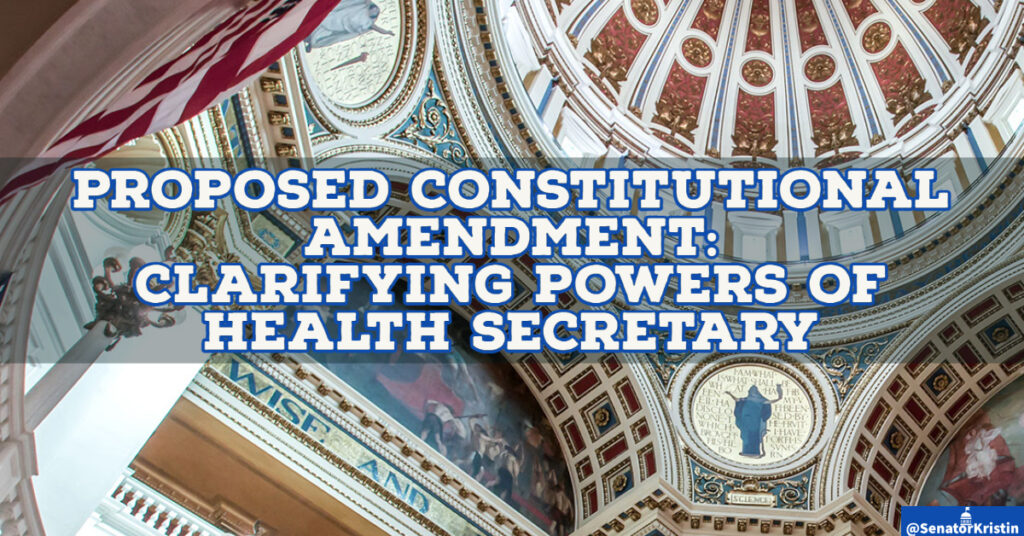 Remembering a Vietnam Veteran
Motorists who cross the bridge carrying Route 425 over Fishing Creek at the border of Chanceford and Lower Windsor Township will now see the name of a local hero.
Thanks to Representative Stan Saylor, who sponsored the bill, this bridge is now formally named the PFC James Joseph Criswell Memorial Bridge.
As I noted in my comments at the bridge dedication ceremony last Saturday, when you look at Private First Class James Joseph Criswell's service to our nation, he does not just check off one or two of the three boxes in how you define "hero."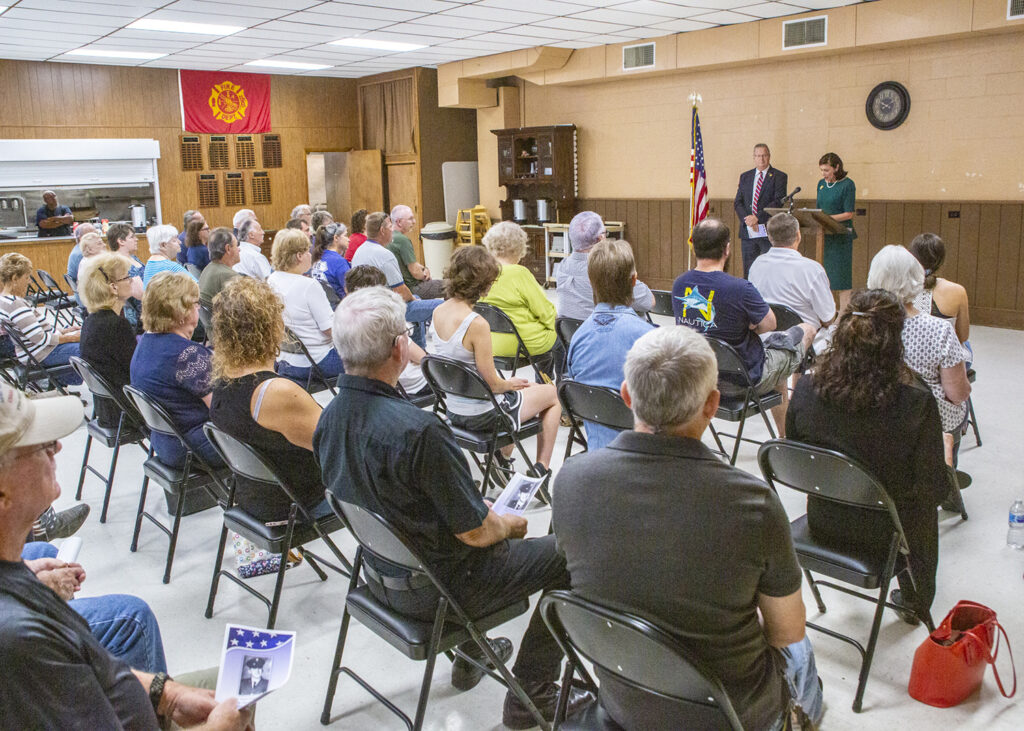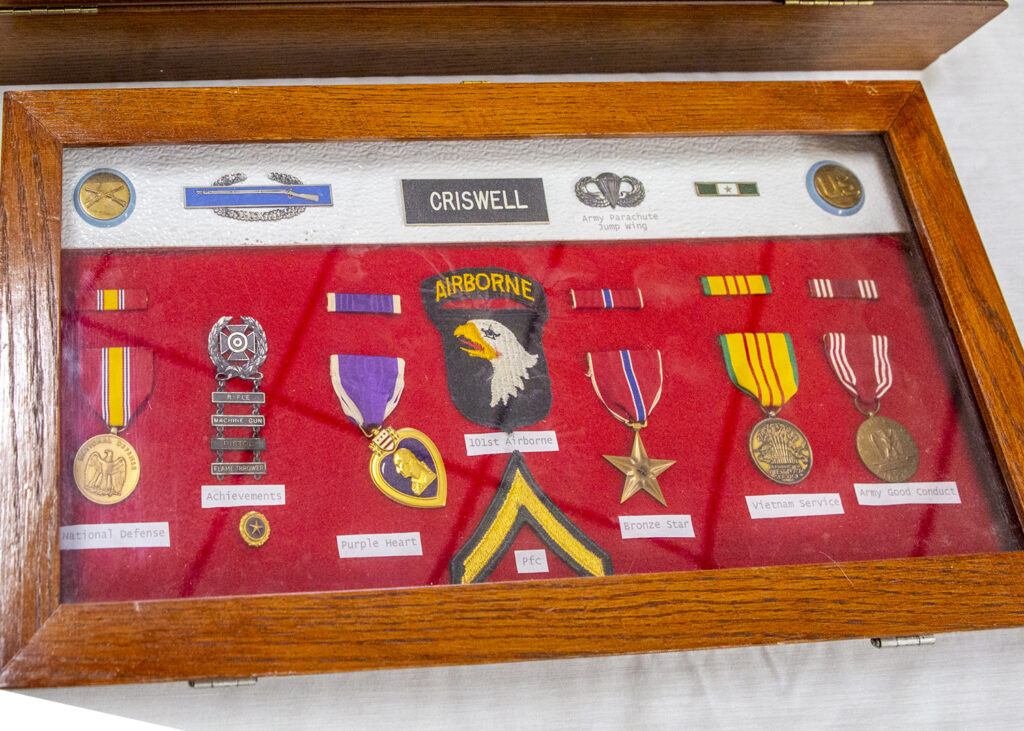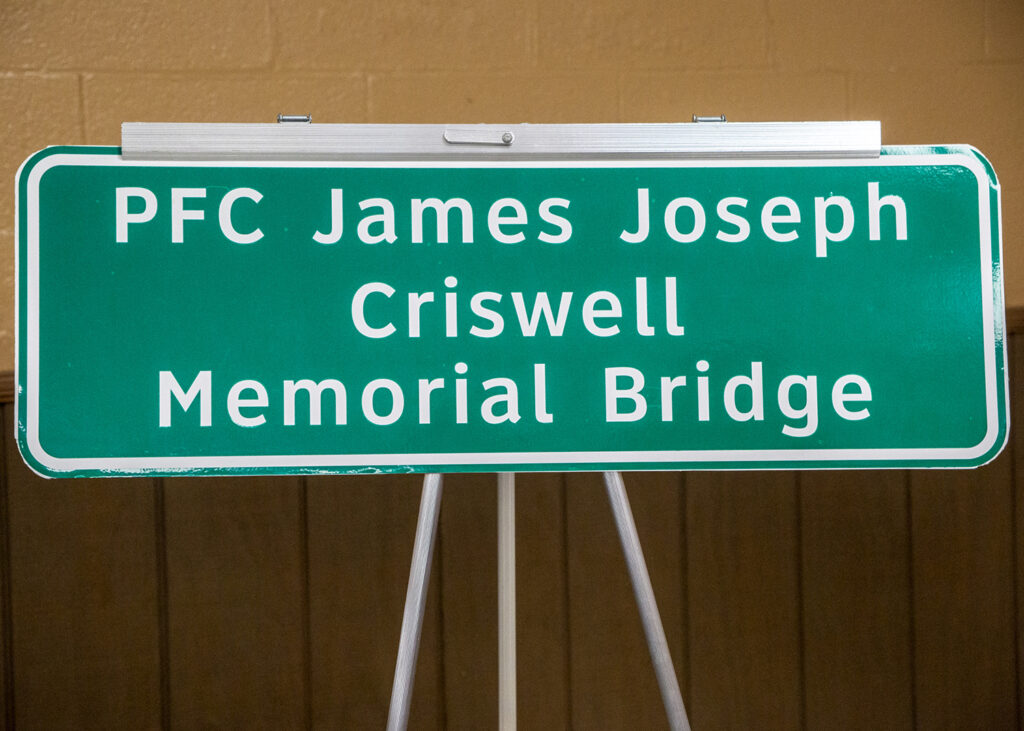 PFC Criswell paid the ultimate sacrifice in Vietnam on August 29, 1968.
You can learn more about the remarkable and heroic efforts of this Veteran here, and the next time you drive over the bridge bearing this fallen hero's name, you can be thankful that we had brave men in the service like PFC Criswell, who defended our freedoms and our nation.
Senate expenses now posted online
Pennsylvania Senate expense reports are now available to the public online, increasing transparency in YOUR state government. As you may know from my prior email updates, I have been posting expenses of YOUR state senate office dating back to the beginning of my term as YOUR state senator.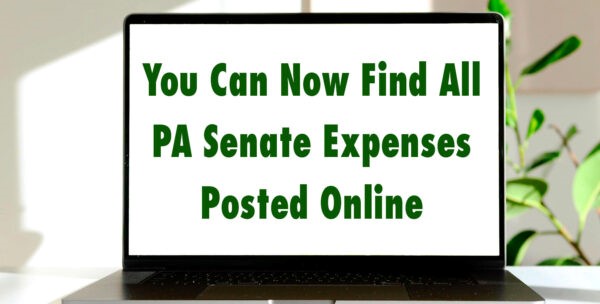 The Caucus, a Harrisburg-based state government watchdog publication, named me one of four lawmakers in the General Assembly who "exceeds expectations" when it comes to publicly posting expenses with detail.
The entire Senate of Pennsylvania has followed my lead and starting this month, you can view all Senate expenditures.
The reports, available at www.pasen.gov/RTKL/monthlyExpenses.cfm, detail all expenses for each individual senator's office and institutional offices. Expense reports for July 2021 were posted this week, and the system will be updated with new reports every month going forward. Again, you can see all of my expenses dating back to the beginning of my term in office.
Categories of expenses available in the reports include:
Per diems. (I don't take per diems.)
Car leases. (I drive my own vehicle.)
Office rent, utilities and expenses.
Postage.
Mileage, lodging and meal reimbursements. (I don't seek reimbursement for mileage driving around the district or to and from the Capitol. I also pay for my own meals.)
Other expenses incurred by Senate offices.
Expenses for each caucus service office are listed under the respective leader reports. Other categories of information are already available online, including:
Campaign finance reports and search tools from the Pennsylvania Department of State.
Free webinars connect military Veterans with agriculture business funding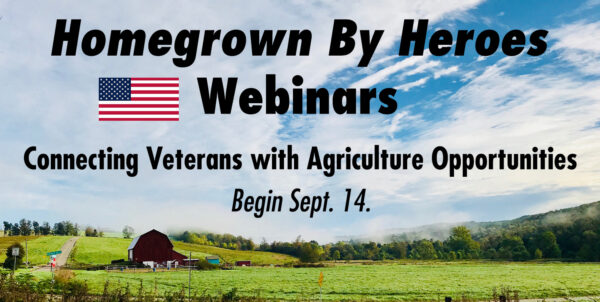 A free webinar series begins this month to connect military veterans who are considering starting or expanding an agriculture business with resources, funding and planning tools they need to succeed.
The first session will be held Sept. 14 from 7-8 p.m. and will cover grants, business planning and other resources. A web link or phone number to join the session can be obtained by contacting PA Preferred Program Manager Gwyn Rowland at RA-AgPaPreferred@pa.gov.
Future sessions will explore the PA Preferred Homegrown By Heroes program, which gives military veterans tools to brand their PA-made and PA-grown agricultural products for consumers who want to buy local and support veterans in their communities; sustainable agriculture opportunities through the PA Preferred Organic program; and other resources for transitioning, diversifying and expanding agricultural businesses.
National Childhood Cancer Awareness Month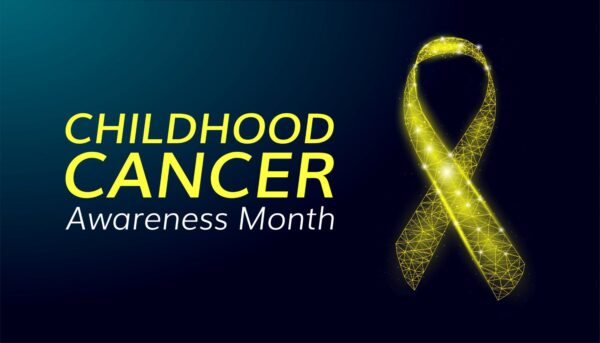 September is National Childhood Cancer Awareness Month. Childhood cancers take many forms, from blood disorders to various types of tumors and rare genetic diseases.
In recent years, the General Assembly created the opportunity for contributions to be used for pediatric cancer research. These contributions are deducted from a tax refund and may be made as a $5 contribution when renewing a driver's license or vehicle registration.
Local job openings
PA CareerLink shared with me its latest list of local job openings, which you can view below. You can also find job postings shared with the York County Economic Alliance here.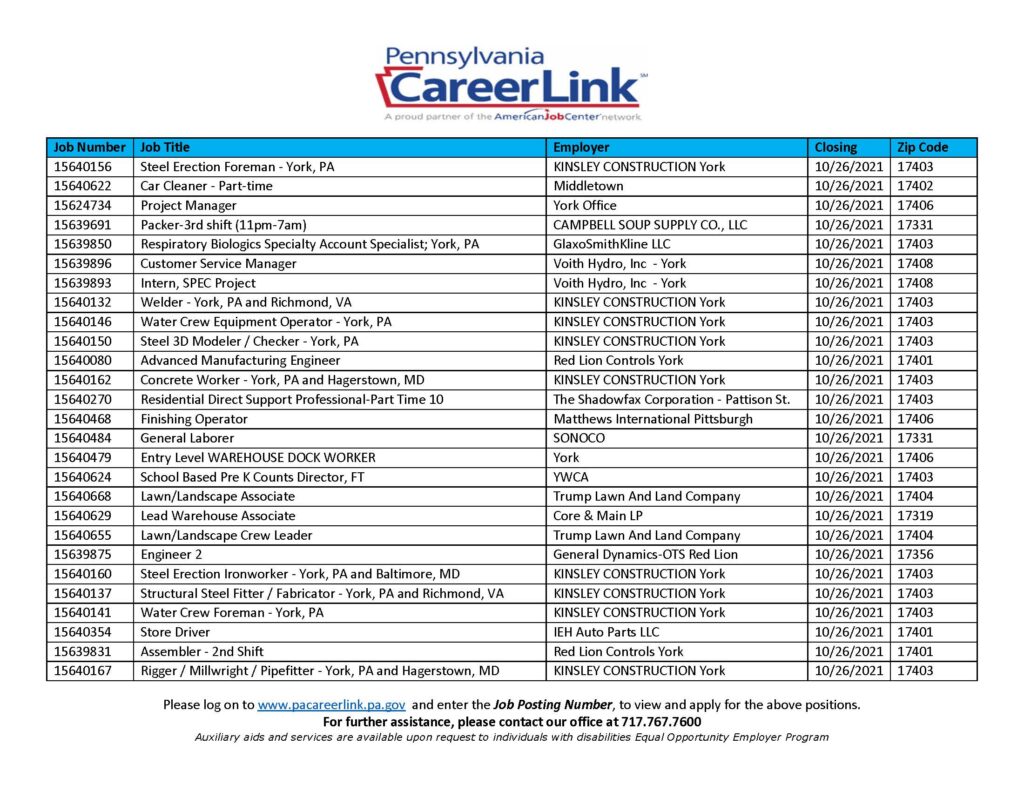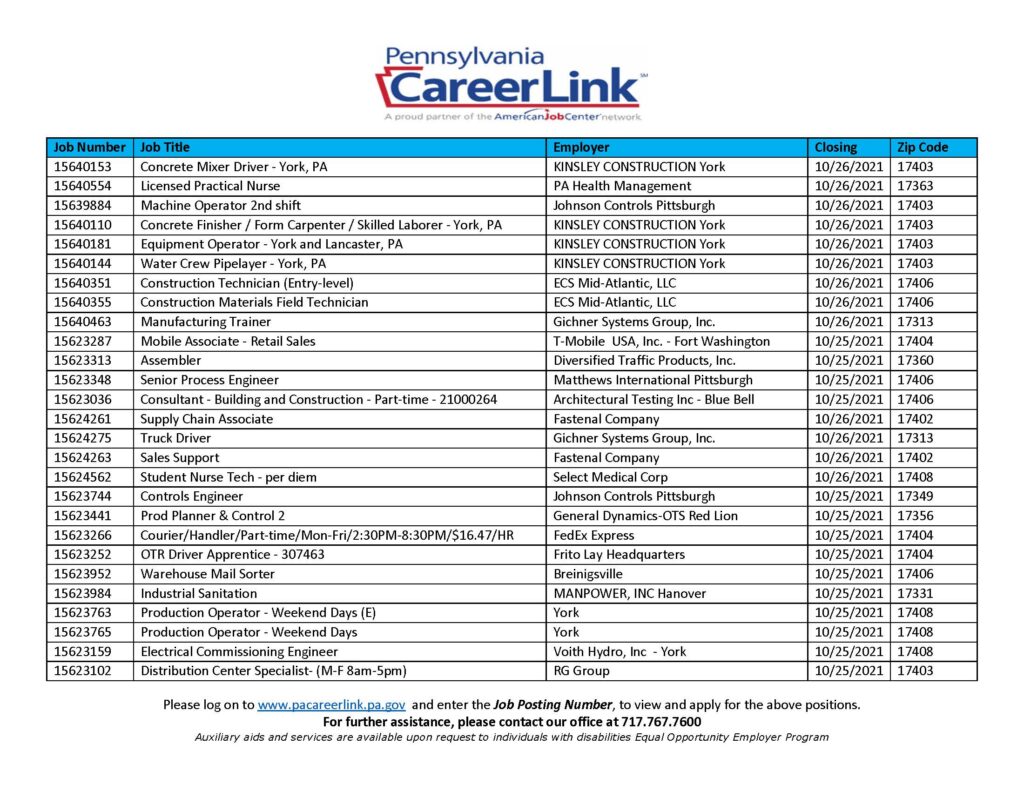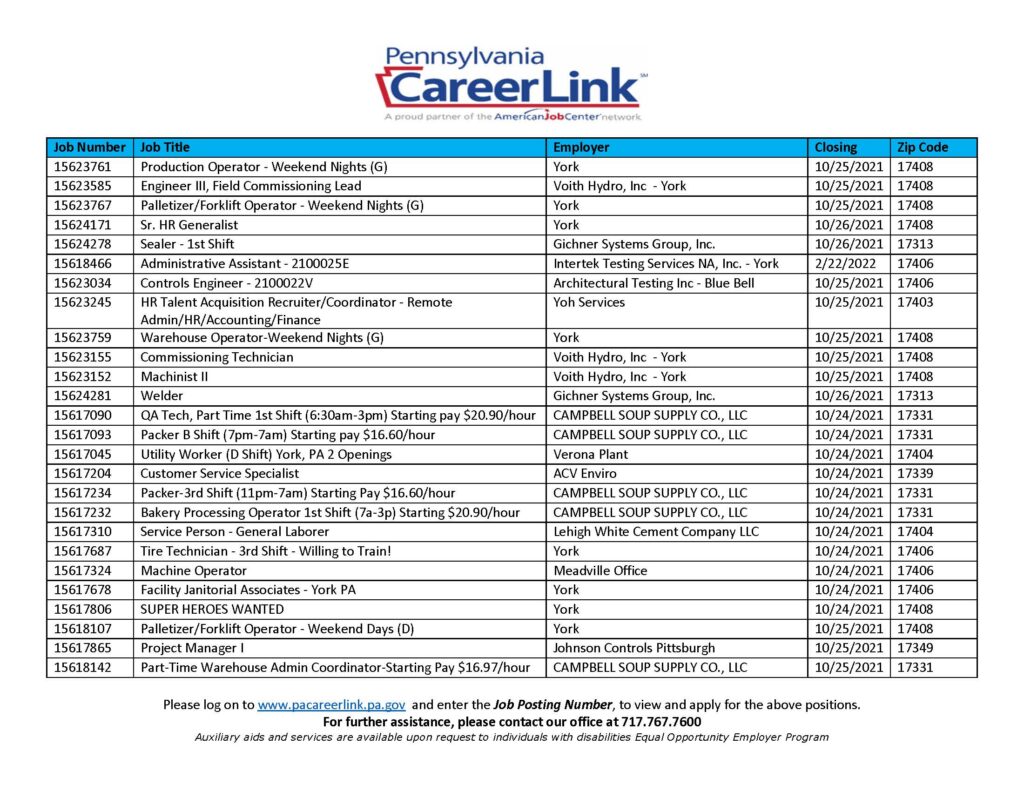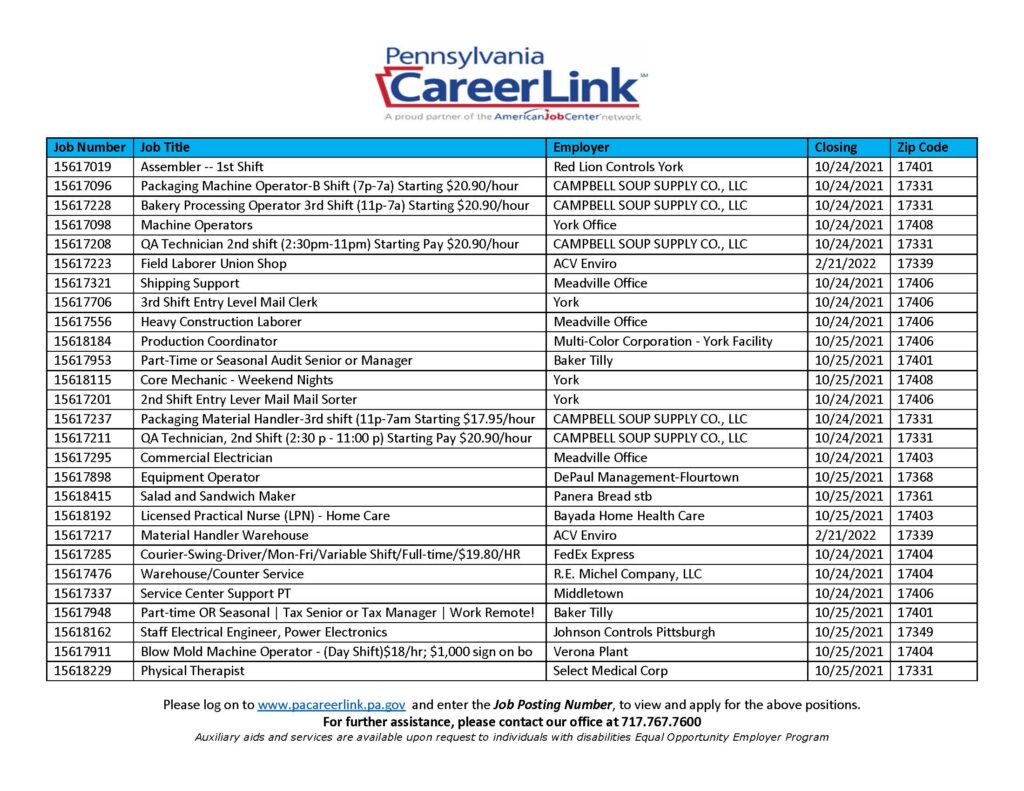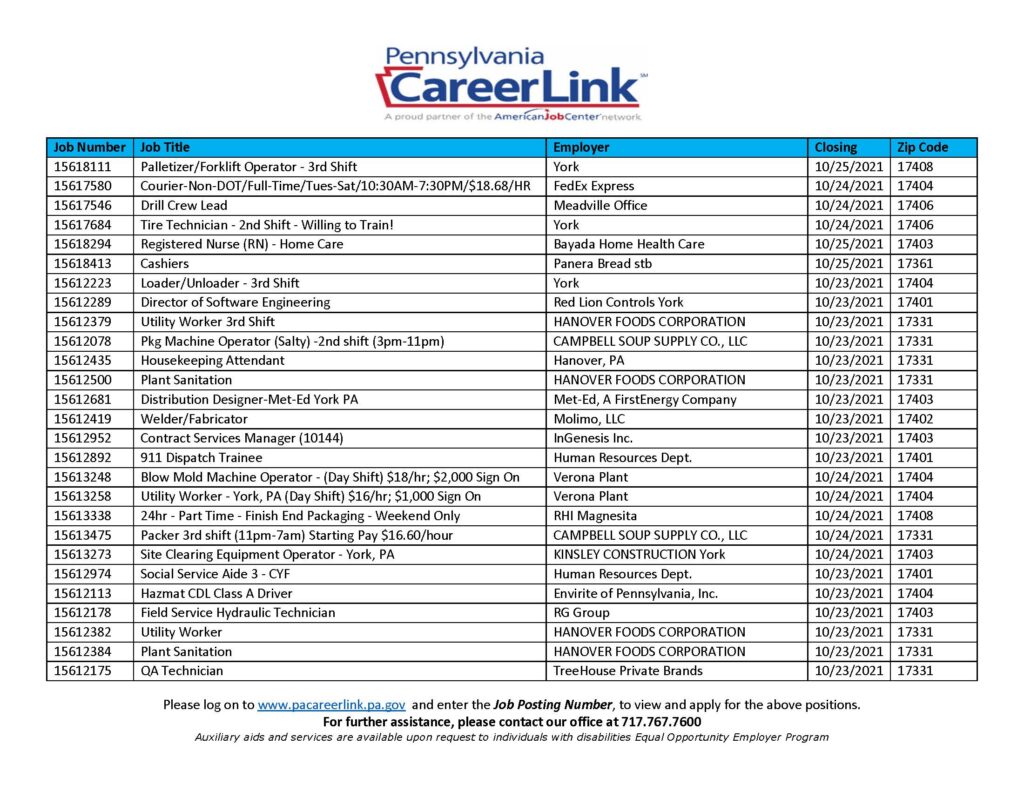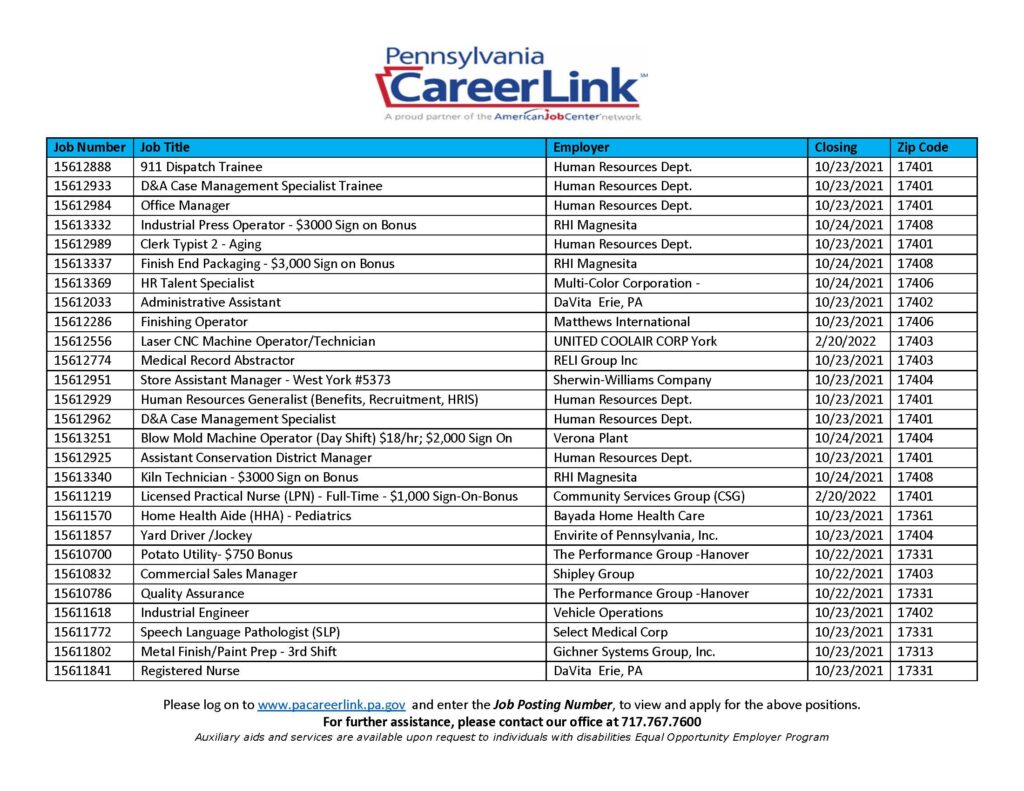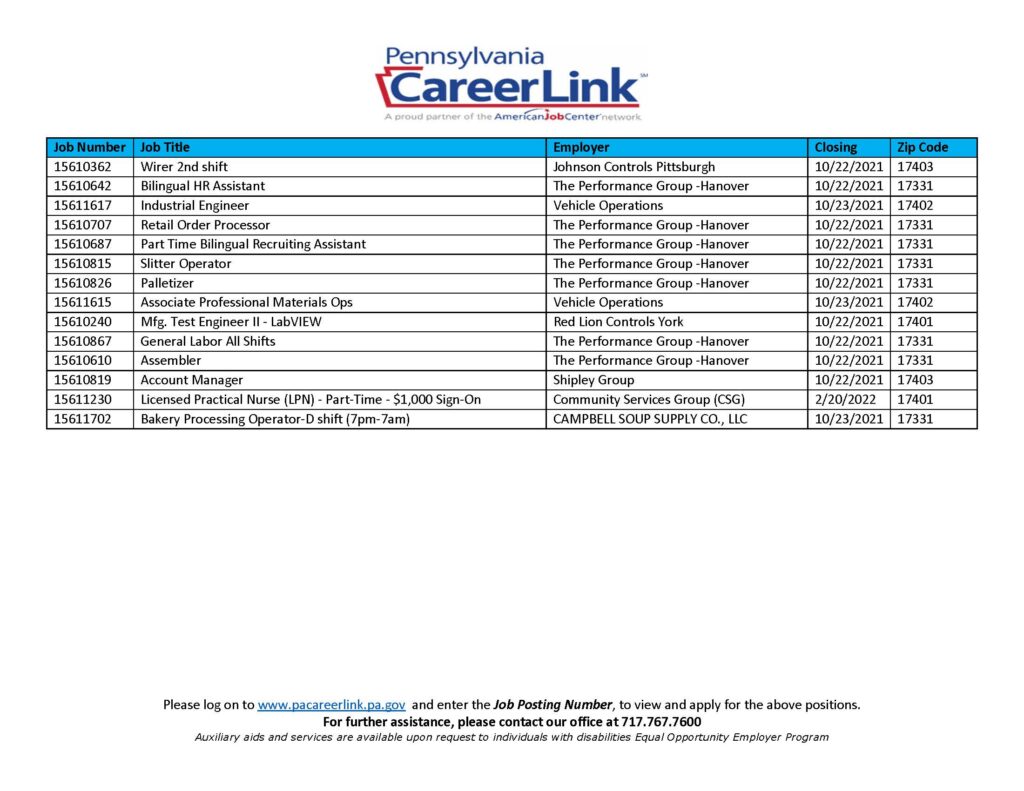 Upcoming PennDOT projects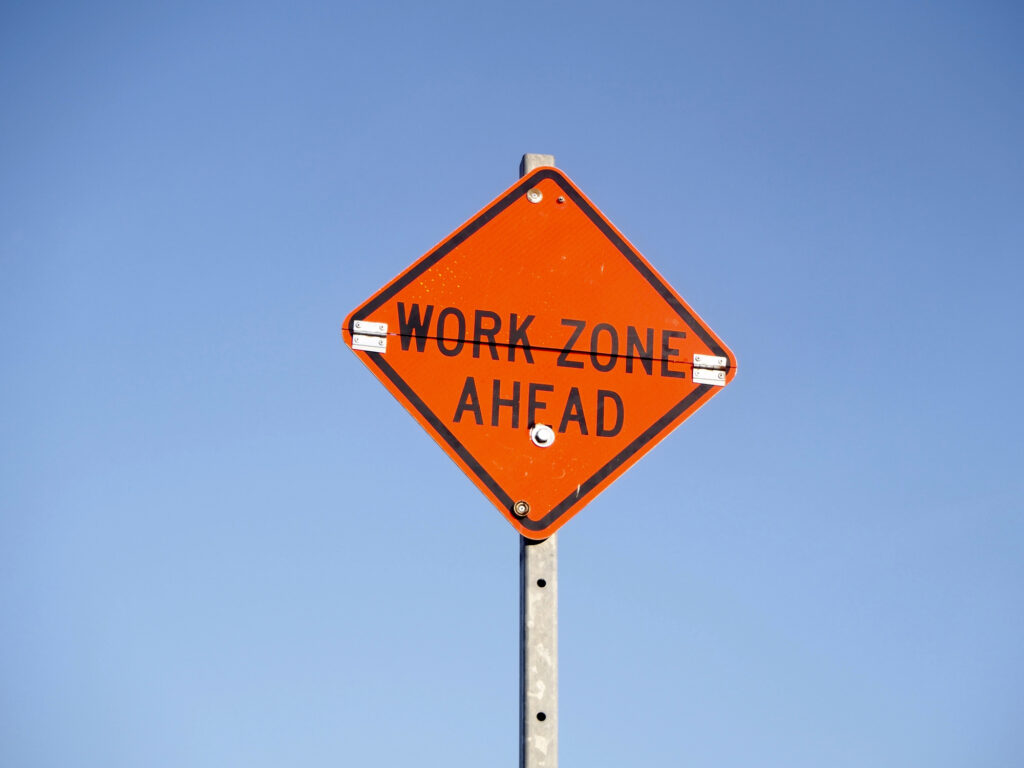 PennDOT will post its list of upcoming scheduled maintenance projects here.
Office closed for Labor Day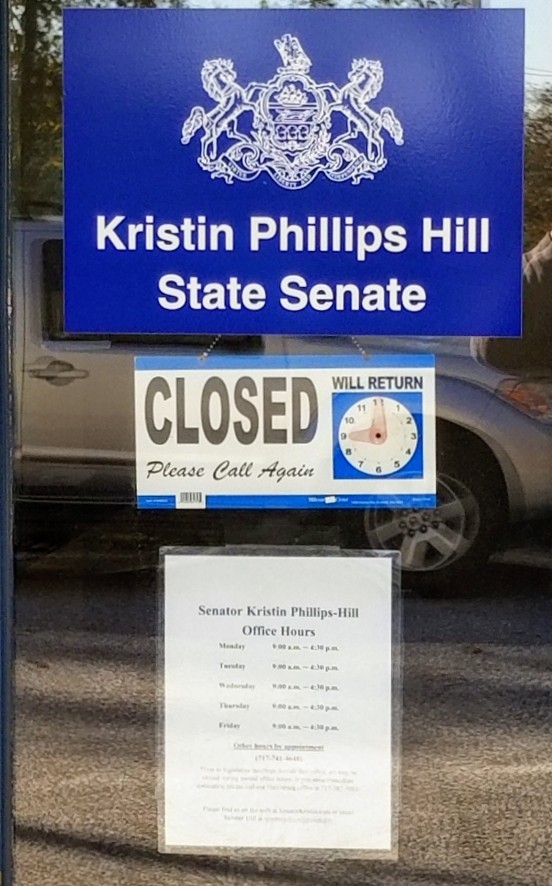 Please be advised that our offices will be closed on Monday, September 6 in observance of Labor Day. We will reopen on Tuesday, September 7.
Please feel free to stop by our booth at the Jacobus 40th Annual Car Cruz and Vendor Show, hosted by the Goodwill Fire Co. #1. The event will be held at the Jacobus Park from 8 a.m. – 3 p.m.