In this update:
Merry Christmas to you
Preparing for upcoming legislative session
COVID-19 vaccine update
Holiday office hours
PennDOT center hours
---
Merry Christmas to you
This year has been incredibly difficult for our entire community, our Commonwealth and our nation.
Whether you or someone you know suffered or is suffering from COVID-19, job loss, financial challenges, or depression, please know that we will get through this pandemic.
York County is blessed to have incredible frontline workers at our hospitals, health systems and other medical facilities.
We are grateful for the men and women in law enforcement, first responders, EMTs and all of our volunteers who selflessly give their time and talent for the betterment of our community.
This Christmas may look a lot different than years past. However, the meaning of Christmas remains the same for many of us. Christmas gives us hope for a brighter future. And this Christmas, our community needs that more than ever.
Due to the pandemic, the governor opted not to have a Christmas tree placed in the Capitol Rotunda. Two state representatives – Andrew Lewis and David Rowe – had other plans.
You can watch the fun video they put together as they ensured the Capitol would have a Christmas tree in the link below.

Preparing for upcoming legislative session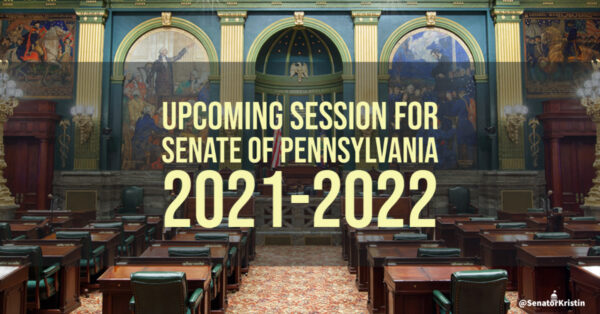 These last three weeks have been spent with staff working on circulating memos announcing intentions to introduce legislation in the upcoming session, which is scheduled to start on January 5, 2021.
I have already circulated over 30 memos to introduce various proposals.
You can read all of my legislative initiatives for the upcoming session here. In addition to these bills, I am also cosponsoring many forthcoming proposals offered by my colleagues in the Senate of Pennsylvania.
One measure of importance, based on the overwhelming feedback I've received, would restore checks and balances in your state government.
Specifically, Senate Majority Leader Kim Ward, along with Senators John DiSanto and Scott Martin are proposing a constitutional amendment that would require a governor to receive legislative approval to extend an emergency declaration beyond 21 days.
In order for your state constitution to be amended, the legislature must pass a resolution in two consecutive sessions. This measure was approved in the 2019-2020 session. Should the General Assembly pass the exact same resolution in the upcoming 2021-2022 session, it would then ultimately go to the voters for the final approval. This is a major opportunity for the people of Pennsylvania to weigh in on a critical matter.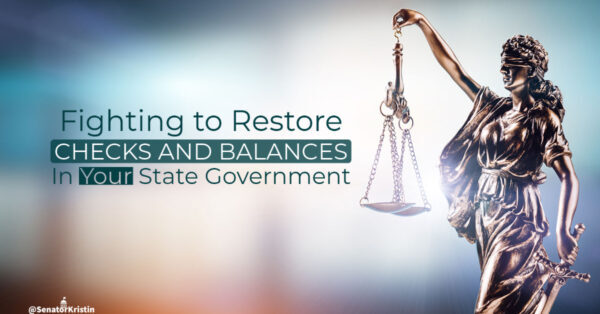 I will provide a video update to you like I did last year to outline my legislative efforts and assistance provided to our neighbors in my end of year report. Transparency in your state government and this year end recap is one of the many ways I try to lead by example.
Stay tuned for that update next week!
COVID-19 vaccine update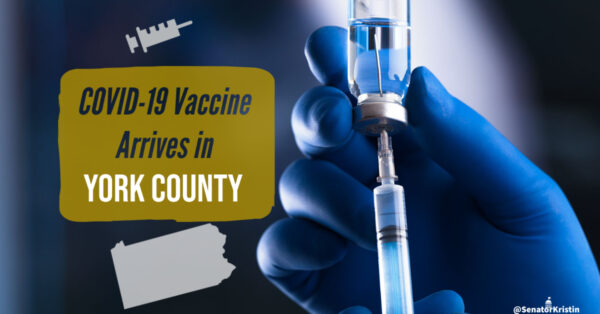 On Tuesday, the Department of Health provided an update on the COVID-19 vaccines now in all hospitals across the state. As of Tuesday, York County has five vaccine locations: WellSpan Hospital York, WellSpan Surgery & Rehabilitation Hospital, UPMC Pinnacle Memorial, UPMC Pinnacle Hanover and Family First George Street Center. The first four entities received a total of 3,900 doses of the vaccine.
Last Friday, the FDA approved the Moderna vaccine. In York County, Family First George Street Center received 300 doses of this vaccine.
The vaccine is currently offered to frontline medical employees, as well as vulnerable populations in nursing care facilities.
More information on the Department of Health's vaccine plan can be found here.
Holiday office hours
As a reminder for our community, below are the hours for our offices over the next two weeks:
Monday, December 21: 9 a.m. – 4:30 p.m.
Tuesday, December 22: 9 a.m. – 4:30 p.m.
Wednesday, December 23: 9 a.m. – 1 p.m.
Thursday, December 24 (Christmas Eve): Closed
Friday, December 25 (Christmas Day): Closed
Monday, December 28: 9 a.m. – 4:30 p.m.
Tuesday, December 29: 9 a.m. – 4:30 p.m.
Wednesday, December 30: 9 a.m. – 4:30 p.m.
Thursday, December 31 (New Year's Eve): Closed
Friday, January 1 (New Year's Day): Closed
Our district office is open for in-person visitors. The Capitol is closed to visitors due to the governor's orders.
PennDOT center hours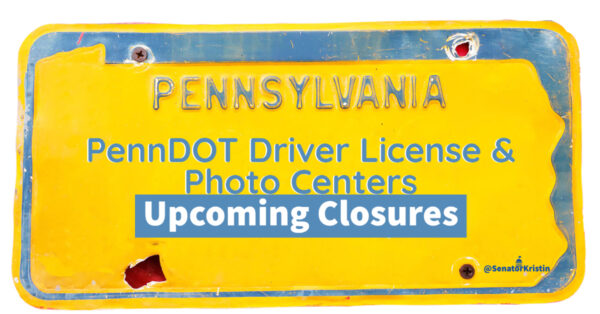 Local driver license and photo centers for PennDOT will be closing at 12:15 p.m. on Thursday, December 24 and will be closed through Friday, December 25. Motorists can still obtain various forms and manuals on PennDOT's website.
For more information on PennDOT's holiday hours, please read their latest update here.