In this update:
Governor changes mind, adds new restrictions on hospitality industry, gyms that are set to take effect at midnight tonight
The latest on our election integrity
Governor's veto a gift to special interests
Federal Communications Commission awards York County $6.4 million to deploy broadband
Happy Hanukkah to our neighbors!
Holiday cheer in Shrewsbury Borough
2021 Fishing licenses on sale
Commercial driver licenses, learning permits extended
New health and wellness guide created for older adults
Upcoming PennDOT projects
---
Governor changes mind, adds new restrictions on hospitality industry, gyms that are set to take effect at midnight tonight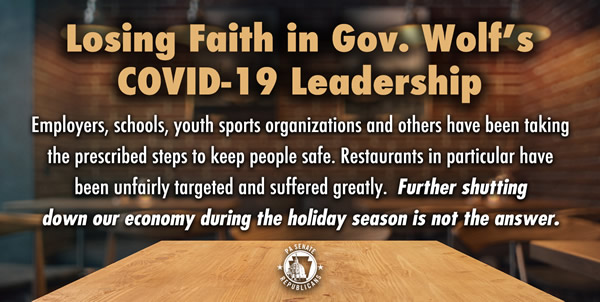 Governor Wolf ordered a new round of COVID-19 restrictions that will begin on Saturday.
This is yet another draconian statewide shutdown that will impact many industries and jobs that are already on the brink of collapse. Instead of working with them, the governor again blindsided these entities with a sweeping measure set to take effect this weekend. It was just last month that the governor planned "no new restrictions."
The restrictions include a prohibition on indoor dining at restaurants, reduced occupancy limits on retail businesses, the suspension of all K-12 extracurricular activities and tighter capacity limits on both indoor and outdoor activities.
The new restrictions could be catastrophic for the restaurant industry, which has already seen hundreds of thousands of workers idled and more than 7,500 businesses closed since the beginning of the pandemic.
If you or someone you know in our community has been laid off from their job, please contact my district office so we can assist with unemployment compensation. Reaching out to me earlier will help avoid this becoming a crisis in the future and I am happy to assist in cutting through the bureaucratic red tape to get you assistance.
Since the start of the pandemic back in March, our office has assisted nearly 1,000 residents in the 28th District receive their unemployment compensation or pandemic unemployment assistance. We stand by ready to assist.
I have received several calls and emails from neighbors who wish to see the governor impeached over this latest restriction. Please know that the impeachment process begins in the House of Representatives (similar to the federal impeachment process). You need to contact your state representative.
The latest on our election integrity
Many citizens across the 28th District have contacted me to express their frustration and fear over the integrity of our elections process. If you took the time to write me, I am writing you back.
Since Election Day, I have received 2,005 inquiries by email, web contact form or phone call. I am working each day to get back to each and every concerned constituent in the 28th District on this matter.
The number of calls and emails shows the grave concerns I share about the way our election was carried out.
That is why this week: I have joined 24 state senators to be part of the amicus brief in support of the Texas case going before the United States Supreme Court.
The case asserts the legislature's authority under the Electors and Elections Clauses to set the time, place and manner of elections. As you know, the state Supreme Court unilaterally changed deadlines for ballots, despite this being clear in our existing laws (and agreed to by Governor Wolf last year).
It takes the position that this authority was taken by the Pennsylvania Supreme Court for itself, aided and abetted by the Secretary of State amending the deadline for receipt of mail-in ballots, and that therefore there was a violation of those clauses.
Furthermore, I have signed a petition to call the legislature back for a special session on election issues. These issues are too important to wait until the General Assembly is sworn in on January 5.
I will keep fighting to ensure the integrity of our elections process. Act 77 was implemented in time for the two elections in 2020 – the Primary and General. The key difference is that the State Supreme Court changed the rules and law for the General Election on their own, which I believe has jeopardized the integrity of our elections and has set a very dangerous precedent.
Our elections are the bedrock of our Republic. Thank you again to everyone who has taken the time to weigh in on this critical matter. I will do my best to get back to everyone in a timely manner!
Governor's veto a gift to special interests

On Monday, I joined local legislators to call into question why the governor would veto legislation that would provide liability protections for non-profits, educational institutions, farms, small businesses and healthcare facilities who followed his rules for COVID-19 mitigation.
My comments and concerns focused on our nonprofits. During the debate for this important legislation in the Senate, many of my colleagues on the other side of the aisle said this bill would be a gift to the special interests
I do not know how a YMCA or a food bank can be considered a "special interest." As I wrote to you in a prior update, with his veto, our governor showed he's more concerned about padding the pockets of rich trial attorneys than standing up for and protecting our public schools, colleges, small businesses, health care providers and non-profits that worked so hard to stick to the very guidance he and his administration have asked every Pennsylvanian to blindly follow.
You can read more here.
Federal Communications Commission awards York County $6.4 million to deploy broadband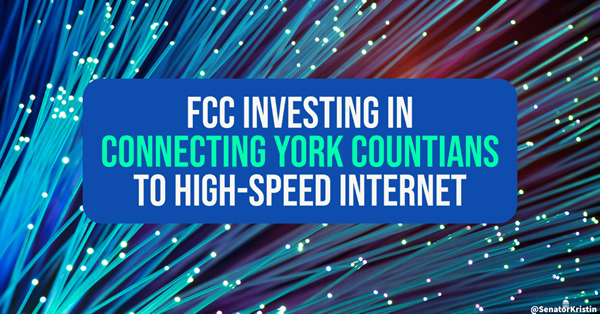 Earlier this week, the Federal Communications Commission (FCC) announced that over 4,000 York Countians will be connected to high-speed internet through the Rural Digital Opportunity Fund Phase I auction.
The FCC announced today that Pennsylvania will receive a total of $368,743,200.30 to support expanding broadband to 184,505 homes and businesses that are currently unserved over the next decade.
I have had numerous local residents share with me pricing quotes they have been presented by broadband companies to connect their home or business. These quotes range into the five figures, which makes connecting to broadband unobtainable for a lot of our neighbors.
I am pleased the FCC recognizes our efforts in Pennsylvania and our commitment to cut through red tape, and modernize our laws and regulations to allow low-cost options to connect to high-speed internet.
You can read more about this here.
Happy Hanukkah to our neighbors!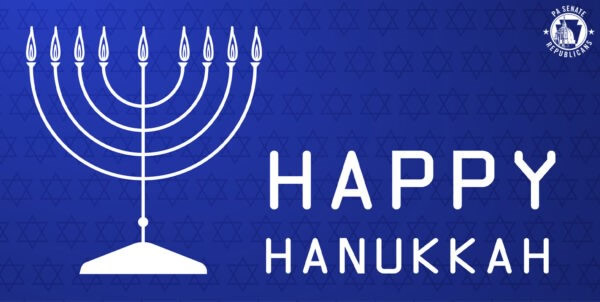 Sundown this past Thursday marked the first day of Hanukkah for our friends of the Jewish faith.
To our friends and neighbors celebrating Hanukkah, best wishes for a joyful Festival of Lights!
Holiday cheer in Shrewsbury Borough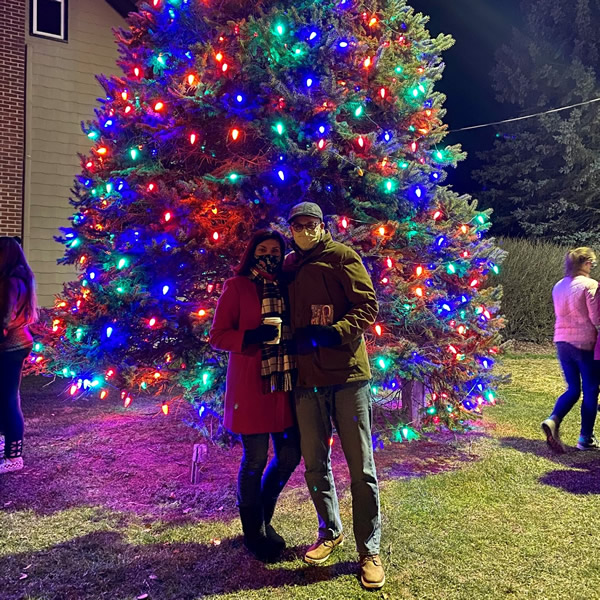 Last Sunday, Rick and I got to enjoy a little holiday cheer with Santa, the Susquehannock High School Jazz Band and the Village Coffee & Cream at the Shrewsbury Borough annual Christmas tree lighting event!
2021 Fishing licenses on sale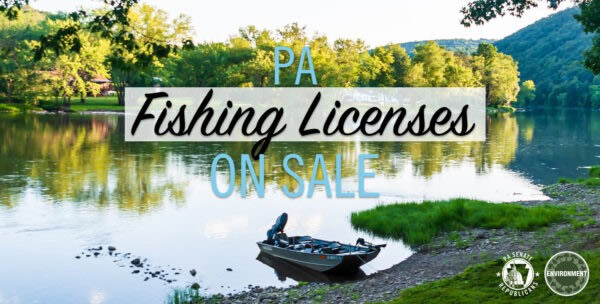 Pennsylvania anglers can purchase their 2021 fishing license from the PA Fish and Boat Commission now. The licenses are valid from the date of purchase through December 31, 2021. Multi-year options are also available in increments of three, five, and 10 years.
Licenses, permits and gift vouchers can be purchased online or by visiting retail license issuing agents.
Commercial driver licenses, learning permits extended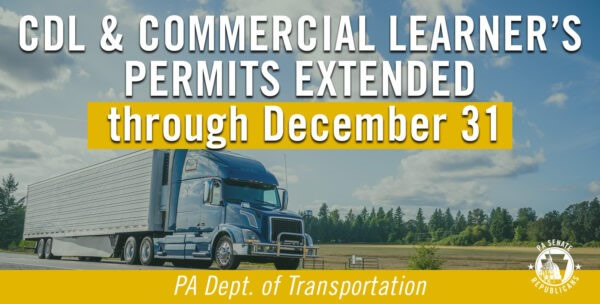 Due to disruptions created by the COVID-19 pandemic and the governor's mitigation response, PennDOT has extended the expiration dates of all commercial driver licenses and commercial learner's permits that were set to expire at the end of November until December 31.
The extension provides additional time to renew these licenses and permits as truckdrivers continue to keep supply lines open and prevent supply chain disruptions.
New health and wellness guide created for older adults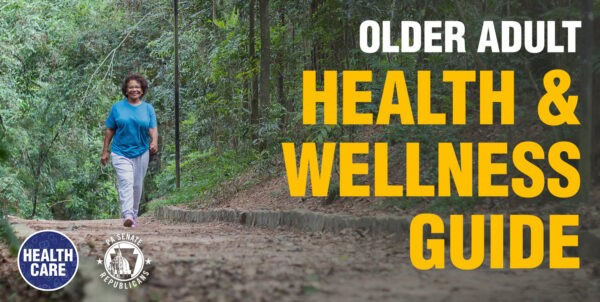 Older Pennsylvanians have faced some of the most difficult challenges in terms of physical and mental health during the COVID-19 pandemic. The Pennsylvania Council on Aging has created a new interactive guide to support seniors and combat some of the biggest sources of stress in their lives.
The guide includes resources, activities and videos to help older Pennsylvanians avoid social isolation and stay mentally and physically fit.
Upcoming PennDOT projects
PennDOT shared with me the upcoming maintenance project list for next week. You can view that below.