In this update:
Latest survey shows strong support for legislation that would require school curriculum to be posted online
Upcoming podcast to focus on broadband funding – here's how you can subscribe
Proposed constitutional amendment looks at what happens when a state disaster declaration ends
Current session nears midway point
Electric and gas rates increased this week – here's what you can do to shop for a lower rate
Remembering Pearl Harbor
Thanks to Wrightsville Elementary for visiting the state Capitol
Automatic Cost of Living Adjustment – here's what I did
---
Latest survey shows strong support for legislation that would require school curriculum to be posted online
My latest legislative survey that ran for the entire month of November sought YOUR input on legislation that at the time was approved by the House of Representatives and advanced to the Senate of Pennsylvania for consideration.
The legislation is House Bill 1332, which would require every school district to post their curriculum online. Specifically, the bill would require schools to post the following information to their websites:
A link to every textbook used by the school district.
A syllabus or summary of every course offered by the school district.
The state academic standards for each course offered by the school district.
You can read the full proposal here.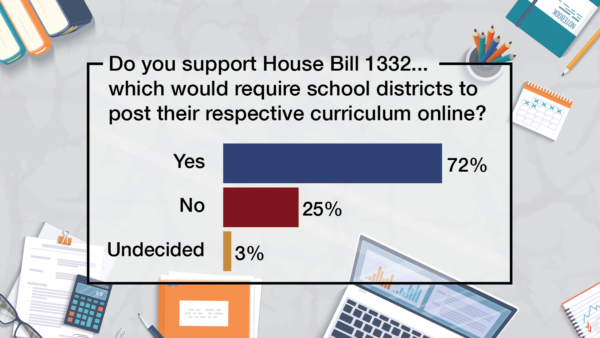 A total of 729 of our neighbors completed the survey. Below is a breakdown:
Do you support House Bill 1332, which would require school districts to post their respective curriculum online?
Yes 526 72%
No 181 25%
Undecided 22 3%
In addition to the survey, I received several emails as part of a coordinated effort to oppose the legislation. I later found out (from someone who took the survey) that the effort was through the Pennsylvania State Education Association.
As of this week, here is the total feedback I have received on the legislation:
Support House Bill 1332: 543 63%
Oppose House Bill 1332 295 34%
Undecided on House Bill 1332 27 3%
As always, I encourage anyone and everyone to contact me on any legislation that is pending in the General Assembly. These surveys are quick ways to gauge feedback from our community. However, you can always email me (just reply to this email), fill out a web contact form, write me a letter, call or drop by our district or Capitol office.
Upcoming podcast to focus on broadband funding – here's how you can subscribe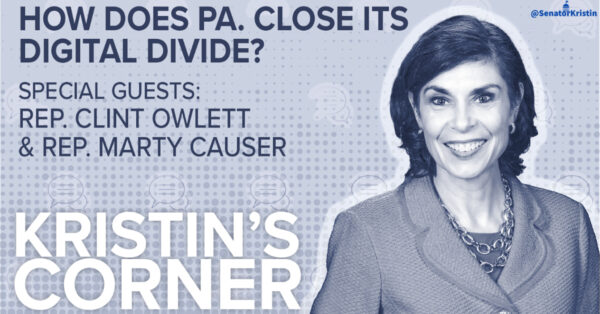 My upcoming podcast episode will be released next week. I thought it was important to sit down with two state representatives I am working with on legislation to address the influx of federal funds coming in to the Commonwealth to be used toward broadband expansion and access.
I will make a major caveat: I did not vote on the federal infrastructure package; my federal counterparts did. As a taxpayer, I don't care if it's federal, state or local tax dollars – it all comes out of your wallet. The money (paid by the taxpayers) is coming to Pennsylvania and the key is to ensure that every dollar is spent with the ultimate respect to the people who pay government's bills (at ANY level).
To that end, I am working with Reps. Marty Causer and Clint Owlett to put guardrails on the federal funding Pennsylvania receives for broadband expansion. I'll have a longer breakdown later this month on the bill (and we go into greater description in my upcoming podcast episode).
If you subscribe to podcasts, I am on most of the major platforms, including SoundCloud, Apple Podcasts, Google Podcasts, Stitcher, Castbox, iHeartRadio and Spotify.
I'll share a link to the podcast episode in my update next week as well if you want to listen to our 15 minute update on our efforts.
Proposed constitutional amendment looks what happens when a state disaster declaration ends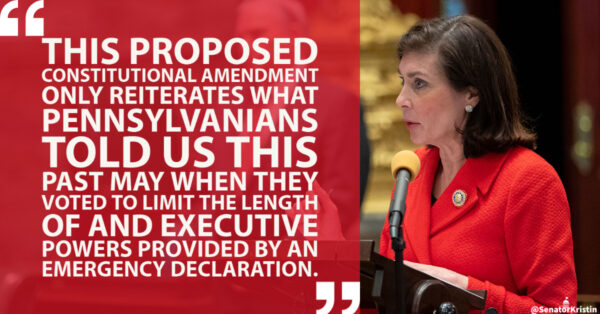 Sens. Scott Martin, Pat Stefano, Judy Ward and I are sponsoring a proposed constitutional amendment to clarify that no department secretary or agency under the governor's jurisdiction can issue public mandates, guidance or directives, unless clearly prescribed and authorized in current law, without an official emergency declaration order in effect.
As you may recall, on June 10, the General Assembly approved a concurrent resolution ending the COVID-19 disaster declaration and terminating the leeway the Governor and his administration cited under Title 35 to quickly execute statewide directives during an emergency response.
This action came after a majority of Pennsylvanians voted to limit the governor's emergency authority and restore the balance of power in state government. York County voted in strong support of these constitutional amendments (63% and 64%, respectively). Still, instead of respecting the will of the people, Gov. Wolf and his administration – including unconfirmed acting secretaries – relied on a decades-old law and contrived constitutional interpretations to issue a statewide school mask mandate weeks after many districts adopted optional policies instead.
The people of Pennsylvania made it clear that a collaborative government is their preferred government.
You can learn more about our proposal here.
Current session nears midway point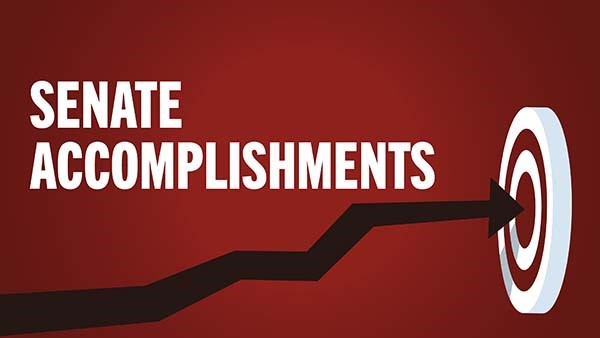 The first year of the 2021-2022 legislative session is coming to a close with enactment of several key measures and more work to do in the second year.
This fall, the Senate passed bills to ease nursing home staff shortages, enable more schools to combat pandemic learning loss, help farmers transport goods and make home deliveries, and make political campaigns more transparent.
That's just a sample. I'll highlight these and other bills in the coming weeks. I currently have the fifth most bills in the Senate of Pennsylvania (out of 50 members). You can read all of the legislation I have sponsored on YOUR behalf here.
In the meantime, you can check a complete rundown here.
Electric and gas rates increased this week – here's what you can do to shop for a lower rate
If you follow me on Facebook and Twitter, you may have seen my post this week about the electric rate increases scheduled for December 1.
The rates, if you receive your electricity through your default electric supplier, are going to go up as follows:
Met-Ed: Up from 7.114 cents to 7.414 cents per kWh (4.2%)
PECO: Up from 6.597 cents to 7.021 cents per kWh (6.4%)
PPL: Up from 7.544 cents to 9.502 cents per kWh (26%)
The Pennsylvania Public Utility Commission sent out a news release last month encouraging utility customers to look at options due to the hikes in utility costs (which will also impact natural gas prices, too).
You can read more here. Some of you may also ask, "what are you doing about it as my state senator?"
One of the bills I am sponsoring addresses the challenge many utilities shoppers face – ease of switching and greater transparency in our utility bills.
If you're interested, you can learn more about my Senate Bill 277 here.
Remembering Pearl Harbor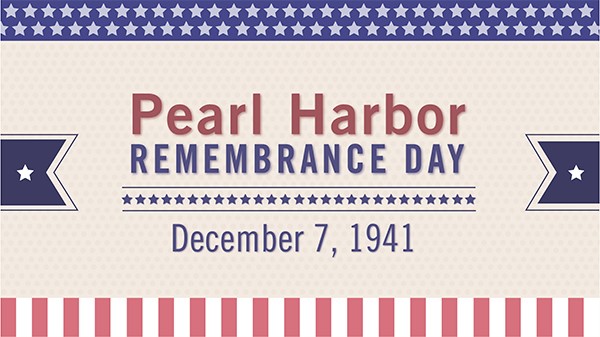 This upcoming Tuesday marks the 80th anniversary of Japan's attack on the U.S. naval base at Pearl Harbor, on Dec. 7, 1941.
The surprise strike would cost the lives of more than 2,400 military personnel and civilians.
We mark this date knowing that while the attack decimated America's Pacific fleet, our resilience and industrial might would allow the U.S. to build a military force powerful enough to defeat the Japanese Empire and Nazi Germany.
On Tuesday, we will remember the lives lost 80 years ago, and note the fate that awaits any adversary who questions American resolve.
Thanks to Wrightsville Elementary for visiting the state Capitol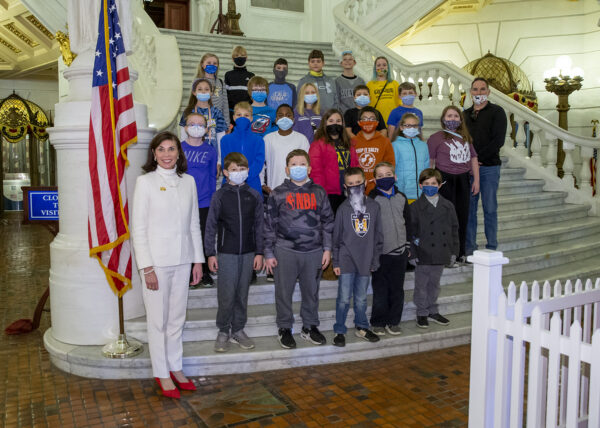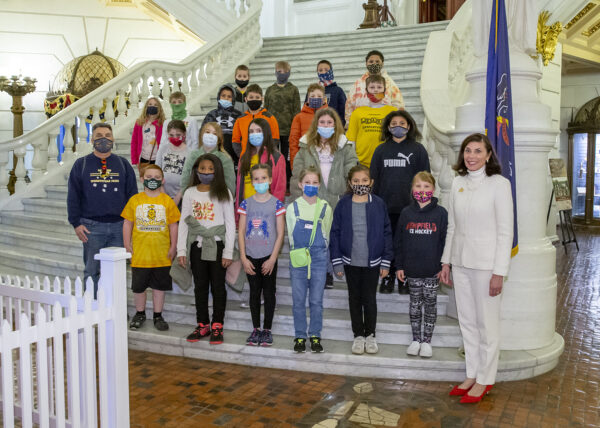 Special thanks to the students, teachers, and chaperones of Wrightsville Elementary School for visiting the state Capitol earlier today. It was a joy to be with students and answer their questions about my duties as their state senator. We even got to spend some time in the Senate Chamber to discuss the history of the Senate, the murals and so much more! You can view more photos here.
If you or your family are interested in touring the state Capitol, please let me know!
Automatic Cost of Living Adjustment – here's what I did
A quick update since I've had some emails come in from our neighbors frustrated (and I share that frustration) that lawmakers, judges, the governor, and cabinet officials receive a 5.67% Cost of Living Adjustment, or COLA, this year.
The COLA, which is automatically applied based on a law that was passed well before my time in office, provides automatic pay bumps to officials. The COLA is tied to inflation.
Last year, the legislature approved a bill to suspend the COLA. However, no such bill advanced through the General Assembly this year. To clear the air: I wrote a check the day it went into effect to pay it back to the Treasury. The money goes back into the General Fund.
The COLA also increases officials' pensions. I do not participate in the pension program, and I do not have health care through the Senate, either.
I posted all of this information, as well as all of the expenses in our Senate offices, to my website. As you may recall, The Caucus (a state government watchdog publication) said three other legislators and I "exceed expectations" when it comes to reporting expenditures, citing my accuracy and transparency. After all, it's your money.