In this update:
Lobbying reform legislation introduced
Have an opinion on PennDOT maintenance and construction? Let them know!
York County Rail Trail Authority celebrates York County Trail Towns initiative
Speaking with small business leaders on legislative efforts to boost locally owned businesses
Luca Fimiani earns Eagle Scout
Take a Capitol tour
REMINDER: You may have unclaimed property (money) sitting at the PA Treasury
Discussing how to best protect PA communities
Hazard mitigation grant program to open Oct. 18
Celebrating Down Syndrome Awareness Month
Local job openings
Upcoming PennDOT projects
On deck
---
Lobbying reform legislation introduced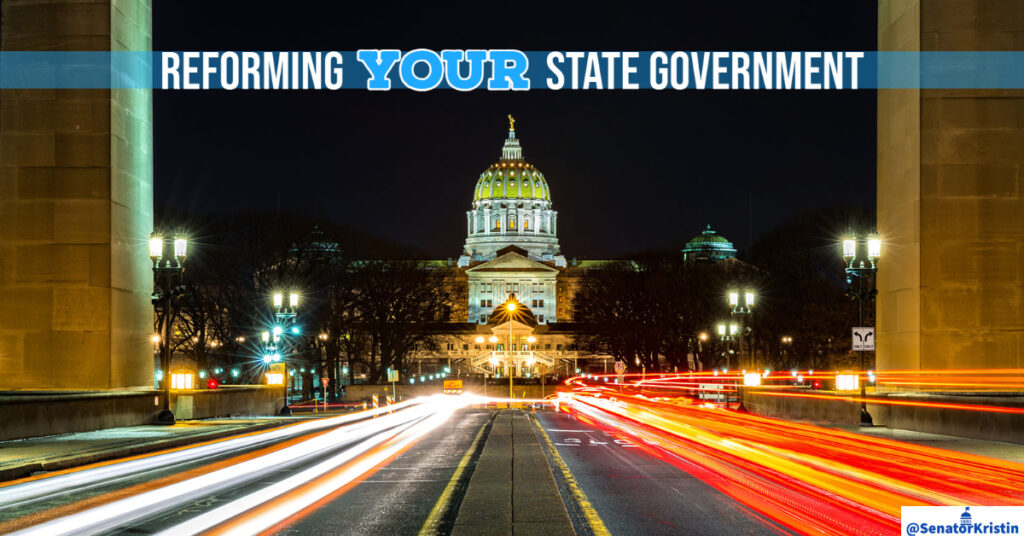 This week, I formally introduced Senate Bill 802, which would prohibit any state entity, including the legislature, from hiring an outside lobbyist or campaign consultant to lobby any branch of government. The bill would also prohibit former lobbyists who become employees of the General Assembly from being lobbied by their previous colleagues for one year after separation from employment. This would prevent the revolving door of individuals leaving a lobbying firm to join the legislature and immediately being influenced by their former coworkers.
The interest of taxpayers should always be the priority for anyone in state government – from state employees in various agencies to members of the General Assembly. I am pleased to see a coordinated effort to clean up Harrisburg through these commonsense reforms.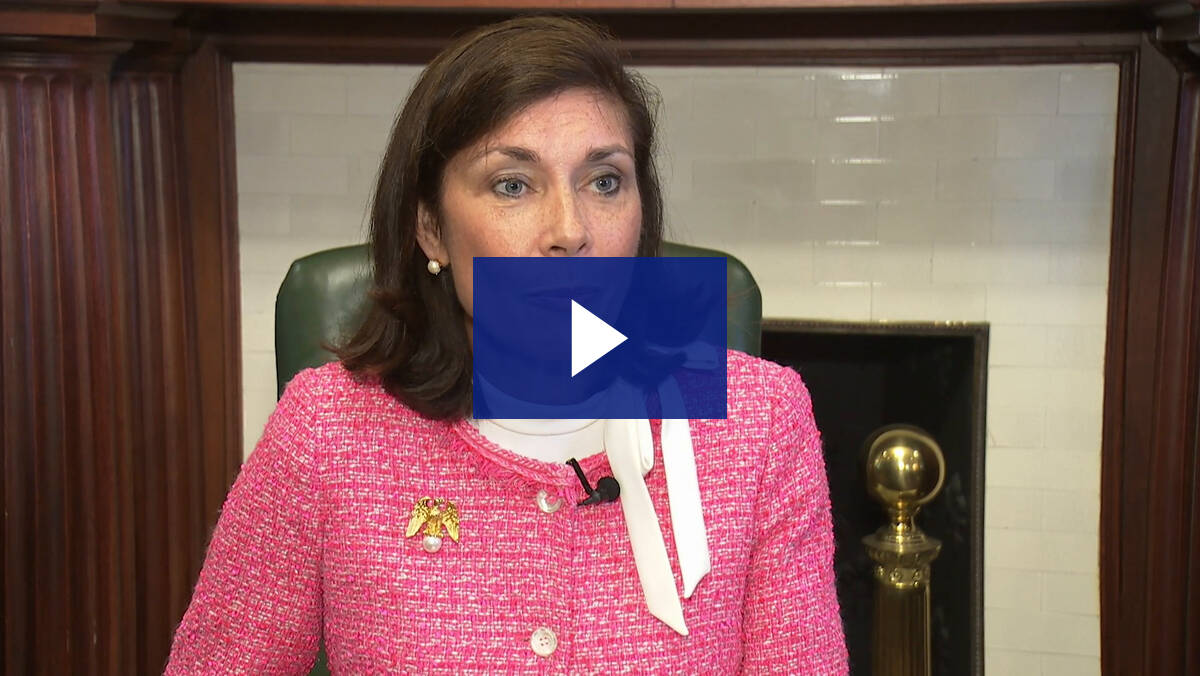 These measures will restrain the undue influence we have throughout state government and finally put an end to the status quo.
I also recently unveiled two other proposals seeking to clean up state government, including extending the revolving door to two years and banning state appointed officials from serving as registered lobbyists.
In addition to my bill, Senators Lisa Baker (R-Luzerne), Bob Mensch (R-Montgomery) and Tommy Tomlinson (R-Bucks), introduced reform measures, including:
Senate Bill 801, sponsored by Mensch, would require lobbyists to register any clients seeking state financial assistance or grants, as well as prohibit kickbacks and inducements for referrals or performance bonuses for a successful application for taxpayer-funded grants.
Senate Bill 803, sponsored by Baker, would prevent lobbyists from also being registered as campaign consultants and prohibits a campaign consultant from lobbying a state official who was a client for the remainder of the term for which consulting services were provided.
Senate Bill 804, sponsored by Tomlinson, would require all registered lobbyists to complete mandatory annual ethics training developed by the Department of State.
You can learn more here.
Have an opinion on PennDOT maintenance and construction? Let them know!
As you know, I am a strong proponent of surveys to receive feedback on various legislative issues. My latest survey asked for your feedback on a plan to fund future transportation projects. In fact, the response was overwhelming and very helpful. I sat down with Senator Wayne Langerholc, who chairs the Senate Transportation Committee, to share YOUR feedback.
Listen to our conversation here.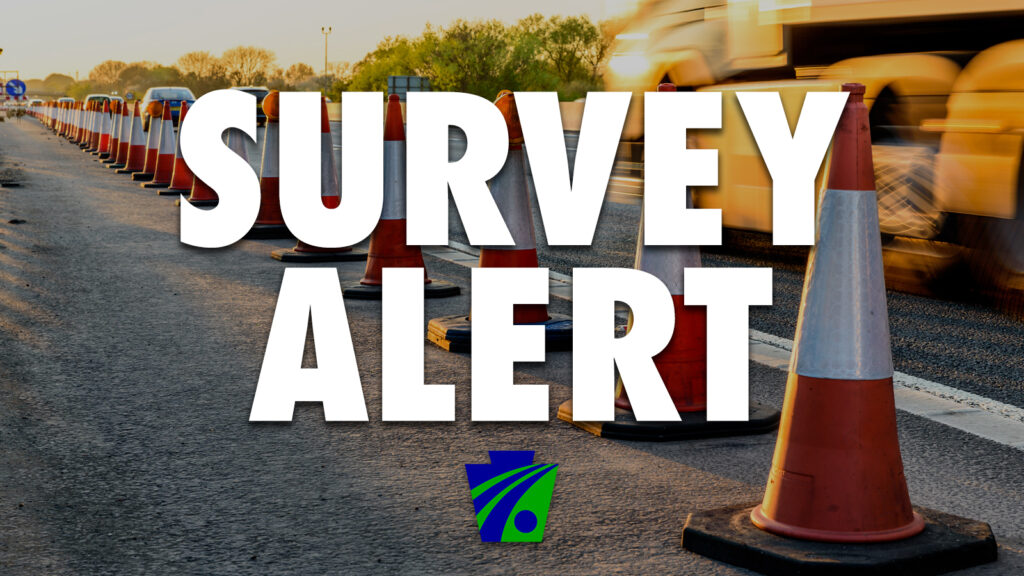 The Pennsylvania Department of Transportation (PennDOT) is conducting a survey for local residents to share their opinion of construction and maintenance services.
Take the survey here. The survey will be available through Oct. 26.
The 20-question survey asks how they receive PennDOT roadway information and how often PennDOT meets or exceeds expectations in construction and maintenance activities.
Respondents are also asked about experiences with reporting concerns to the department, and whether or how they use the state's 511PA traveler information services, which provide information about the condition of more than 40,000 roadway miles in Pennsylvania online at www.511pa.com.
York County Rail Trail Authority celebrates York County Trail Towns initiative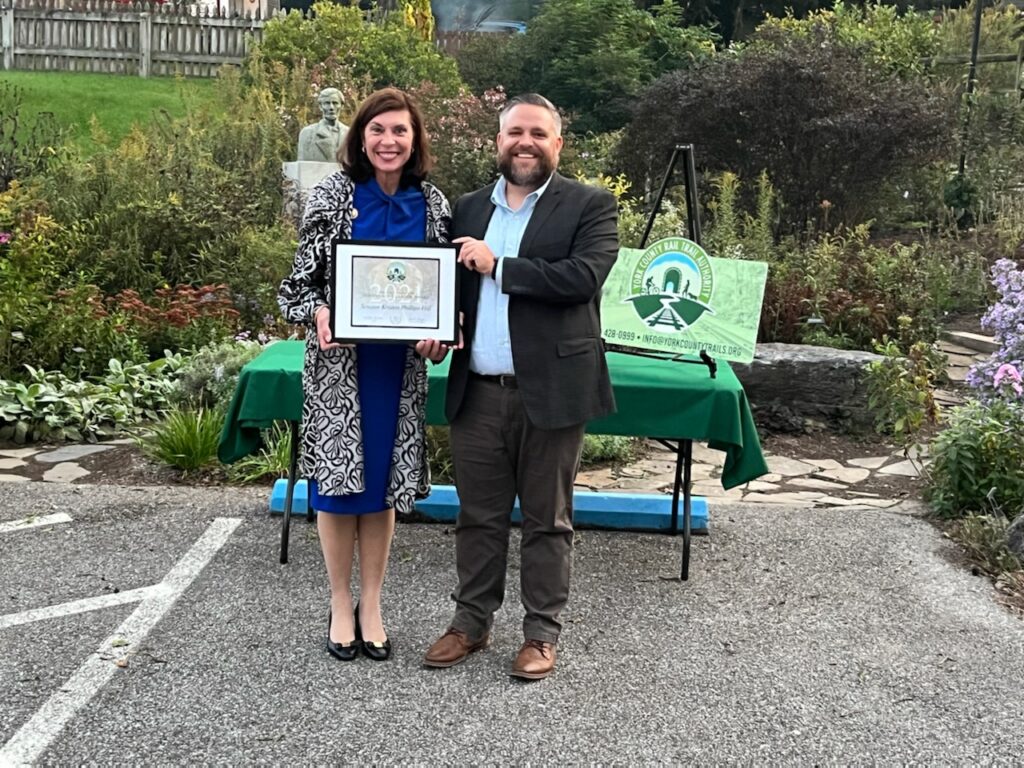 Earlier this week, I joined the York County Rail Trail Authority at the Hanover Junction Station to celebrate the ongoing expansion and popularity of the York County Trail Towns initiative.
The event included various awards, and I was incredibly humbled to receive the "Government Leader" award from the Rail Trail Authority. The award is due to an ongoing collaborative effort between the Commonwealth, York County Economic Alliance and the Rail Trail Authority to enhance this nationally-renowned trail. I am grateful to play a small role in the Trail Towns initiative in York County to bridge the Heritage Rail Trail with locally owned businesses throughout our community.
Learn more about the Trail Towns initiative here.
Speaking with small business leaders on legislative efforts to boost locally owned businesses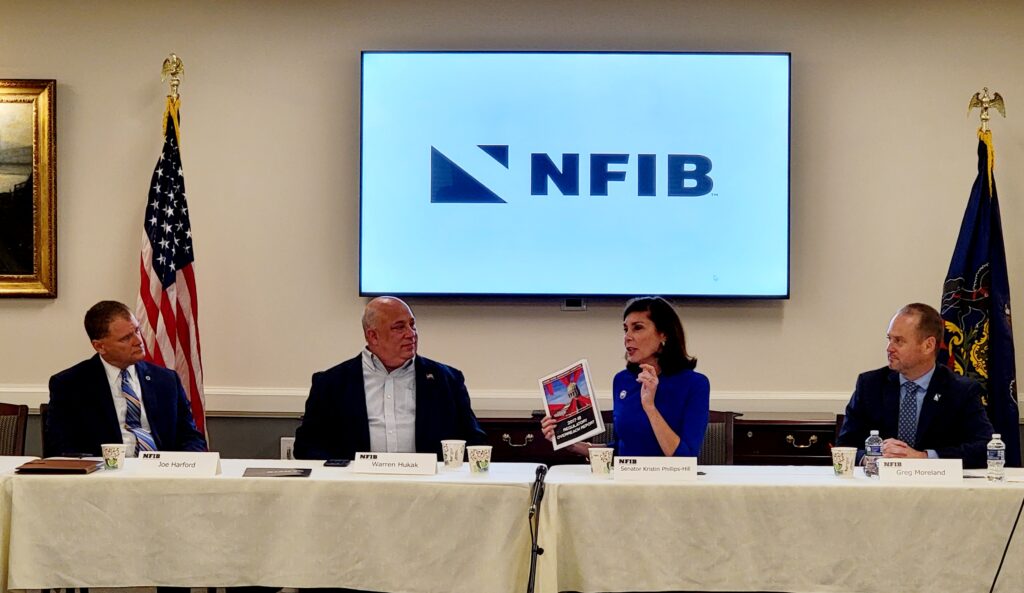 The National Federation of Independent Business (NFIB) hosted me this week to discuss ongoing legislative efforts that I am supporting to help address challenges faced by our locally-owned small businesses.
We discussed the need for short-term, near-term and long-term goals to promote small businesses through commonsense tax and regulatory reforms, which are part of the "Prioritize Pennsylvania: Small Business" initiative that I am sponsoring alongside several of my colleagues in the Senate.
You can read more about this effort here, which has had the input of several local entrepreneurs from our community.
Luca Fimiani earns Eagle Scout
I will never cease to be amazed by what incredible young men are doing in our community as part of their Eagle Scout service projects.
Last weekend, I joined Luca Fimiani of Troop 50 in Spry, along with his fellow scouts, family and friends to celebrate his achievement of earning his Eagle Scout. I congratulated him with a citation from the Senate of Pennsylvania.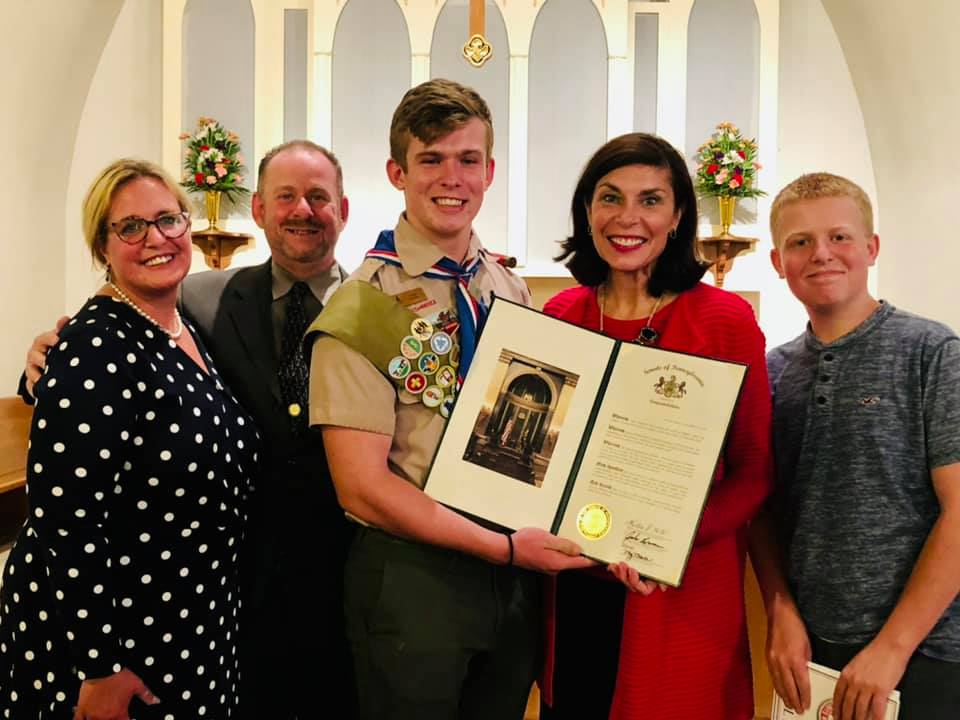 With Luca and his proud family.
For his community service project, Luca raised the funds to purchase and install an automated external defibrillator, or AED, at Saint Andrew's Episcopal Church providing peace of mind for everyone who worships or gathers for events at the church.
Cardiac arrest can happen to anyone at any time, and his effort could save lives. Well done, Luca!
Take a Capitol tour
In between meetings at your state Capitol, I was happy to meet with our neighbors to show them their beautiful state Capitol.
I met up with the Brown family, including Randy, Tammy, Mitchell and Grace, who were in Harrisburg to take a tour.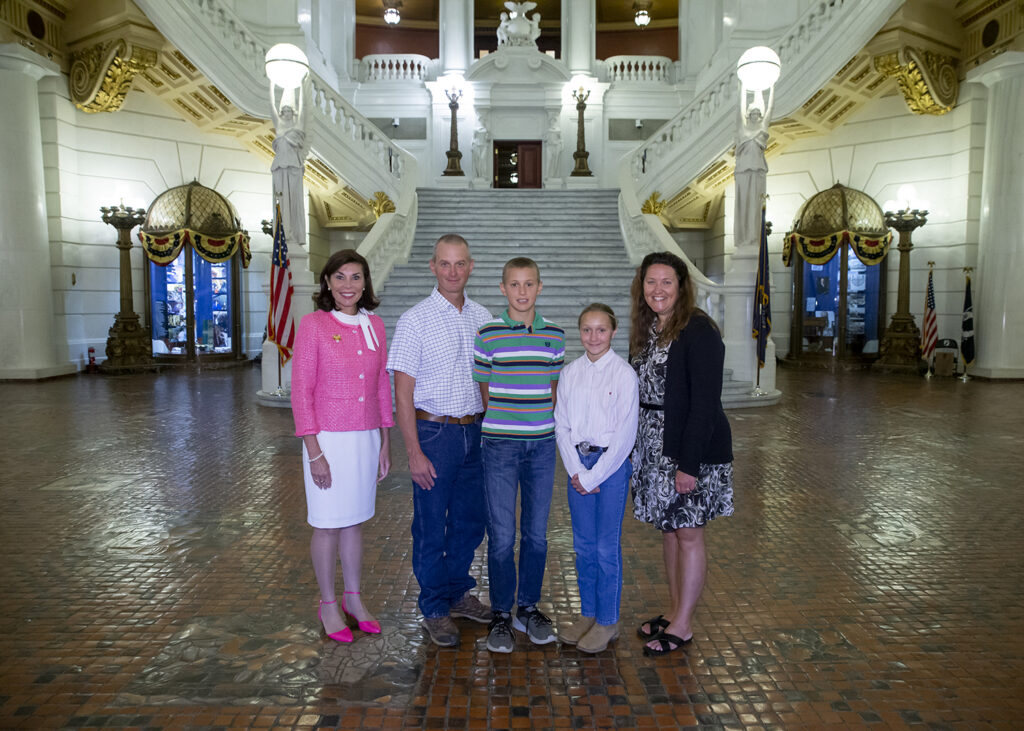 I also caught up with Fred and Ellie Rosenmiller, Lynn Trout and George Stallman, III, who received a guided tour of the state Capitol.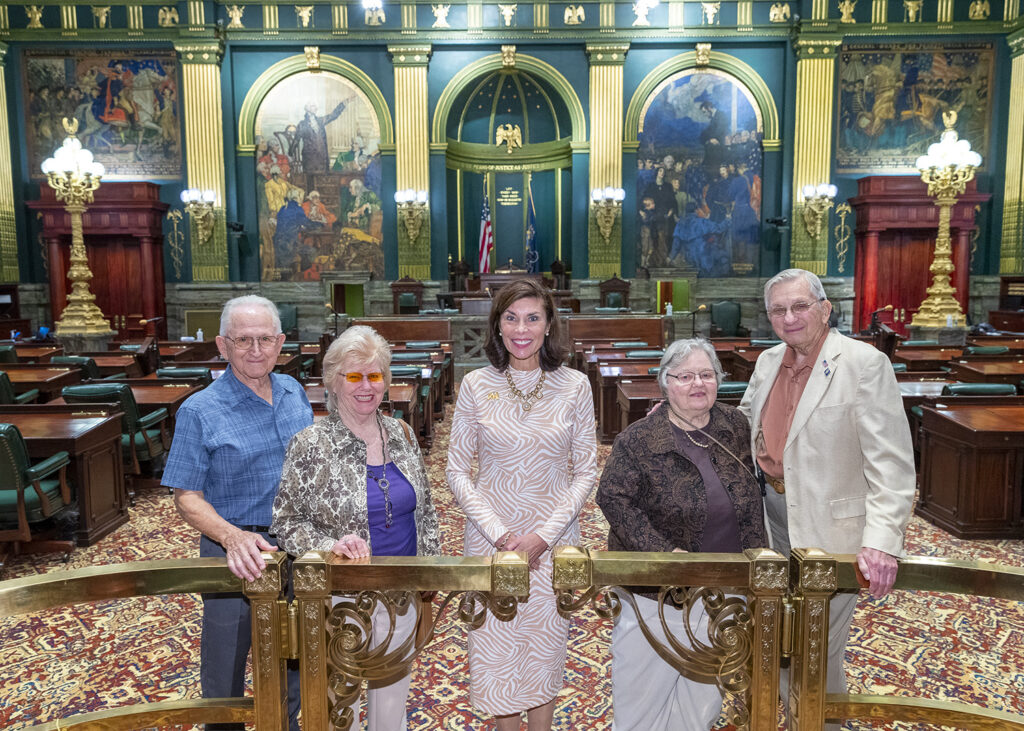 Finally, if you and your family are ever interested in a Capitol tour, please let me know.
I saw a few comments on social media alleging that I collect mileage expenditures (paid by you – the taxpayer) to travel to and from Harrisburg for events like these, as well as other duties when we are in session.
Please know that I do not collect any mileage when I travel to and from your state Capitol for any of my official duties. I also do not expense my mileage to taxpayers when I travel to and from events, meetings and tours throughout the 28th Senatorial District. Furthermore, in order to provide greater transparency on how YOUR tax dollars are spent, I post all of my expense reports to my website. "The Caucus" – a government watchdog publication – deemed myself and three of my colleagues in the General Assembly (out of 253 total members) as "exceeds expectations" when it comes to transparency with expense reports, citing my public posting of expenditures is the "best combination of transparency and accuracy."
Back in August, the entire Senate of Pennsylvania followed my lead and now every Senator has their expenses posted online. You can learn more here.
After all, your hard-earned tax dollars should be fully transparent.
REMINDER: You may have unclaimed property (money) sitting at the PA Treasury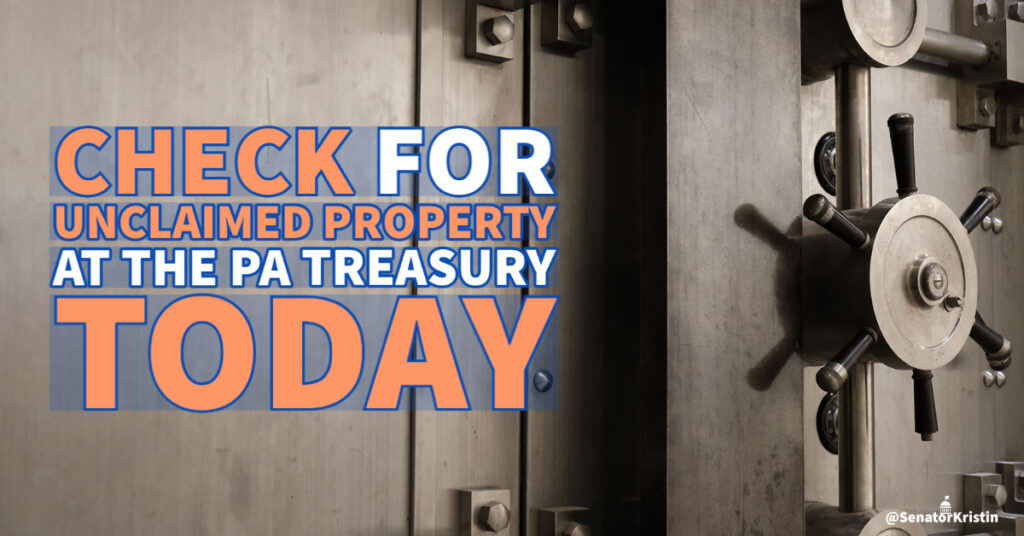 As I wrote to you last week, our team connected local residents with more than $100,000 of their own money this year. Over my tenure as YOUR state senator, we have helped our neighbors track down close to half a million dollars in unclaimed property.
Looking up to see if you have money sitting in the Treasury is really easy! Simply visit their website, enter a few details about you and you will see if you have any money sitting in the Treasury — click here to find out!
If you do have unclaimed property and have NOT yet filed, please let me know – my team would be happy to assist you and expedite your claim. Feel free to reply to this email and one of my team members will be in touch.
Discussing how to best protect PA communities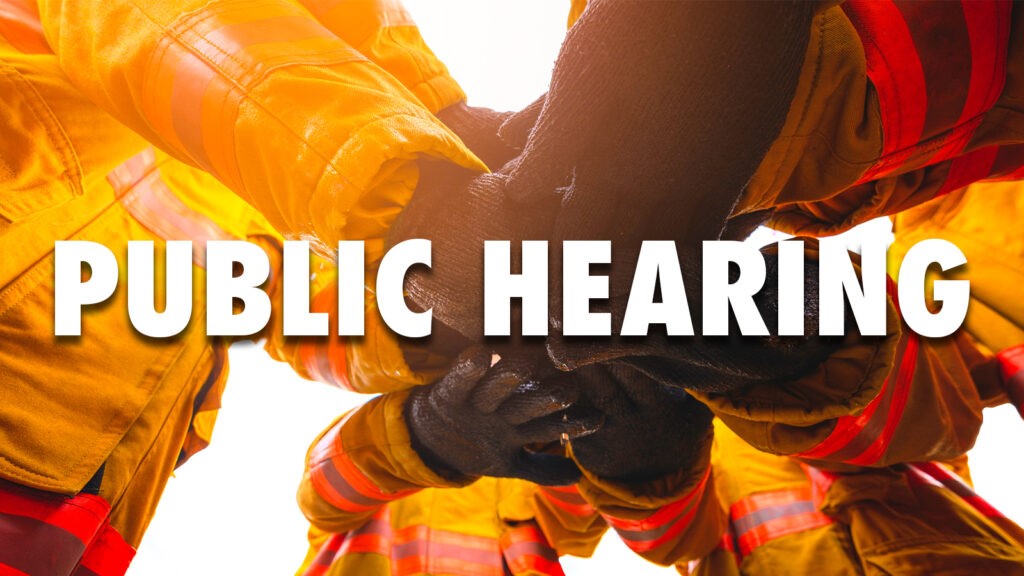 The Senate Veterans Affairs and Emergency Preparedness Committee hosted a public hearing focusing on Senate Bill 698, which would allow counties to create countywide public safety authorities for firefighting and/or emergency medical services (EMS). Rather than replacing volunteer and career fire and EMS companies, authorities would exist to support them and their work.
The speaking panels included people representing local government, fire and EMS. They shared varying opinions about how to most effectively preserve access to life-saving care for all Pennsylvanians.
Hazard mitigation grant program to open Oct. 18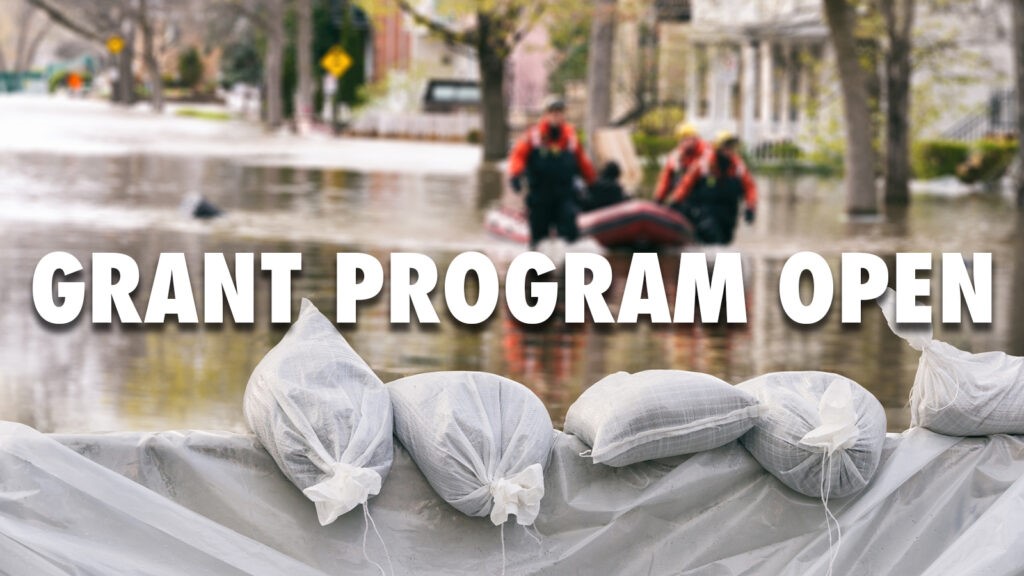 The Federal Emergency Management Agency's (FEMA) Hazard Mitigation Grant Program, which promotes funding for mitigation measures that reduce or eliminate long-term risk to people and property for future disasters, will open on Monday, Oct. 18.
State agencies, federally recognized tribes, local governments/communities and private nonprofit organizations are eligible to develop mitigation project sub-applications to submit to their state, territory or tribal government. States, territories and tribes are then responsible for selecting the sub-applications that align with their mitigation priorities and submit them in an application to FEMA.
FEMA will conduct a final eligibility review of all sub-applications to ensure compliance with federal regulations.
Click here for more information.
Celebrating Down Syndrome Awareness Month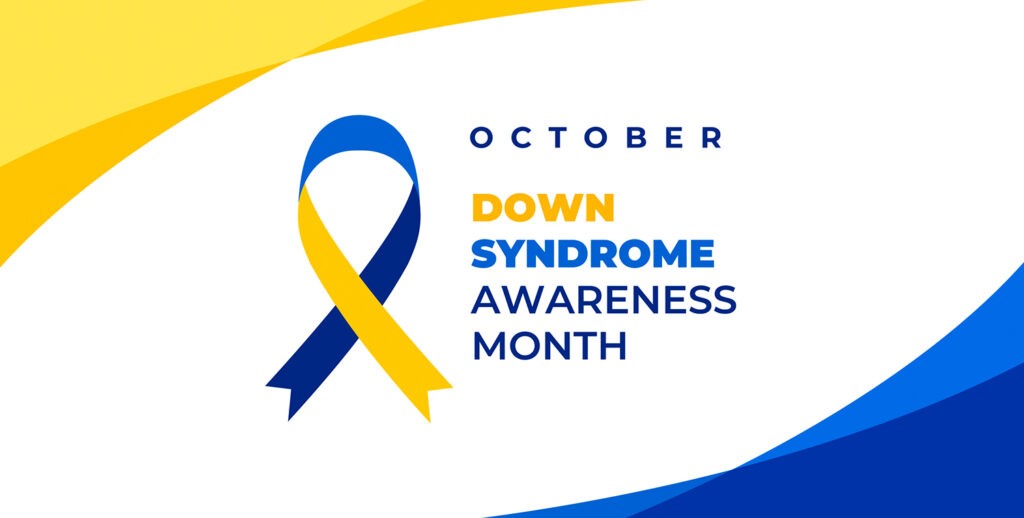 About one in 700 babies in the U.S. is born with Down syndrome each year – or about 6,000.
Down Syndrome Awareness Month serves to remind us that people with Down syndrome can live full, rich lives. A loving, stimulating home environment and the right health care enable people with Down syndrome to excel and enlighten.
I am a proud cosponsor of legislation known as the Down Syndrome Protection Act.
Local job openings
PA CareerLink shared with me its latest list of local job openings, which you can view below. You can also find job postings shared with the York County Economic Alliance here.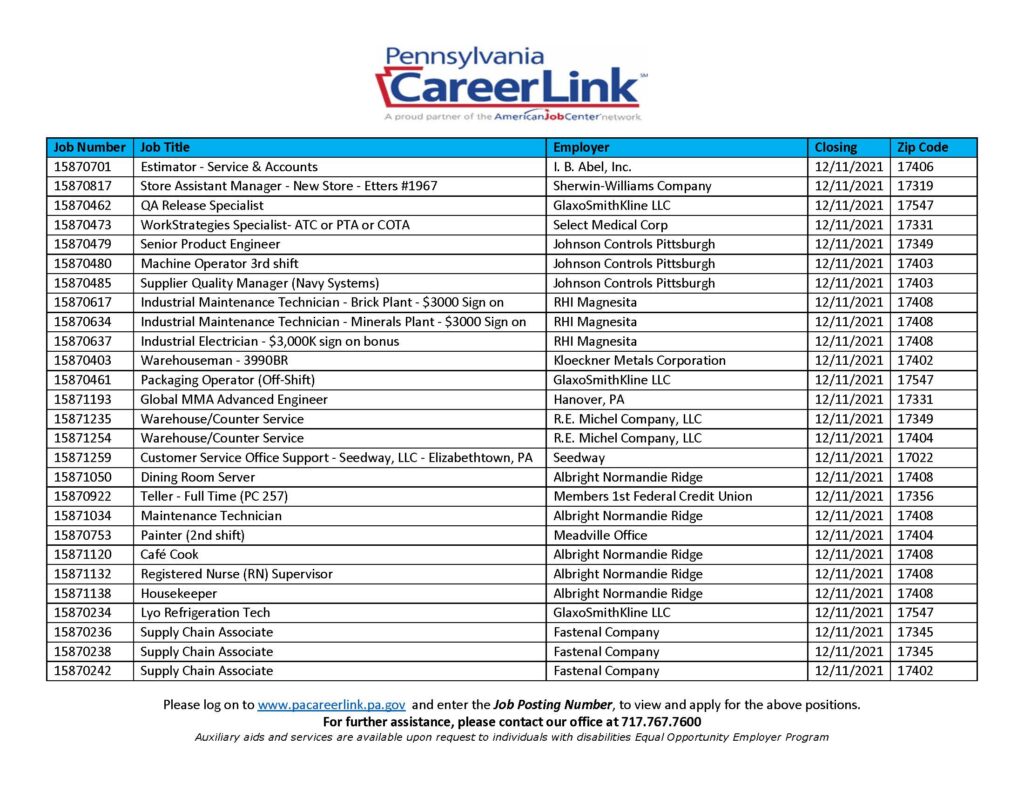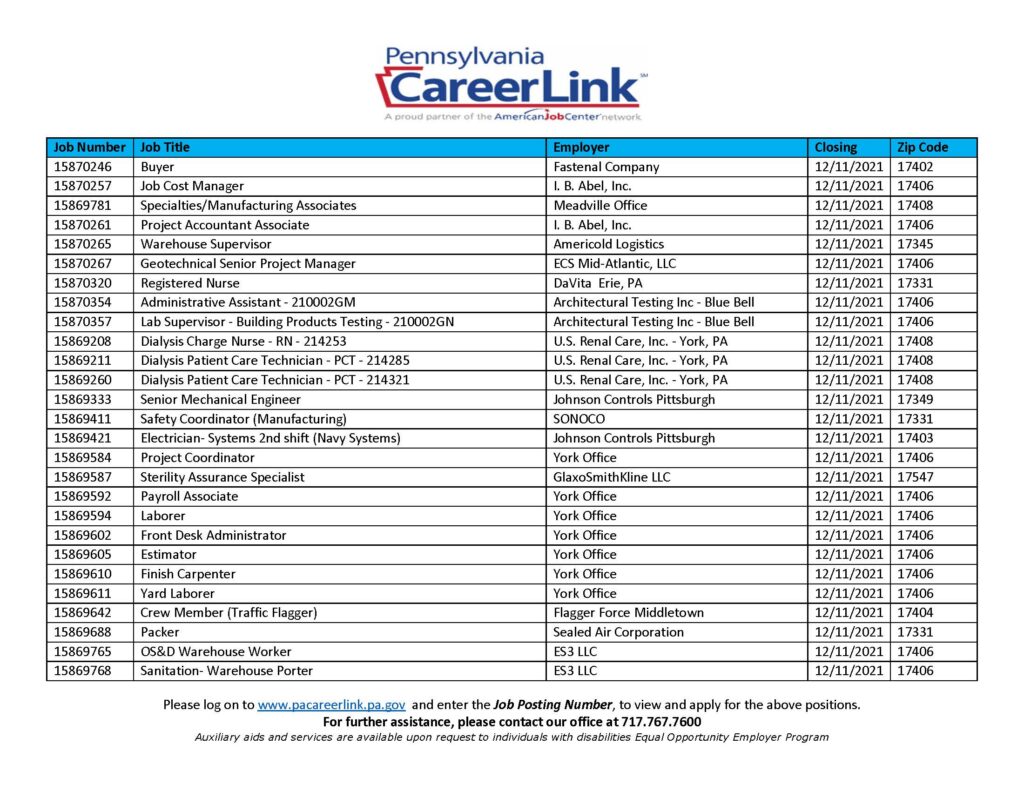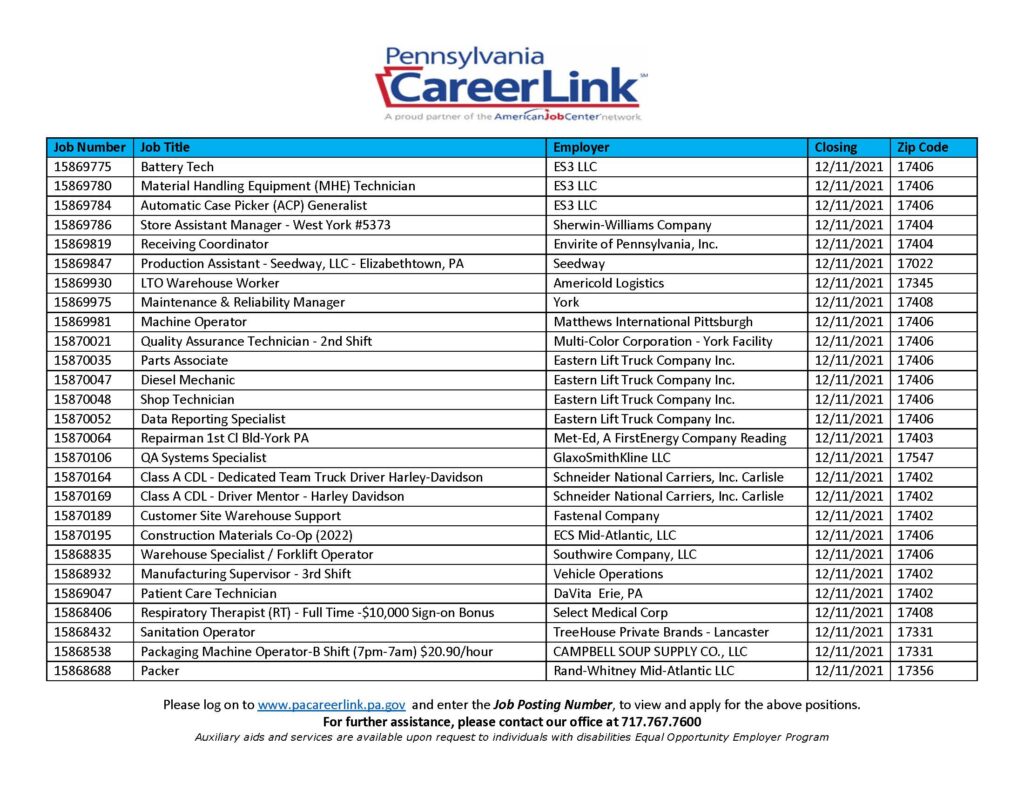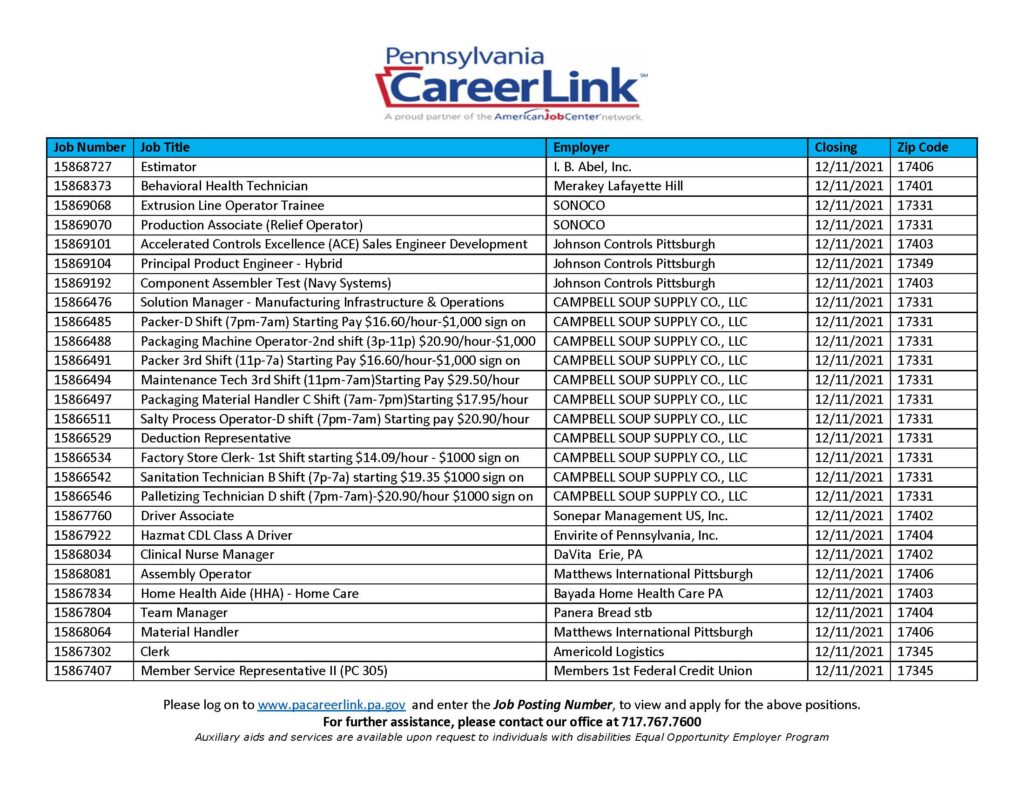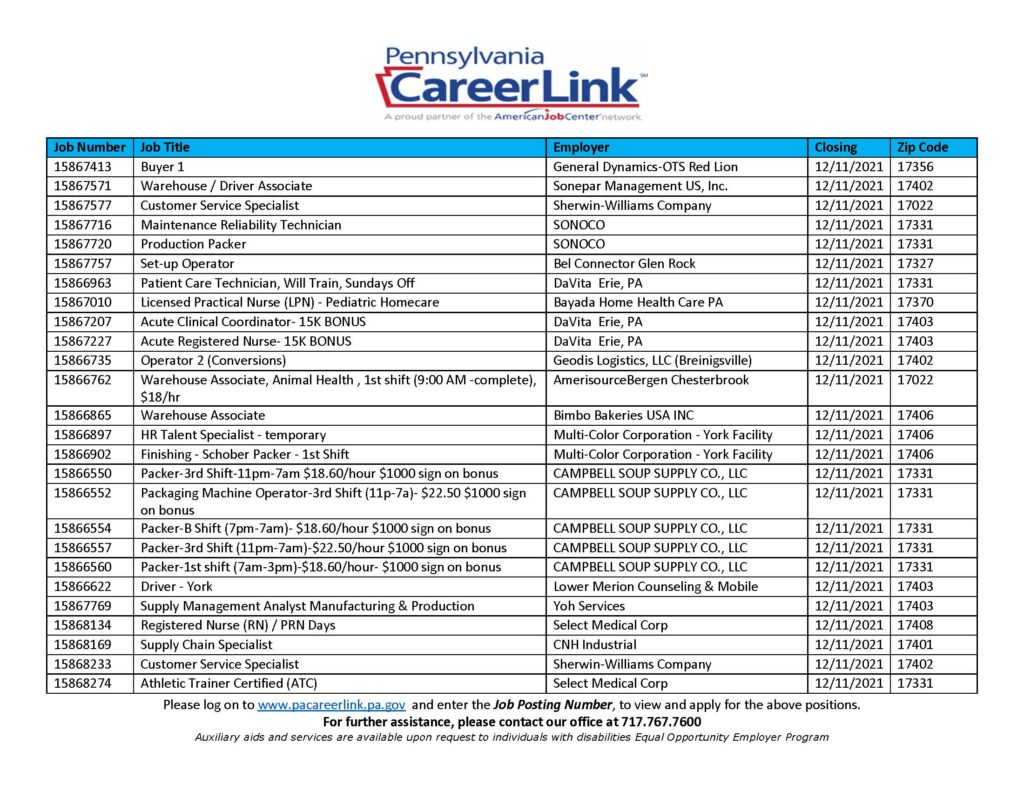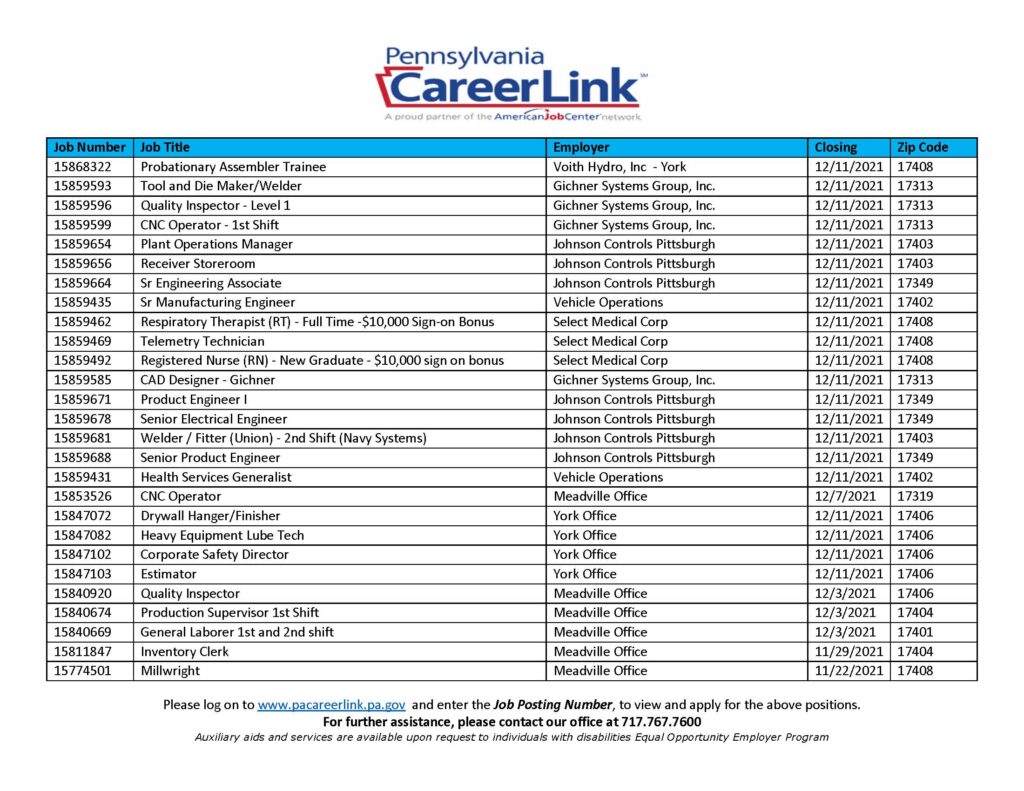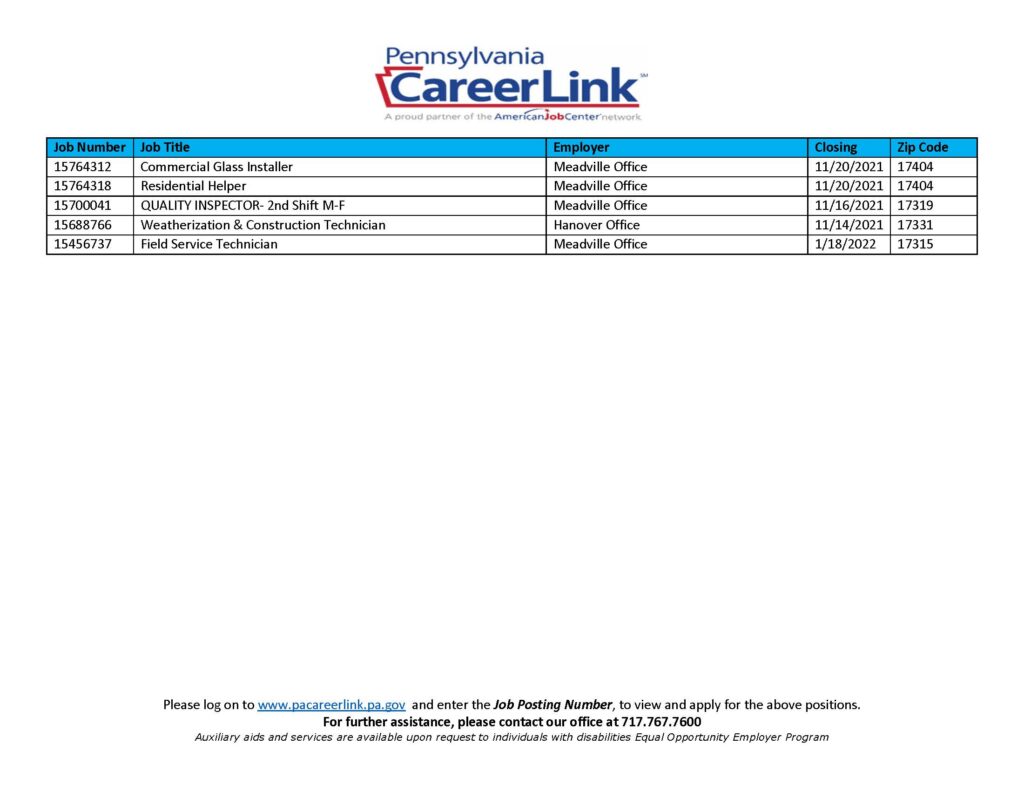 Upcoming PennDOT projects
PennDOT will post its list of upcoming scheduled maintenance projects here. You can also view the list of projects below.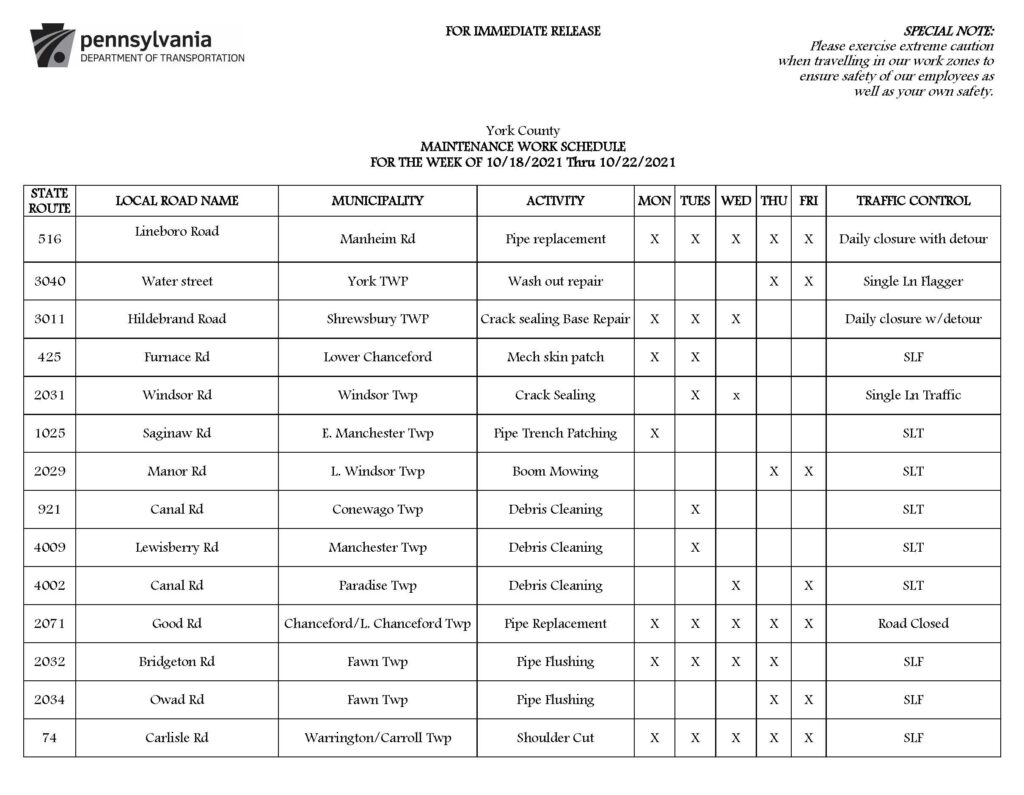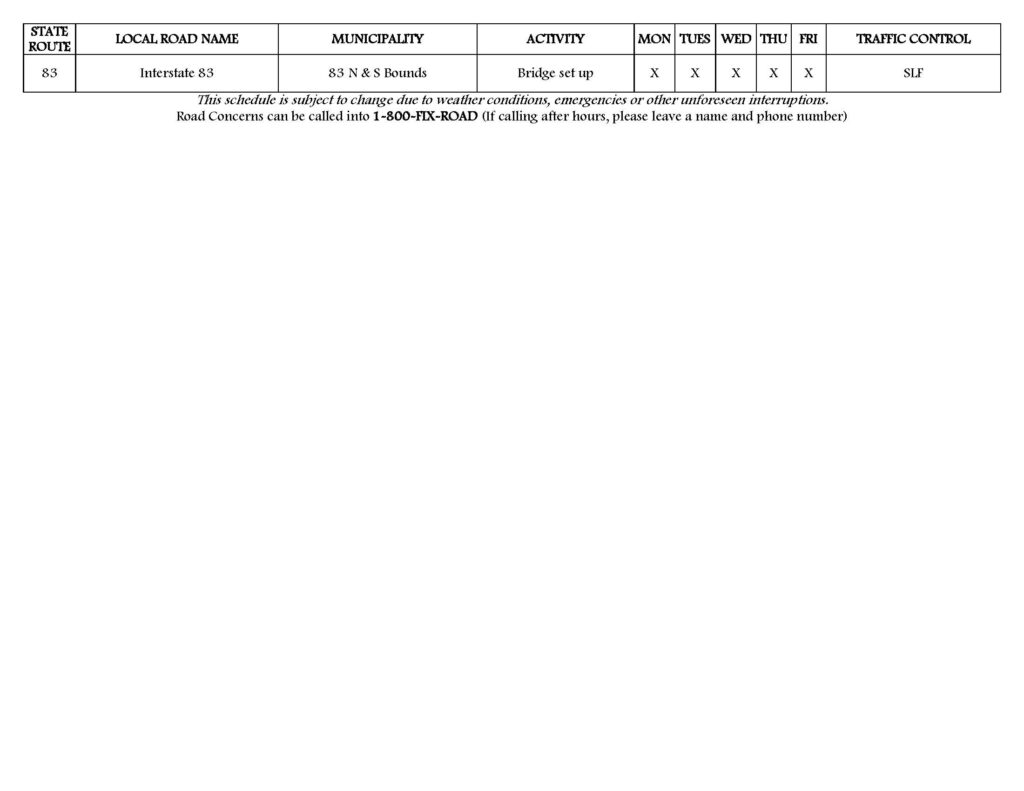 On deck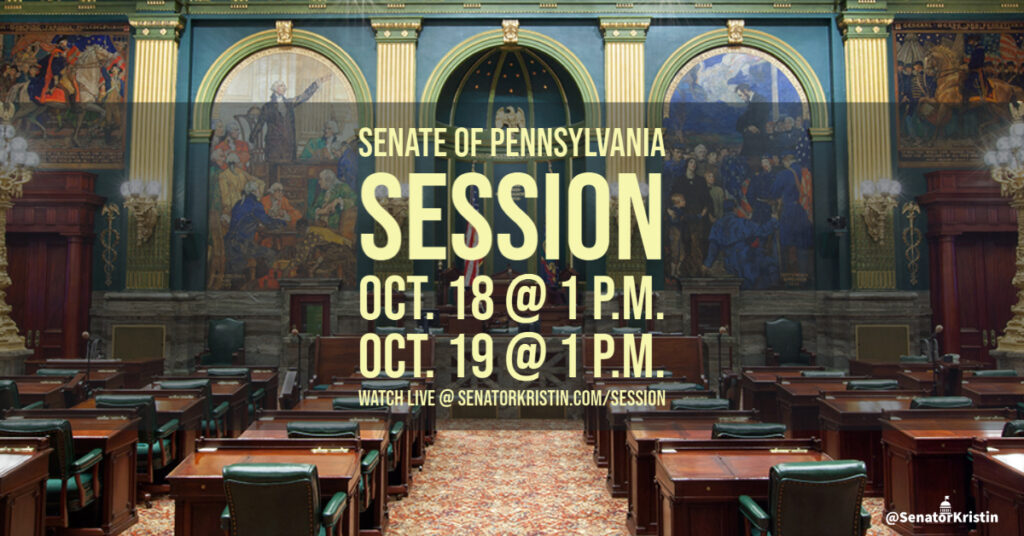 The Senate of Pennsylvania reconvenes for voting on Monday, Oct. 18, at 1 p.m. You can watch session live and review our calendar at SenatorKristin.com/session.