In this update:
York County remembers 9/11 20 years later
Senate panel votes to issue subpoenas for election-related documents from Department of State
Auditor General releases audit critical of Wolf Administration's business closure waiver process
YoCo Trail Towns continues to expand
Hearing explores experiences of local governments during COVID-19
Laurel Fire Co dedicates new truck
Committee discusses ways to preserve life-saving care provided by firefighters
Proposed new nursing home regulations examined by Senate committees
Celebrating Youth Day at the Hopewell Fish & Game
Scammers continue to exploit COVID-19
Local job openings
Upcoming PennDOT projects
On deck
---
York County remembers 9/11 20 years later
Local fire companies and other civic groups came together last weekend to remember the attacks of September 11, 2001. I was honored to join our community to forever remember the horrendous events of that day and say a few words in honor and in memory of the victims of the terrorist attacks.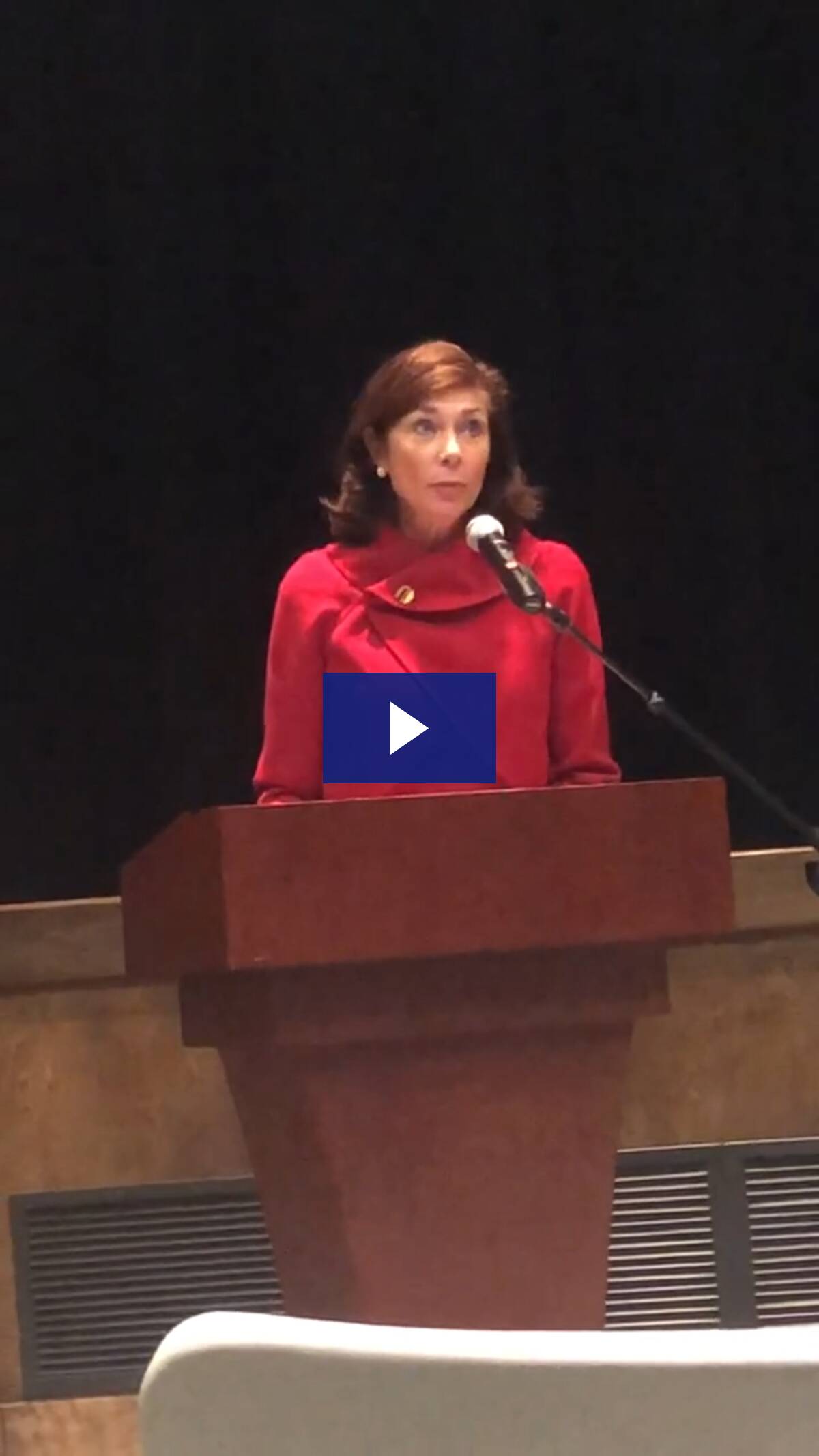 The Shrewsbury Volunteer Fire Company hosted a 9/11 Tribute. I was pleased to share with them the community's gratitude for their dedicated service 24 hours a day, 7 days a week, 365 days a year.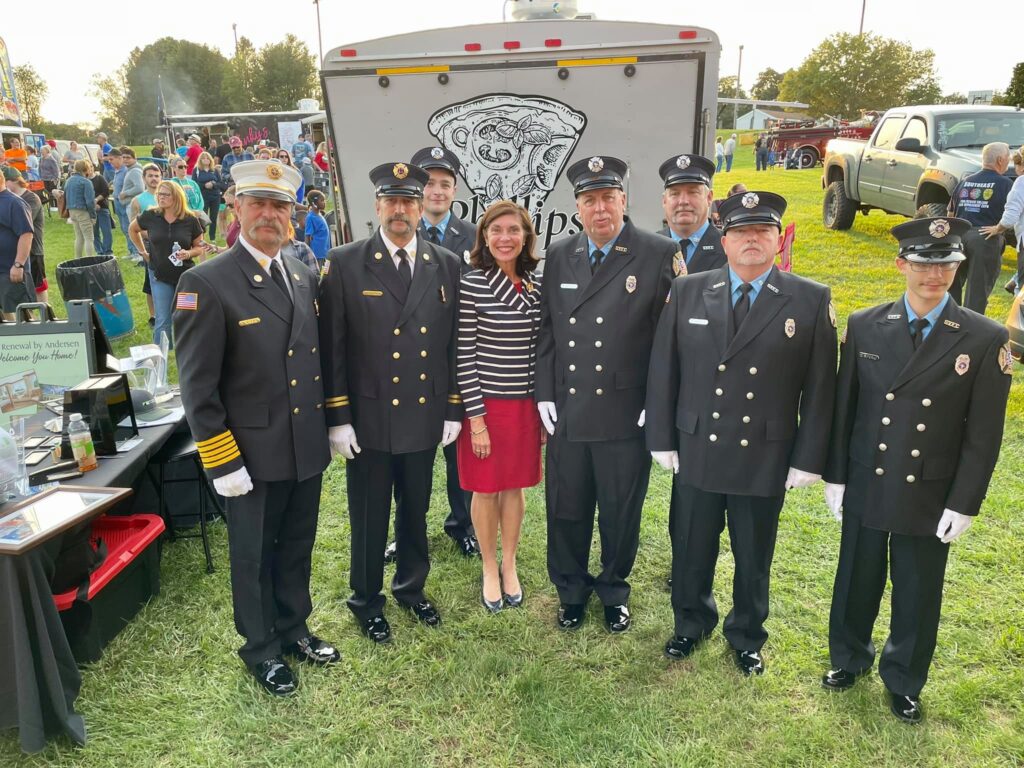 In addition to various tributes, the York Area United Fire and Rescue and York City Department of Fire/Rescue Services held a solemn memorial service and stair climb.
It was an honor to share remarks at this special remembrance ceremony and climb stairs with our community's first responders to honor the number of steps to reach the top of the World Trade Center towers.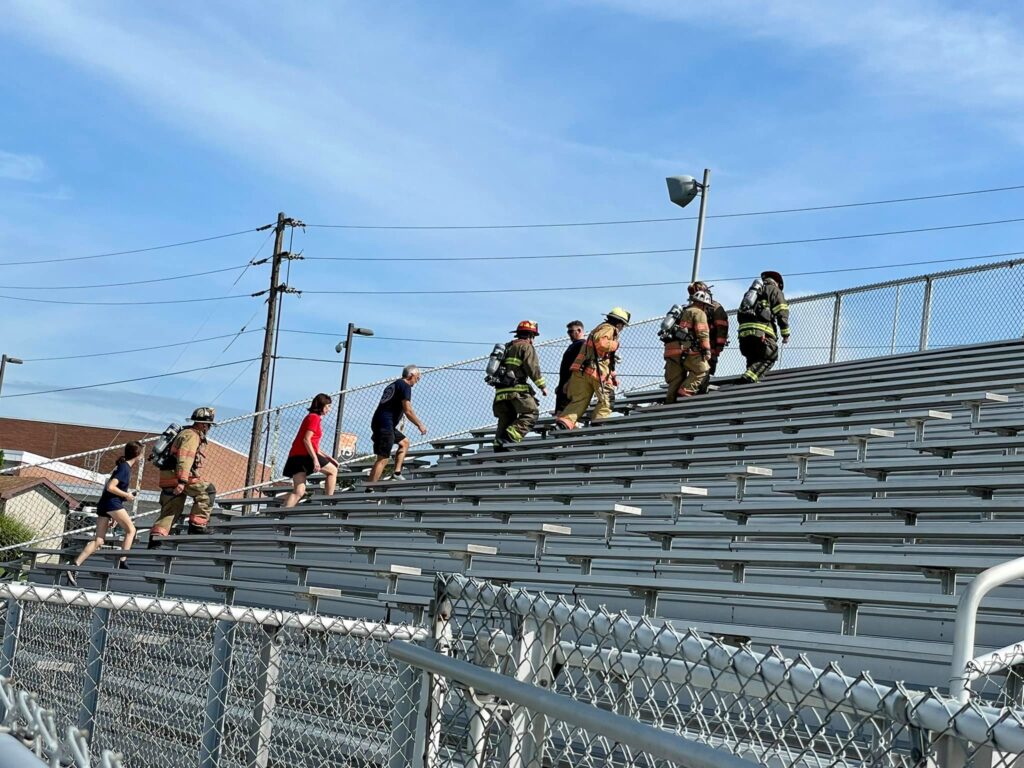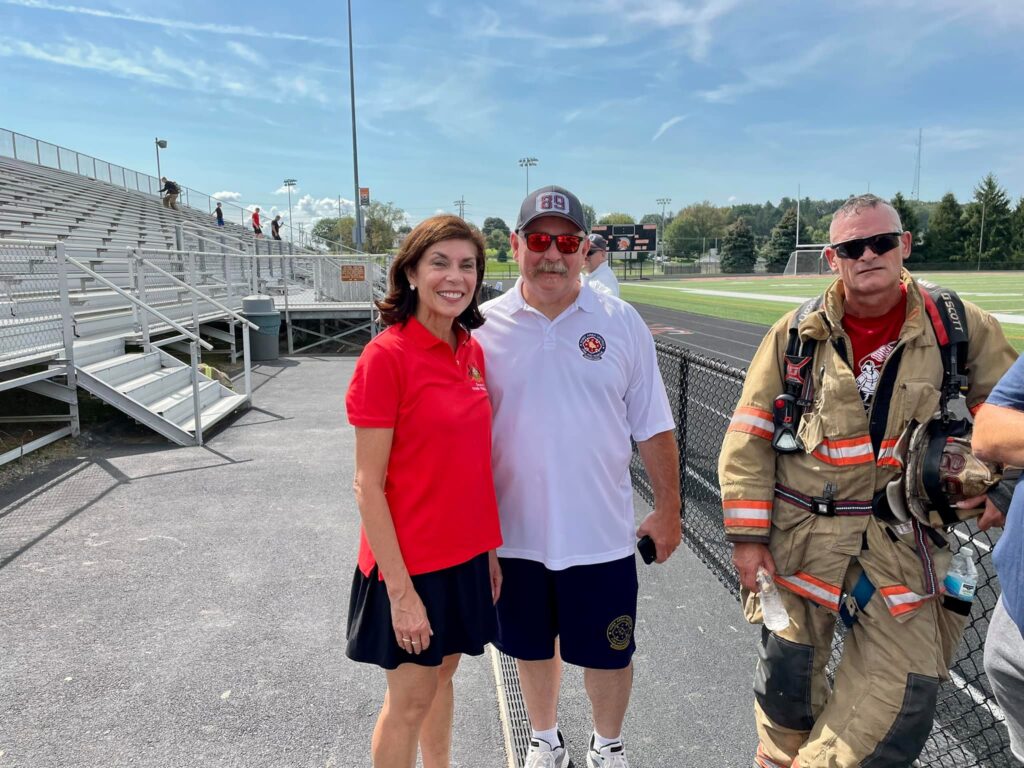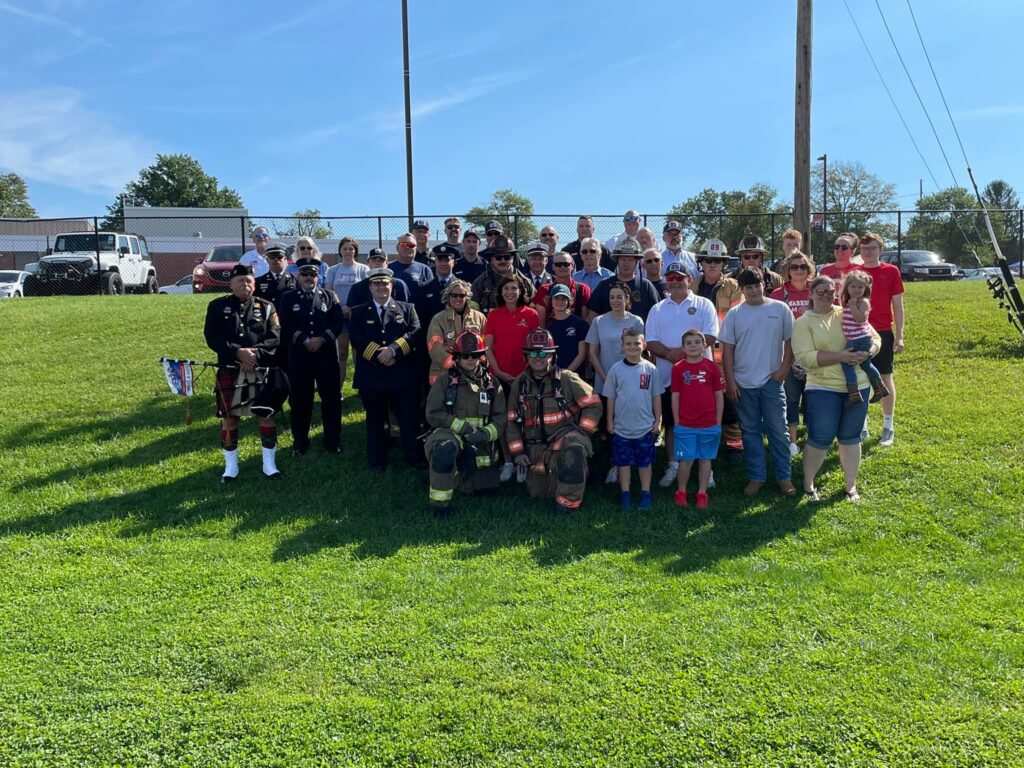 Senate panel votes to issue subpoenas for election-related documents from Department of State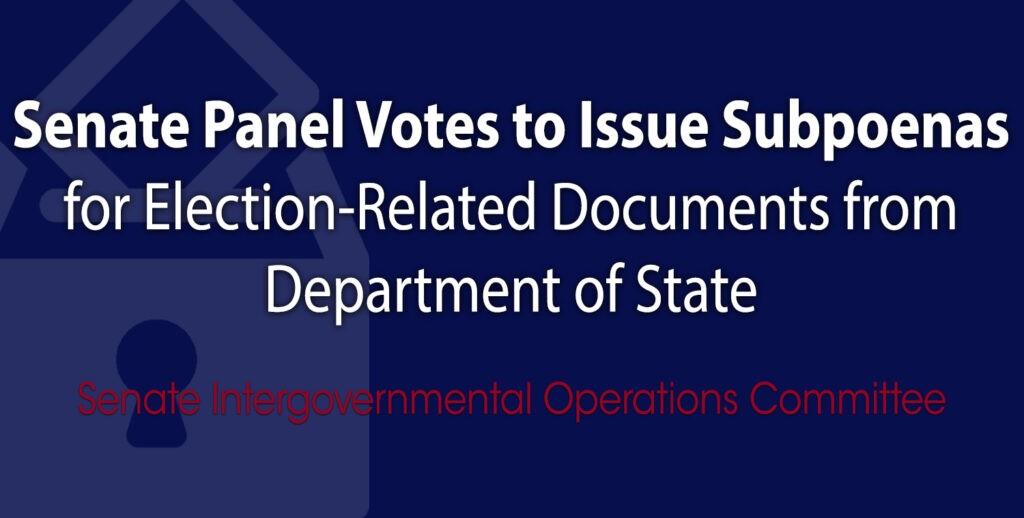 To continue its legislative investigation into the integrity of recent elections, the Senate Intergovernmental Operations Committee voted to issue subpoenas for a variety of materials from the Pennsylvania Department of State.
Department of State officials were invited to testify at a hearing last week to discuss controversial guidance issued to counties in the final weeks and days leading up to the 2020 General Election. The subpoenas were approved after the department refused to participate or answer questions posed by the committee.
The subpoenas will include all guidance issued to counties, as well as all communications between the department and county election officials. All training materials, copies of all guidance and directives to counties are also included.
As you may recall, York County ran out of ballots for voters who showed up to the polls on Election Day during the 2021 Primary Election, which prohibited many registered voters from being able to cast their vote and participate in the last election. Those disenfranchised voters have expressed to me how it is completely unfair that they show up to vote in-person and are unable to do so, yet a state Supreme Court can extend the deadline PAST Election Day to receive absentee ballots in the 2020 General Election. I share their concerns about this major glaring issue that occurred in our recent elections.
The committee also approved subpoenas for key voter data, including lists of all registered voters, voter activity, the method by which voters cast their ballots, and changes in voter registration. The registration and voter lists will help paint a more complete picture of Pennsylvania's election system to allow for positive changes to existing law.
The voter information will be under strict security protocols to ensure the data is not shared, mishandled or misused in any way. This has been a key request, concern and inquiry from many of our neighbors, which I have shared with the committee members as I am not a member of this committee.
I will continue to share updates on this issue, despite not serving on the committee, given significant local interest on both sides of the issue. Should you have questions, I am doing my best to get back to each specific question or concern. However, our entire team has received many emails, phone calls and letters on this issue. I am continuing to work through responding to each and every one of our neighbors.
Auditor General releases audit critical of Wolf Administration's business closure waiver process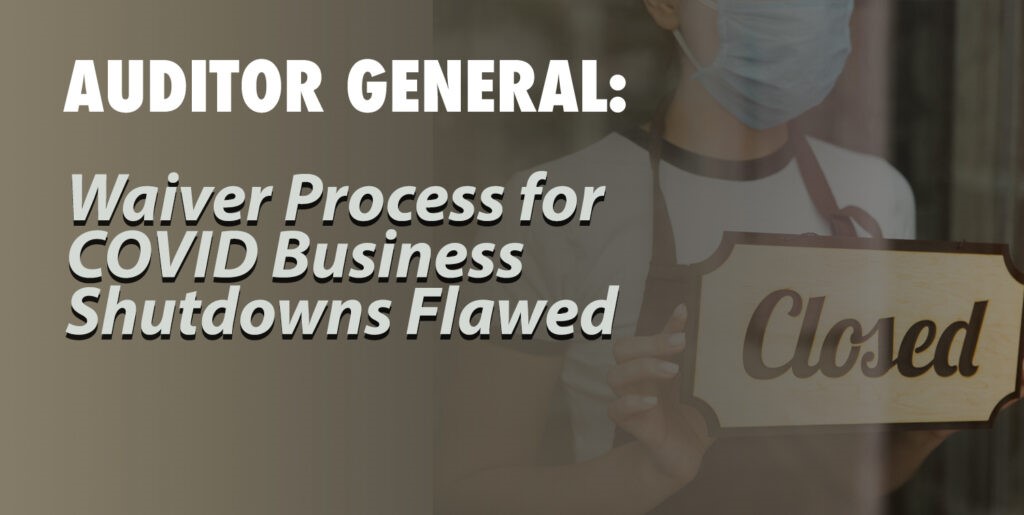 When Pennsylvanians voted in May to put limits on Gov. Wolf's emergency powers, part of their concern was over his pandemic business closures and his administration's handling of closure waivers. During that time, I was inundated with phone calls from local employers. One glaring example was how a cabinet manufacturer in Red Lion was forced to close and denied a waiver, while another cabinet manufacturer bearing the Governor's family's name was allowed to remain open. Similar examples of different businesses within the same industry can be found all across the Commonwealth.
An audit by state Auditor General Tim DeFoor found voters' concerns to be justified.
The auditor general released a performance audit examining how the Department of Community and Economic Development handled the process to grant waivers to businesses seeking to stay open during the shutdown, stating:
"This audit revealed a flawed process that provided inconsistent answers to business owners and caused confusion. While the pandemic certainly presented some unique challenges, the process was hastily assembled on the fly, unevenly administered and should be reformed before anything like it is ever used again."
A preliminary audit by the previous auditor general uncovered similar problems. The new audit also found that Gov. Wolf's shutdown order was more restrictive than federal guidelines, resulting in more business closures.
The General Assembly will review the recommended changes included in the audit to determine what needs to be done to prevent a repeat in any future emergencies.
YoCo Trail Towns continues to expand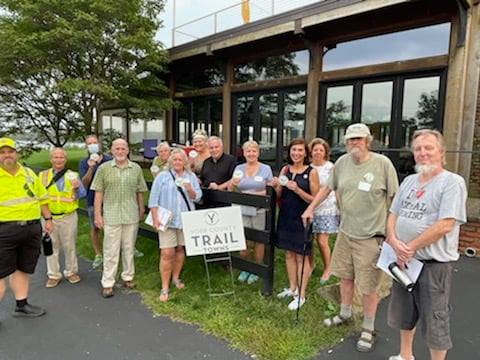 Photo Credit: York County Economic Alliance
I joined local and county officials, as well as members of the Wrightsville community on Tuesday evening to conduct a "walkshop" to review solutions to improve connections for individuals who hike, bike and use all of the outdoor assets in the borough.
Wrightsville is the latest addition to the expanding Trail Towns program that I have been working on with the team at the York County Economic Alliance to take our nationally renowned Rail Trail and create new experiences within the communities that the trail runs through.
It was also recently announced that AleCraft Brewery will soon call Railroad Borough (another trail town) home with a massive expansion. These are very exciting developments as we have seen a huge increase in the use of local outdoor recreational facilities. You can learn more about the brewery's expansion into York County here.
Hearing explores experiences of local governments during COVID-19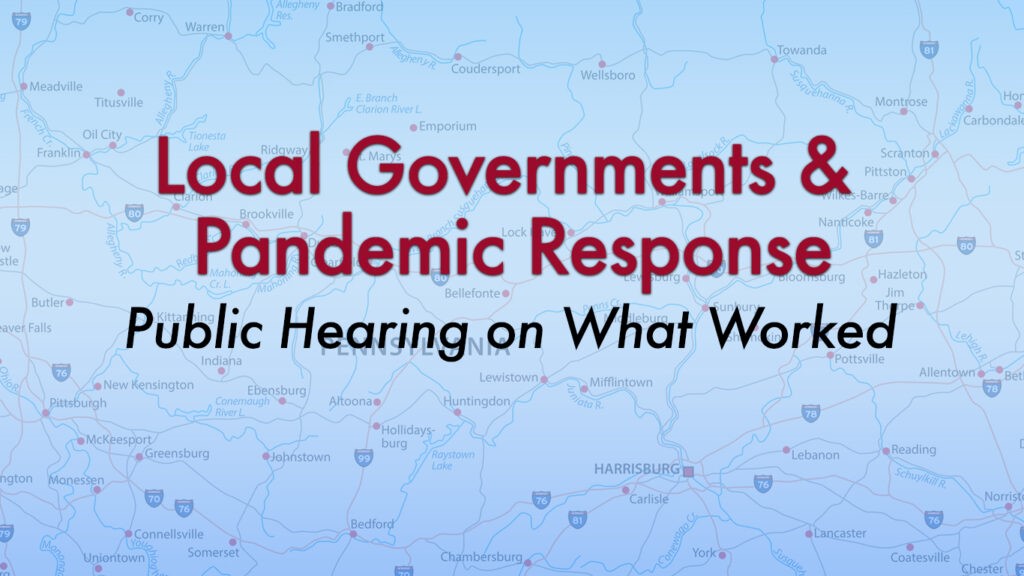 The Senate and House Local Government committees held a joint hearing exploring the experiences of local government entities during the COVID-19 pandemic.
Testifiers described the transition to virtual and hybrid meetings, technological advancements in conducting municipal business with the public and other government organizations and improved transparency. They also highlighted ways the pandemic led them to make regulatory changes, improve efficiency and modernize procedures.
You can view hearing video and written testimony here.
Laurel Fire Co dedicates new truck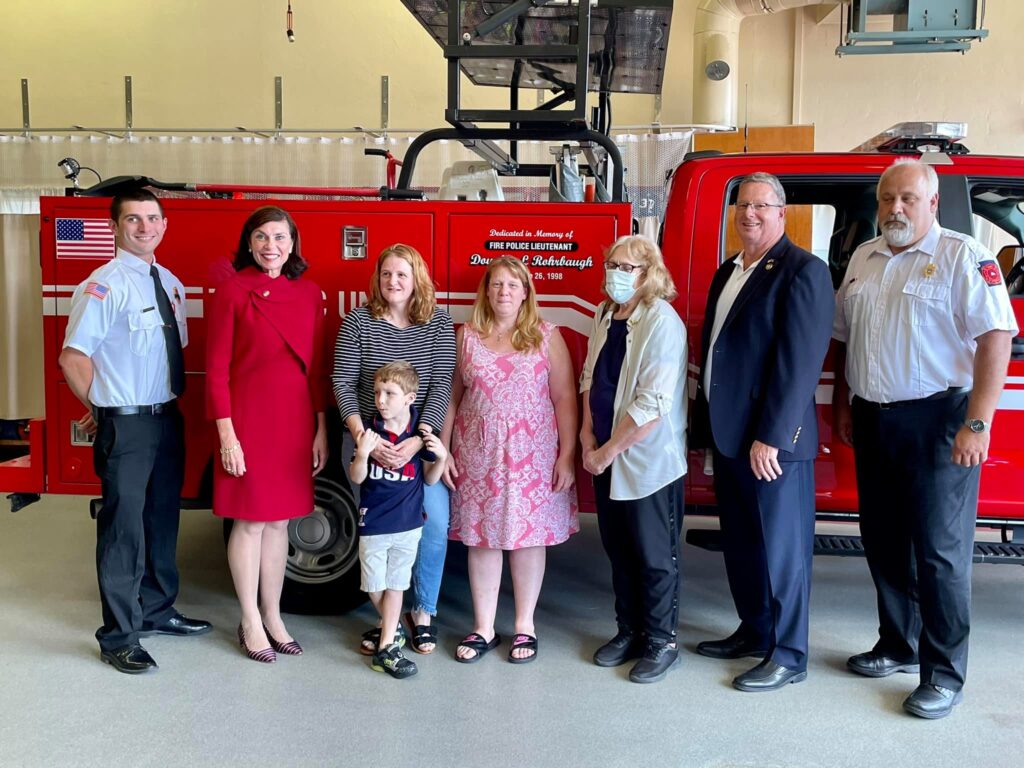 It was right and fitting that on the 20th anniversary of 9/11, the community and the volunteers at Laurel Fire Company #1 in Windsor joined together to remember and honor the men and women who lost their lives in the senseless acts of terrorism committed against our nation and one of their own, Fire Police Lieutenant Douglas Rohrbaugh, who died in the line of duty in 1998, with the dedication of new apparatus.
It was an honor to offer remarks and extend the community's gratitude to the volunteers who will use the apparatus to take great care of the community and its people in their greatest time of need.
Congratulations to the entire community on these new assets.
Committee discusses ways to preserve life-saving care provided by firefighters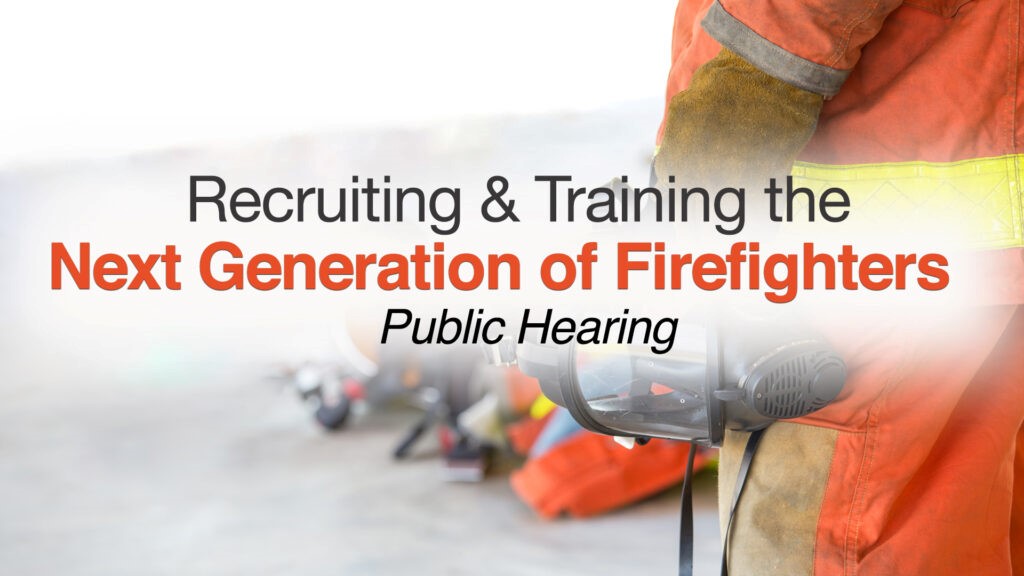 The Senate Veterans Affairs & Emergency Preparedness Committee held a public hearing to listen to fire chiefs, firefighters and others about how to improve recruitment and retention of the next generation of volunteer firefighters across Pennsylvania.
In addition to explaining the impact of funding challenges, testifiers highlighted the need for communities to work together in support of first responders to preserve critical access to life-saving care for all Pennsylvanians.
In the 1970s, Pennsylvania boasted 300,000 volunteer firefighters. Today, that number is fewer than 40,000. To help bolster those ranks, the Senate this year passed Senate Bill 83, which would provide grants to establish fire training programs for students during the school year with the hope they will remain firefighters for years to come.
You can view hearing video and written testimony here.
Proposed new nursing home regulations examined by Senate committees
The Senate Health & Human Services Committee and the Aging & Youth Committee held a joint hearing to examine new regulations for long-term care nursing facilities being proposed by the Wolf Administration.
The committees brought together administration officials as well as industry experts and others to provide feedback on the proposed regulations, which the administration says is the first in a series of proposed changes that will be combined to create a final, comprehensive regulatory package.
You can view hearing video and written testimony here.
Celebrating Youth Day at the Hopewell Fish & Game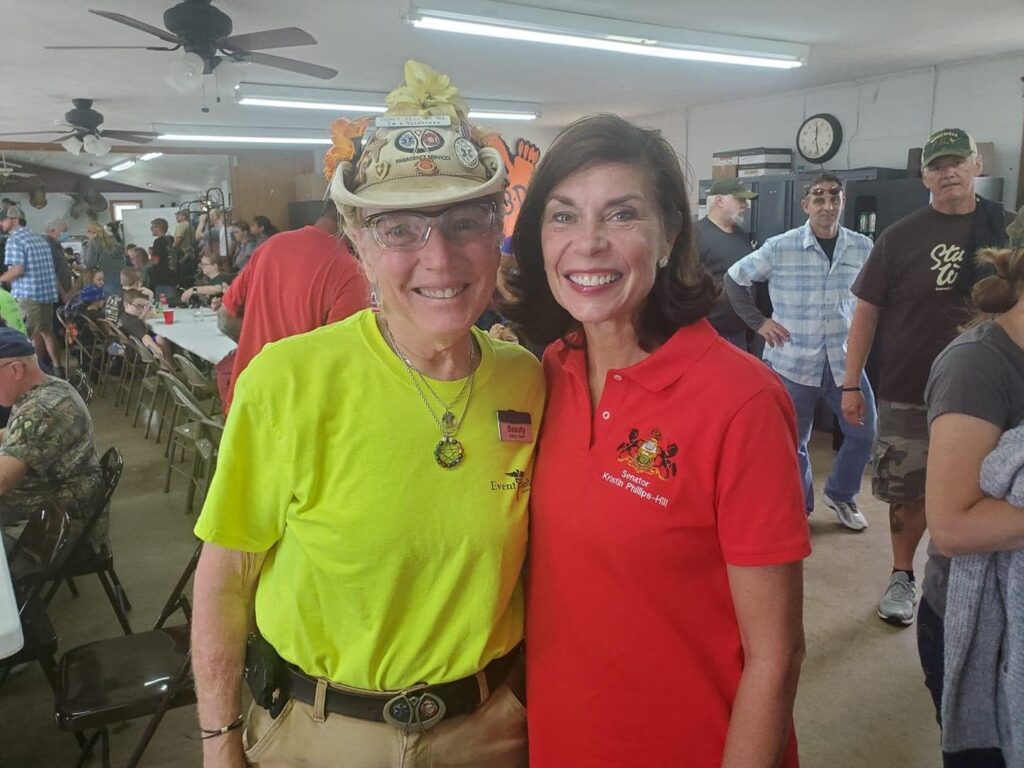 Special shoutout to Hopewell Fish & Game Association for its commitment to our youth and passing on the traditions of life in the outdoors. It was an honor to say hello to families enjoying the annual Youth Day to introduce the next generation to our proud local history of enjoying the outdoors.
Scammers continue to exploit COVID-19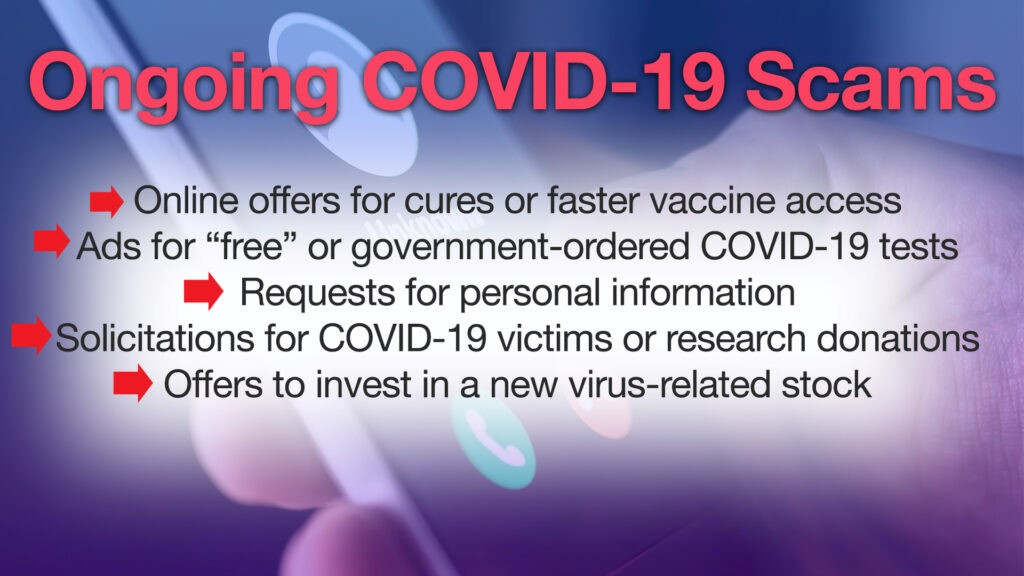 Since the start of the pandemic, fraudsters have been trying to exploit it for financial gain. The arrival of vaccines changed the nature of the scams but did not eliminate them.
The U.S. Department of Health and Human Services says consumers should be on the lookout for these signs of vaccine scams:
Requests that you pay out of pocket to receive a shot
Ads for vaccines in websites, social media posts, emails or phone calls
Marketers offering to sell or ship doses of COVID-19 vaccines
Other scams have sought to steal stimulus money, while the FBI says con artists advertise fake COVID-19 antibody tests in hopes of harvesting personal information they can use in identity theft or health insurance scams. AARP has the latest information on pandemic-related scams.
Local job openings
PA CareerLink shared with me its latest list of local job openings, which you can view below. You can also find job postings shared with the York County Economic Alliance here.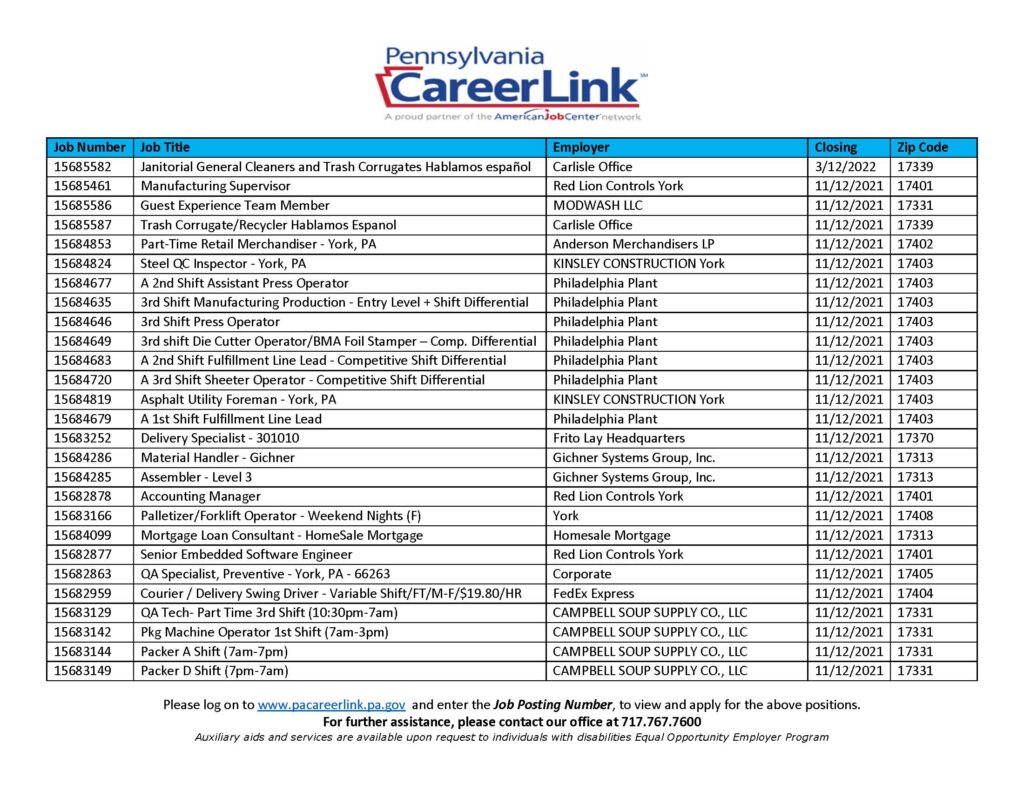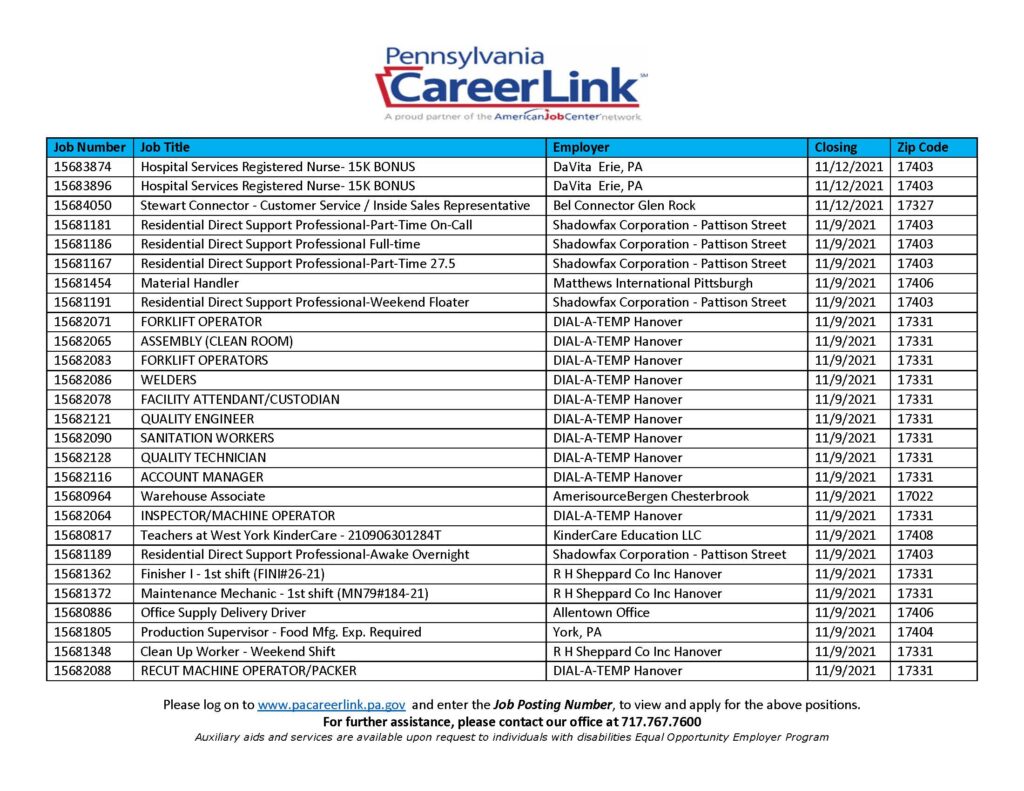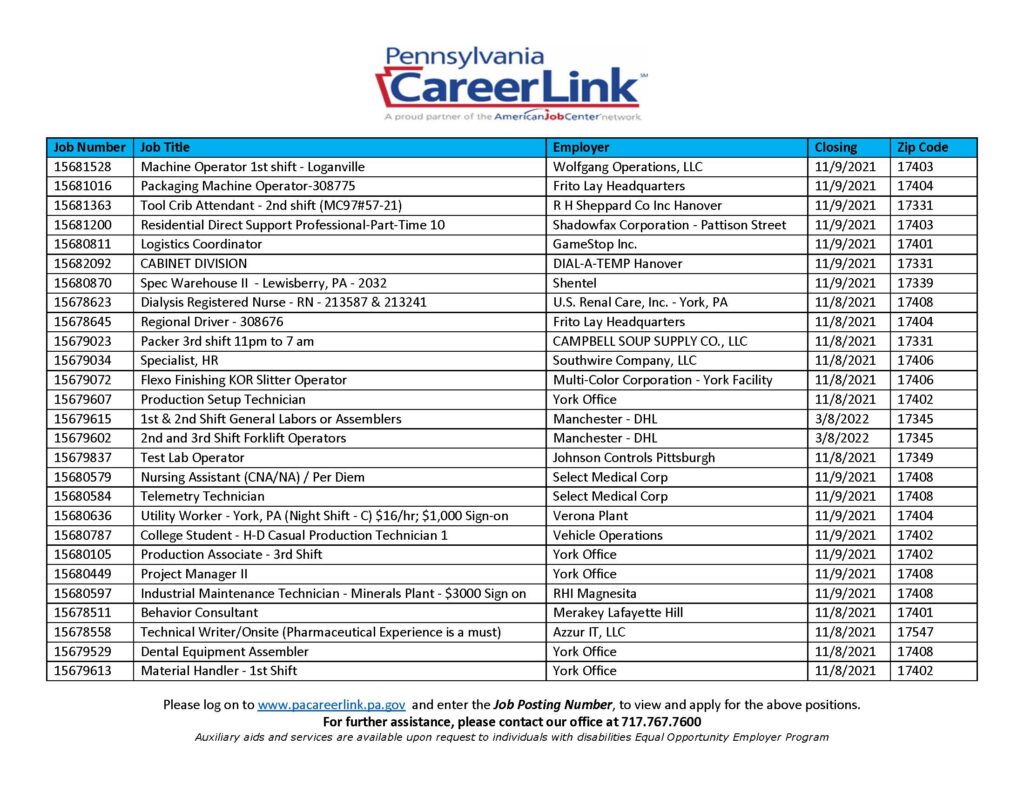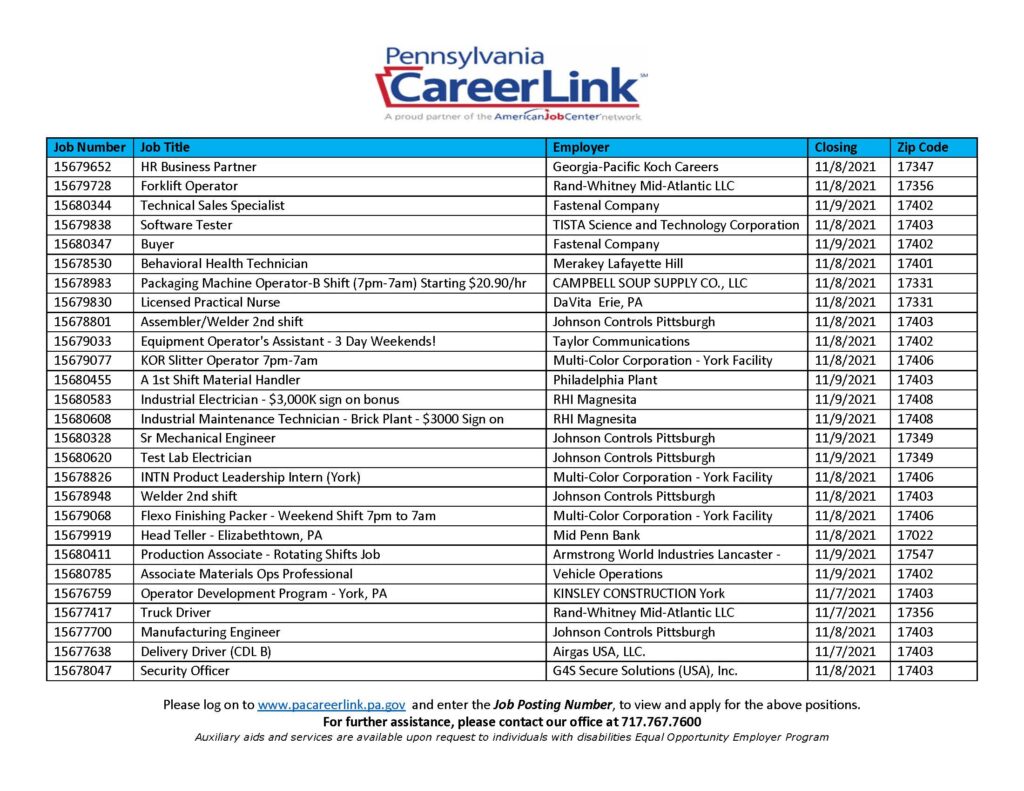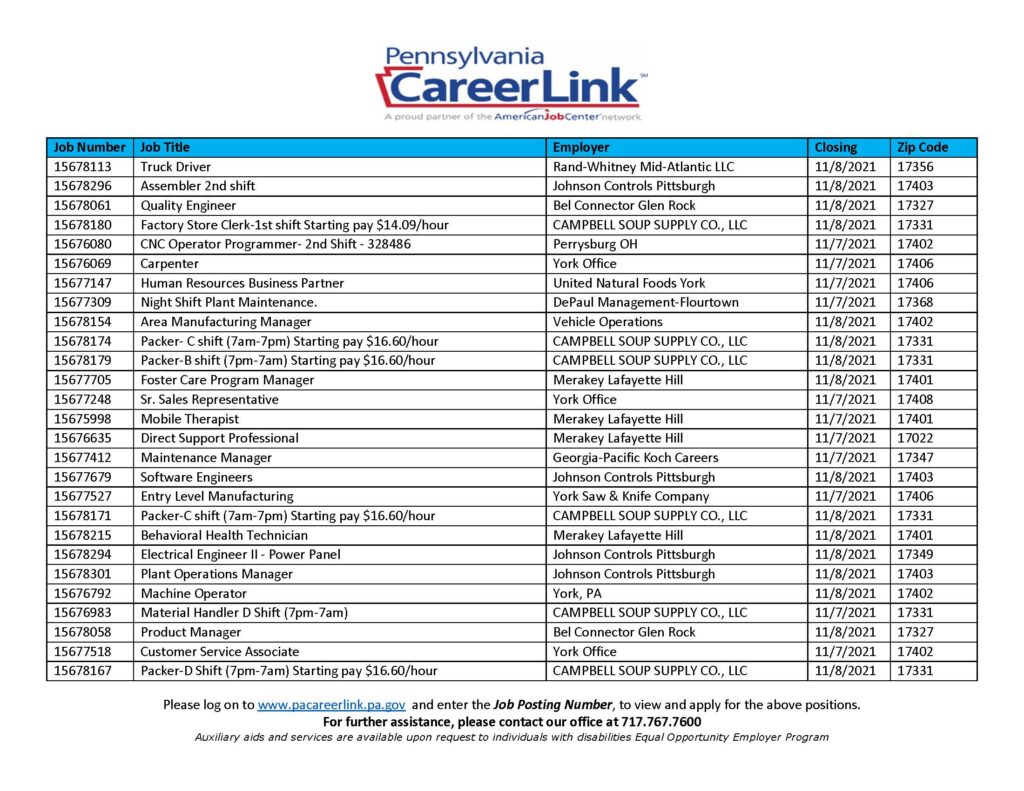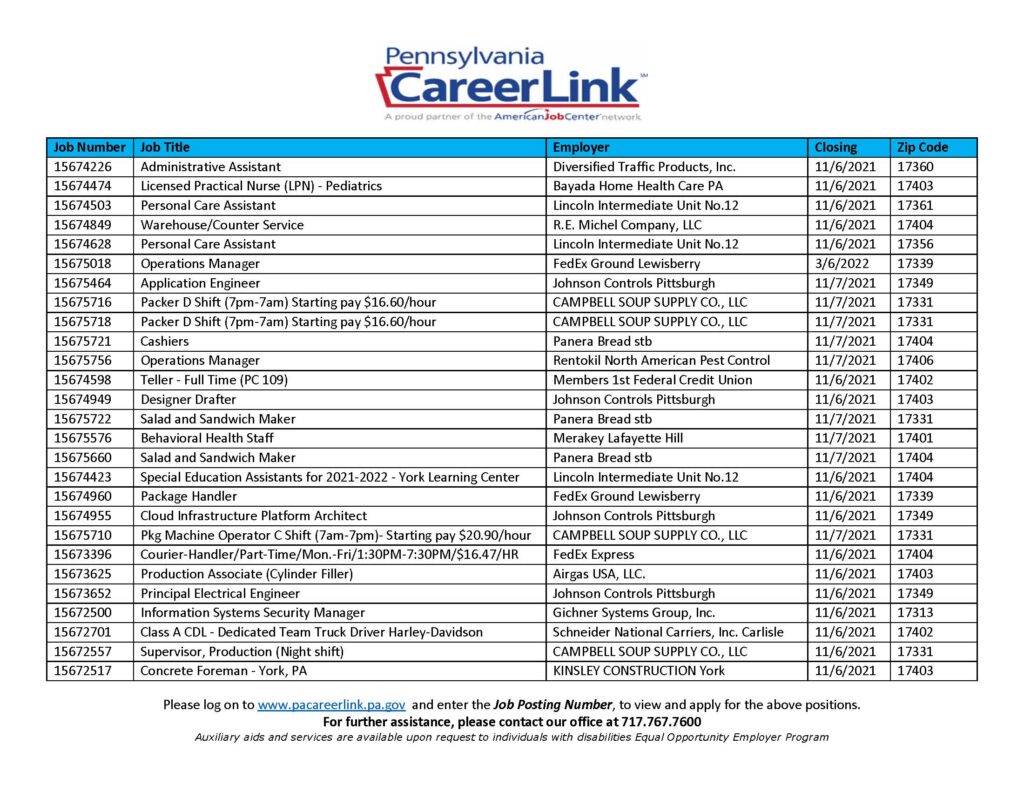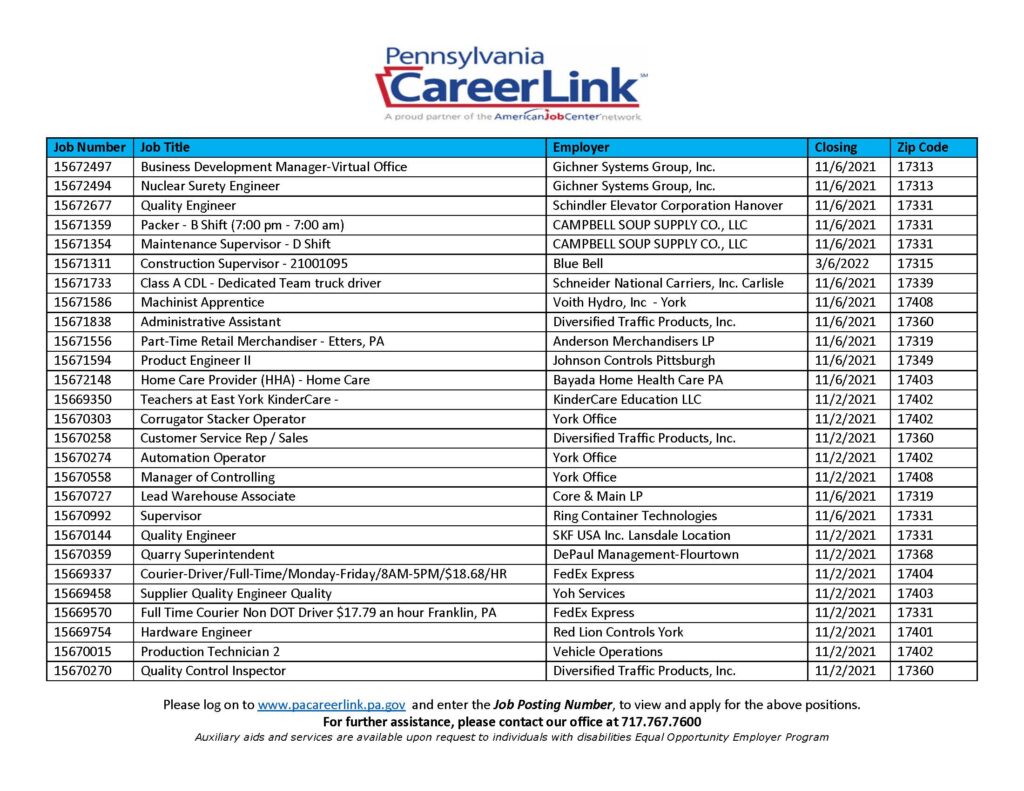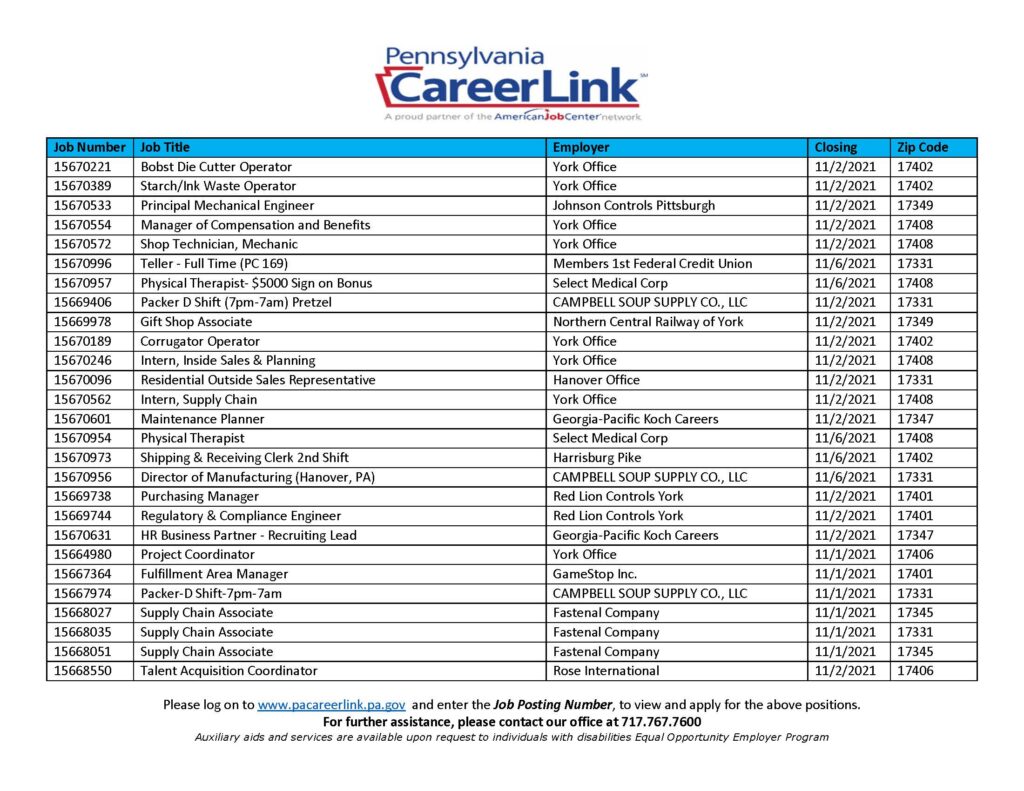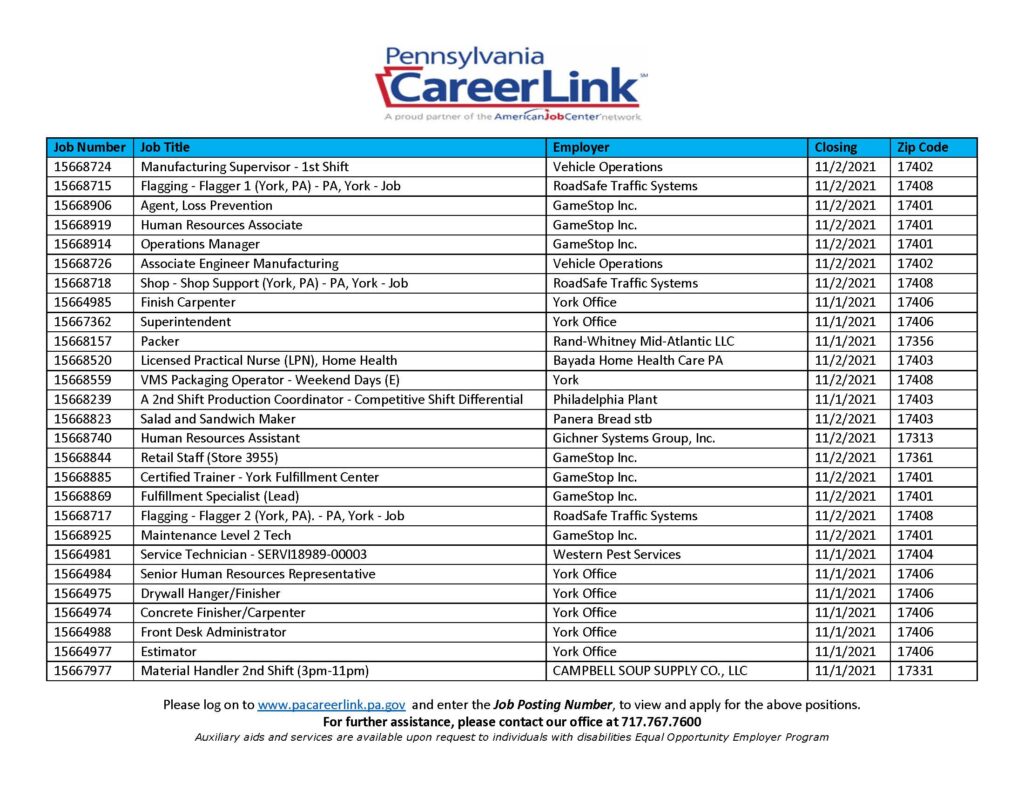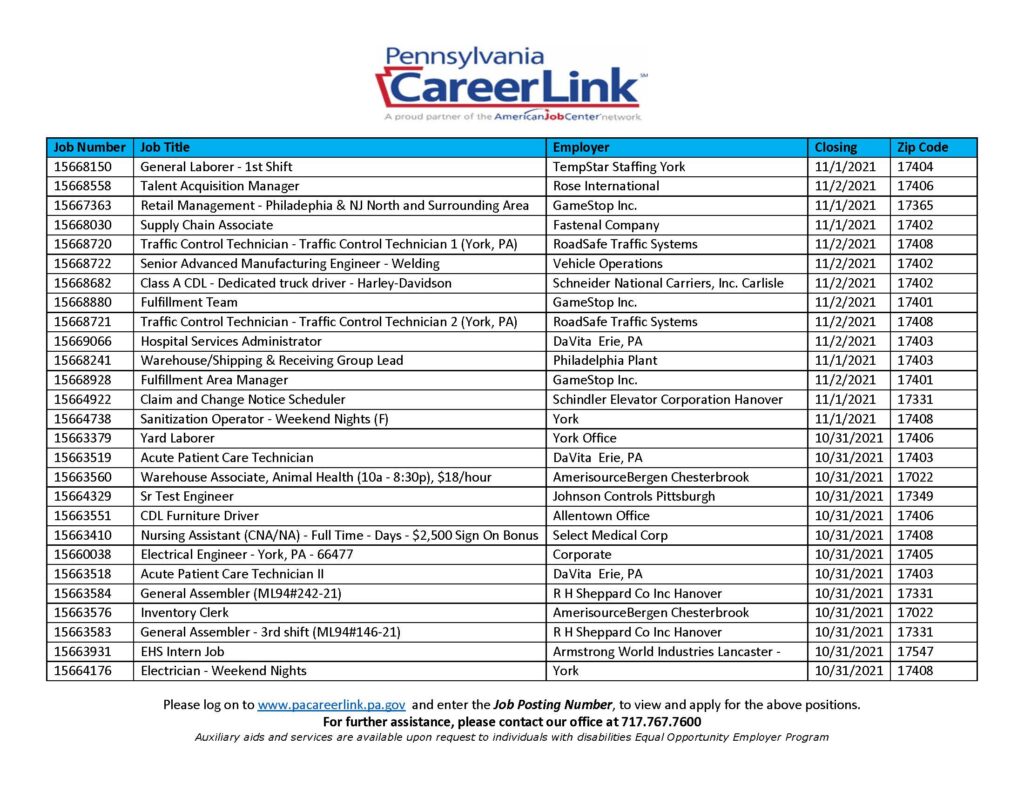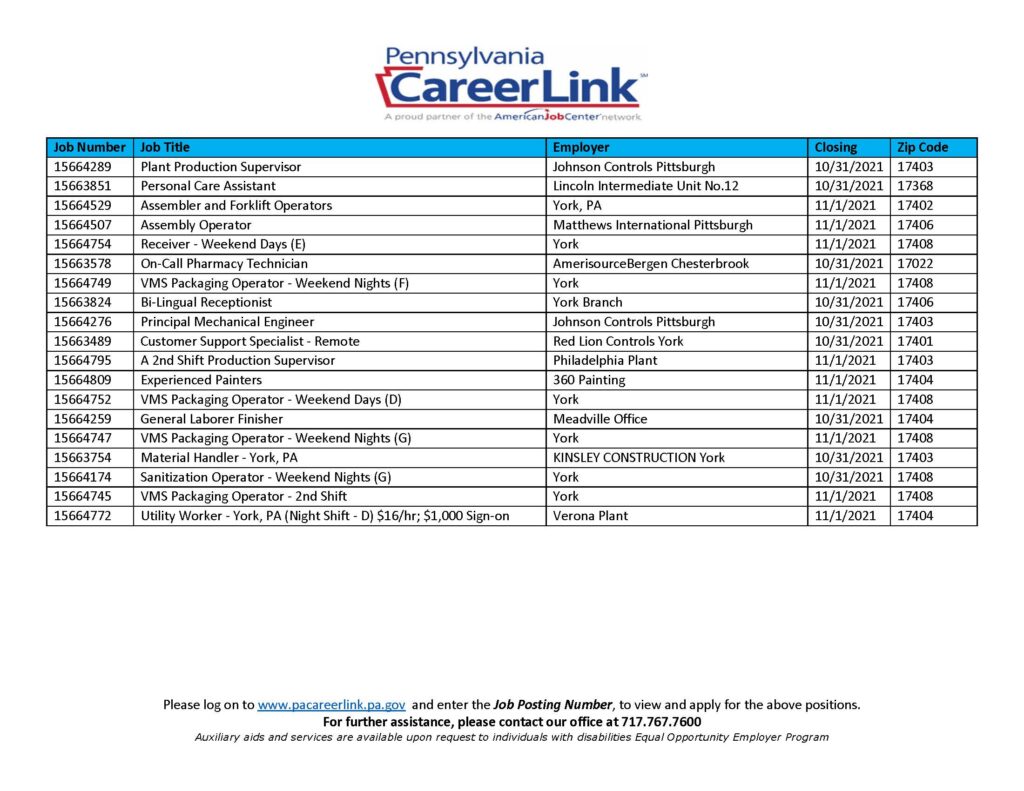 Upcoming PennDOT projects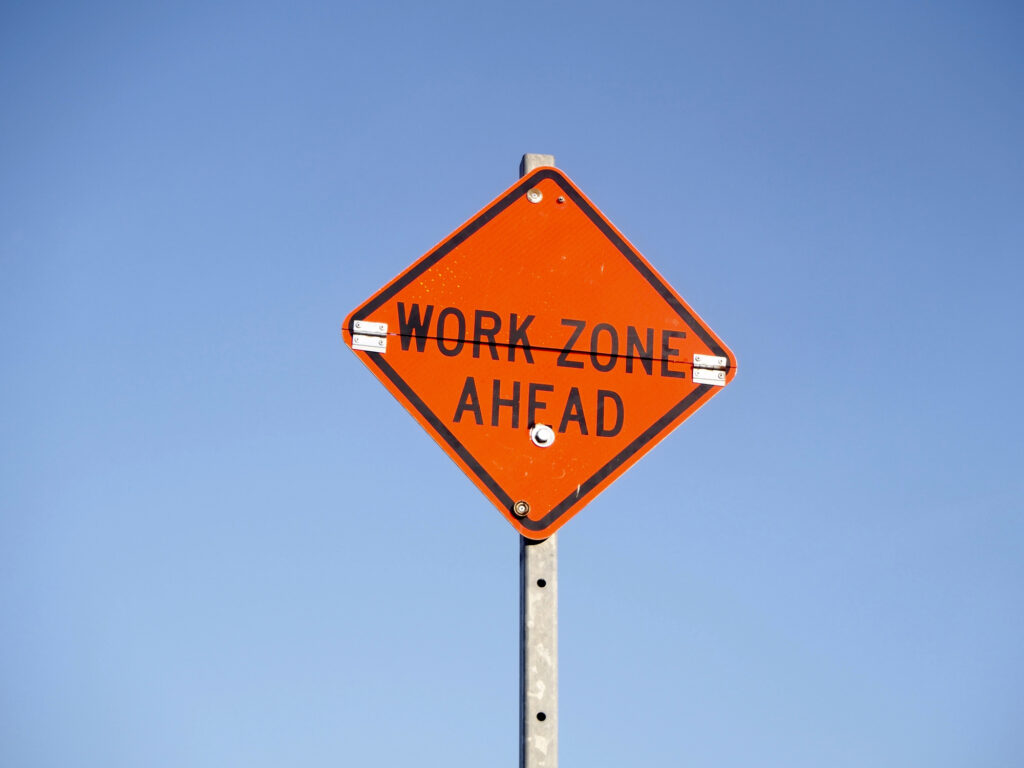 PennDOT will post its list of upcoming scheduled maintenance projects here.
On deck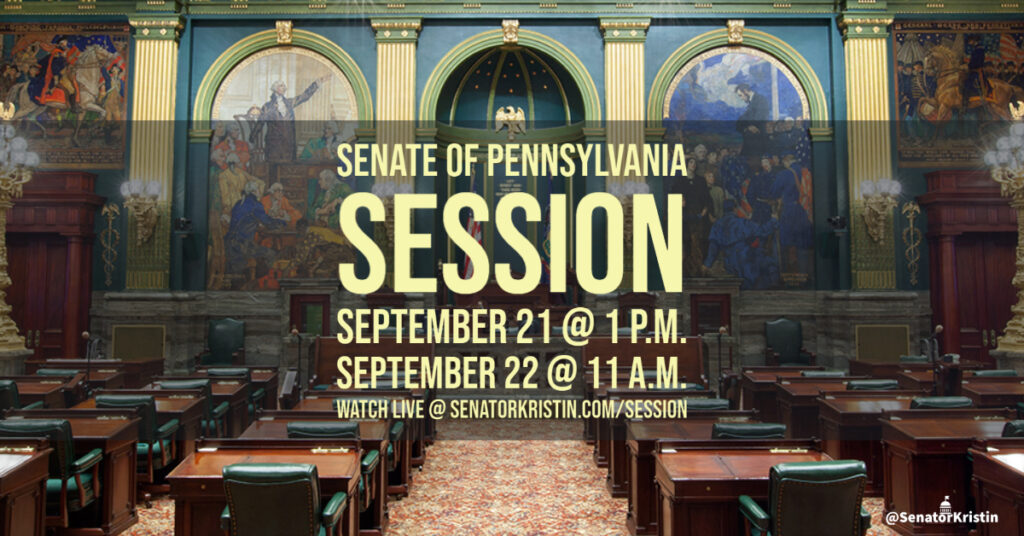 The Senate of Pennsylvania reconvenes for voting on Tuesday, September 21, at 1 p.m. You can watch session live and review our agenda at SenatorKristin.com/session.