In this update:
Senate committees approve more tools to fight opioid epidemic
Cutting unnecessary educational mandates
The Greatest Generation remembers D-Day 75 years later
VP Pence in York County
Supporting commonsense budgeting reforms
Welcoming Leaders Heights Elementary to the Capitol
York Day Nursery supporting legislation
State legislative agency says digital divide is wider than originally anticipated
Upcoming PennDOT projects
On deck
---
Senate committees approve more tools to fight opioid epidemic
Senate committees approved two bills I sponsored this week that will help combat the heroin and opioid epidemic that continues to plague our state. We have a major opioid problem and these bills are representative of what I've heard locally. I'm grateful to both Senate committees for their recognition of the importance of these bills to assist in combating our ever-increasing opioid problem both in York County and across the commonwealth.
John Micek of the Penn Capital Star highlighted my efforts by stating: "The fight over opioids isn't going away – but these 2 bills are encouraging"
Here's a breakdown of what I'm fighting to achieve in our opioid battle:
Senate Bill 223 allows for first responders and EMS providers to leave a dose of naloxone with a family member or friend who is caring for an individual who overdosed.
Senate Bill 432 builds on the reforms passed in 2014 that created the Prescription Drug Monitoring Program that prevents and limits prescription drug abuse by giving prescribers and dispensers more information on those seeking prescription drugs. My legislation would allow Medicaid Managed Care Organizations to have access to the information in the program.
I believe this will not only flag prescription drug abuse in the state's Medicaid program, but will also reduce the need for drug treatment and rehabilitation in the future.
You can listen to my remarks here.
Learn more about my bipartisan efforts to combat this local, statewide and national problem here.
Cutting unnecessary educational mandates
The Senate Education Committee approved my Senate Bill 462 on Tuesday, which would remove 34 mandates in the state's law pertaining to education oversight.
One of the biggest frustrations I hear from local educators is the burdensome and completely outdated regulations on the books affecting our teachers and their ability to do what they do best: educate our next generation. We need a comprehensive look throughout all of state government's laws and regulations, which I am also proposing, but in the interim, I hope these nearly three dozen mandates show that we are long overdue for a deep cleaning of our state's archaic and onerous laws.
You can read all of the outdated and onerous regulations I am trying to repeal here.
The Greatest Generation remembers D-Day 75 years later
On Thursday, the nation paused to reflect on the tremendous service and sacrifice made 75 years ago by so many Americans as well as all troops fighting in the Allied Forces.
Al Rose, a World War II veteran, West Manchester Township resident and part of the Greatest Generation, is visiting Normandy, France. Earlier this week, he went to Utah Beach, where he was on this date in 1944. Al jumped out of a transport ship at Utah Beach and immediately sunk. When he made it back to the surface, he and his brothers were under heavy fire from the enemy.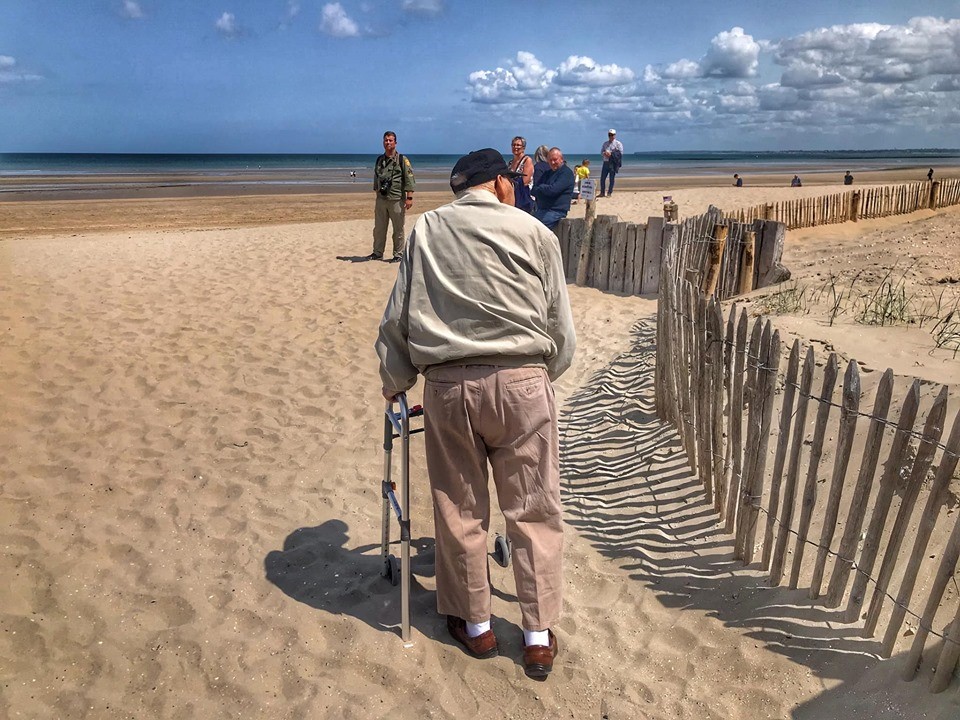 Many people came up to him to thank him for his service, taking photos with him and spending a few minutes with him.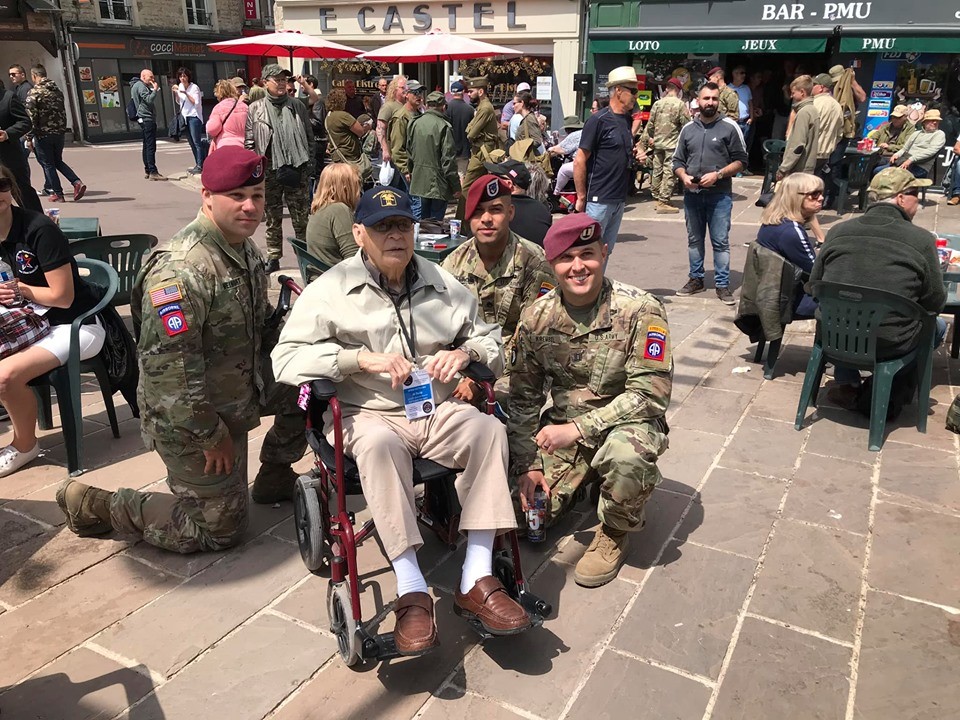 His son, who is accompanying his father on this trip, said in an email update on his visit to Utah Beach, "Once he made it out on to the beach. He just stopped and looked around. No words were needed and everyone just stood there in silence, waiting and wondering what this old soldier was thinking."
Al is a regular volunteer at the York County History Center. He returns from his trip on June 13. Please take a moment this summer to meet Al and hear his story. We are forever grateful for Al's service to our nation.
VP Pence in York County
On Thursday, Vice President Mike Pence toured JLS Automation in York, which provides robotic packaging.
He was there to advocate for the United-States-Mexico-Canada Agreement (USMCA) on trade.
At the state level, I am planning to introduce a resolution with Senate President Pro Tempore Joe Scarnati urging the United States Congress to ratify the USMCA. We are encouraging Congress to renew the country's original waiver on steel and aluminum tariffs for Canada and Mexico and remove retaliatory tariffs on all goods and services exported from the United States.
You can read more about our efforts here.
It was an honor to welcome the Vice President of the United States of America to York.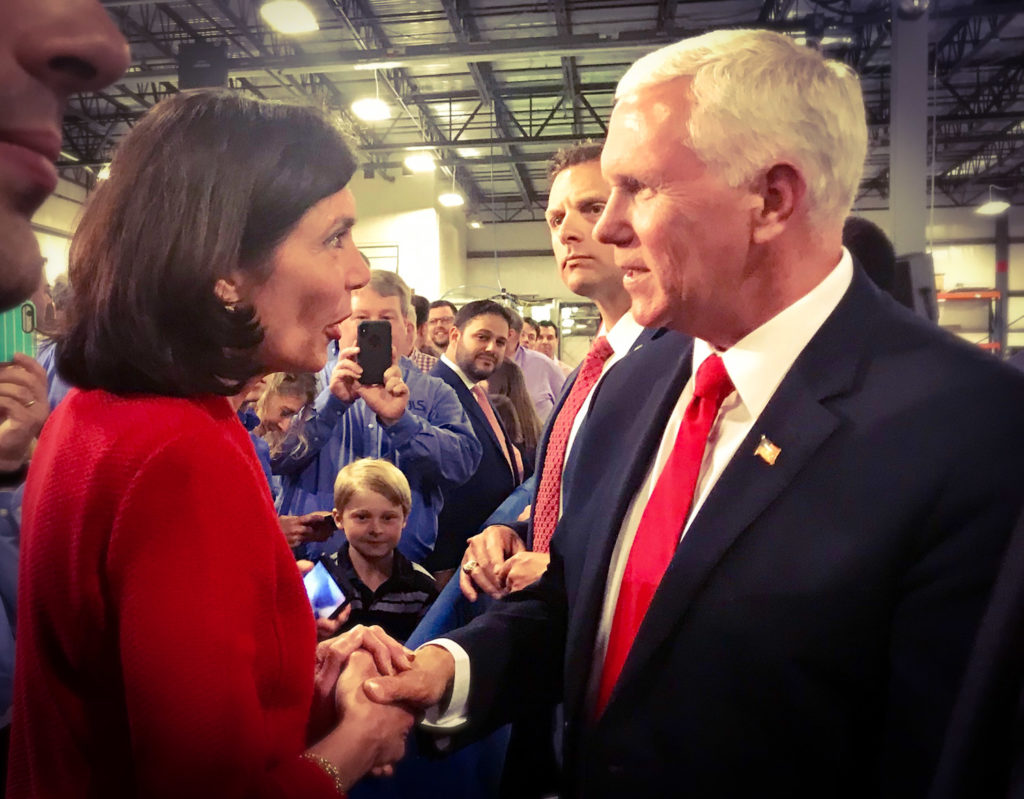 Supporting commonsense budgeting reforms
On Monday, I joined my colleagues in the Senate and House, including Senator Mike Folmer (R-Lebanon/Dauphin/York), Senator Camera Bartolotta (R-Beaver/Washington/Greene), and Rep. Ryan Warner (R-Fayette/Westmoreland), to support the Taxpayer Protection Act, which puts protections in place to limit the growth of future state government spending. The bill is a constitutional amendment, which means that it must pass in two consecutive sessions and then be voted on by the people of Pennsylvania.
Learn more about this proposal here.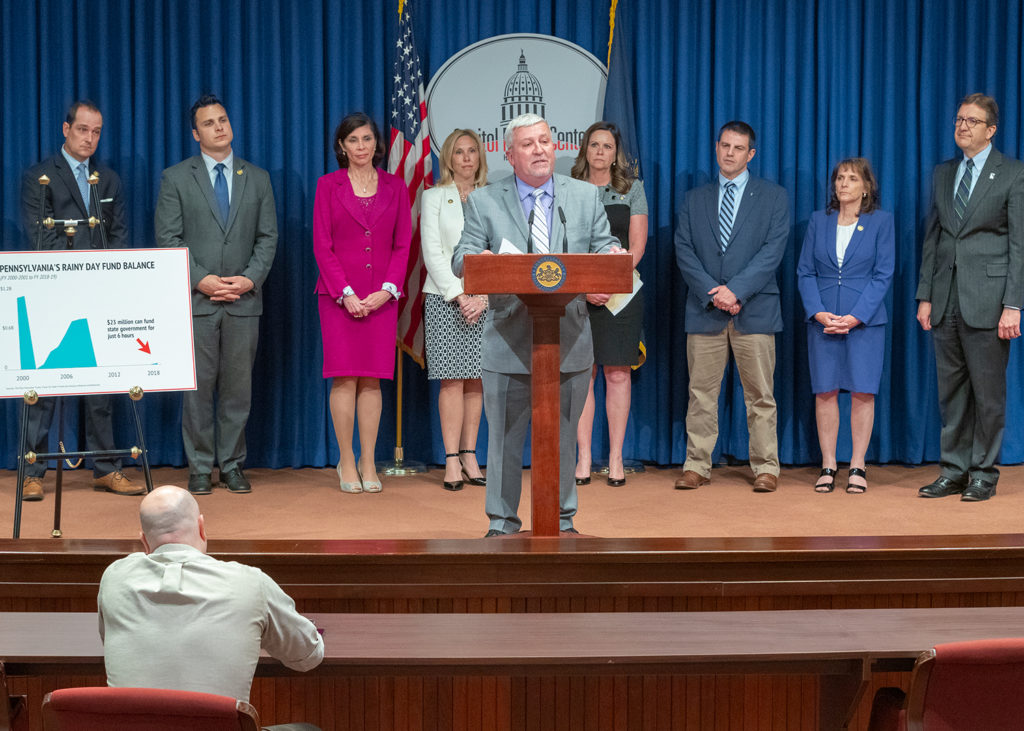 Welcoming Leaders Heights Elementary to the Capitol
Representative Mike Jones (R-York) and I had the opportunity meet with students and teachers of Leaders Heights Elementary, part of the Dallastown Area School District, on Monday before session. It was an honor to spend a few minutes with the students and show them our beautiful state Capitol.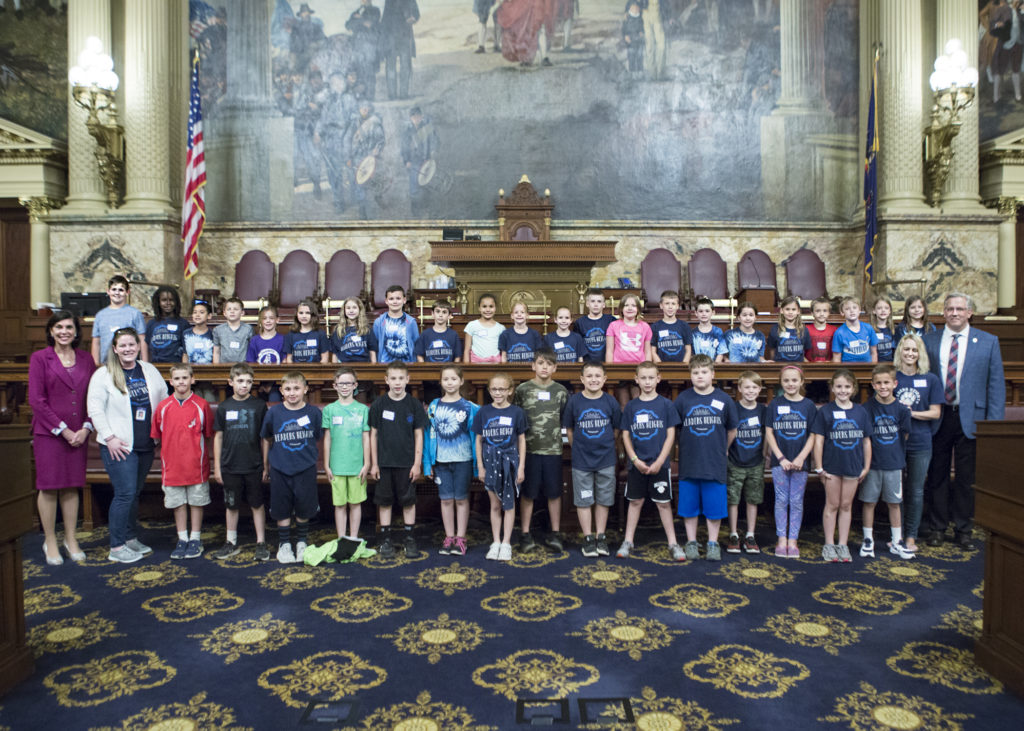 York Day Nursery supporting legislation
The start of the week was extremely uplifting when I met with students of York Day Nursery, who provided me with a very thoughtful card and encouraged my support of Pre-K programs in York County and across the state.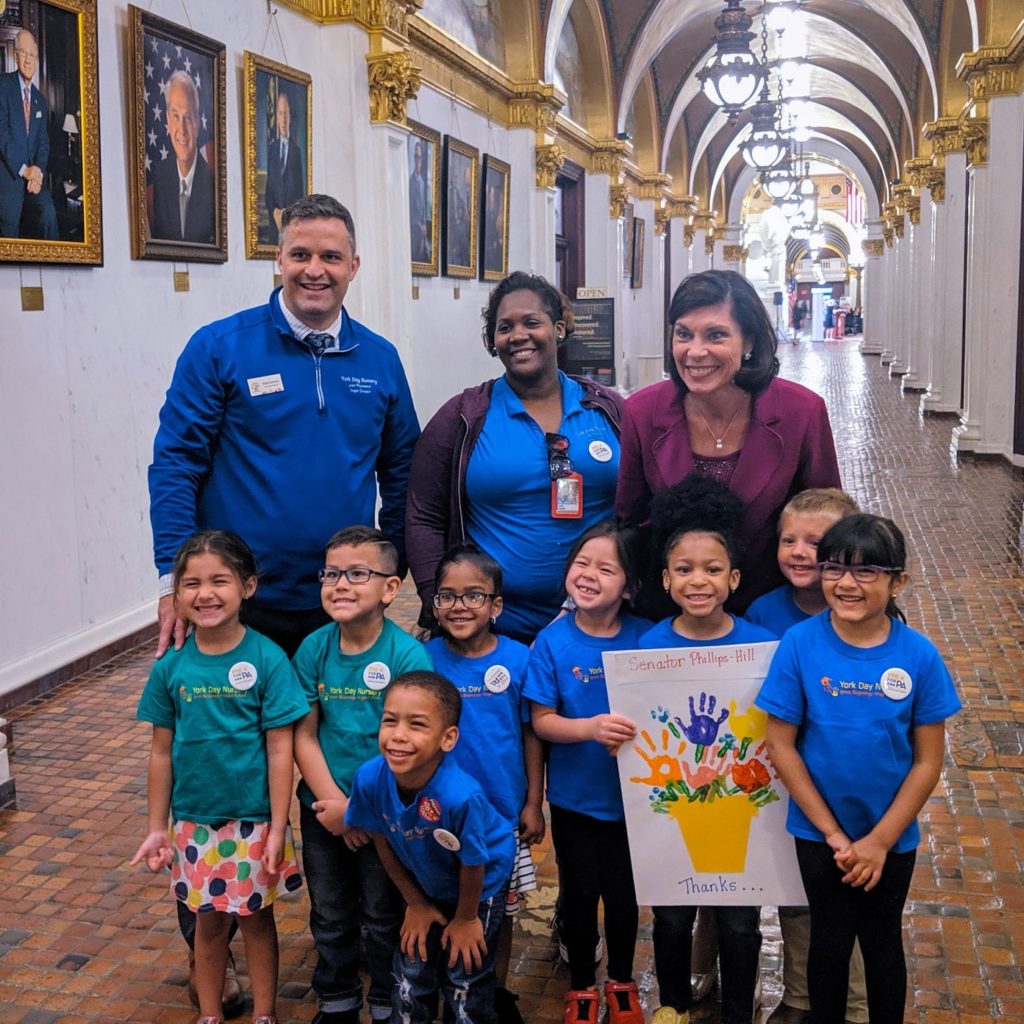 State legislative agency says digital divide is wider than originally anticipated
As the new Chair of the Senate Communications and Technology Committee, my focus is to help close our Commonwealth's digital divide. I attended an announcement on Monday by the Center for Rural Pennsylvania, who discussed disheartening data they collected on our state's broadband access.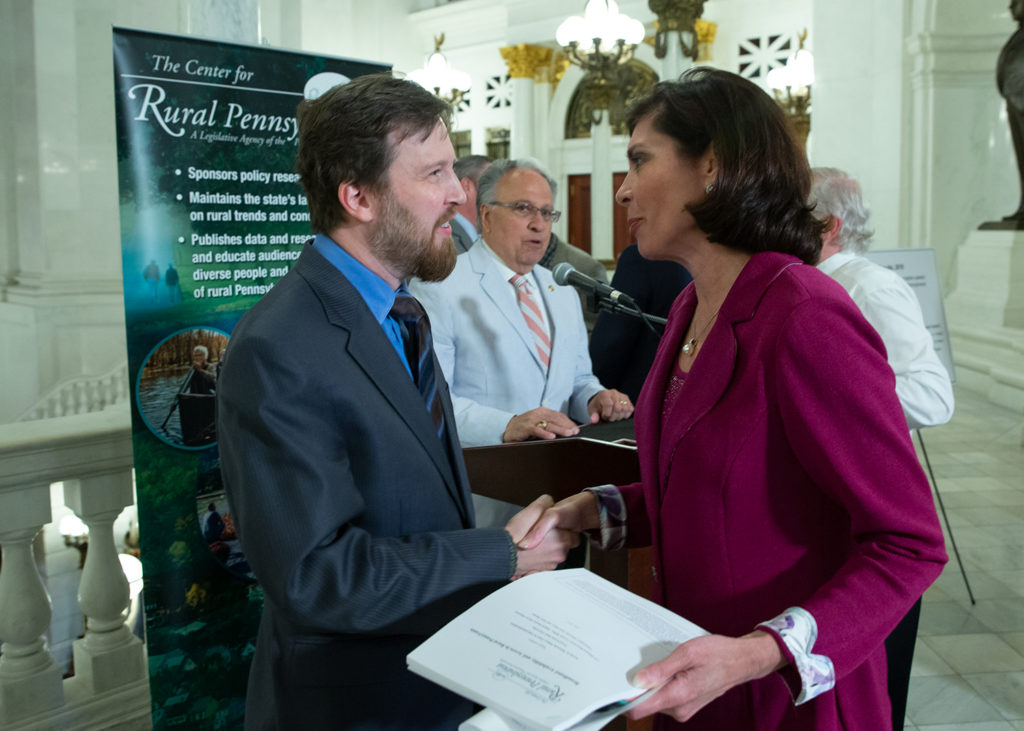 You can view the snapshot of York County according to the Center's research here.
You can view the entire report here.
Upcoming PennDOT projects
PennDOT is busy with various projects throughout the 28th Senatorial District.
Here are several local projects I've been alerted to:
PennDOT will begin patching and paving ramps at U.S. 30 for Route 462 in Wrightsville and Col Springs Road in Hellam Township. Details
PennDOT is changing traffic patterns on westbound Route 851 to single lane approaching I-83 at Exit 4 (Shrewsbury). Details
PennDOT will replace spans carrying Snyder Corner Road and Rippling Run Road in Eastern York County. Details
PennDOT recently reopened Route 425 in Fawn Township. Details
I also post all of these updates to my Facebook and Twitter.
In addition to the abovementioned projects, please see schedule for paving projects below.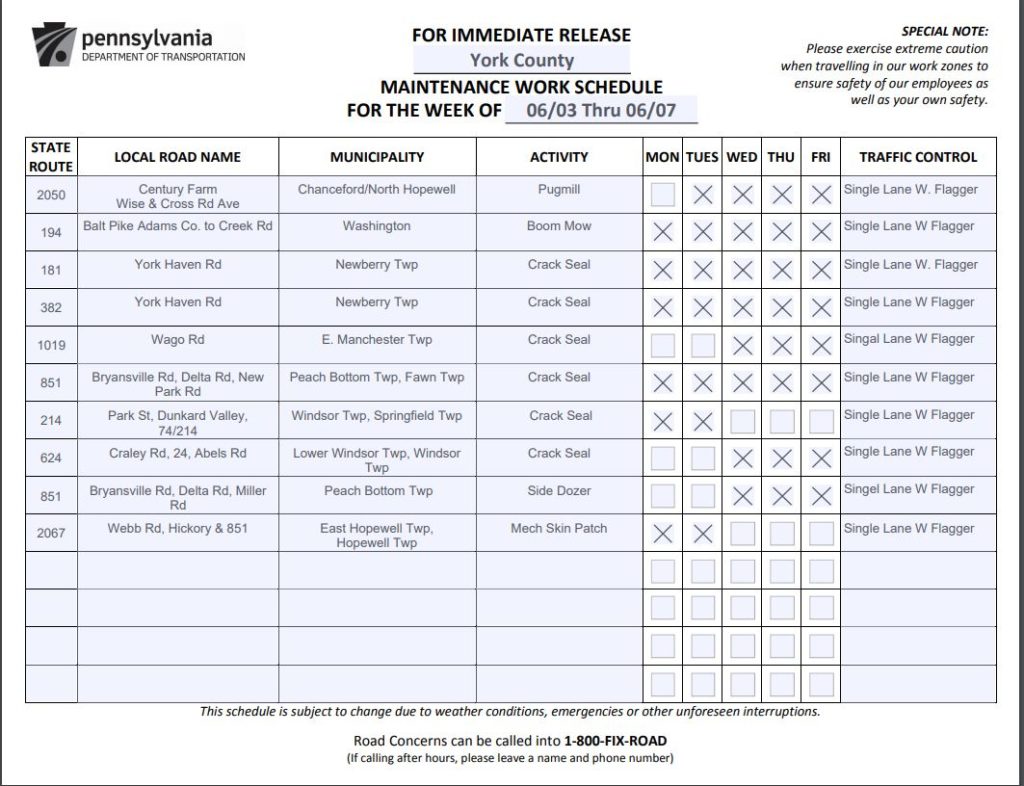 On deck
The Senate of Pennsylvania reconvenes for voting on Monday, June 10 at 1 p.m.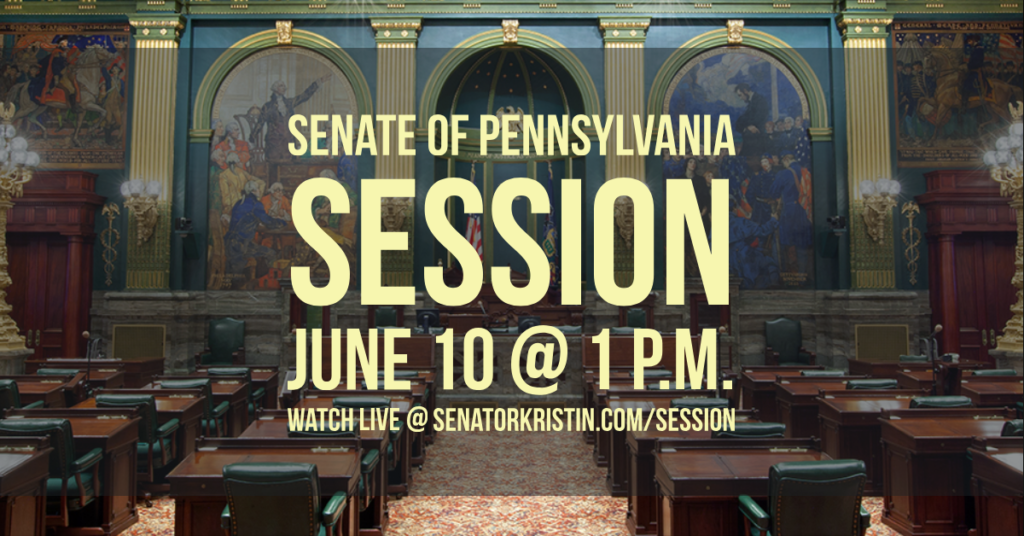 You can find out more about next week's Senate session by visiting www.SenatorKristin.com/session.