COVID-19 Legislative Task Force advances Pennsylvania vaccine rollout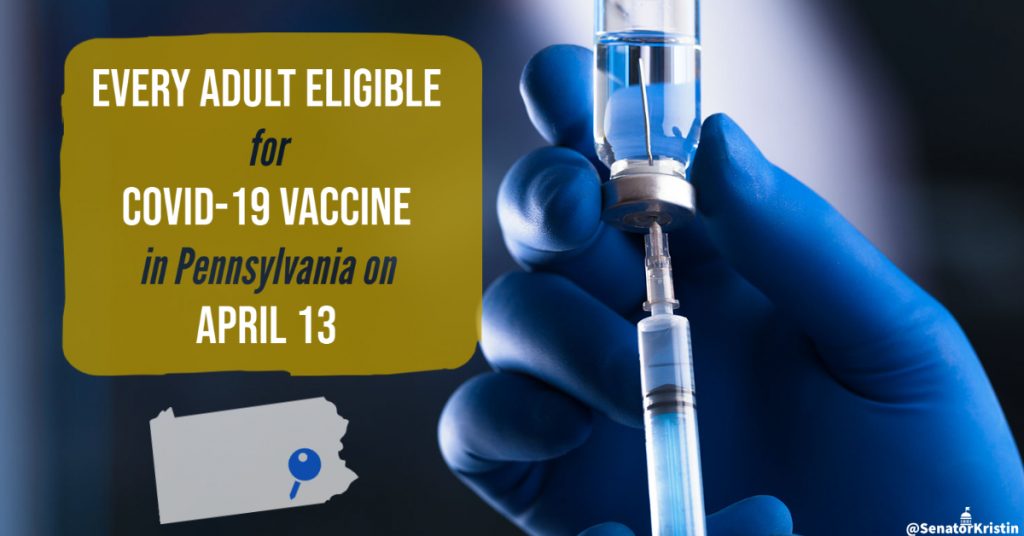 I hope this message finds you well and that you had a nice weekend! I realize I just sent you an email on Friday, but earlier today, the COVID-19 Legislative Task Force along with the Governor and Acting Secretary of Health announced that every adult in Pennsylvania will be eligible to schedule vaccine appointments tomorrow.
Please know that the COVID-19 vaccine is voluntary. If you do not wish to receive the vaccine, please feel free to disregard this email.
However, based on the feedback I've received, there are many in our community who are interested in receiving the latest update on the vaccine.
As you may recall, the Task Force, Governor and Acting Health Secretary expedited the timeline for the vaccine rollout. Individuals in Phase 2 (Pennsylvania's population age 18 or older) were going to be eligible to schedule appointments starting next Monday (April 19).
This was discussed in a podcast episode I shared last week with Senator Ryan Aument (R-Lancaster), who sits on the COVID-19 Legislative Task Force. LISTEN TO OUR DISCUSSION HERE.
You can subscribe to my podcasts here.
However, today's announcement means that any adult individual in Phase 2 (any Pennsylvania adult not in Phases 1A, 1B or 1C) is eligible to schedule a vaccine appointment as early as tomorrow, April 13.
So the next question you may have is: where do I get a vaccine if I want one?
The Department of Health has a vaccine dashboard, which can be found here. This dashboard provides a map of all vaccine providers, including local pharmacies.
However, locally you can access information from our two major healthcare providers:
WellSpan is also coordinating the county's vaccination clinic. The link above will provide information.
Furthermore, in the City of York, there will be a vaccine clinic at PeoplesBank Park. Below are the details:
Wednesday, April 14, 2021, 9am-5pm
Please know that you must be registered.
To sign up for the vaccine you can either visit UPMC's website at vaccine.upmc.com or call 844-876-2822.
Finally, you can access the York County Planning Commission's website to see all vaccine clinics in our community here.
For any additional information, please visit the Department of Health's website.
If you know someone who is interested in this information, feel free to forward this email to them.
Thanks again for taking a few minutes to read the latest developments on the rollout of the COVID-19 vaccine. I look forward to sharing my regular update with you this Friday! Have a great rest of your week!
I will share any updates with you as more information becomes available.