Community Vaccine Events in York County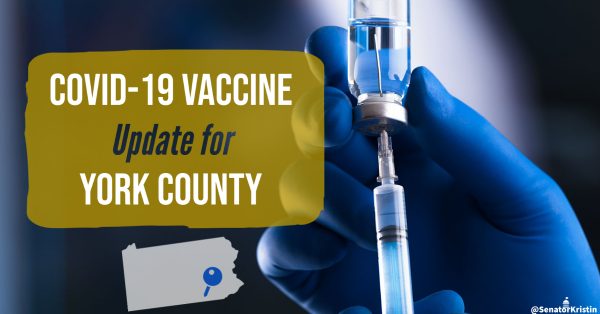 I apologize for another email on your weekend, but I thought it was too important to wait until Monday to share.
Walmart will host COVID-19 community vaccine events at the Church of the Open Door at 4075 E Market Street, York, PA 17402 starting this Monday, March 29.
If you are eligible to receive the vaccine (currently in Phase 1A), please call 1-800-753-8827 – option 1 to schedule an appointment.
Here is a copy of the news release Walmart shared with me: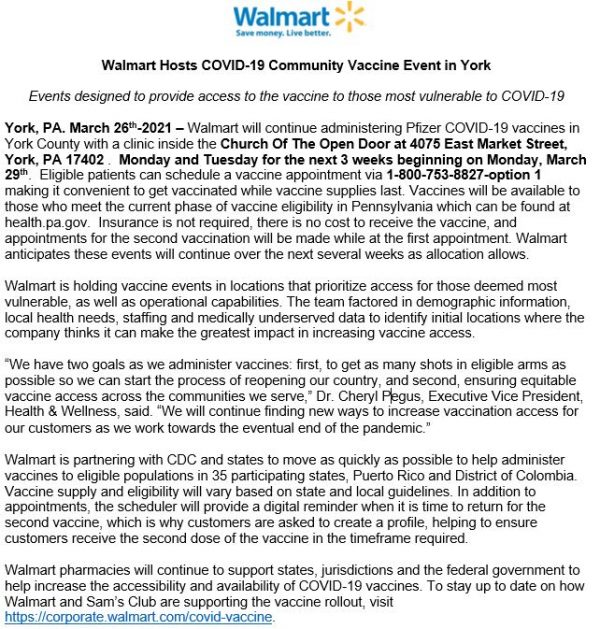 I continue to receive emails and phone calls from local residents who are finding it difficult to get a vaccine.
While this email update may not impact you directly, it may be of interest to a loved one or someone who has had trouble trying to obtain the vaccine. Please forward this information to anyone who may be interested in these upcoming clinics. Last time, the time slots for this vaccine clinic filled up almost immediately.
Additionally, you can access COVID-19 vaccine information from WellSpan here and UPMC here.
For any additional information, please visit the Department of Health's COVID-19 vaccine location dashboard here.
I hope you have a great weekend!