Here is the latest on the COVID-19 vaccine in York County: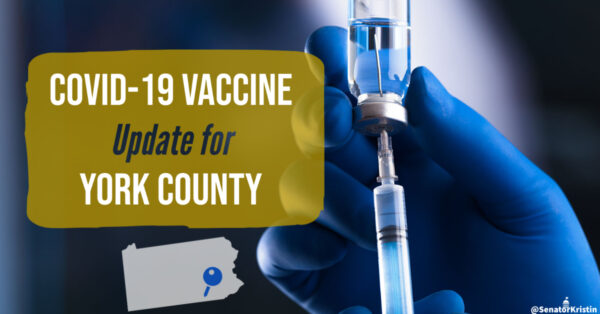 I typically send you an email update on YOUR state Senate each Friday, but I want to share this important update with you now given its time-sensitive nature.
As you may know, WellSpan has a web portal and phone number to sign up and register for the COVID-19 vaccine.
According to WellSpan, patients may call their WellSpan primary care provider to schedule an appointment.
Patients without a WellSpan primary care provider, or who do not have a MyWellSpan account, can schedule through the COVID-19 Hotline: (855) 851-3641.
For help scheduling 2nd dose appointments, call (866)-638-1842 (select option 1 and then select option 2).
More information can be found here.
Furthermore, UPMC provided an update to local lawmakers this week with their rollout to individuals in Phase 1A. You can access their COVID-19 vaccine information here: https://vaccine.upmc.com/
They also established a phone number for residents without access to the Internet: 844-UPMCVAC (844-876-2822). You can call between 7 a.m. and 7 p.m., seven days a week. They anticipate high call volume on this line so if you can register online, please use that option first.
Walmart will host a COVID-19 community vaccine event at the Church of the Open Door at 4075 E Market Street, York, PA 17402 starting tomorrow (February 24) through February 26.
If you are eligible to receive the vaccine (currently in Phase 1A), please call 1-800-753-8827 to schedule an appointment.
Here is a copy of the news release Walmart shared with me: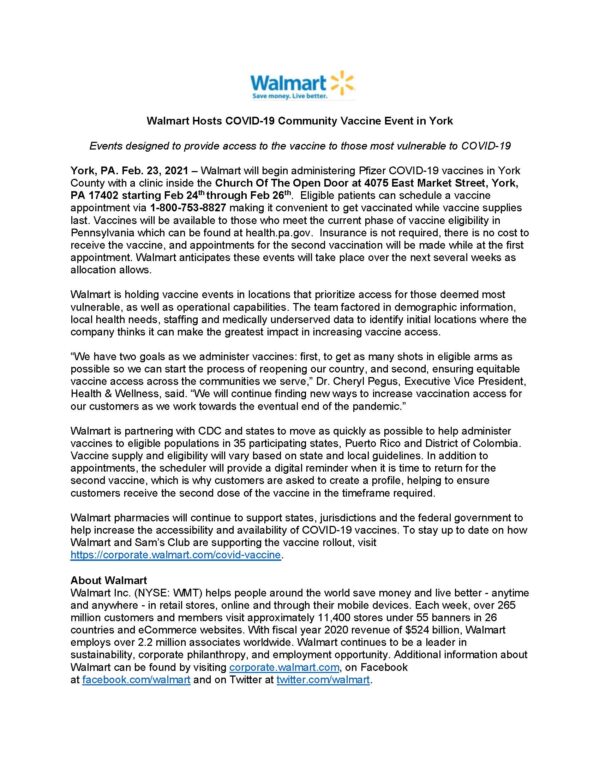 Finally, you can access the Department of Health's COVID-19 vaccine location dashboard here.
Later today, the Senate Appropriations Committee will consider legislation to require the Pennsylvania National Guard to assist with the distribution and administration of the COVID-19 vaccine in each of the Commonwealth's 67 counties.
You can learn more about this legislation, which I believe may be considered by the full Senate later this week, here. Stay tuned for an update on that legislation in my weekly email update this Friday.
I realize this email update may not impact you directly, but it may be of interest to a loved one or someone who has had trouble trying to obtain the vaccine. Feel free to forward them this information.
Have a great rest of your week! I'll talk to you again on Friday!