In this update:
Victoria's Law will end unscrupulous puppy mills in Pennsylvania
Making your state Senate more accessible to you
PennDOT proposes to toll nine bridges across the state, including I-83 South Bridge in Harrisburg
Vaccine rollout continues to lag all neighboring states
Broadband hearing highlights role rural electric co-ops can have in bridging the digital divide
On deck
---
Victoria's Law will end unscrupulous puppy mills in Pennsylvania
The ongoing and horrific stories from across the state about families forced to put their pets down due to genetic diseases continues to be a major concern. I have received several phone calls and emails over the last several months from our neighbors stating how they have purchased a puppy only to find mounting veterinarian costs due to addressing diseases from inhumane breeding practices. Many families have turned to bringing in a new puppy or kitten throughout this pandemic.
The story of Victoria, a German Shepherd whose sole purpose was to produce puppies for sale, passed along a genetic disease to more than 150 of her offspring. Victoria was locked in a cage not much larger than the size of a milk crate for most of her life.
Victoria passed two years ago, but her story is not unique. The goal of Victoria's Law is to end the puppy mill business in Pennsylvania and encourage either adoption or purchase through responsible breeders.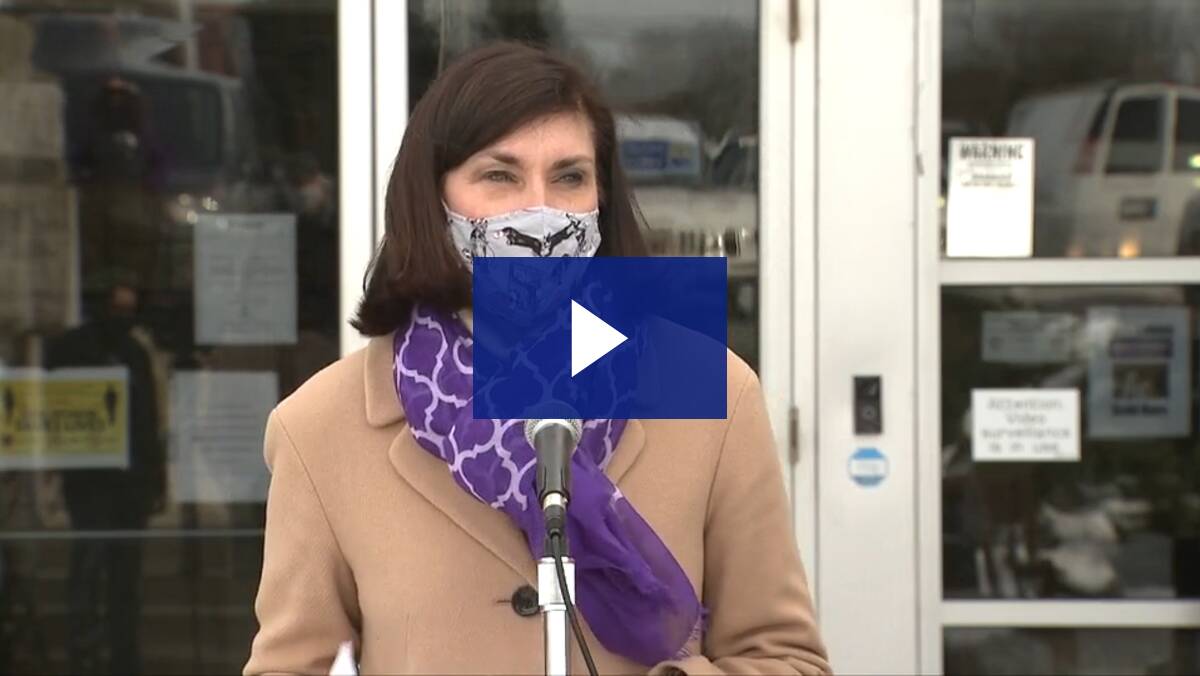 On Wednesday, I joined local and statewide advocates to formally introduce Victoria's Law, which will be Senate Bill 234. The legislation has 27 total co-sponsors in the Senate. We introduced the legislation in front of the York County SPCA. The event featured speakers from the York County SPCA, the Humane Society of the United States and Finding Shelter, the rescue organization that brought in Victoria.
You can watch our event in its entirety here. Read more about this legislation here.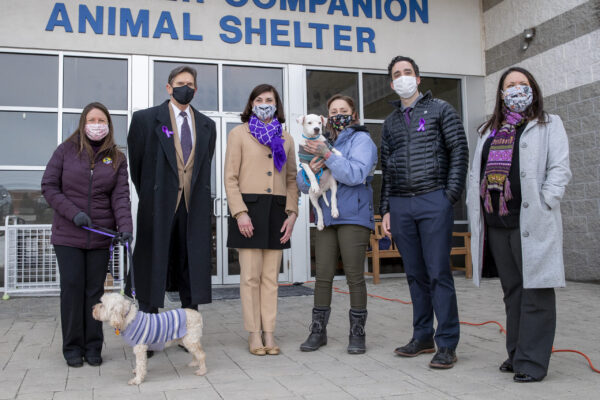 You can view photos from our event on Instagram and Facebook. Next week, I will share with you a video tour of the York County SPCA where their Executive Director, Steven Martinez, provided me with a behind-the-scenes tour of all the great work his team and volunteers do to protect and heal animals.
You can see their pets up for adoption on their website.
Making your state Senate more accessible to you
As the 2021-2022 Senate Session gets underway, legislators are busy writing and introducing legislation, like the bill I highlighted above. Please know that I have over 40 bills I am personally sponsoring; plus many others I am actively involved in supporting and shepherding through the legislative process.
In fact, I am tied for fourth place in the Senate for the most bills introduced to cover a myriad of issues based on YOUR feedback and YOUR priorities. The average number of bills currently sponsored in the Senate is 20. I am sponsoring 41 to date. (The highest number of bills sponsored by a member is 56 in the Senate).
As I noted last week, to provide you with greater access and transparency, I have all of my bills posted to my website under the "Legislation" tab.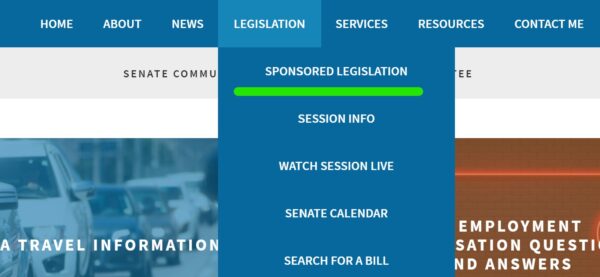 You can also access other information, like my office's expenses, and other important information.
Furthermore, I recently created a new LinkedIn page. If you are on that social media platform, feel free to connect with me on there. You can find me here.
PennDOT proposes to toll nine bridges across the state, including I-83 South Bridge in Harrisburg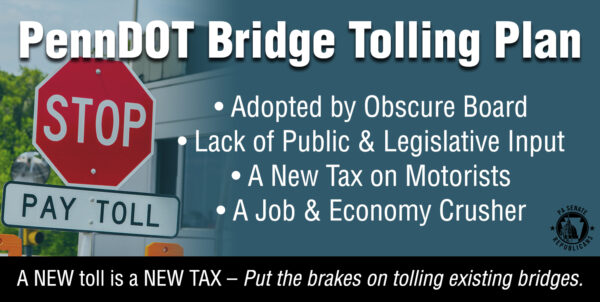 Earlier this week, PennDOT unveiled tentative plans to begin tolling motorists who travel on bridges across the Commonwealth.
The tolling plan includes the following bridges (eight of the nine proposed locations are situated in districts represented by Republicans):
I-78 Lenhartsville Bridge Replacement Project in Berks County (Senator David Argall, R-29);
I-79 Widening, Bridges and Bridgeville Interchange Reconfiguration in Allegheny County (Senator Devlin Robinson, R-37);
I-80 Canoe Creek Bridges in Clarion County (Senator Scott Hutchinson, R-21);
I-80 Nescopeck Creek Bridges in Luzerne County (Senator John Gordner, R-27);
I-80 North Fork Bridges Project in Jefferson County (Senator Cris Dush, R-25);
I-80 Over Lehigh River Bridge Project in Luzerne and Carbon counties (Senator John Yudichak, I-14);
I-81 Susquehanna Project in Susquehanna County (Senator Lisa Baker, R-20);
I-83 South Bridge Project in Dauphin County (Senators John DiSanto, R-15, and Mike Regan, R-31); and
I-95 Girard Point Improvement Bridge Project in Philadelphia County (Senator Nikil Saval, D-1).
Prior to me being elected to the legislature, the General Assembly approved a law to put Pennsylvania at the top of the list as the highest-in-the-nation tax on gasoline. You can drive to Maryland and see the difference.
Now PennDOT is attempting to take even more money out of the pockets of motorists by unilaterally tolling bridges across the state.
This is why I will never vote to provide more power to the executive branch to add new tolls, fees or taxes without a vote by the people elected to serve their constituents in the General Assembly.
I am very concerned about the proposal and believe it could set a very dangerous precedent moving forward. While I am not a member of the Senate Transportation Committee, I will pay close attention as I have already received phone calls and emails from our neighbors over the impact they may face with the bridge in Harrisburg under consideration by PennDOT. You can read more about this issue from the Senate Transportation Committee Chairman, Senator Wayne Langerholc, here.
Vaccine rollout continues to lag all neighboring states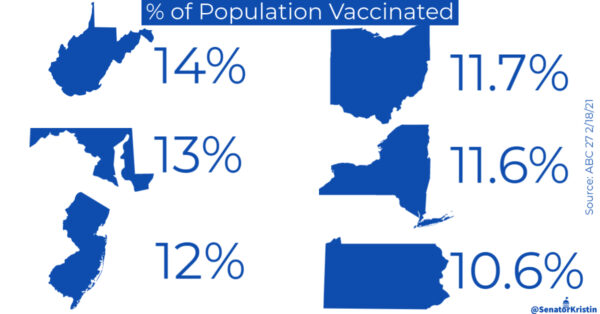 Pennsylvania ranks last compared to our neighboring states in getting the vaccine out to the eligible population. I continue to voice my concern over the lack of a plan and scattershot approach and continual frustration by older residents and those with pre-existing conditions.
ABC27 conducted a deep dive to see how our vaccine rollout compares to other states. Delaware was exempted due to lack of data on their dashboard.
Here is what they found:
Rank | State | Population | First Doses Administered | % of Population Vaccinated
West Virginia | 1.8 M | 255,950 | 14%
Maryland | 6 M | 812,165 | 13%
New Jersey | 8.9 M | 1,086,763 | 12%
Ohio | 11.7 M | 1,369,627 | 11.7%
New York | 19.4 M | 2,263,960 | 11.6%
Pennsylvania | 12.8 M | 1,365,523 | 10.6%
You can read their full investigation here.
I have called on the Department of Health and the Department of Education to figure out a better game plan when it comes to the next round of vaccines and offered solutions to bring the vaccine to the people rather than disbursing it to entities with no consistent approach.
All critical populations must be treated with utmost care and efficiency in rolling out this vaccine – whether it be our seniors, especially those in long-term care facilities, our police officers, firefighters, EMTs and other first responders, our teachers as we work to get students back in the classroom fulltime and allow parents to return to the workforce, and grocery store employees.
A fascinating article I came across recently explains how Alaska has used a lot of existing lessons learned in logistics given their geography and existing challenges shipping and distributing food and other goods, plus some out-of-the-box ingenuity to push out the vaccine. You can read that article here.
The Senate will continue their public hearings on this matter to provide full transparency and seek to understand why certain decisions have been made (or not made) on this issue. Stay tuned as I will share those updates with you.
Broadband hearing highlights role rural electric co-ops can have in bridging the digital divide
The Center for Rural Pennsylvania hosted a public hearing, which you can watch here, on closing the digital divide.
I spoke about our ongoing efforts and highlighted our legislative efforts to date, and what lies ahead for the Senate Communications and Technology Committee, which I chair.
You can watch my comments below.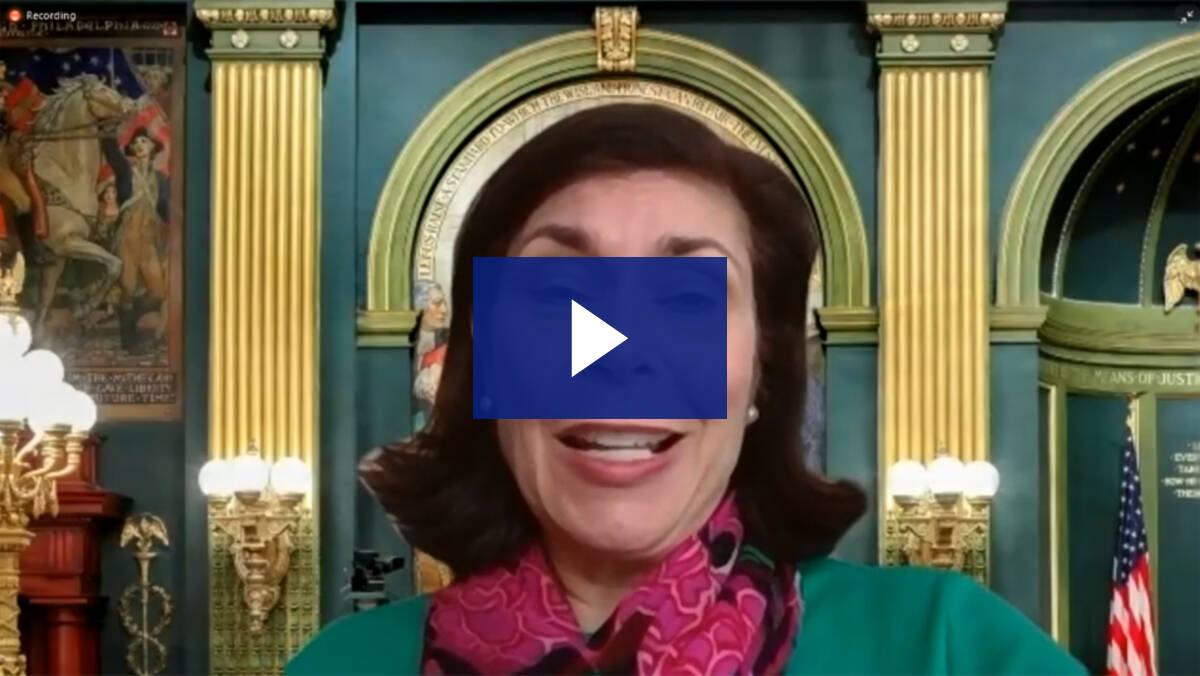 As I laid out in our committee's report last year, we need to address three key areas:
First and foremost: Funding. We have approved a dedicated funding system with legislative input. This law was signed last year. Unfortunately, the governor is proposing to eliminate the $5 million funding source in his budget, which we identified as an unused tax credit program that was not benefiting taxpayers.
Second: Use existing infrastructure. I am sponsoring legislation to address this matter and perhaps provide a funding source. You can read more about this issue here.
Third: Address our regulatory climate and outdated laws. The way Internet was deployed in the 1990s is not the same as today, our laws have not changed. You can read about my bills addressing this matter here, here and here.
On deck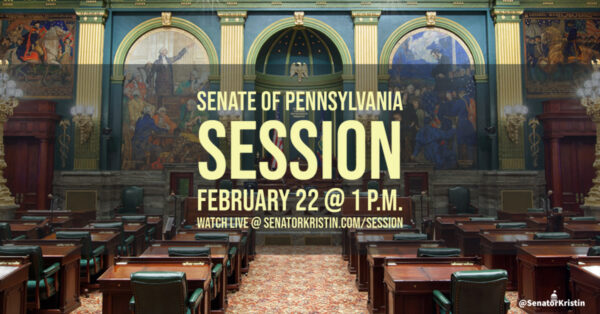 The Senate of Pennsylvania reconvenes for voting on Monday, February 22 at 1 p.m. You can watch session live and review our agenda at SenatorKristin.com/session.