In this update:
Condemning horrific acts on Wednesday
2021 Farm Show goes virtual, starts this weekend
Senate of Pennsylvania begins new session
Honoring Representative Mike Reese
Secretary Levine: Safer for younger children to return to in-person instruction
Fire and EMS companies can apply now for federal grants
Security grant applications available now for nonprofit groups
COVID-19 Vaccine Dashboard offers updates on distribution
State Veterans Homes receiving vaccination
Met-Ed surveying power lines by helicopter
Commercial driver licenses, learner's permits extended through February 22
Upcoming PennDOT projects
---
Condemning horrific acts on Wednesday
The storming of the U.S. Capitol by protesters has absolutely turned our stomachs and just as we condemned the multiple violent protests over the summer, these actions cannot be tolerated. Those involved must be swiftly brought to justice.
Naturally, we don't always agree when it comes to politics, and that is the case now more than ever.
However, that is absolutely no reason for the disgusting events in Washington, D.C., to occur. As Americans, we pride ourselves on civility, and on the ability for two sides to come together and discuss matters in a meaningful and respectful fashion. This display is neither of those things. Rather, it is a mob raiding a United States government building that houses our elected members of Congress.
It must be stopped, and cooler heads must prevail for the sake of our nation and our future.
2021 Farm Show goes virtual, starts this weekend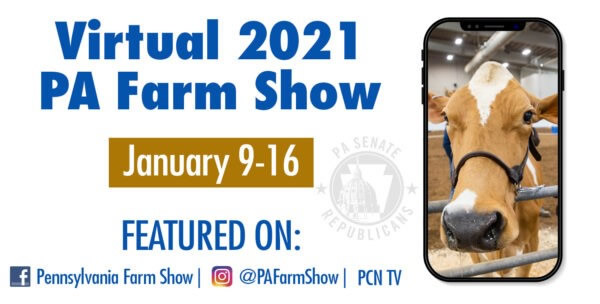 As I wrote to you last week, although all in-person events for the 2021 Pennsylvania Farm Show have been cancelled due to COVID-19, many exhibits and events will still take place virtually.
This annual event is a major opportunity where many York Countians showcase their hard work and dedication to our vibrant local agricultural industry. Many York Countians travel to the Farm Show Complex to see all that York County and Pennsylvania have to offer.
Last year, I had the opportunity to interview Hugh McPherson of Maple Lawn Farms, which you can watch below.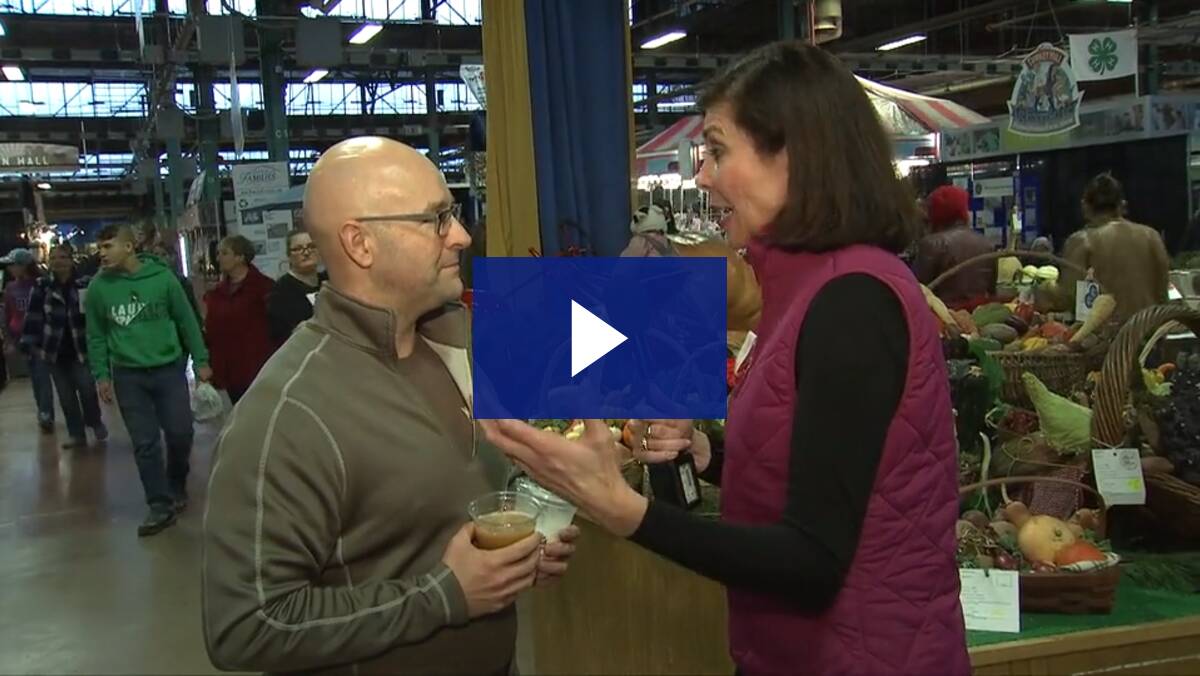 A schedule of events details the exhibits that will be available each day from January 9-16.
The exhibits will be focused on education and awareness, and the competitive events will not require the purchase of an animal. Forms and registration information are available here.
Senate of Pennsylvania begins new session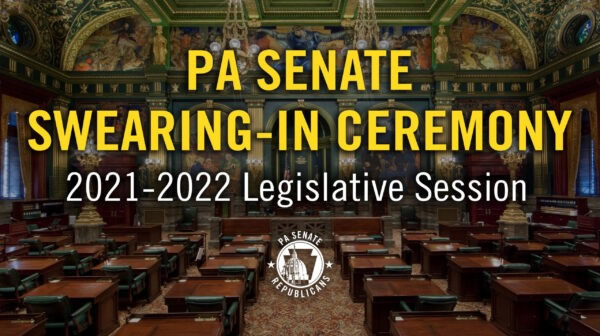 The 2021-22 Legislative Session began this week as new and returning members were sworn into office on Tuesday. The beginning of the new session allows lawmakers to start the process of addressing the most critical issues facing our communities, including fixing problems related to the state's response to COVID-19, creating a stronger environment for job creation and making necessary reforms to restore faith in the voting process.
A total of 24 Senators and 202 Representatives were sworn into office this week. Seating was delayed temporarily for one Senate district that is still being contested, and one House seat will remain vacant due to the sudden passing of Rep. Mike Reese.
Here is an explanation of the issue in the Senate, as I've received a few emails from our neighbors on this matter:
The Senate voted to table the seating of a Senator for the 45th District until the final results of the election are settled. Essentially, that just means that we are postponing the seating until we've had some time to review the challenge that has been filed by one candidate to the election process for that Senate District.
The question centers around the state's Election Code and the guidance issued prior to the Election by the Secretary of State.
The state Supreme Court upheld the provision of the law that requires all mail-in ballots to be placed in the secrecy envelope, and if not, they would be discarded. In the same section of that law requiring voters to mail-in their ballots within the secrecy envelope is the provision that requires voters to "fill out, date and sign" the declaration. In question for Senate District 45 are several hundred undated ballots that one county (Westmoreland) has rejected, but another county (Allegheny) is tabulating as part of their results.
Here is the section of the law:
"Section 1306-D. Voting by mail-in electors.
(a) General rule.–At any time after receiving an official mail-in ballot, but on or before eight o'clock P.M. the day of the primary or election, the mail-in elector shall, in secret, proceed to mark the ballot only in black lead pencil, indelible pencil or blue, black or blue-black ink, in fountain pen or ball point pen, and then fold the ballot, enclose and securely seal the same in the envelope on which is printed, stamped or endorsed "Official Mail-in Ballot." This envelope shall then be placed in the second one, on which is printed the form of declaration of the elector, and the address of the elector's county board of election and the local election district of the elector. The elector shall then fill out, date and sign the declaration printed on such envelope. Such envelope shall then be securely sealed and the elector shall send same by mail, postage prepaid, except where franked, or deliver it in person to said county board of election."
Under the Secretary of State's guidance to counties one month prior to the Election, all ballots were to be signed and dated. The Secretary specifically said to counties: "A ballot‐return envelope with a declaration that is not filled out, dated, and signed is not sufficient and must be set aside, declared void and may not be counted."
https://www.dos.pa.gov/VotingElections/OtherServicesEvents/Documents/DOS%20Guidance%20Civilian%20Absentee%20and%20Mail-In%20Ballot%20Procedures.pdf
While some counties, including Westmoreland County, did this, Allegheny County did not. Senate District 45 serves parts of both counties.
Furthermore, our state Constitution requires uniformity in our elections process. Here is the section of the Constitution:
6. Election and registration laws.
All laws regulating the holding of elections by the citizens, or for the registration of electors, shall be uniform throughout the State, except that laws regulating and requiring the registration of electors may be enacted to apply to cities only, provided that such laws be uniform for cities of the same class, and except further, that the General Assembly shall by general law, permit the use of voting machines, or other mechanical devices for registering or recording and computing the vote, at all elections or primaries, in any county, city, borough, incorporated town or township of the Commonwealth, at the option of the electors of such county, city, borough, incorporated town or township, without being obliged to require the use of such voting machines or mechanical devices in any other county, city, borough, incorporated town or township, under such regulations with reference thereto as the General Assembly may from time to time prescribe.
Nicole Ziccarelli, who filed the challenge to the election with the Senate, says that if one county follows the law, and another county does not, that is a problem. And, whether those ballots are counted or not will change the outcome of the election.
While we review this matter, the residents of the 45th District will not be denied a voice. The residents of that district are still able to seek and receive constituent support through the staff in those offices. Otherwise, we hope this matter is resolved soon, but also correctly.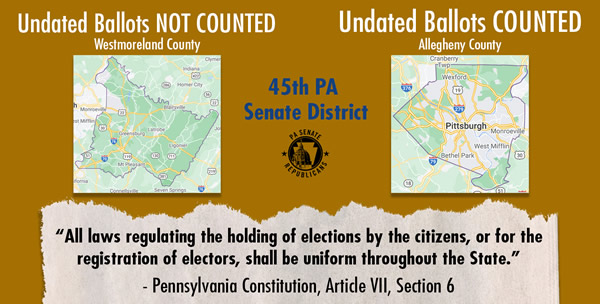 Honoring Representative Mike Reese
It was a privilege and honor to work with Representative Mike Reese, who passed away earlier this week due to a brain aneurism. He was thoughtful, intelligent, hardworking and willing to take on difficult issues. He also had a great sense of humor and was very kind. May God bless his family and all who feel the pain of his loss with peace and comfort.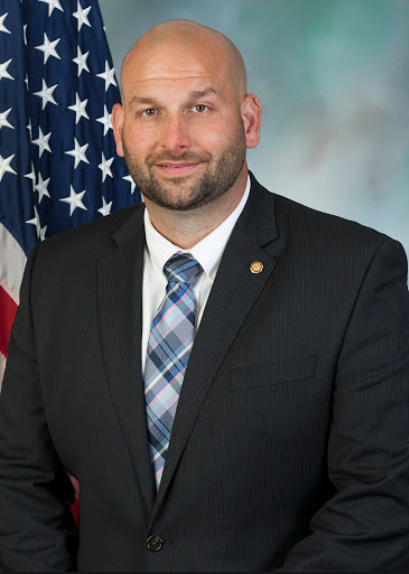 Mike served the people of the 59th Legislative District in Somerset and Westmoreland counties with honor and distinction since 2009, and his tireless leadership and dedicated advocacy will be sorely missed in the halls of the state Capitol.
Secretary Levine: Safer for younger children to return to in-person instruction
After working with our local school districts (and the advocacy of our local education leaders), the Department of Education and Department of Health updated their guidelines when it comes to recommendations for in-person learning of younger students.
Department of Health Secretary Levine said, "The research on offering in-person instruction during COVID-19 continues to emerge. While it is impossible to eliminate the risk of disease transmission entirely within a school setting where community spread is present, recent studies have shown that when mitigation efforts, such as universal masking, physical distancing, and hand hygiene are followed, it may be safer for younger children, particularly elementary grade students, to return to in-person instruction."
Department of Education Acting Secretary Ortega added, "The commitment our educational leaders have shown towards mitigation efforts is noteworthy and helps us support returning many of our youngest and most vulnerable students to some level of in-person instruction."
I thank all of our local education leaders who have been on the forefront of navigating very difficult circumstances over the last 10 months and am grateful for their advocacy of this important change.
You can read more here.
Fire and EMS companies can apply now for federal grants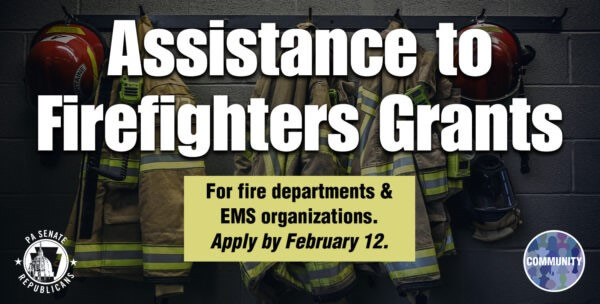 Volunteer and career fire departments and EMS organizations can apply now for grants to support training, equipment purchases and other critical public safety priorities through the federal Assistance to Firefighters Grant Program. Applications are available through February 12.
Workshops and webinars are scheduled throughout January to help fire and EMS companies learn more about the program and how to apply.
Security grant applications available now for nonprofit groups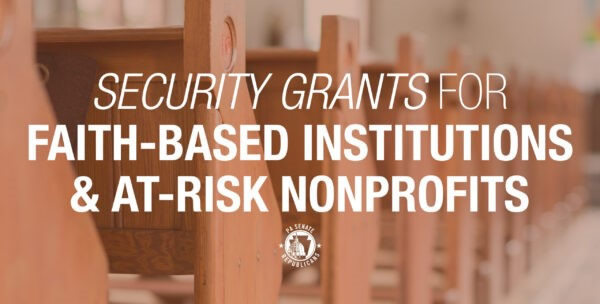 Nonprofit organizations that serve groups at the greatest risk of being targeted for hate crimes can apply now for grants to complete security enhancements. Applications for the Nonprofit Security Grant Fund Program are available through February 3.
Eligible uses of grants include safety and security planning, the purchase of security equipment and technology, security training, threat awareness and response training, threat assessments and other safety or security-related projects.
COVID-19 Vaccine Dashboard offers updates on distribution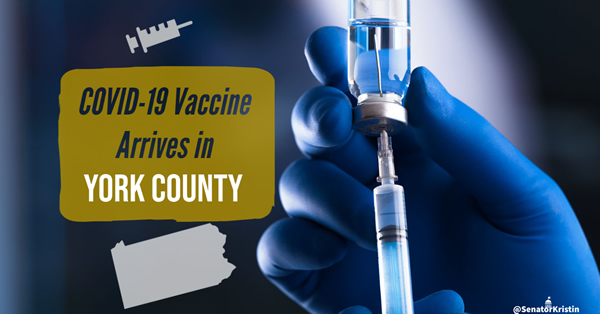 Keep up to date on the latest with the Department of Health's COVID-19 vaccine dashboard. The dashboard provides updates on the number of vaccinations administered by county, as well as demographic information about people who have received the vaccine.
The vaccine is currently being distributed to health care workers, as well as staff and residents of long-term care facilities. More information about the roll-out of the vaccine is available here.
State Veterans Homes receiving vaccination
Earlier today, the Department of Military and Veterans Affairs announced the vaccine would be making its way to our veterans and their caregivers at our state Veterans homes.
You can learn more here.
Met-Ed surveying power lines by helicopter
Beginning next week and over the next two weeks, Met-Ed will be conducting visual inspections of their transmission lines across York County using the helicopter in the photo below. If you see this helicopter, do not be alarmed, it is part of their routine inspections to ensure the safety and reliability of our grid.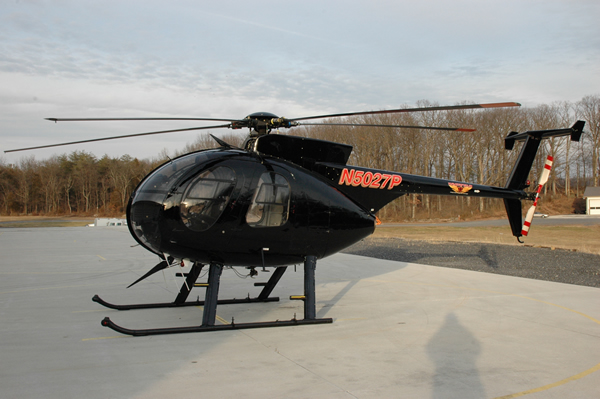 Commercial driver licenses, learner's permits extended through February 22
PennDOT has extended the expiration dates of all commercial driver licenses and commercial learner's permits that were set to expire between March 16, 2020 and February 22, 2021.
The extension provides additional time for truck drivers to renew these licenses and permits as they continue to keep supply lines open and prevent product shortages and disruptions.
Upcoming PennDOT projects
PennDOT shared with me the upcoming maintenance project list for next week. You can view that below.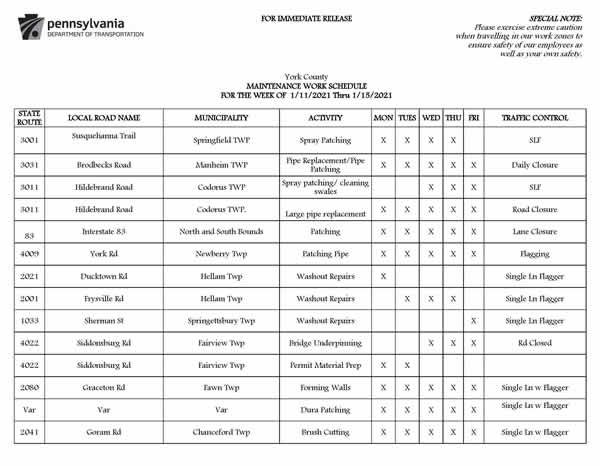 Furthermore, a PennDOT contractor is scheduled to perform pothole patching next week in the northbound Interstate 83 work zone between Exit 22 (North George Street/Route 181) and Locust Lane in Manchester Township, York County.
There will be lane restrictions in place on northbound I-83 from approximately 9 AM to 3 PM Monday, January 11, and Tuesday, January 12.
Finally, for those traveling to Harrisburg this weekend, please be advised that a weekend closure is scheduled for northbound Interstate 83 on the John Harris Memorial (South) Bridge spanning the Susquehanna River in the City of Harrisburg. Interstate 83 will be closed between Exit 41 (Lemoyne/Camp Hill) and Exit 43 (2nd Street), including the Lemoyne/Lowther Street on-ramp.
The closure will be implemented at approximately 9 PM on Saturday, January 9, and is expected to be lifted by 6 AM Monday, January 11.
A detour will be in place for northbound I-83 traffic using westbound PA Route 581, northbound Interstate 81 and southbound Interstate 83. Also, a detour will be in place for the Lowther Street ramp traffic using Lowther Street, the southbound I-83 on-ramp at South 10th Street to exit 40B (New Cumberland), eastbound on Carlisle Road, and Interstate 83 northbound. A detour will be in place for eastbound PA Route 581 traffic using Exit 6B (I-83/York) to exit 40B (New Cumberland), eastbound on Carlisle Road, and Interstate 83 northbound.