Heads to Gov. Wolf for signature
HARRISBURG – A Spring Grove veteran's idea is inching closer to reality after the state House of Representatives unanimously approved legislation that would designate March 6 as Persian Gulf War Veterans Day and Oct. 7 as Global War on Terrorism Veterans Day in the Commonwealth.
The legislation, sponsored by Sen. Kristin Phillips-Hill (R-York) and Rep. Seth Grove (R-York), was introduced at the request of Harold E. Redding, who served in the U.S. Army for 22 years. Redding, who was a first sergeant in the Vietnam War, has been a proponent of honoring veterans who serve in various conflicts.
Redding was successful in his efforts to have U.S. Sen. Pat Toomey shepherd legislation through to formally recognize March 29 as National Vietnam War Veterans Day.
"It could not be more fitting to have this legislation approved by the House of Representatives and sent to the governor the week of Veterans Day," Phillips-Hill said. "Sgt. Redding's steadfast support and commitment to honoring his fellow veterans is commendable. This measure, should it be signed into law, will ensure that the veterans of these conflicts are never forgotten in our Commonwealth."
"It is vitally important we always remember the sacrifices made by veterans. This legislation encourages Pennsylvanians to pause and reflect on the those who served in recent combat," Grove said. "A veteran of the Vietnam War, Redding knows how a simple thank you and acknowledgment for service goes a long way."
Redding joined Phillips-Hill and Grove in Harrisburg to advocate for a legislative package under consideration that would recognize veterans in the Commonwealth. WATCH THE VIDEO HERE.
The legislation would require the governor to annually issue a proclamation encouraging all public schools and educational institutions to observe these special days by conducting exercises recognizing the contributions and sacrifices made by these veterans.
The House of Representatives amended the legislation to designate September 27 as "First Responders Day" in Pennsylvania.
The measure heads to the governor's desk for his signature.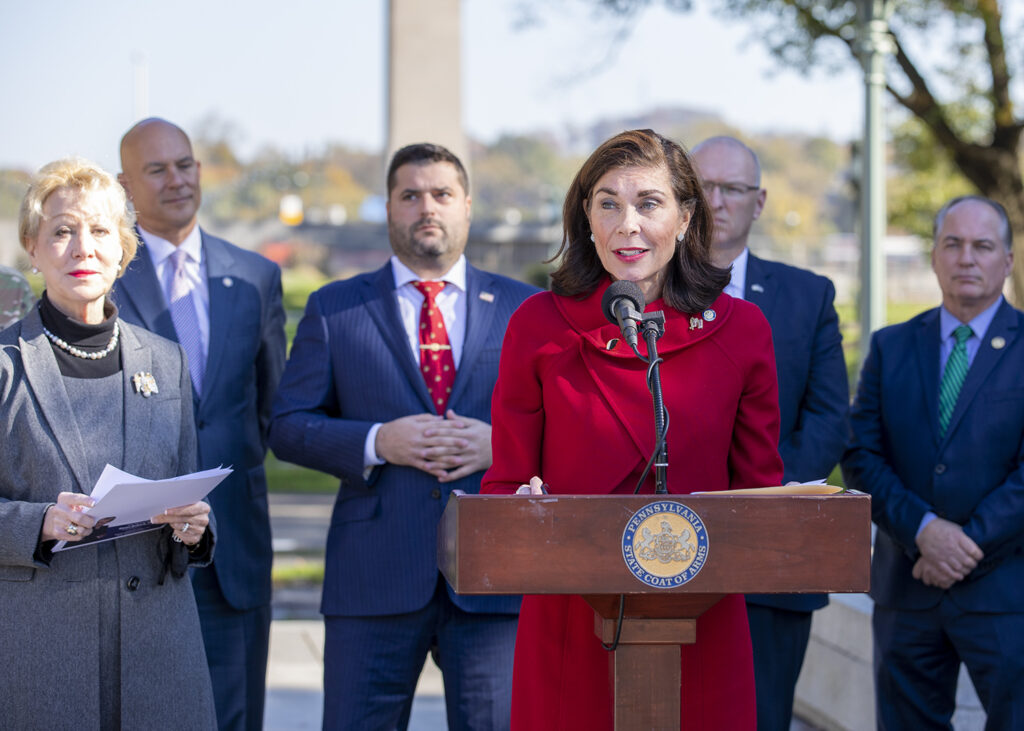 Senator Kristin Phillips-Hill (R-York) speaks at an event in support of legislation to recognize veterans in front of Soldier's Grove at the state Capitol.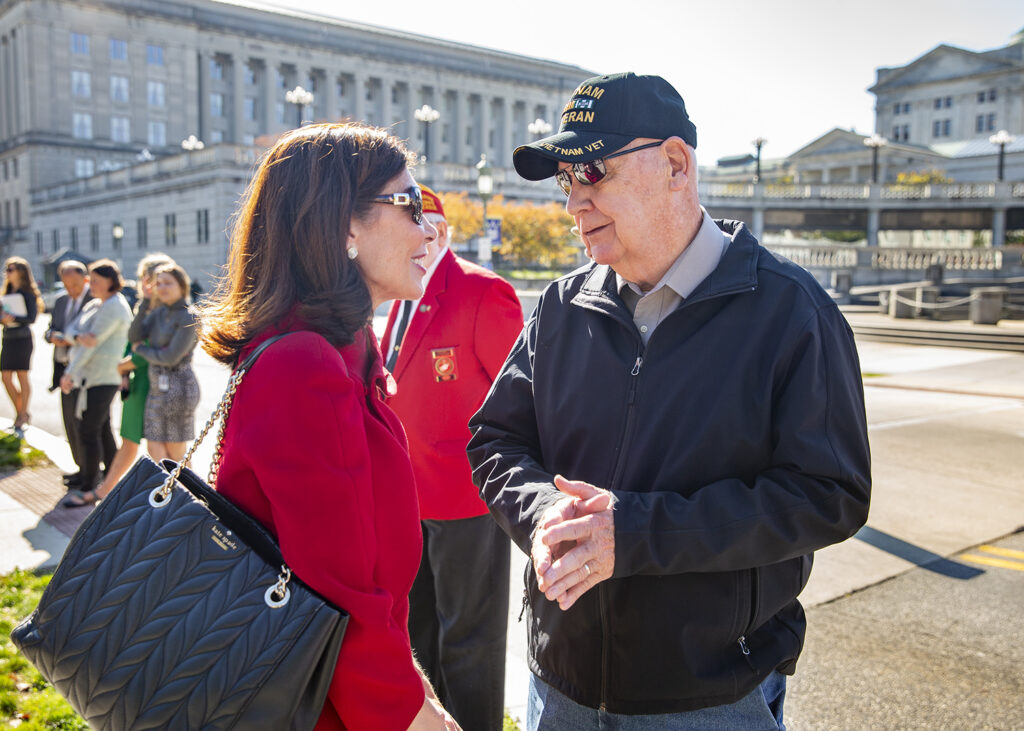 Senator Kristin Phillips-Hill (R-York) speaks with Sgt. Harold Redding of Spring Grove during an event raising awareness for legislation to recognize veterans at the state Capitol.