MANHEIM TOWNSHIP – Senator Kristin Phillips-Hill (R-York) joined Red Lion Area School District Superintendent Dr. Scott Deisley; Director of Curriculum, Instruction and Assessment Eric Wilson and other education leaders to present a $5,000 donation to the Computer Science for All consortium today.
The donation was made as part of the 2019 William Howard Day Award that Phillips-Hill received in October from the Pennsylvania School Boards Association. As part of the award, named after the nation's first African-American school board president, Phillips-Hill received a $5,000 donation to provide to an education foundation in her district.
"Earlier this year, I met with all superintendents across the 28th District, including Dr. Deisley," Phillips-Hill said. "When he told me about this program they have developed with three other schools, I thought it's a great opportunity that must be shared with as many students as possible. I applaud these districts for joining together to put a program in place that could have major career potential by introducing a vital tool at such an early age."
Computer Science for All (CS4ALL) is a multi-school district program, including Red Lion, South Eastern, Southern York County and South Western School Districts, that provides students with computer science and coding training and skills at an early age. Teachers in grades K-3 from the four districts have come together to integrate standards from the Computer Science Teachers Association into the core content areas of mathematics, English, science and social studies. The goal is to have students see how computer science and coding skills are a part of the everyday experience.
"CS4ALL is one example of how public school districts are providing students with real world experiences for real world learning," Deisley said. "We appreciate the Senator's support so that we can continue to provide these opportunities to our students."
"It's exciting to see the collaborative and relevant lessons the team is creating," Wilson said. "Students will be able to see how computer science and coding are a part of everyday life, not just a stand-alone set of skills. On behalf of the team, we want to thank the Senator for her support as we continue to build engaging activities that provide our students with the foundations to be successful in their future."
"I am hopeful this investment can continue to grow and be something we see all across our county in the coming years as this will inspire the next generation to pursue careers in the IT field," Phillips-Hill added.
The goal of CS4ALL is to include grades 4-6 by the 2020-2021 school year.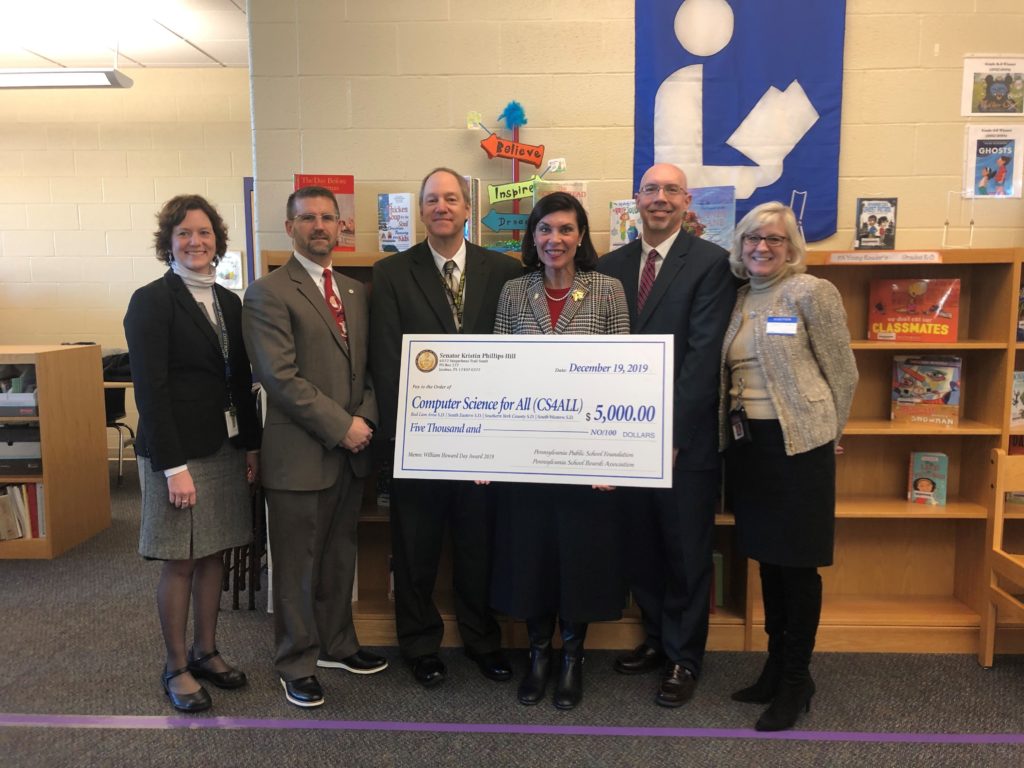 PHOTO CAPTION: Senator Kristin Phillips-Hill presents a check to Computer Science for All consortium at Manheim Elementary School in Glenville. Standing left to right are: Nadine Sanders, Assistant Superintendent of South Eastern School District; Jay Burkhart, Superintendent of South Western School District; Scott Deisley, Superintendent of Red Lion Area School District; Senator Phillips-Hill; Eric Wilson, Director of Curriculum, Instruction, and Assessment at Red Lion Area School District; and Sandra Lemmon, Superintendent of Southern York County School District.