INDIANA – The Senate Communications and Technology Committee traveled to Indiana County to hear from panelists from across the state testify about the role and impact high-speed internet plays in today's economy.
The three-hour public hearing was held at the request of newly elected state Senator Joe Pittman (R-Armstrong/Butler/Indiana/Westmoreland) and featured testifiers and experts who are assisting in closing Pennsylvania's digital divide. The Blue Spruce Lodge served as the venue for the hearing. Pittman, who chose the location, said it was appropriate since the area lacks high-speed internet coverage.
"It was important to bring my colleagues to Indiana County to not only learn more about the issue from a state perspective, but show the issue is prevalent throughout the Senate district I represent," Pittman said. "I appreciate the feedback we've received as many local residents have expressed to me their frustration over the lack of high-speed internet access in our area. I will continue to work with the committee to address this major problem adversely impacting so many individuals across the 41st District."
"The expert testimony presented to the committee today is beneficial in better understanding the scope and magnitude of the problem," committee Chair Kristin Phillips-Hill (R-York) said. "Before taxpayer dollars are invested into this issue, we need to know who the stakeholders are, what's been done in the past with public monies and what we need to do moving forward. We have had other major costly boondoggles turn into taxpayer dollar money pits. We cannot repeat the mistakes of those before us."
The hearing included three major panels that testified on various topics.
The first panel focused on state perspectives and included witnesses from the Pennsylvania Public Utility Commission, the Center for Rural Pennsylvania, the Governor's Office of Broadband Initiatives, Verizon and the Pennsylvania Telephone Association.
Norman Kennard, a commissioner on the Public Utility Commission, provided background on the issue. "Internet and broadband services have radically transformed our lives, business, education, medicine, news and information distribution, culture, entertainment, civic engagement, entrepreneurship, and more," he testified. "Access to broadband is no longer a want; it is a need."
The second panel examined the impact on local governments and included representatives from the Pennsylvania Local Government Commission, the Pennsylvania Association of Township Supervisors and Indiana County Commissioner Rodney Ruddock.
Testifying about the role of local governments and their collaboration with carriers to deploy high-speed internet, Kris Gazsi, Assistant Director of the Local Government Commission, said," To date, the interaction between local governments and broadband extension has been limited."
"To the extent that local investment is worthwhile, existing municipal law may also provide an opportunity to leverage these investments regionally through intergovernmental cooperation," he added.
The final panel looked at how the lack of high-speed internet impacts job creation and consisted of representatives of the Pennsylvania Manufacturers' Association, the North Central Pennsylvania Regional Planning and Development Commission and REA Energy Cooperative, Inc.
David Taylor, President & CEO of the Pennsylvania Manufacturers' Association, said that reliable internet access is critical in attracting good paying jobs to the Commonwealth.
"Without broadband Internet access, the ability to connect modern manufacturing plants to the 'industrial internet of things' is limited. Because of this limitation, industrial investors will likely look to locations where high-speed Internet connections are readily available, as opposed to locations where this vital infrastructure is not yet developed," he said. "This will surely lead to rural and technologically underserved areas of Pennsylvania falling even further behind as they will be unable to attract business investments that could reshape and revitalize entire communities and regions."
The committee scheduled its next public hearing for September 3 in Monroe County. That hearing will focus on broadband access and its impact on emergency response and medical perspectives.
All information, including formal written testimony, can be found on the committee's website at https://communications.pasenategop.com.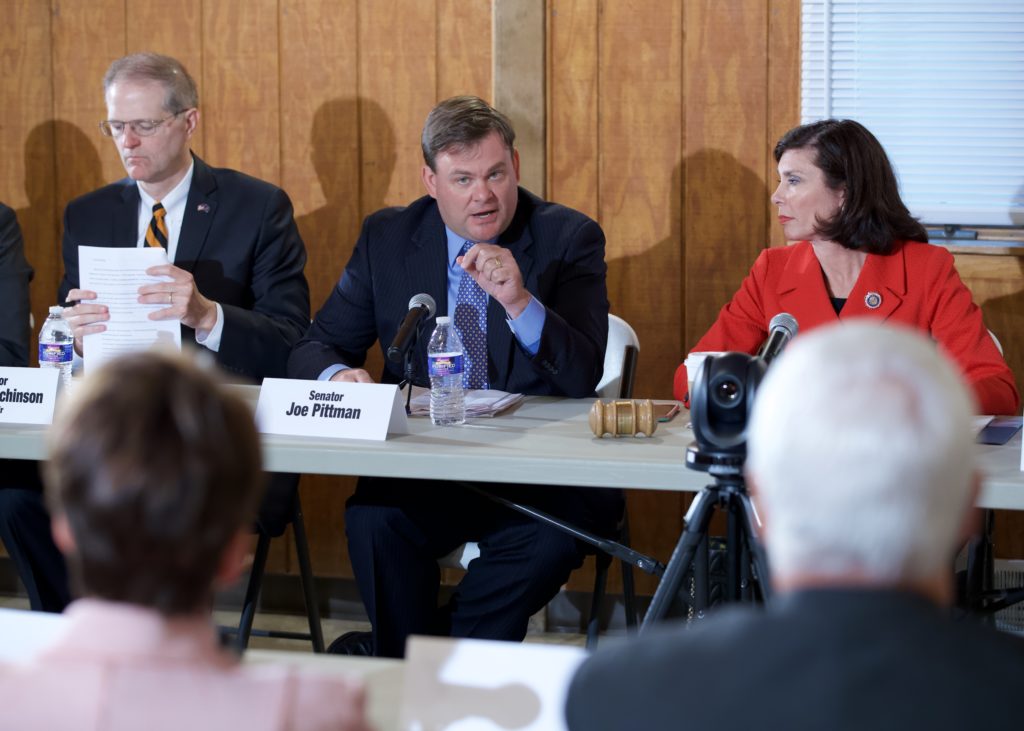 Senator Joe Pittman (R-Armstrong/Butler/Indiana/Westmoreland), center, speaks during a Senate Communications and Technology Committee public hearing, chaired by Senator Kristin Phillips-Hill (R-York), right. The public hearing was held at Blue Spruce Lodge in Indiana and focused on efforts to improve high-speed internet access throughout Pennsylvania.